Tom Holland Teases Something Huge About Marvel's Spider-Man 3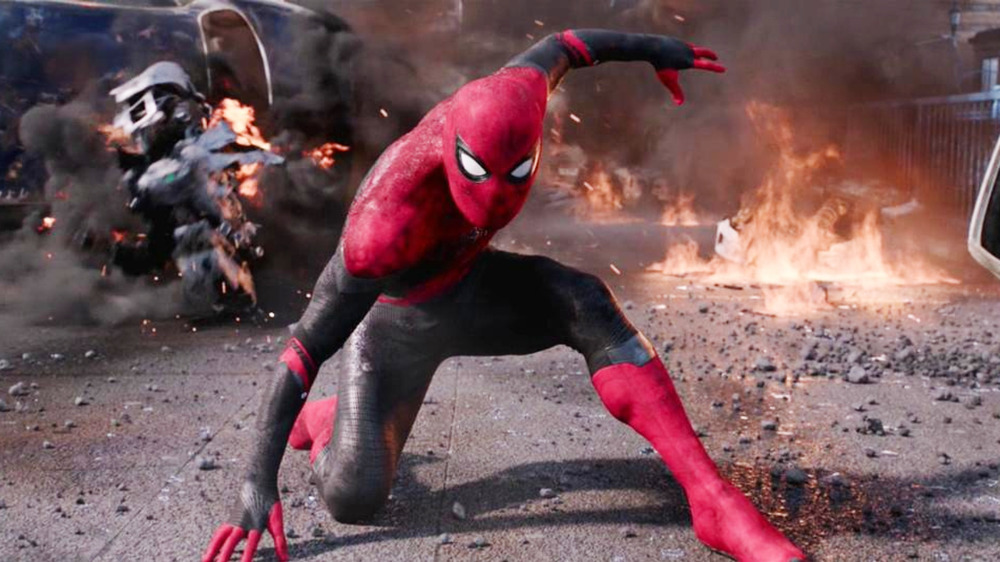 Sony Pictures/Marvel Studios
As news on Spider-Man 3's filming continues to trickle out, fans continue to speculate about former Spider-Men, multiverses, and how the current web-slinger will continue to take on the responsibilities of Tony Stark (Robert Downey Jr.) in the Marvel Cinematic Universe. To add gasoline to the fire, current Peter Parker himself, Tom Holland, took to Instagram to post a little something from behind-the-scenes of the upcoming film.
On January 31, 2021, Holland posted a photo of himself dressed in his Spider-Man suit, carrying around a very special someone on his shoulders: his brother Harry Holland. In addition to the photo, Tom Holland also included a message sure to leave fans speculating.
"Today was easily one of the highlights of my career," wrote Holland. "For those of you that were there, you know what I'm talking about and for those of you that weren't, you better buckle up!!!"
What exactly is Holland talking about? What was he filming and does his corresponding photo tell us anything? Let's break it down.
Has Tom Holland just filmed with another Spider-Man?
When last we saw Spider-Man, Peter Parker was in a very precarious position: J. Jonah Jameson (J.K. Simmons) had just revealed that Parker is Spider-Man. With fake footage suggesting that Spidey ruthlessly killed Mysterio (Jake Gyllenhaal) now out in the world, Peter seems set to find himself on the run in his next film.
The larger story, though, isn't anything from Spider-Man: Far From Home, but all the rumors surrounding the possibility of a multiverse team-up for the third film. We know Benedict Cumberbatch's Doctor Strange is appearing in Spider-Man 3. We also know that the Doctor Strange sequel is called Doctor Strange in the Multiverse of Madness, suggesting that the multiverse could play a major role for Spider-Man as well.
Additionally, in Spider-Man 3, Jamie Foxx is playing some version of Electro, a character he played back in Amazing Spider-Man 2, and Alfred Molina is supposedly returning as Doc Ock, a role he originally took on in Spider-Man 2. Two other names whose rumored returns seem more and more likely are Amazing Spider-Man actor Andrew Garfield and original Mary Jane Watson actress Kirsten Dunst. Heck, there's even a rumor out there saying Charlie Cox will play Daredevil in Spider-Man 3, even though his Netflix series is long over.
All of this is to say that Holland could have just completed filming with any or all of these people before he posted that photo to Instagram. And, of course, the biggest question of all is if original live-action movie Spider-Man Tobey Maguire is returning — a possibility which has yet to be formally confirmed at all. Still, we can't imagine a bigger scene than Holland and Maguire's Spidey's meeting up for the first time.
On the flip side, maybe Holland's brother Harry has a role in Spider-Man 3, and that's why the day of filming was so special for him. In any case, all shall be revealed when Spider-Man 3 hits theaters on December 17, 2021.