Matt Lanter And Cindy Jansen Talk Chasing The Rain, Clone Wars, More - Exclusive Interview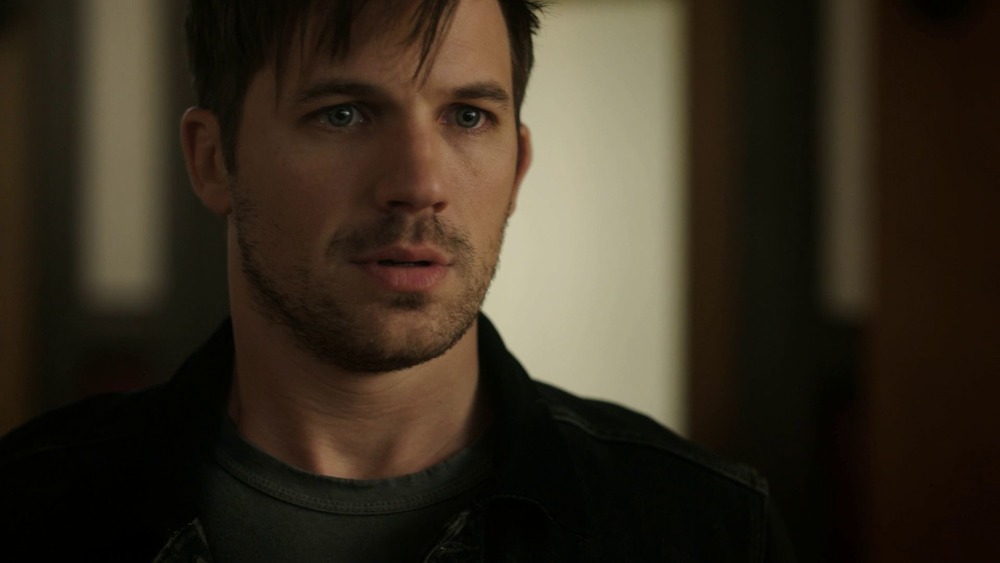 Longtime Star Wars voice actor Matt Lanter snagged his big Hollywood break with the 2006 superhero series Heroes. But acting isn't Lanter's only talent. He played a leading role in the figure skating film The Cutting Edge 3: Chasing the Dream, showing off an entirely new skill set. That same year, Lanter scored the voice role of Anakin Skywalker in the animated movie and subsequent TV series Star Wars: The Clone Wars. Forever loyal, the actor stayed with the show through multiple hiatuses until its 2020 conclusion. 
Between appearances in movies like Disaster Movie, Vampires Suck, The Roommate, and Pitch Perfect 3, the dynamic performer landed multiple starring roles in series like 90210, Star-Crossed, Star Wars: Forces of Destiny, and Timeless. After his first Star Wars live-action role in The Mandalorian, Lanter went on to star in Cindy Jansen's indie film Chasing the Rain. In the movie, Lanter plays a troubled young man named Eric who has to give up his photography and activist dreams following an unexpected diagnosis. The touching film marks the feature directorial debut for Jansen, who also wrote and produced the film.
Looper spoke to Jansen and Lanter in an exclusive interview about Chasing the Rain, during which the duo spoke about the making of the film and its important messages. Lanter also strolled down memory lane, dishing on Clone Wars, George Lucas, and his time on Timeless. 
Weathering the storm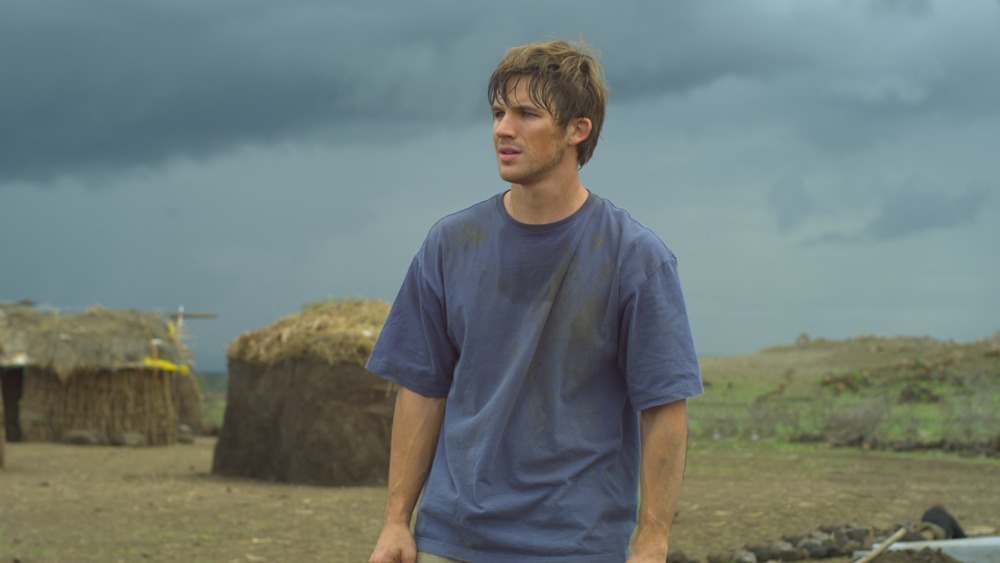 What was Chasing the Rain's biggest on-set challenge, and what are you most proud of accomplishing?
Cindy Jansen: Biggest onset challenge. Okay. Just logistically, I would say the weather. I don't know if you remember some of that, Matt, but just days that we really needed snow, and for whatever reason in Michigan in December, it looked like spring. It was very green, and we had to make last-minute scheduling changes for that kind of stuff. That's just one off the top of my head.
Matt Lanter: The weather for me, because of a different reason. I was sitting in that cold, cold attic of the bar freezing. It took like three hours to warm the set up. So for you, it's aesthetics. For me, it's so I can say my words.
Cindy Jansen: Yeah. And I could be up there wearing a ski suit. You were like...
Matt Lanter: Yeah.
Honoring the mental health struggle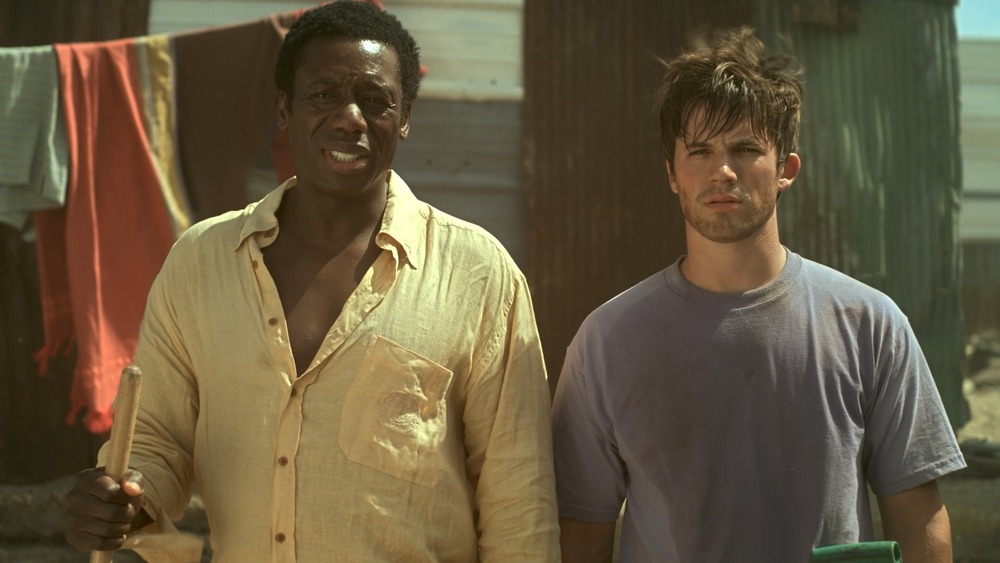 Refreshingly, Eric's struggles with depression and his health are addressed throughout the film instead of sort of glossing over them in a couple of scenes. How do you think a 2021 audience will view his perseverance and the film's message of hope?
Matt Lanter: I think that people can connect with Eric, especially now, because I think this year particularly, a lot of us are feeling those emotions. Maybe not quite to the extreme that Eric is, but I think it's a human emotion that I think we kind of need to just be real with ourselves and say "yeah, it's okay to feel that way." And especially this year with everything going on. But I think it makes it really, really relatable and possibly therapeutic in a way to see that's a real thing and that other people feel this way, too. I personally have had a lot of friends and family that have kind of said like, "Yeah, I'm struggling a little bit this year." And I think seeing that film and seeing Eric, it connects us all. I think at our core, we're all human. We all have these emotions.
Cindy Jansen: Yeah, and I think loneliness is kind of a pervasive theme of the movie, and it seems like a pervasive theme [right now].
Bandaged, but not broken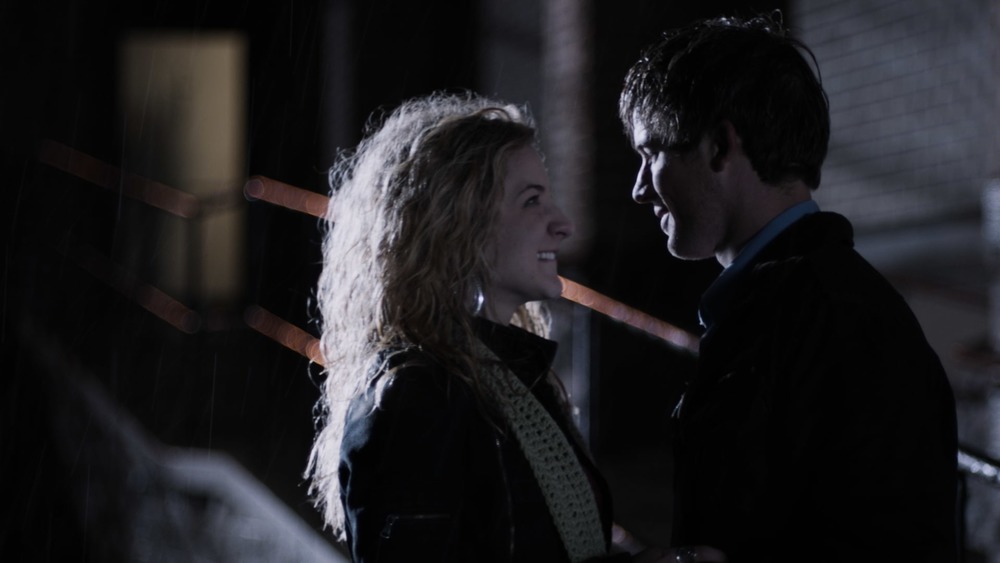 Definitely. So did you draw on any real-life inspiration for the film?
Cindy Jansen: Yeah, I did. What about you?
Matt Lanter: No, no, Cindy. Cindy, go.
Cindy Jansen: No, I want to hear what you have to say.
Matt Lanter: Oh, god. Well, I guess, from an actor's... You know, I'm actually more interested in hearing your answer, Cindy. I mean, from an actor's perspective, obviously, it was very tough because I don't suffer from any of those things.
Cindy Jansen: Which is why he's an amazing actor. To not have any of that to draw from and be able to take us there is... I mean, I just want to say that is really incredible.
It definitely played out really well onscreen.
Matt Lanter: Oh, thank you. Yeah. You just kind of do what... As an actor, you just do what you can do. You try to do the research, and you just be. And truthfully, that's what I did. There was no like magic secret.
I mean, I did do certain things to help myself, such as I wrapped my leg in a very tight bandage so that I could feel my leg was different, but that was the thing that I had to keep in my mind like, "Okay, what is his..." And forgive me if this is wrong, but my left leg and my right hand are not functioning, you know? So I had to keep that straight, but little things like that.
Compelling humanity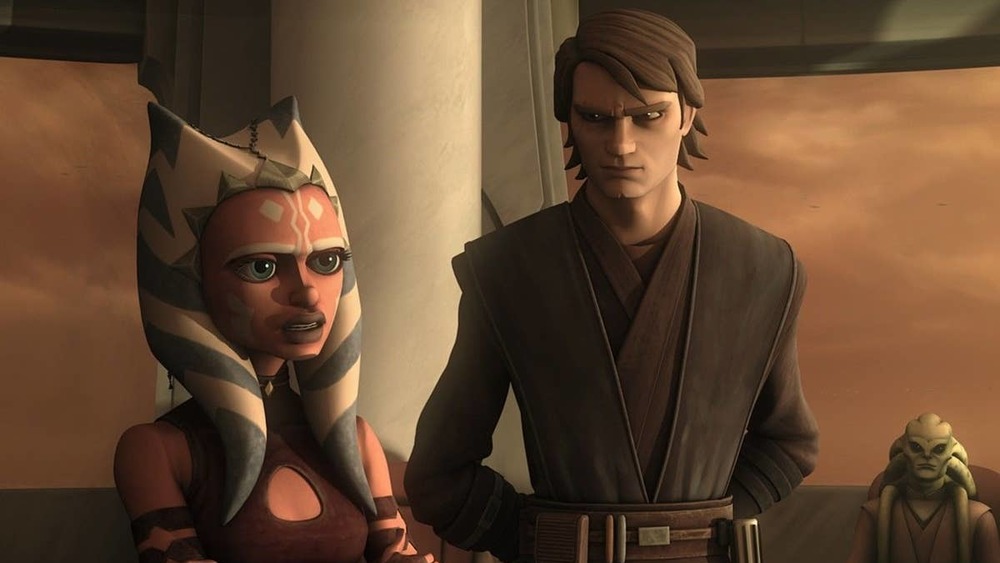 Matt, how does Chasing the Rain compare to your other projects like Clone Wars and Timeless, and what aspects of the film and characters will your fans vibe with the most?
Matt Lanter: It's very different in a great way. You know, for me, it was a great way to exercise versatility in my craft and bring a story to life of a character. I think as an actor, you always try to see every project you do as a character and bring that character and that story to life.
So in that sense, it is the same. But in the obvious sense that one is voicing a sci-fi character in a galaxy far, far away. And the other is being on camera, showing what this guy's going through. I think that this is really not for an audience of myself, but just an audience of anyone who is human.
A live-action Anakin?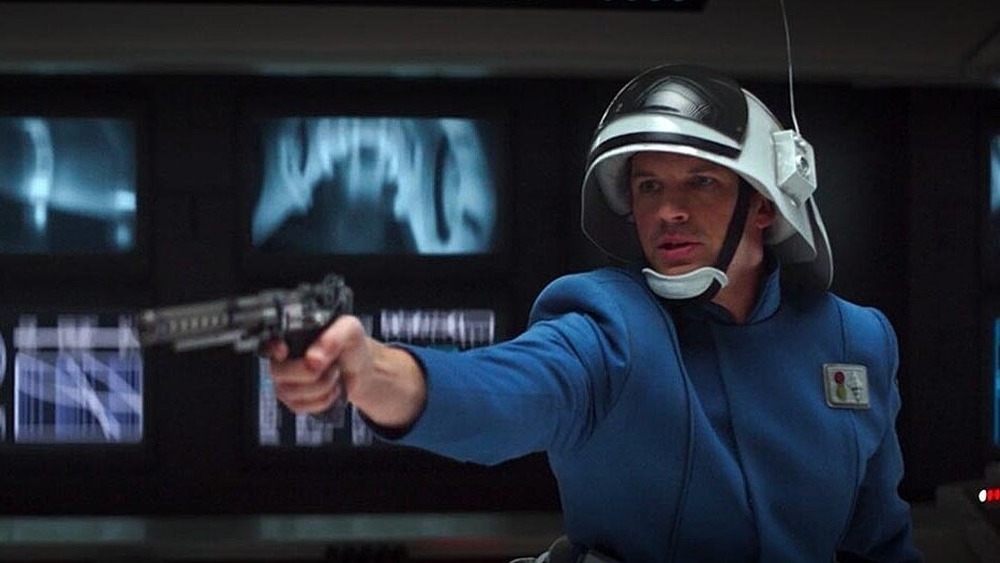 You had a live-action cameo in The Mandalorian as a New Republic soldier. What was that experience like compared to voice acting Anakin? And would you be game to play Anakin in a live-action capacity if given the chance? Especially since Ahsoka just got a new series and Hayden Christensen is doing Obi-Wan Kenobi.
Matt Lanter: I mean, yeah. To play Anakin live-action would be a dream come true. I think Hayden Christensen has that one locked down. And he should. And I mean, he's Anakin onscreen. But yeah, The Mandalorian was great. Dave Filoni called me up and just said, "Is this something you'd want to do?" And I said, "Are you kidding me?" Like, "Get down there and unlock the set for me so I can go play." And no, it was great. I mean, it was a really, really unique experience. Not that many people get to be on a Star Wars live-action set. And so to be on the set was... I was like a kid in a candy store being a fan of Star Wars.
But, a funny story about it. I had the scene where I, spoiler alert, I died, and I had to fling myself back on the control panels, and you know, the Star Wars ships, there's like thousands of lit up buttons. And I did it like, one take, and the set builder came up, and he was like, "Hey man, you're going to have to not touch that stuff." And I'm like, "What do you mean? I'm supposed to be thrown into the control panel in a deathly way. I've just had a knife piercing my heart." And he was like, "Yeah, don't do it." Because I was just a guest in there for two or three days, I wasn't a series regular. So these guys were like, "Listen, I don't know you. Don't destroy my set." And I did. I cracked one of the whole control panel things.
Is that why they killed you, or was that written beforehand? [Laughter]
Matt Lanter: That's totally why they killed me.
Working with a legend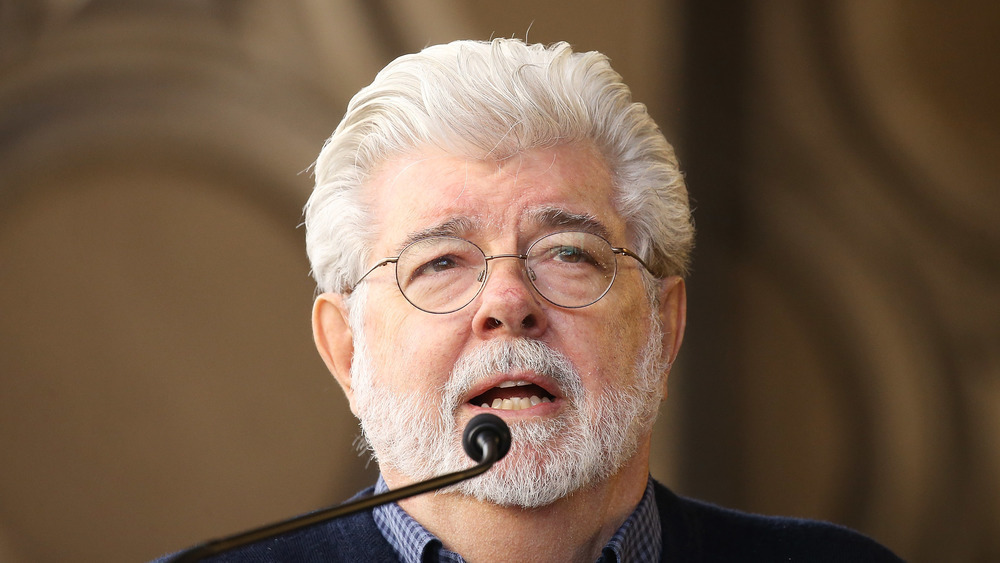 Michael Tran/Getty Image
What was it like working with George Lucas in the original Clone Wars run?
Matt Lanter: George is an awesome guy. Super creative, very soft-spoken, and shy. I did go up to Skywalker Ranch before I started recording, and I walked into his office, and he was sitting there, and he goes "Anakin." I'm like, "Whoa, that's great." Truthfully, I wasn't as huge of a fan of Star Wars at that time as I am now. So it would have been exceptionally intimidating to be sitting in front of him. But at the time, it really wasn't. I mean, at the time, it was just, I was like, "Okay, yeah. I mean, obviously, I know who you are."
It was great, but I wasn't nervous. And it was just, it was great. All of our stories came through Dave and through George. George was in there giving notes, coming up with new story ideas. So what's really unique, and maybe people don't really realize, is we were the last Star Wars project to really be from George alone. So that's kind of a cool thing.
Cindy Jansen: Oh, I didn't realize that at all.
Timeless villainy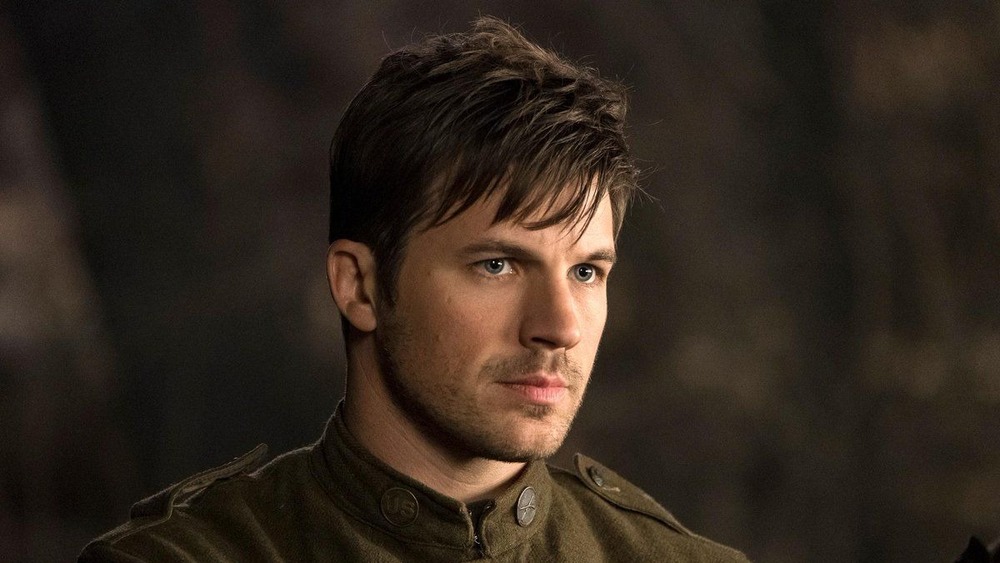 What was it like working with Eric Kripke on Timeless, and would you be down to play a role in his series The Boys?
Matt Lanter: Yeah. Eric's great. He and Sean Ryan did Timeless. It was just a great experience — just such a cool guy. I just sent him a Christmas card. Yeah. So we somewhat stay in touch. He's obviously very busy. I haven't seen the whole series of The Boys, but yeah, sure. That'd be a blast.
It would be fun to see you play a huge villain because you got to play the villain with Anakin a little bit, but not much of the super crazy Darth Vader aspect of that role.
Matt Lanter: Yeah. Well, I've got a Netflix superhero series coming up in which I play a huge, huge villain, so you'll get your wish.
Did you have a favorite time period on Timeless or a historical event you covered?
Matt Lanter: We had a lot of fun. We went to World War II Nazi Germany, which was really fun to kind of do that. The French and Indian War time period was really fun. Yeah.
Chasing the ice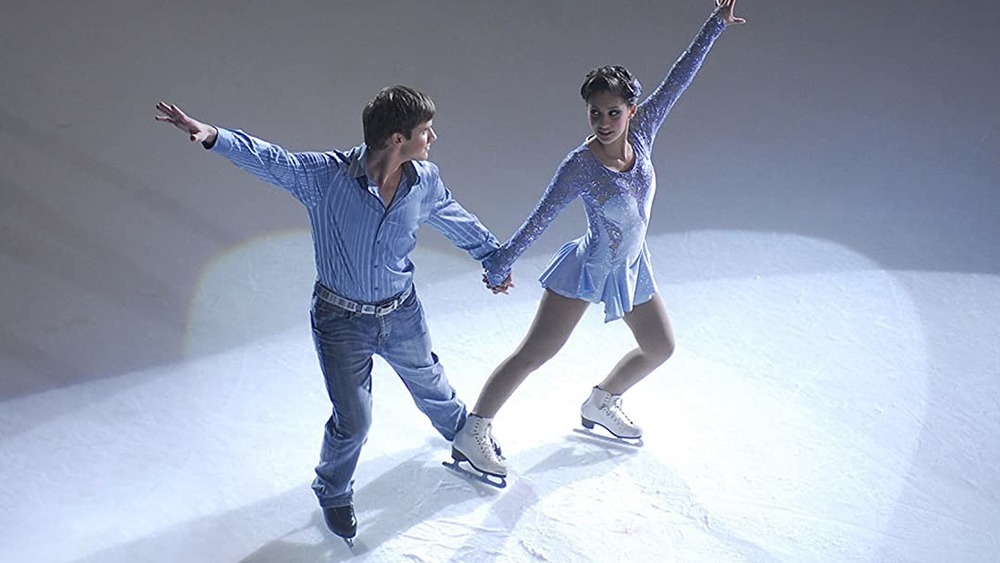 This is so random, but my biggest trivial annoyance with quarantine is not being able to go ice skating. So I've been binging all of these ice skating films, and I found your 2008 movie The Cutting Edge 3. How much of that, those tricks and skating maneuvers, were you and how much was a stand in?
Matt Lanter: Man! We're going through the whole history here. Yeah, I did a small portion of those, actually. We trained for quite a while to do the ice skating. My legs got in crazy shape. But yeah, that was us for a lot of the stuff that wasn't super complicated, but when it came to like the crazy jumps and the twists and turns, that wasn't us.
Do you have anything you want to add about Chasing the Rain?
Matt Lanter: Cindy?
Cindy Jansen: I guess watch it, see it.
Matt Lanter: Yeah. I think it's a story that people might really connect with. Maybe [right now], we need it. I don't know, arguable, I guess, but only if you see the positive. And for some people, it's not like that right now, especially. And I think that people might really connect with this.
Cindy Jansen: Yeah. I'll say this: It acknowledges grief. That there's a place for it. And I think sometimes that gets skipped in stories a lot. Like we want to see them fight back and come out, and you just have to just live in the grief and just kind of show what that could look like, and that it's real.
Yeah, that was really awesome because most stories that happen like this tend to just gloss over the hard stuff. And that's the most important aspect of a film like this.
Matt Lanter: Yeah. I think what Cindy did was very, very unique, especially in a movie where there are religious themes happening. They tend to be glossy and shiny. Right. And Cindy did something very, very opposite with that and very intentional and very truthful. And I think that makes it unique.
Chasing the Rain is available on VOD now. There may be some tears, but they're good tears. Make sure to leave a review of the film or hit up the movie's Twitter to let the team know what you think.