The Gus Fring Gesture That Means More Than You Think In Breaking Bad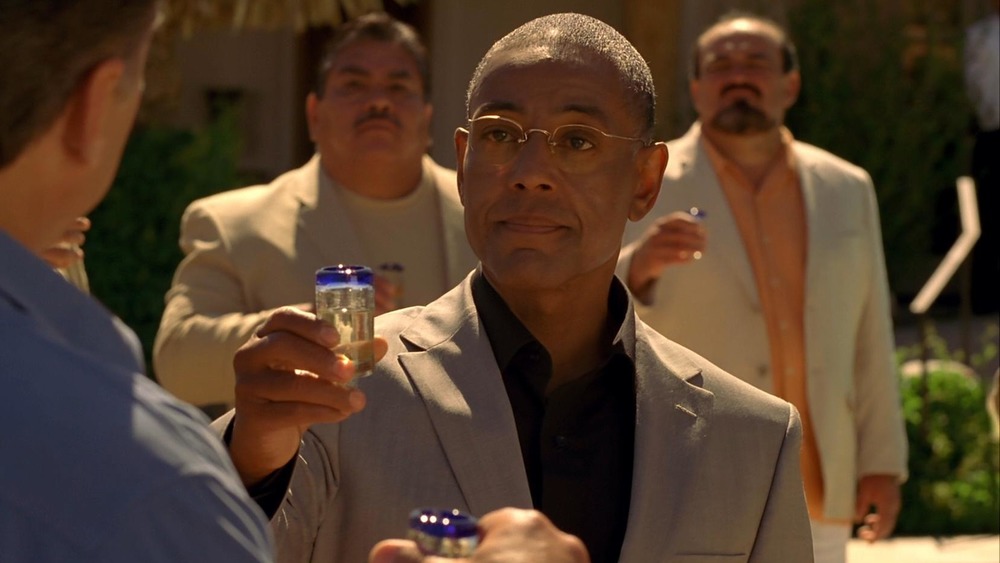 AMC
Over the course of its five seasons on air, AMC's blistering crime drama Breaking Bad proved time and time again that it wasn't just (arguably) the best show of the decade, but (inarguably) one of the all-time greats. That status was largely the result of a relentless, swing-for-the-fences narrative approach that found Breaking Bad's creative team (fronted by creator Vince Gilligan) upping the dramatic ante from one week to the next with emotionally wrenching, often brutally violent twists and turns too numerous to count. 
Bold plotting and wild narrative ambition aside, it's safe to say Breaking Bad still might've faltered had it not been for the vividly-rendered characters Gilligan and company threw into the mix. And even as Walter White (Bryan Cranston), Jesse Pinkman (Aaron Paul), and Saul Goodman (Bob Odenkirk) continue to earn the bulk of the headlines in regards to the Breaking Bad players, Giancarlo Esposito's cold-blooded kingpin Gus Fring has proven every bit as worthy of mention.
In truth, the Cartel frontman and fried chicken magnate may well be the most intriguing figure to have ever entered the doomed orbit of Walt and the gang. So much so that, even in his death, the character's shadow continued to loom large over the narrative, if only because his absence left a dangerous hole in the landscape of New Mexico's criminal underworld. Of Gus' death, we'll simply say it was a departure befitting a man of such ruthless and ominous stature. It was also one of the most gruesome moments of Breaking Bad's entire 62-episode run, with Gus literally losing half his face in an explosion.
Before expiring, however, Gus performed one final action that made the scene all the more important. And it turns out Gus' now iconic tie-straightening wasn't even scripted.
Gus' brilliant final act on Breaking Bad was actually conjured by the man who played him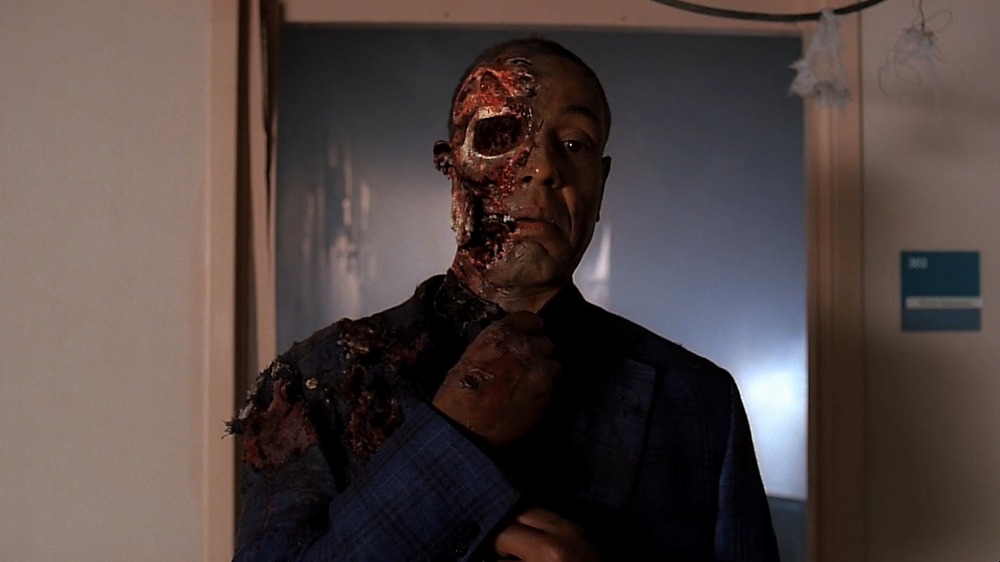 AMC
That beautifully executed tie-straighten continues to rank among the most memorable moments in a show that provided them with staggering regularity. Per a 2018 interview on The Rich Eisen Show, it was Giancarlo Esposito himself who came up with Gus' singular final flourish.  Esposito claims he conjured the moment while discussing his character's death with Vince Gilligan. It seems after the pair talked over the finer points of the extensive make-up effects the ghastly scene required, Gilligan asked if Esposito had anything specific in mind for his final moment on the series. To hear The Mandalorian star star recount the conversation, the "Eureka" moment of Gus' last act was spawned from his own intense understanding of Gus himself. 
"So we had discussed a lot of it, and Vince says, 'What might you be doing if this happened?' And I said, 'Well look, Gus is very proper. I close my jacket when I stand up, I open it when I sit down.' I said, 'I would be straightening my tie.' And Vince just—his eyes lit up, and he said, 'Oh my goodness' — and I said, 'Yeah, he's preparing to go.'"
Let Esposito's insanely "proper" read on his character serve as proof positive that casting the right actor is key in creating a truly memorable character. And even Breaking Bad haters have to admit Gus Fring is among the most memorable to ever grace the small screen. Likewise, Esposito's final contribution to Gus' Breaking Bad arc proves no actor on Earth could've played the part better, or "prepared" a more suitable exit.
In the end, it's that unique eye for deeply nuanced, detailed storytelling which continues to make Breaking Bad so endlessly re-watchable, and well worthy of its status as one of TV's true all-timers.