Giancarlo Esposito Teases The Mandalorian's Future Battles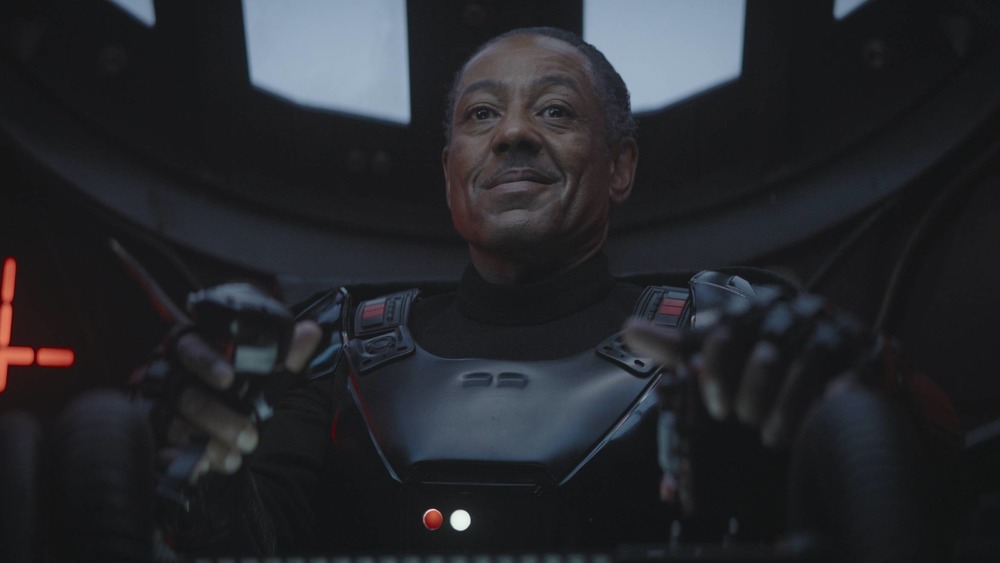 Disney+
Spoilers for The Mandalorian Chapter 12, "The Siege," ahead!
We're about halfway through the second season of The Mandalorian, and by all accounts, it's not losing steam here any time soon. Chapter 12 in the series, known as "The Siege," sees Mando (Pedro Pascal) and the Child return to Nevarro for a quick pit stop. While there, Mando gets roped into another side mission, this time heading out with Greef Karga (Carl Weathers) and Cara Dune (Gina Carano) to a supposedly abandoned Imperial base to take out some of the Empire's weapons for good. 
The simple job quickly gets turned on its head, as they discover the base isn't as abandoned as they once thought. Plus, they stumble upon a massive conspiracy with evidence suggesting remnants of the Empire want the Child, so that they can extract its blood to create force-sensitive clones. It all leads to a big reveal showing Moff Gideon (Giancarlo Esposito) in a room filled with Dark Troopers. Mando may have beat Gideon last time, but it looks like he's about to run into even more powerful opposition in the episodes ahead.
There are only four episodes left in season 2, and fans are still waiting for the appearance of Ahsoka Tano (Rosario Dawson) as well as to see how, exactly, Moff Gideon once again intersects with Mando. Recently, Giancarlo Esposito sat down with Entertainment Weekly to discuss the series, and what audiences can expect for these final few episodes before we're left waiting another year for more Star Wars stories. 

Giancarlo Esposito says a lot of battles and Stormtroopers will get involved going forward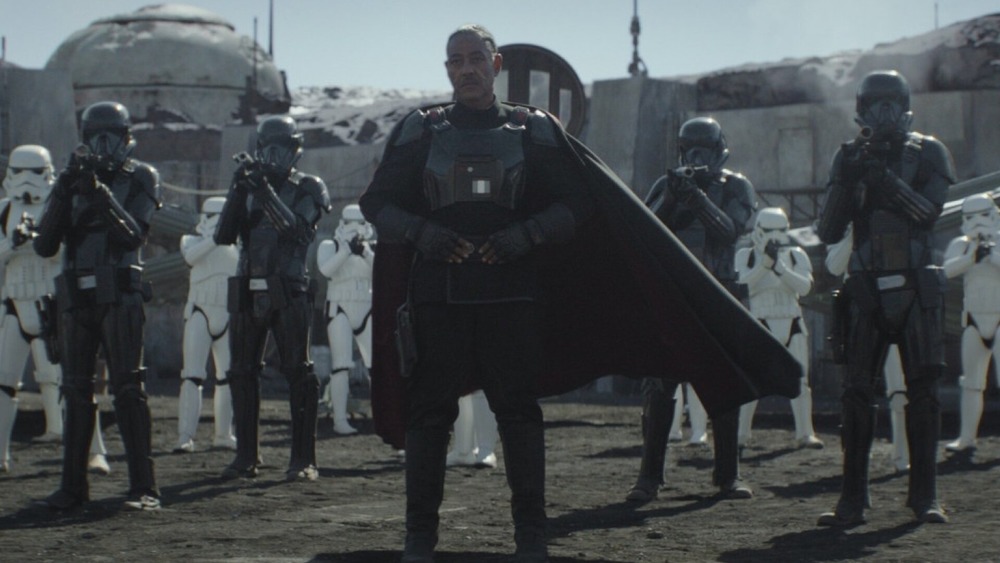 Disney+
First and foremost, it's important to point out that Esposito slyly reveals that Moff Gideon will indeed return for season 3. When asked whether we'll see more of his character throughout the remainder of the season, the actor responds, "It seems that way. But I have a feeling you'll see more of me next season." It looks like Moff Gideon will not be a one-and-done villain. He's in for the long haul, and we should expect plenty more of him.
So far, Moff Gideon has been seldom seen, popping in here and there to tease what's to come. According to Esposito, that's intentional, and designed to throw you off-guard for when he does show up: "I think part of it is that they're stringing out the penultimate showdown that happening between certain characters. But I hope that everyone gets excited when I finally get into the season. Also, I think it's partly a design of the construct of the show — you focus your attention on the journey. Let's see where The Mandalorian and The Child will go and what their allegiances may be as they flow through that."
Moff Gideon brought the firepower at the end of season 1, and it appears as though season 2 won't lack in that department, either. While not giving any specifics, Esposito hinted at the kind of showdown we can expect now that season 2 is entering its endgame. He says, "So there's going to be a lot of battles and stormtroopers and all the dark troopers — everyone will get involved. We're all in a fresh new place to bring it home. I'm so excited to be a part of the show that is the best there is."
There are so many directions The Mandalorian can go, moving forward, that it's truly exciting to think about what could happen next. And this isn't even getting into that big reveal at the end of season 2's first episode, regarding an old character who could play a prominent role in the future. 
New episodes of The Mandalorian come out on Disney+ every Friday. Meanwhile, if you need a refresher you can read up on how The Mandalorian fits into the Star Wars timeline.