How Bridgerton's Phoebe Dynevor Frightened A Whole Family Of Tourists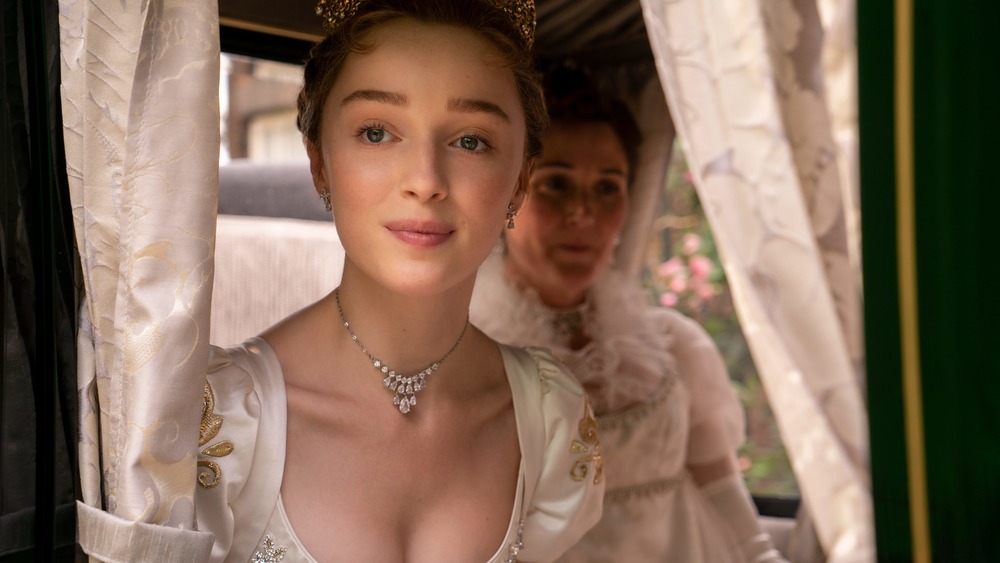 Netflix
One of the stars of Bridgerton gave a family of tourists an English experience they'll definitely never forget.
As the first season of Netflix's hit new series Bridgerton gets started, viewers are immediately introduced to the wealthy and powerful Bridgerton family, who are set to begin a new social season. When the story begins, the eldest Bridgerton daughter, Daphne — played by Phoebe Dynevor — who is regarded as the family's "diamond" thanks to her eligibility, high status, and beauty, makes her debut into society. Before long, Daphne finds herself in an unexpected entanglement with the devastatingly handsome but emotionally unavailable Simon (Regé-Jean Page), the Duke of Hastings, and though their plan to fake a relationship succeeds at first, they end up forming a real romantic bond. 
After news broke that Bridgerton is officially going ahead with a second season, some of the cast members spoke to E! Online about behind-the-scenes secrets from the first season's filming process. Here's the real story behind how Bridgerton star Phoebe Dynevor gave a family of tourists quite a fright.
This Bridgerton star's on-set look spooked some unsuspecting tourists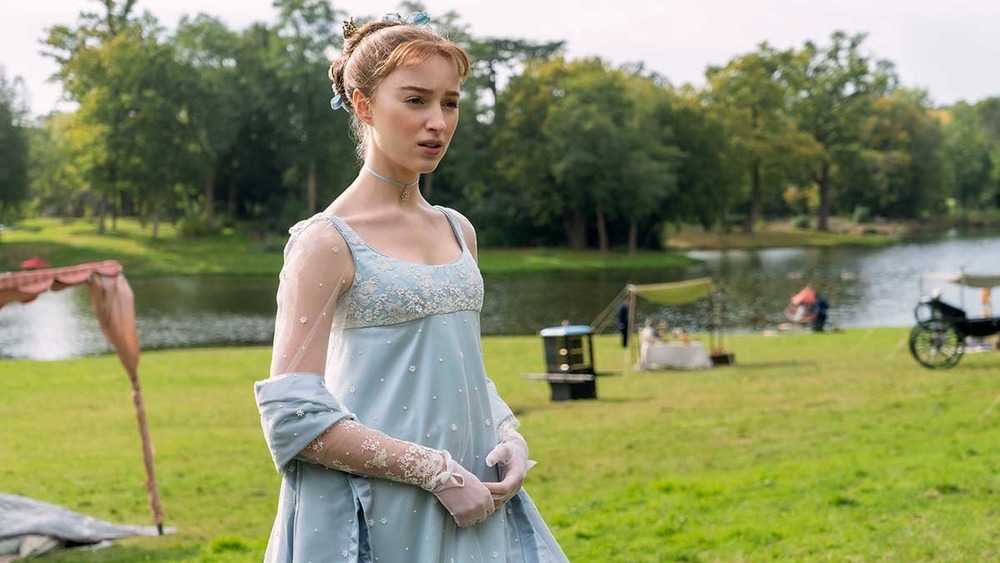 Netflix
As Dynevor explained to E!, many of her scenes alongside Page — which make up the bulk of the show's steamiest moments — are a bit, well, lacking in the clothing department. Whenever the two take a break from filming, they're provided with robes and flip-flops while the crew does whatever they need to do between shots; however, during one of these moments, Dynevor accidentally stumbled across a family of tourists.
"We were filming on a Saturday one day, and I was not wearing much," Dynevor revealed. "It was summer, so me and Regé were sort of in robes and flip flops, filming at this very beautiful palace. They do tours on weekends. So we happened to be there while they were doing a tour, with tourists with full-blown cameras, ready to go. And I had my wig on, and I sort of look like the girl from The Ring when it's all [down]. I ended up walking into a toilet with my robe and my hair down and looking pasty white as I am. I gave a family of tourists the shock of their life, I think they thought they saw a ghost."
Dynevor's look on the show is a far cry from a horror villain, so it's even funnier to imagine the typically glamorous, beautiful Daphne looking so frightening. However, it definitely makes for an amazing on-set story.
The first season of Bridgerton is streaming on Netflix now, and the second season is set to start production in 2021.