The Hollywood Icon Who Inspired Daphne's Micro-Bangs On Bridgerton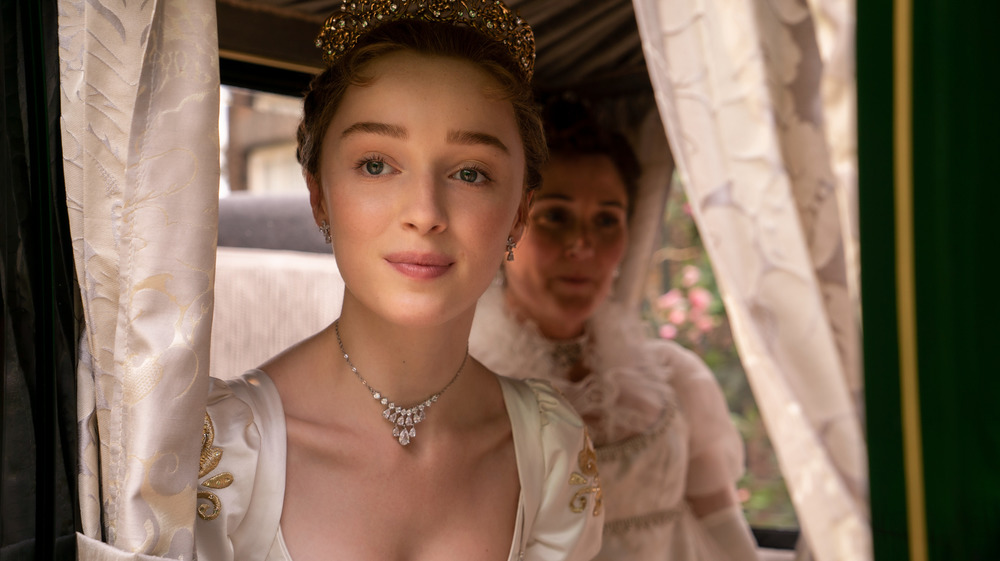 Liam Daniel/Netflix
If Lady Whistledown's scandal sheet had a style section, then it would surely be full of chatter about one Ms. Daphne Bridgerton's bangs. The character's controversial hairstyle has had the 21st century's answer to Lady Whistledown — Reddit — buzzing about her look since Bridgerton landed on Netflix on Christmas Day. While there has been much speculation about why Daphne has micro-bangs, fans have now been given an official answer courtesy of Bridgerton's head hair and makeup designer, Marc Pilcher — and it might just make you reevaluate the merits of the eldest Bridgerton daughter's trademark style.
During an interview with Harper's Bazaar, Pilcher shared that every hairstyle on the show has a story behind it. Some of the looks were inspired by regency era trends and pieces of artwork, but he also looked to old Hollywood for inspiration as well. In the end, it was style icon and famed actress Audrey Hepburn who inspired Daphne's controversial micro-bangs.
Modern movie fans may know Hepburn best from romantic films like Breakfast at Tiffany's and Funny Face, but she was known to star in her fair share of period dramas, too. And that includes the 1956 adaptation of War and Peace, in which she played Natasha Rostova, a character whose impressive baby fringe was so memorable it led to Pilcher attempting to bring the look back via actress Phoebe Dynevor's Daphne.
Bridgerton fans can blame Audrey Hepburn for Daphne's micro-bangs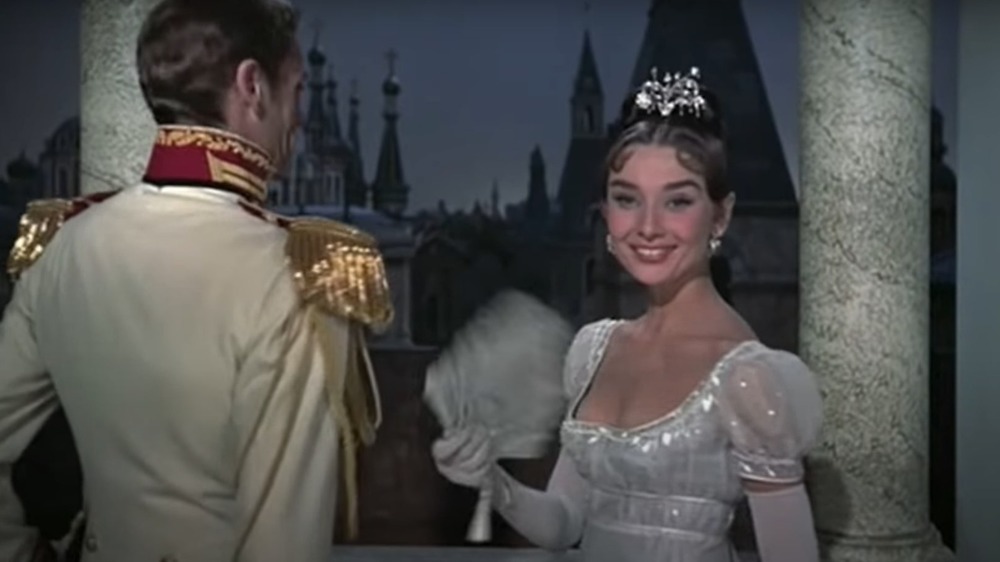 Paramount Pictures
On Reddit, some fans have declared Daphne's bangs so distracting that it makes the show hard to watch, with one viewer writing, "I just can't with the bangs. I'm sorry." However, eagle-eyed fans will notice that her bangs evolve over the course of the series, and provide a visual element to her coming of age story.
"Initially, it was just a sort of small, straight bang that went all the way across. But then as we progressed, Chris [Van Dusen] wanted it to feel softer rather than a full bang," Pilcher told Harper's Bazaar. "So that's why it sort of got split just to sort of sweep out the way to show more of her face. And then in later episodes, we cut more sort of feathery bits just to sort of loosen it up even more, because he wanted to see a progression of the softness of her as we went through — that's how they came about."
But while Daphne's bangs definitely tell a story all of their own, the original inspiration came from the incomparable Hepburn. "She was based on Audrey Hepburn in War and Peace," Pilcher said. "If you look at the images for that film, obviously, it was made in the 1950s, even though, again, it was a Regency period film."
So while Daphne's hairstyle may not be to everyone's liking, you have to at least respect the fact that the inspiration for her bold look comes from one of Hollywood's first fashion trailblazers.