The One Irishman Scene That Makes Us Love Sebastian Maniscalco Even More
This content was paid for by Netflix and created by Looper.
Sure, Sebastian Maniscalco has been all over the movies lately, but he's still a stand-up comedian at heart, with five full-length specials, a memoir, and many memorable TV appearances under his belt. In 2018, Maniscalco hit the movies in a big way — first in a scene-stealing performance in the slapstick comedy Tag, and then as Viggo Mortensen's brother-in-law in the Best Picture-winning dramedy Green Book.
You wouldn't know it from Maniscalco's appearance in The Irishman, though. In Martin Scorsese's gangland epic, Maniscalco plays real-life gangster "Crazy" Joe Gallo, one of the most colorful characters in the history of organized crime. In 1957, Gallo bragged about killing mob kingpin Albert Anastasia. In 1961, he kidnapped his own bosses, starting a gang war ("I don't know how he got away with that," Robert De Niro's Frank Sheeran mutters in the film). In prison, he bit the nose off of a Ku Klux Klan leader. After his release, Gallo could often be found courting the media alongside actor Jerry Orbach, or bringing his pet lion to New York's nightclubs.
Maniscalco perfectly captures all of Gallo's swaggering, flamboyant energy. Just look at the scene in which Gallo meets Sheeran and his mentor, Joe Pesci's Russell Bufalino, at New York's famous Copacabana. After watching comedian Don Rickles perform a set, Gallo, who's celebrating his birthday, stops by Sheeran and Bufalino's table to say hello.
It doesn't go well. First, Gallo makes fun of Bufalino's Italian-American Civil Rights League pin — a notable dig, given that Gallo was allegedly behind an attack on the league's founder. When Sheeran tries to defuse the situation, Gallo takes offense. "I'm a boss. He's a boss. We're all supposed to be brothers," Gallo protests, before storming off. The following look between Sheeran and Bufalino says it all: Gallo is out of control. He has to go.
It's a brief but incredibly memorable scene, and proves that, as an actor, Maniscalco can hang with the best of the best. Not that anyone who's been following his career should be surprised, of course. Here's why.
His timing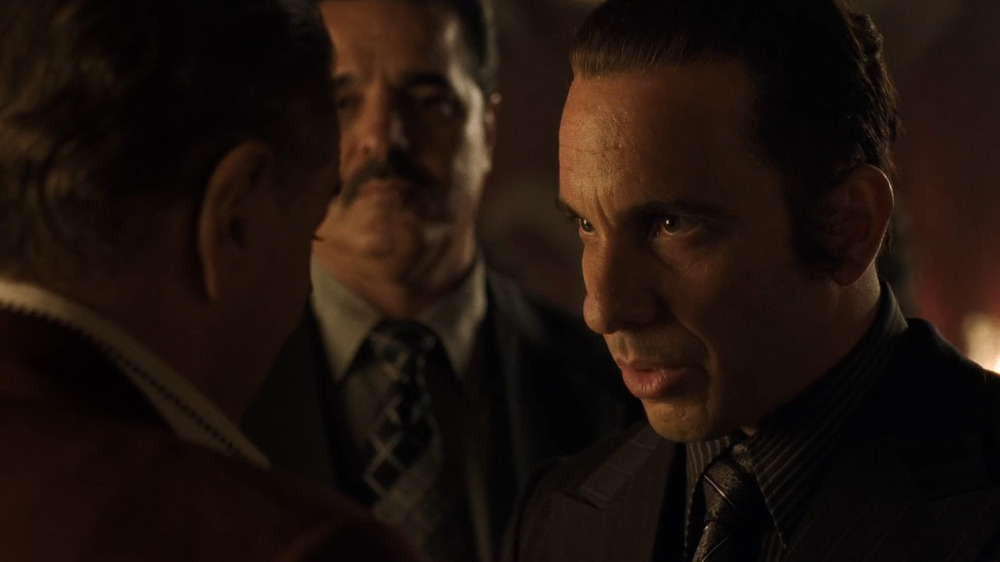 Sebastian Maniscalco may be relatively new to the movies, but he's not new to show business. He's been working as a stand-up since 1998, and in addition to his sold-out comedy shows, national tours, and TV specials, he's performed on virtually every late-night talk show, guested on Jerry Seinfeld's Comedians in Cars Getting Coffee, and even hosted the MTV Video Music Awards. By this point, Maniscalco is a polished and precise comedian, and it's that experience that made him so attractive to The Irishman's producers.
"We loved Sebastian as a comedian and knew that he had impeccable timing from his standup routines, which can translate really well into drama as well," producer Emma Tillinger Koskoff tells Variety. In The Irishman, you can see exactly what Koskoff means. Gallo is a big personality, and while he's dangerous, he's also quite funny. Earlier in the movie, Gallo kicks off a hearing by joking about the courtroom carpet — a quip that the real-life Gallo deployed during a visit with Robert Kennedy — and goofs around with Mr. Warmth himself, Don Rickles.
In this scene, though, Maniscalco takes things even further. His back-and-forth with De Niro, in which Gallo repeats the phrase, "We're brothers," before capping things off with, "It's my birthday," has the rhythm of a vaudevillian comedy routine. But every time that Maniscalco repeats the line, it takes on a new dimension. First, it's a signal of uncertainty. Next, a call for unity. At the end, it becomes a kind of threat, implying that Gallo is untouchable, at least to someone like Sheeran. However, none of this subtext in the dialogue itself. It's all in Maniscalco's delivery, and proves just how perfectly calibrated his use of language really is.
Physical intensity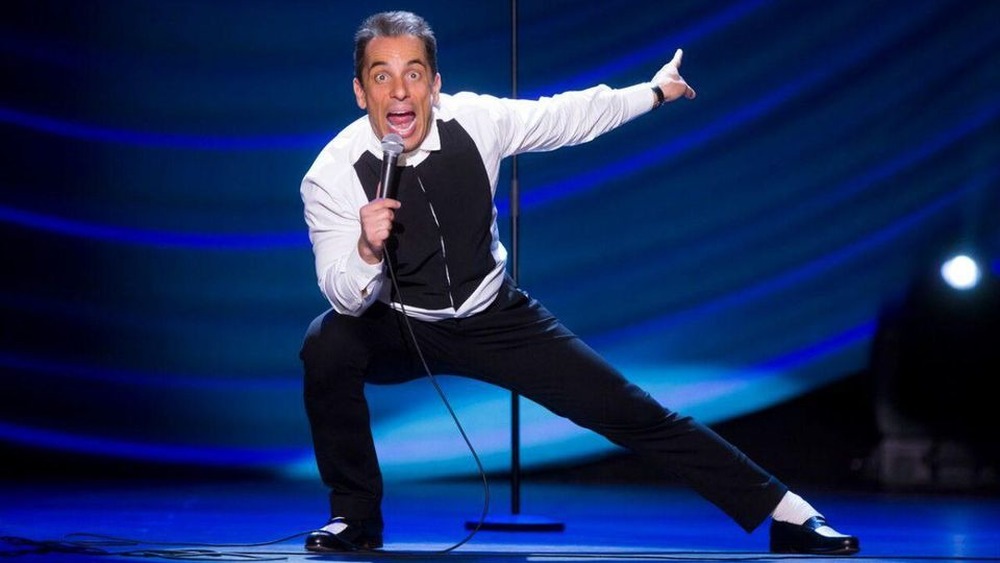 While Sebastian Maniscalco's stand-up relies on quite a bit of observational humor, much of his genius lies not in what he's saying, but how he's saying it. Whether he's mocking couples who take sappy maternity photos, re-enacting ridiculously elaborate wedding party choreography, or just making one of his many disgusted, exasperated faces, Maniscalco is famous for his physicality. That's one big reason why his act stands out in a very competitive industry.
As it turns out, it's a big boon to Maniscalco as a dramatic performer, too. Look at Gallo's cocky nod at Bufalino as he passes by the mobster's table. Watch how he dismissively flicks Russell's Italian-American Civil Rights League pin before putting down the organization. Notice his exasperation as Sheeran separates the two men, the cold icy stare he shoots Frank during their talk, and the dismissive way he raises his hand when he decides the conversation is over.
All of these gestures would be right at home in one of Maniscalco's comedy sets. Like Maniscalco's stage persona, Gallo is a larger-than-life character who flirts with — but never quite crosses — the line between a human and a cartoon. Not that the two personas are exactly the same, of course. During his stand-up routine, Maniscalco is more curmudgeonly, and less secure than the gangster he plays. Still, the similarities are obvious, and Maniscalco's over-the-top physicality goes a long way towards making Gallo an incredibly memorable character despite his brief screen time.
He holds his own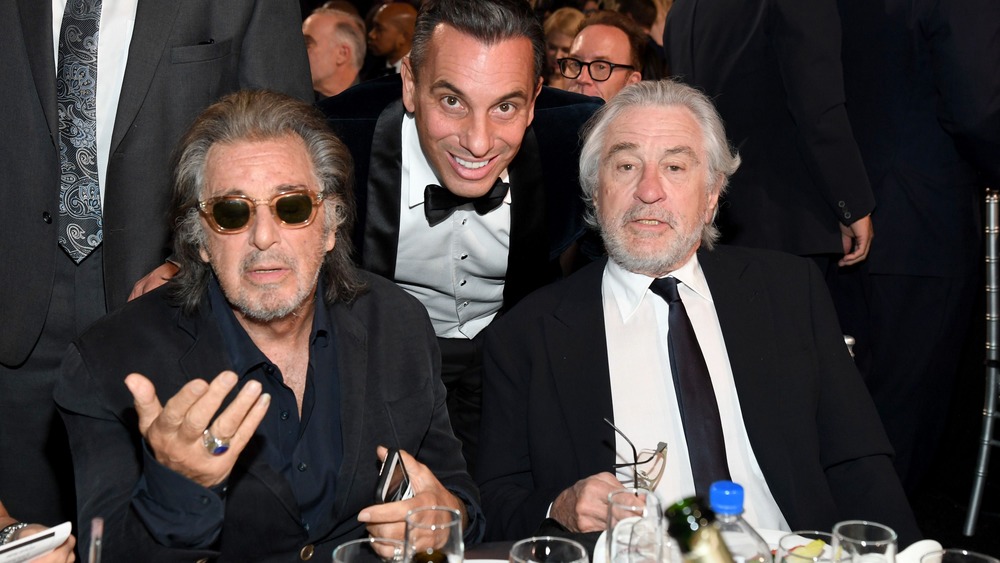 Kevin Mazur/Getty Images
In many ways, it's not too surprising that Sebastian Maniscalco landed a role as a gangster in a Martin Scorsese mafia epic. Maniscalco's Italian heritage is a big part of his act — Stay Hungry, his latest special, gets a lot of mileage out of his Italian-American upbringing, while Why Would You Do That? opens with photos of Maniscalco's Sicilian ancestors. He looks the part, too. "I've got a mean resting face," Maniscalco says in Why Would You Do That? "If I'm not talking or smiling, it looks like I could murder your entire family."
Still, it's one thing to play a mobster. It's another to play one opposite Robert De Niro and Joe Pesci, two of the best ever to do it. And yet, Maniscalco doesn't just acquit himself well. He's able to go head-to-head with not one but two silver screen legends, and manages to match both of them in terms of presence, humor, and ferocity. Reportedly, Maniscalco was incredibly nervous before he shot the scene — he says he didn't sleep for two days before filming — but none of that insecurity across on screen. His Gallo is cocky, patronizing, and dangerous, and never feels like anything less than a real threat to Frank and Russell.
For someone who's only been acting in films for a couple of years, that's a massive achievement — and it's a good sign for the future. Maniscalco may not be headlining The Irishman, but he makes a huge impact with his limited time. Keep an eye on his future roles. By all indications, Maniscalco is just going to get better and better.