The Lord Of The Rings Scene That Nearly Killed Viggo Mortensen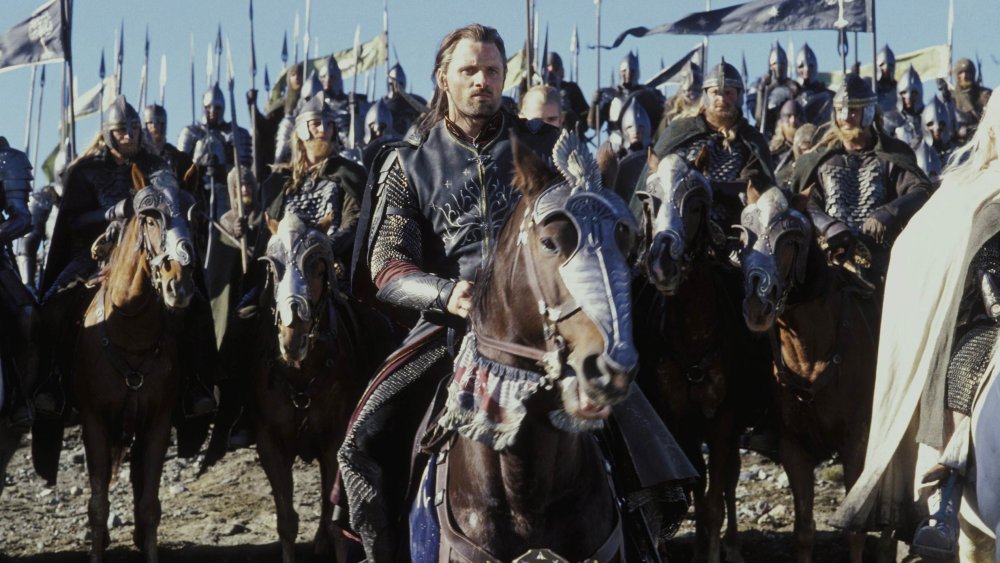 New Line Cinema
The Lord of the Rings films were filled with precarious, death-defying moments, and apparently the shooting process was pretty risky, too.
According to an expansive 2018 book that documents the years-long process behind Jackson's Lord of the Rings trilogy and was featured in a report by TIME, Ian Nathan's Anything You Can Imagine: Peter Jackson and the Making of Middle-Earth, star Viggo Mortensen had a serious brush with death during filming.
Jackson and his intrepid cast and crew tackled all three films at once in remote stretches of New Zealand, filming between 1999 and 2000, and during a pivotal scene for the third film, The Return of the King, Mortensen found himself in real mortal danger. While working on a scene in which Mortensen's character, Aragorn, rallies his troops for one last fight against Mordor while Frodo Baggins (Elijah Wood) and Sam Gamgee (Sean Astin) are making their way to Mount Doom to destroy the One Ring, Mortensen stumbled across something unexpected: Land mines.
As Nathan explains, the part of New Zealand that was used as the Black Gate of Mordor, the Rangipo Desert, was once used by New Zealand's military forces as a training ground. As a result, Mortensen was at risk of triggering any number of land mines. Though the crew came up with a safe route, Mortensen, on horseback, kept wildly improvising, understandably stressing Jackson out pretty badly.
"Jackson remembers waiting for the explosion," Nathan writes. "Having found their perfect Aragorn, they were going to watch him get blown up by an unexploded New Zealand bomb."
The many on-set injuries of Lord of the Rings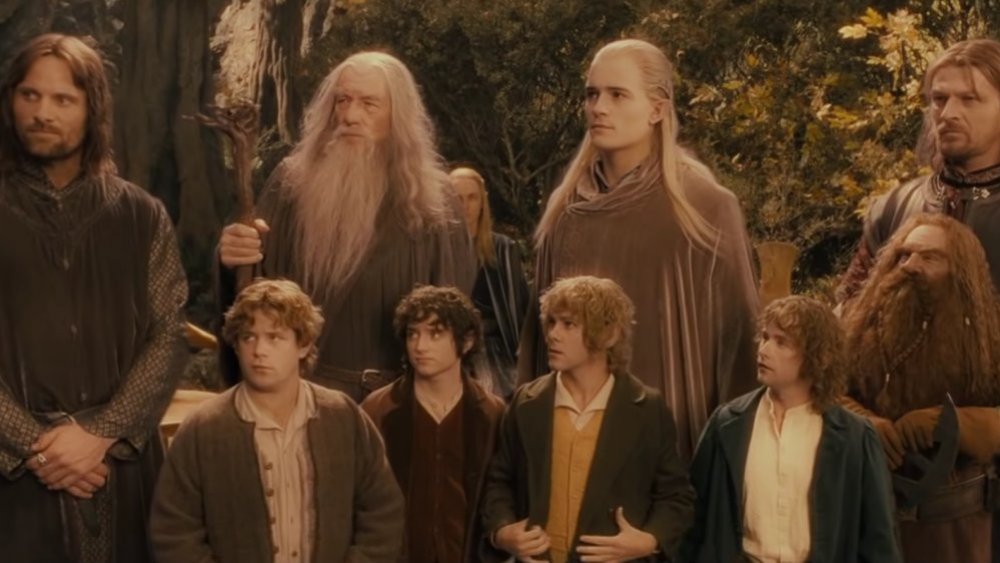 New Line Cinema
Thankfully, Mortensen managed to avoid land mines, but throughout the expansive, epic filming process of the Lord of the Rings movies, the cast, including Mortensen, suffered from lots of on-set injuries.
After kicking a helmet, Mortensen immediately shattered one of his toes — and ultimately, the take in which he broke his toe ended up in the final cut of the trilogy's second film, The Two Towers. Mortensen was no stranger to injuries, but at least this one was invisible to audiences. During filming for The Fellowship of the Ring, co-stars Billy Boyd and Dominic Monaghan, who play hobbits Merry and Pippin, respectively, took Mortensen surfing, resulting in a black eye and forcing him to be shot in profile for weeks. He also chipped a tooth during The Two Towers, asking if he could simply glue his tooth back on until Jackson made his star go to the hospital.
Other stars, like Orlando Bloom and John Rhys-Davies — who play the elf Legolas and the dwarf Gimli — also ended up acting through pain and strife, as Bloom cracked ribs during filming and Rhys-Davies suffered from horrible allergic reactions to his makeup.
Despite all of the on-set struggles, the Lord of the Rings films are still some of the most enjoyable films ever made, and luckily, the on-set injuries were pretty mild. You can stream the entire trilogy on HBO Max today, and you can pick up a copy of Nathan's book wherever books are sold for a fresh take on these famous films.