The Forgotten Bruce Willis Sci-Fi Thriller You Can Watch On HBO Max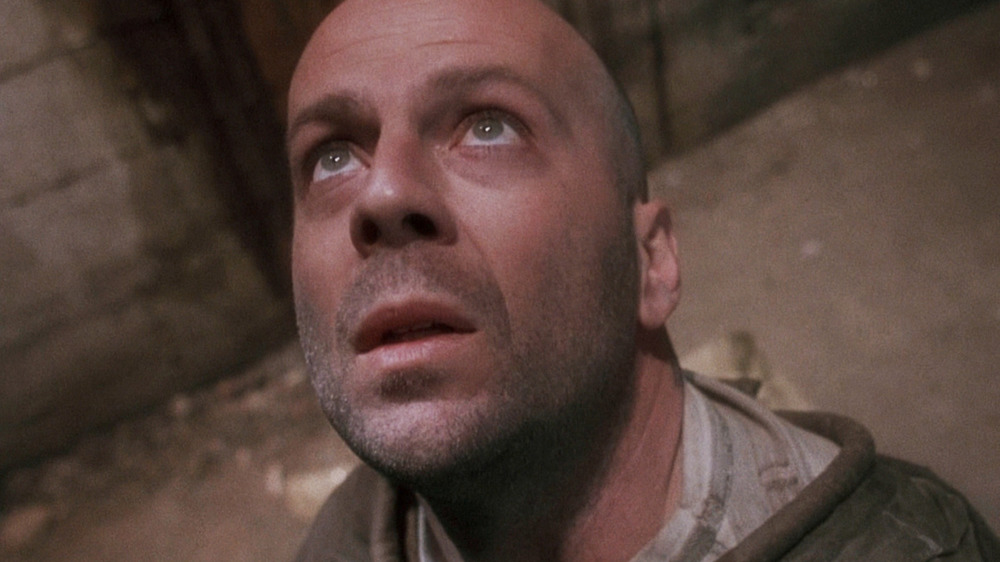 Universal Pictures
2021 Bruce Willis is a guy who gets kicked out of Rite Aid for not wearing a mask and who mostly stars in direct-to-VOD movies. (He hasn't been in a successful non-sequel theatrical release since 2012, when he starred in ... wait for it ... Looper!) But Willis used to be one of the world's biggest and best movie stars, known for iconic films like Die Hard, Pulp Fiction, and The Sixth Sense. According to movie financial data website The Numbers, he's the 24th-highest grossing movie star in American history (12th when adjusted for actors who haven't been in Marvel movies), with his 66 movies earning over $2.8 billion, ahead of his peers Nicolas Cage, John Travolta, and Mel Gibson.
It's easy these days to only think of Willis as John McClane, David Dunn, or Demi Moore's ex-husband. But he's been in so many great movies that a handful of them have entered into the realm of "lesser-seen classics" — especially among people who were too young to have witnessed Willis in his prime. (Have you seen The Siege? That's an underrated movie.)
One of Willis' best peak-era films — outside of his mega-famous ones — is 1995's 12 Monkeys, which is currently ripe for rediscovery thanks to its streaming availability on HBO Max.
12 Monkeys is Bruce Willis at his best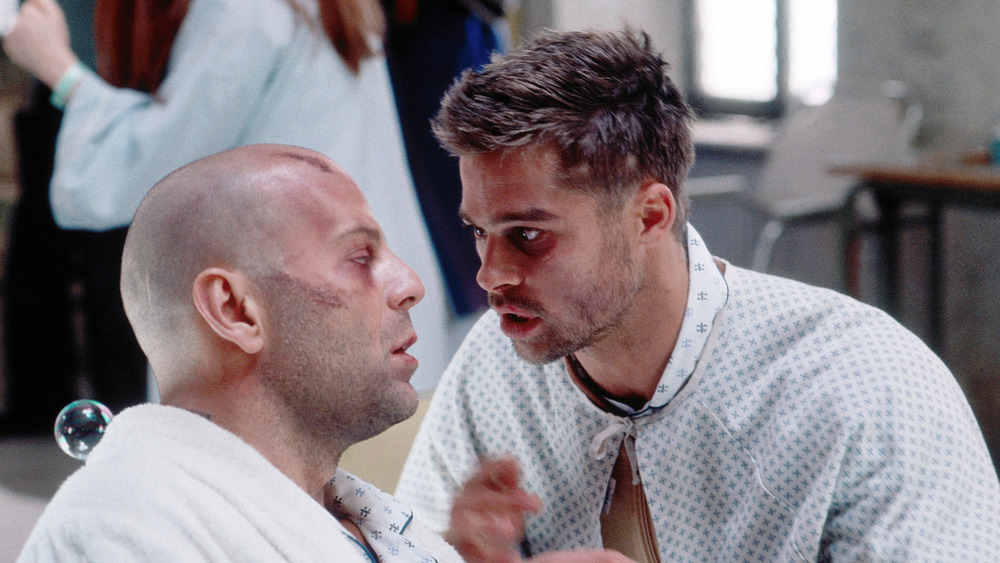 Universal Pictures
12 Monkeys is a dystopian science-fiction film from visionary director Terry Gilliam, and it's arguably his best. The film explores the themes of anti-authoritarianism and psychological instability present in most of Gilliam's movies, which include classics like Brazil and Fear and Loathing in Las Vegas. 
Willis stars as James Cole — a prisoner in a surreal underground prison in 2035 Philadelphia who is chosen by a team of scientists to go back in time to 1996 to find the origin of a deadly pandemic that wiped out most of humanity (and that's believed to have been released by a terrorist group called the Army of the 12 Monkeys.) In the past, people think he's crazy, leading him to be placed in a mental hospital, where he meets psychiatrist Kathryn Railly (Madeleine Stowe) and radical environmentalist Jeffrey Goines (Brad Pitt). They play important roles as he gets deeper and deeper into a conspiracy that goes back and forth through time.
Pitt was nominated for an Academy Award for Best Supporting Actor for his volatile performance as Goines, but he lost to The Usual Suspects' Kevin Spacey. The film was a box office hit, grossing almost $170 million against a budget of $29.5 million, according to Box Office Mojo. Additionally, 12 Monkeys had a low budget for a sci-fi production, and Gilliam worked very hard to stay on budget, as cost overruns had gotten him in hot water with studios before. "It was a tough shoot," the film's production designer Jeffrey Beecroft told The New York Times. "There wasn't a lot of money or enough time." 
But it all worked out in the end. The movie even started a little franchise, with a TV series inspired by the film airing on Syfy from 2015 to 2018.
There are more great Bruce Willis movies on HBO Max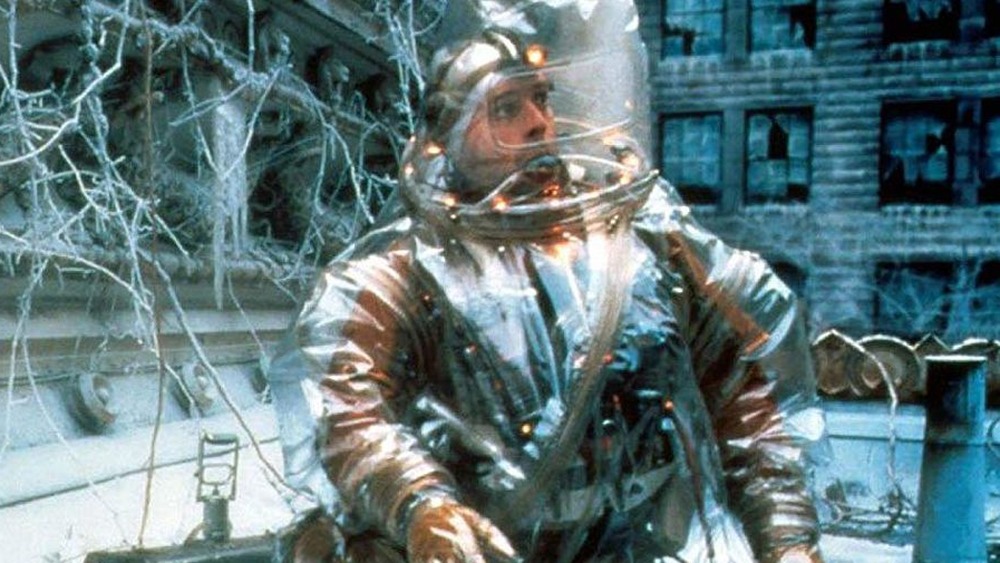 Universal Pictures
Willis — in one of his earliest performances after transitioning to a shaved head look — holds the whole thing together with an un-cocky performance that's uncommon for the alpha actor. Gilliam praised Willis' performance on the film's DVD commentary, describing his interpretation of Cole as "somebody who is strong and dangerous but also vulnerable" (via Fandom.com).
12 Monkeys is one of Willis' (many) great films available to stream on HBO Max — along with Pulp Fiction, the first three Die Hard movies, the cult classic Death Becomes Her, and his most recent theatrical release, Motherless Brooklyn, among others. It's also one of two Terry Gilliam classics on the service, with the other being Time Bandits — his fantastical post-Monty Python directorial debut.
12 Monkeys is one of the best sci-fi movies of the '90s, with CNET ranking it alongside movies like The Matrix, Terminator 2: Judgement Day, and Starship Troopers (and other Willis flicks Armageddon and The Fifth Element) as one of the sci-fi movies that still holds up.