The Adventure Comedy Series Everyone's Binging On Netflix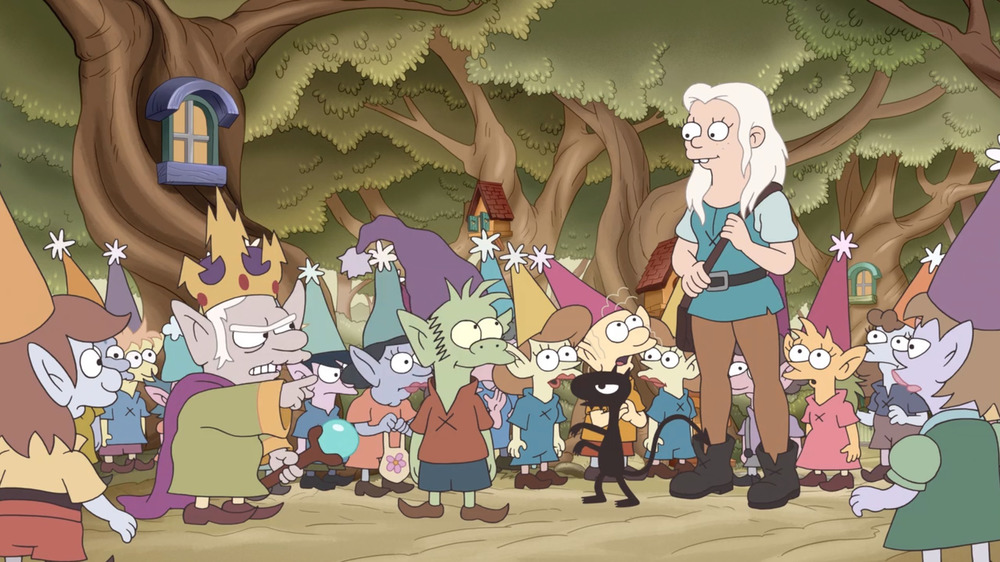 Netflix
Matt Groening changed television forever when he brought the dysfunctional family known as The Simpsons to viewers around the globe. Creating a series that gets 32 seasons and its own feature-length movie (with a sequel still in the cards) might be enough for some, but Groening also brought us the exceptional science-fiction sitcom that just couldn't help itself from always getting canceled — Futurama. After providing satirical takes on modern society set in the present and future, Groening then went to the one era he had yet to tread with Disenchantment. 
While the fantasy comedy series is similar to Groening's other projects, it does have some notable differences. Whereas his other shows are strictly episodic like the live-action sitcoms they emulate, Disenchantment is largely serialized, meaning you really need to watch it from the beginning to understand what's going on. Other than that, though, the sense of humor and the animation should be familiar.
If you're of the opinion that Game of Thrones could've used a few more zingers, then Disenchantment is right for you. It takes many of the tropes people tend to associate with fantasy series, such as the princess protagonist who longs for a better life, and flips them on their head. In that particular instance, the series focuses on Princess Tiabeanie, voiced by Abbi Jacobson, who pretty much just wants to lounge around all day getting drunk but ends up getting wrapped up in grand adventures to her dismay. With such a unique take on the popular high fantasy forms, it's easy to see why the show has broken its way into Netflix's Top Ten TV Series. 
Disenchantment is the animated fantasy we all need right now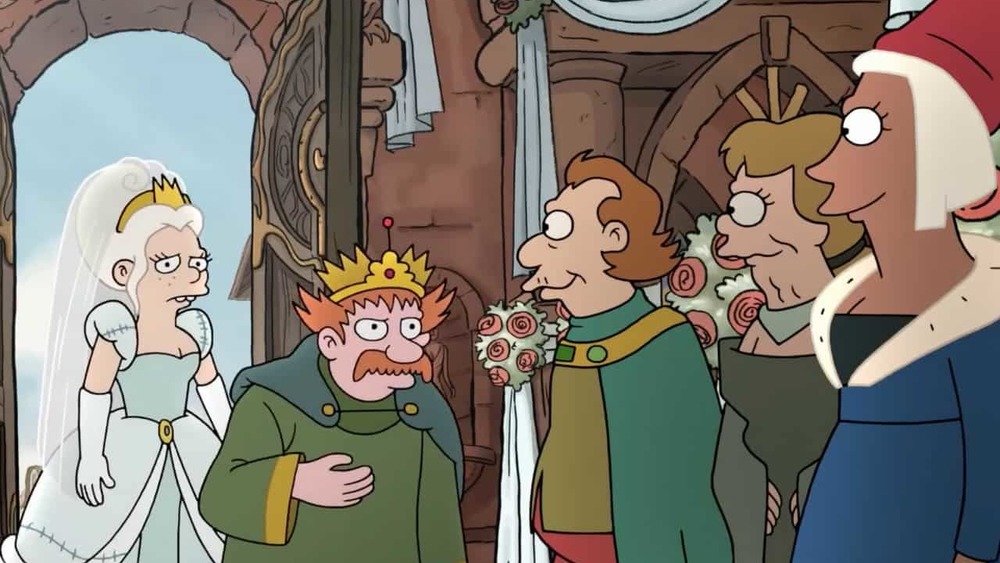 Netflix
Spoilers for season 2 beyond this point
The third season of Disenchantment dropped on Netflix on January 15, 2021, and it looks as though fans of Groening's signature brand of humor are busy binge-watching the series. When we last left these characters, Bean had discovered her mother, Dagmar (Sharon Horgan), whom she long thought dead, was actually alive, but also pretty evil. She soon returned to Dreamland with her friends Elfo (Nat Faxon) and Luci (Eric Andre) where the attempted murder of her father and the king, Zøg (John DiMaggio), is pinned on her. She's sentenced to death but manages a miraculous escape in the season 2 finale. 
Disenchantment isn't quite as raunchy as other animated Netflix originals like the controversial coming-of-age series Big Mouth and F is for Family. It has a TV-14 rating, meaning parents should use their best judgment when deciding whether to let their younger teens watch it, but if you don't mind some crude language and cartoonish violence, then the series is absolutely worth getting into — especially if you're already a fan of The Simpsons and Futurama. 
While you can definitely see the DNA of those shows in Disenchantment, it's clear from season 3 that the show is finally beginning to carve its own path forward. Without getting into any newer spoilers, the show has begun to dive into more serious territory with one of the best episodes of season 3 involving Bean having a lengthy discussion with Mora the Mermaid (Meredith Hagner) about how she's never really been in a real relationship before and what's holding her back from truly loving someone. 
Disenchantment has only grown more mature with age, but that doesn't mean it's lost its sense of humor. With a fourth season already renewed by Netflix, we'll have plenty more adventures with these colorful characters for some time to come.