Disenchantment Renewed For Two More Seasons On Netflix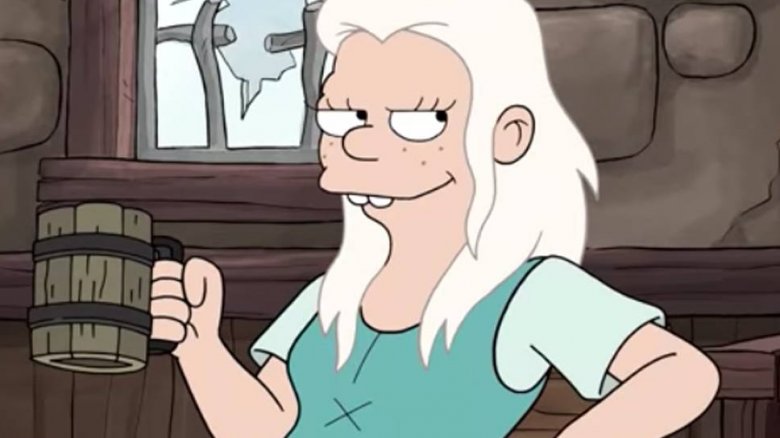 Here's some enchanting news for you Disenchantment fans out there: Netflix has picked up the Matt Groening-created animated series for two more seasons. 
As detailed by The Hollywood Reporter, the streamer handed Disenchantment another 20-episode order that will carry the show through a fourth season. 
Netflix originally ordered 20 episodes of Disenchantment, broken into a 10-episode freshman season that premiered on August 17 and a 10-episode sophomore run that's set to hit the streaming site sometime in 2019. The structure of the renewal deal matches the initial order exactly: the 20 new episodes will be split into two seasons, with season 3 airing in 2020 and season 4 debuting in 2021. 
"We're excited to continue this epic journey with Netflix," Groening, who also created The Simpsons, said in a statement on Monday, October 22. "Stay tuned for more cranked-up suspense, infuriating plot twists, and beloved characters getting knocked off."
The official Twitter account for Disenchantment also celebrated the pick-up news, sharing a video announcing that the "misadventure continues" in new episodes set for release in 2019, 2020, and 2021. 
Led by Abbi Jacobson as the hard-drinking and rebellious Princess Bean, Nat Faxon as the elf aptly named Elfo, and Eric Andre as Bean's personal demon Luci, Disenchantment has mostly charmed critics, who called the show a "perfectly bingeable series" that "has all the zany charm and razor-sharp wit of Groening's previous works set in a lush, new world." That's not to say that everyone fell head over feet in love with Disenchantment – plenty were a bit underwhelmed by the series' freshman outing — but it is to prove that the majority of watchers felt show has enough going for it to deserve additional seasons.
So long as the show can truly find its feet in the upcoming episodes, rectifying its "overall familiarity and disappointing willingness to play it safe" that some felt wouldn't "bode well for future seasons," Disenchantment should only get better from here on out. 
Check back with Looper for an official release date for season 2 of Disenchantment.