The Post-Apocalyptic Anime Series That's Killing It On Hulu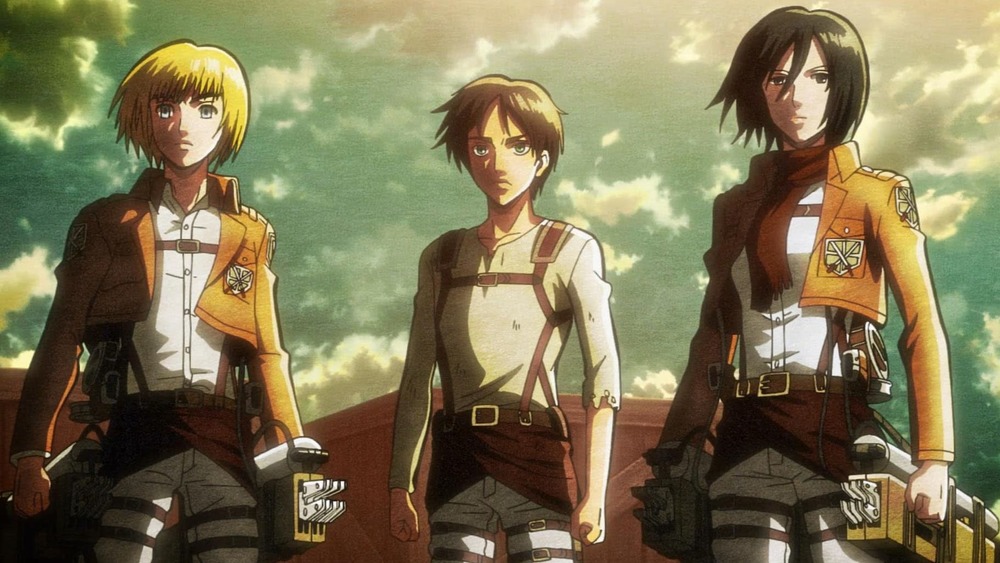 MBS/NHK General TV/Adult Swim (Toonami)
Every so often, an anime series from Japan really breaks big in the West, leading to a hit like Dragon Ball Z or Sailor Moon – both series with a true global appeal. These shows tend to be the ones can be enjoyed by a general audience — think Naruto, One Piece, or Pokémon. Then there's the rare exception like Attack on Titan, an anime with substantial crossover appeal that also happens to be mature with a capital "M."
You wouldn't inherently assume that an anime about giant humanoid monsters eating people in spectacularly gory fashion would catch on with a massive audience, yet here we are. Attack on Titan started as a manga series back in 2009 and has gone on to become one of the most popular of all time with over 100 million physical and digital copies sold worldwide (via Anime News Network). The manga is set to end later this year when the final volume gets released on June 9, 2021, and the anime is set to do the same when the final episodes of its fourth season roll out over the next few weeks. By all accounts, it looks like fans are tuning in to see how this series ends, making the show one of the top-viewed in the entire world at the moment on Hulu. 
Attack on Titan draws in viewers for its final, bloody season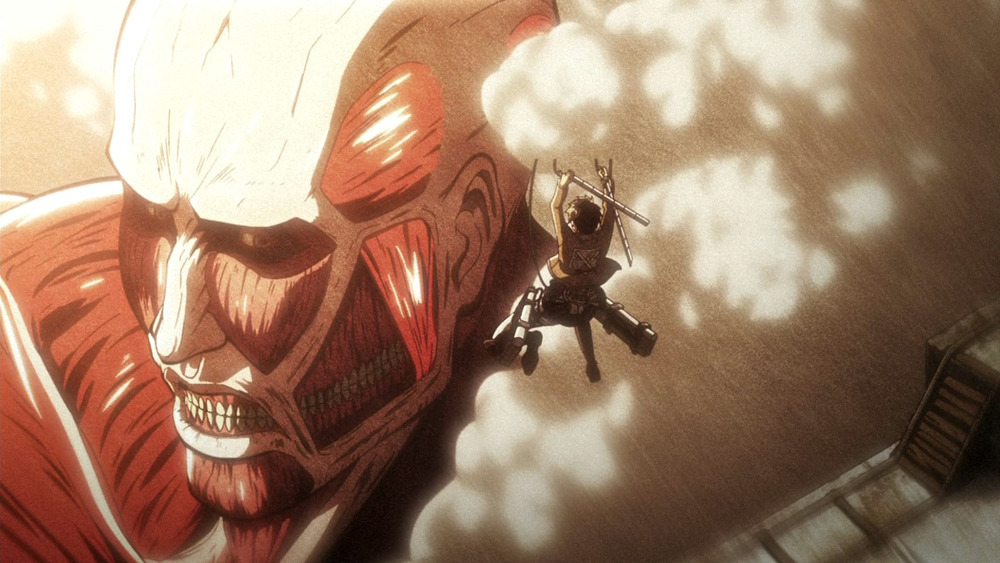 MBS/NHK General TV/Adult Swim (Toonami)
Flix Patrol monitors the top-performing movies and TV series around the world, and right now, Attack on Titan is eating up the competition on Hulu. This is likely due to the fact the series is currently in the midst of its final season with new episodes airing weekly. We won't give away any spoilers in case you're not caught up with season 4 yet, but for anyone on the fence about whether to start this series from the beginning, we can only give you an emphatic, "Yes!"
The dark fantasy series takes place in a world that's been overrun by horrendous creatures known as Titans. To adapt to this terrifying environment, the remnants of humanity have constructed cities for themselves that are hidden behind immense walls. When we're brought into this world in the first episode, the focal town hasn't experienced a Titan attack in over 100 years, but that's all set to change very soon. After an assault on his home, Eren Jaeger sets out to join the Scout Regiment so that he can help take down the Titans once and for all. 
Attack on Titan manages to maneuver through genres, moving deftly between horror, romance, and action without losing the urgency of the plot. The show has become one of the best-reviewed anime in recent memory, garnering a ton of positive word-of-mouth, including one review from Maya Phillips of Vulture who wrote, "In our current age of terrifying dystopian realities, it's hard to find a dystopian show with something new to deliver — and yet here it is."
The first season of Attack on Titan is available on Netflix, but you can watch every episode right now on Hulu. We'd highly recommend binge-watching it before the series finale so that you can enjoy it in all its glory alongside everyone else. Plus, with an Attack on Titan adaptation in the works from Andy Muschietti, it won't be the last time you take a trip into this apocalyptic landscape.