Elizabeth Olsen's Surprising Favorite Special Effect From WandaVision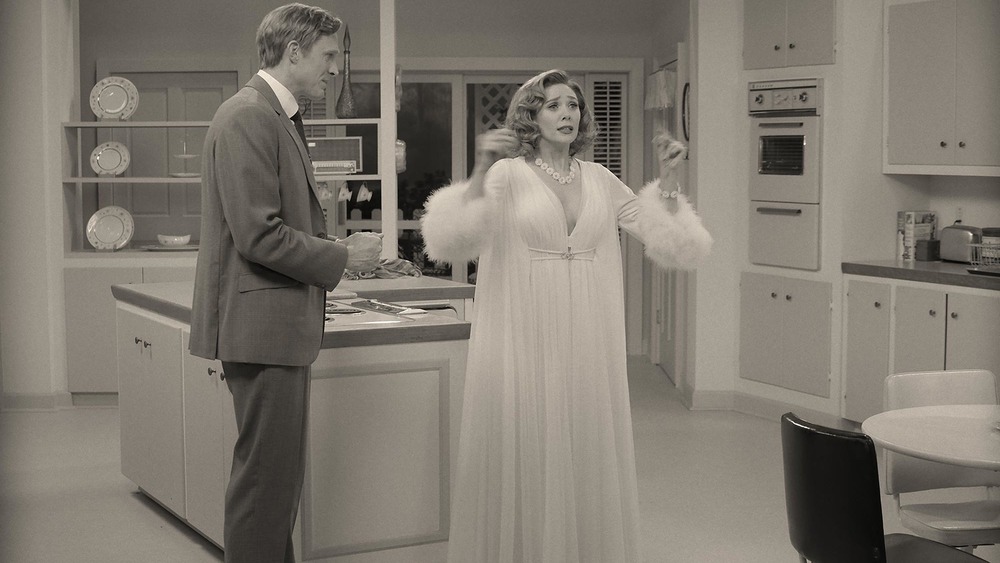 Marvel/Disney+
There's plenty of magic found throughout WandaVision, but star Elizabeth Olsen's favorite effect very well might surprise you. Light spoilers for WandaVision and the Marvel Cinematic Universe ahead!
On January 15, 2021, the Marvel Cinematic Universe debuted its first huge project since 2019 with WandaVision, which dropped its first two episodes on Disney+ (which also serves as the exclusive home to the many films of the MCU). The series, which chronicles the adventures of Wanda Maximoff (Olsen) and her android husband Vision (Paul Bettany), is still largely shrouded in mystery — with each episode so far chronicling a different era of television, viewers are left to wonder what will happen next as Wanda and Vision try to hide her telekinetic powers and his true robotic nature. When you add in the fact that Vision is dead within the normal MCU timeline, there's a lot of questions surrounding the trajectory of WandaVision, which will certainly keep viewers hooked week after week.
So far, the central conflict focuses on making sure none of Wanda and Vision's unsuspecting suburban neighbors discover their secret powers, leading to some pretty hilarious situations where Vision must distract people as Wanda's telekinesis is on fully display. In a recent interview, Olsen opened up about her favorite effect so far, and revealed some other tidbits about the behind the scenes process of WandaVision.
Elizabeth Olsen loves the practical magic of WandaVision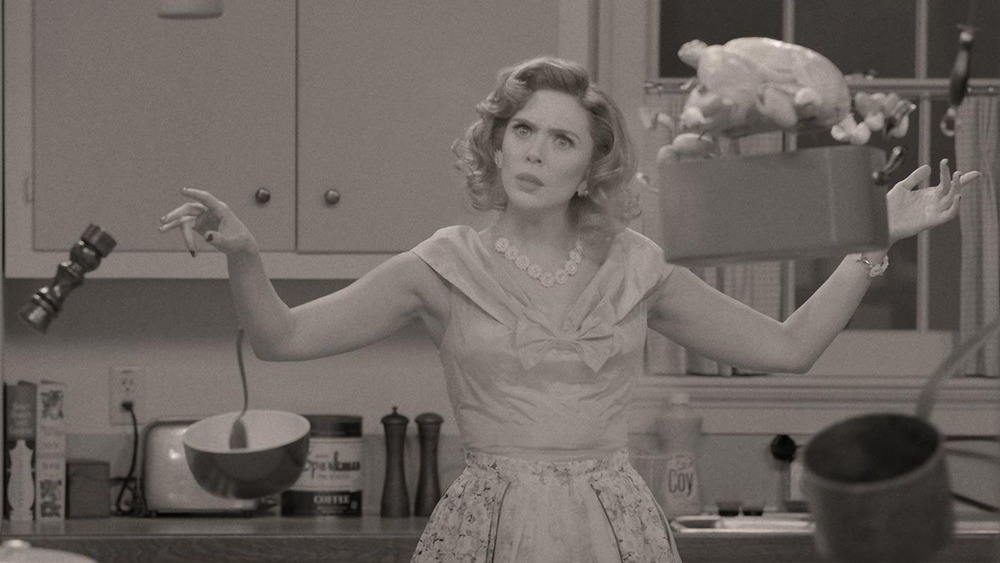 Marvel/Disney+
In a Buzzfeed interview with both Olsen and Bettany, the two shared a bunch of fun facts about the making of Wandavision, including Olsen's favorite special effect that we've seen thus far.
According to the feature, "[Olsen] said it was amazing to watch the Marvel special effects team who are 'used to blowing things up' [in the MCU films] become 'puppeteers' and figure out how to make all of the magic happen in the kitchen with Wanda." Olsen weighed in, describing a scene from the series' first episode, where Wanda struggles to cook dinner for some of the couple's human companions.
"My favorite one was watching two of our special effects guys puppeting a dish rag trying to dry a cup," Olsen told Buzzfeed. "It was so complicated and so frustrating for them. They figured it out. But it was really funny watching them trying to figure out how to bounce a dish rag to dry a cup."
Throughout the interview, Bettany and Olsen also describe what it felt like to film in front of a live studio audience — for his part, Bettany had his doubts, but later described the experience as fun, saying it felt like a "school play" — and gushed about some of their co-stars, including Teyonah Parris and Kathryn Hahn, who play Monica Rambeau (currently known as Geraldine) and Agnes, respectively. 
The first two episodes of WandaVision, including Olsen's favorite special effects, are available to stream on Disney+ now, and new episodes drop every Friday at midnight PST.