WandaVision Cast Explains Working In Multiple Decades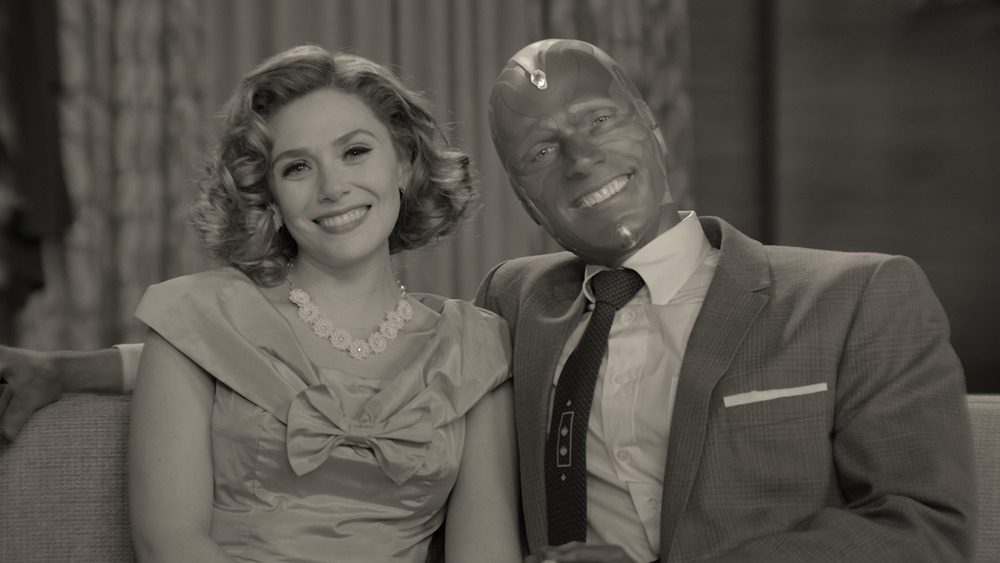 Disney/Marvel Studios
While its costumes and its black-and-white presentation go a long way in developing a feel for the TV eras viewers will experience watching the initial episodes of WandaVision, cast members from the new Marvel Studios series says the process has more layers to it than meets the eye.
WandaVision, which kicks off Phase Four of the Marvel Cinematic Universe on Disney+, is set after the events of Avengers: Endgame but transports Wanda Maximoff (Elizabeth Olsen) and Vison (Paul Bettany) into the classic sitcom worlds of the 1950s, '60s, '70s and beyond — presumably to get the chance to live out the idyllic life they never had together, while a much bigger story unfolds outside of their perceived reality.
But in this uncharted corner of the MCU, series creator and head writer Jac Schaeffer had much more in mind than the basics of Classic Television Sitcoms 101 when it came to representing the authenticities of the decades WandaVision recreates. In a press conference attended by Looper, Olsen pointed out some of the intricacies, pointing out that "the way women moved throughout the decades changes so much when it comes to what society wants from them."
"Jac did write in quite a few nods to how those were evolving throughout the decades," Olsen explained. "In the '60s, [Wanda] gets to wear some pants. And that would adjust how someone moves through space."
Wanda and Vision mind their manners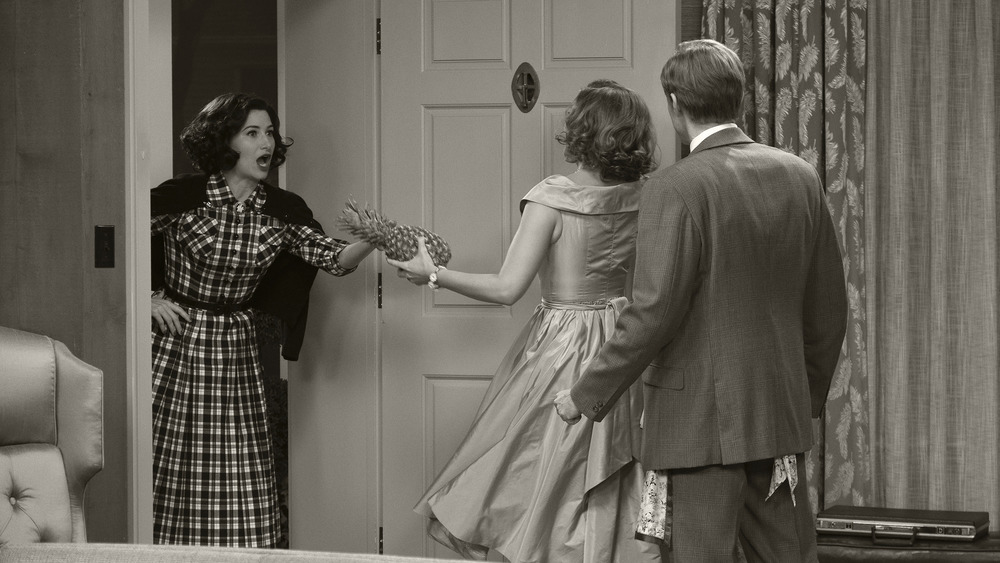 Disney/Marvel Studios
Olsen also pointed out how important it was to accurately portray the manners of the times. "When we talk about vocal work and speech and cadence, manners were a huge part of every decade — and so, we would get this book of manners for the time as well. But we also have to remember that we're not depicting an honest reality of the '60s or the '70s. We were depicting... sitcom reality, which is its own set of rules."
Kathryn Hahn plays nosy neighbor Agnes, who often pops into Wanda and Vision's home without warning. She noted that those rules included a balance that Schaeffer and director Matt Shakman ensured would never tip toward satire.
"This trick was to not satirize it, but to get inside of each [decade], and that's what I think was such totally, such a trick to pull off." Hahn said. "I'm still so blown away by Matt and by Jac by being able to do that, because that's difficult, tonally."
New episodes of WandaVision premiere Fridays on Disney+.