WandaVision Director Calls Elizabeth Olsen And Paul Bettany 'Brilliant' - Exclusive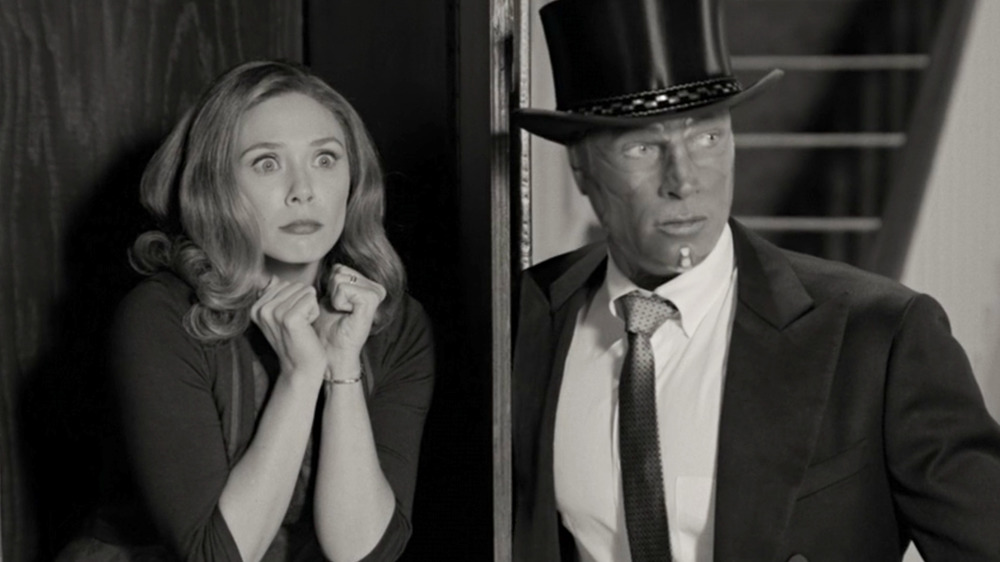 Marvel Studios/Disney+
Up to this point, Wanda Maximoff and Vision's time together and apart has been fairly serious and adventurous in the Marvel Cinematic Universe, and sadly came to a tragic end with Vision's death at the hands of Thanos in Avengers: Infinity War. But for those still longing for the romance between Wanda and Vision that played out in the Marvel Comics, the creatives at Marvel Studios have found a way to not only bring the two characters back together post-Avengers: Endgame, but also provide for them several moments of levity.
Kicking off Marvel's Phase 4 with their own series on Disney+, Wanda (Elizabeth Olsen) and Vision (Paul Bettany) have been given their own idyllic world for their romance — albeit wrapped inside a much bigger, intriguing story — with WandaVision. The difference is that here, the romance plays out in the world of classic television sitcoms, which requires the sort of acting that wasn't required of Olsen and Bettany in the MCU films. It's no surprise that Olsen and Bettany delivered — so much so that WandaVision director Matt Shakman (It's Always Sunny in Philadelphia, Game of Thrones) regards the pair as absolutely brilliant.
The MCU, sitcom-style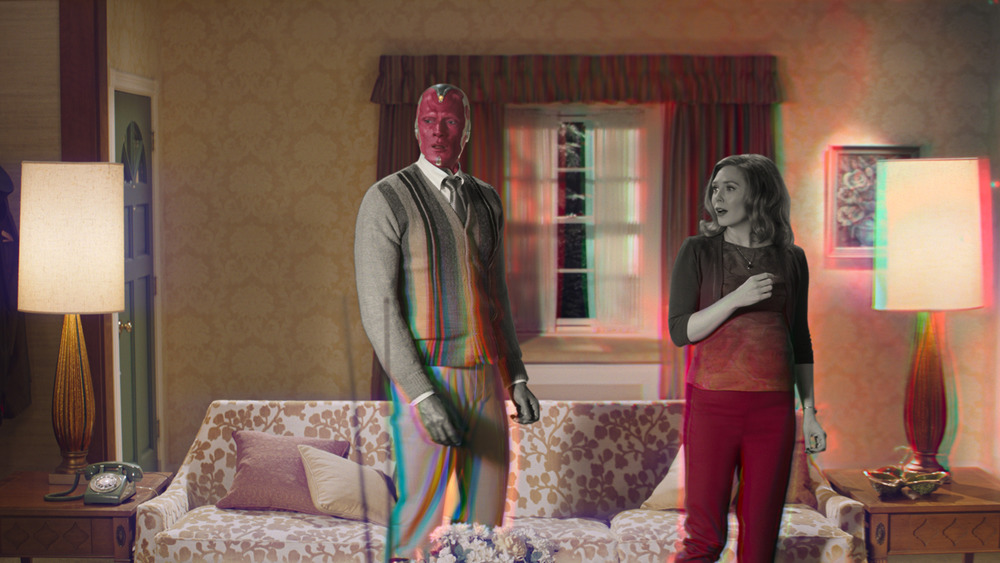 Marvel Studios/Disney+
In an exclusive interview with Looper, Matt Shakman shared that he's been a huge fan — both personally and professionally — of Olsen and Bettany for a long time, so he knew going into the series that both actors could be funny. What made things unique for this particular comedy, though, was series creator Jac Schaeffer's mixture of time periods that broaden the landscape for Olsen and Bettany's comedic performances.
"They're amazing. They can do anything. I knew they were funny. I knew they could do lots of different things, but what we were asking them to do is something no one had ever asked them to do before — and probably won't ever ask them to do again — which is to do these bizarre, different period styles," Shakman shared with Looper.
The director noted that since both Olsen and Bettany have an incredible work ethic and are geniuses at what they do, he knew they were up to the task.
"They made me laugh the entire time. They're both brilliant hams," Shakman enthused. "And I think the other thing that's important about it, though, is that we always needed to ground it. We always needed to make sure that it wasn't just an exercise in style, or that it felt like parody. And they can do that — they can turn on a dime when they need to. They're just as good at drama as they are at comedy. And they can do both at the same time, basically."
Fans can experience the magnitude of Elizabeth Olsen and Paul Bettany's comedic and dramatic talents by streaming the first two episodes of WandaVision on Disney+ now.