Kathryn Hahn Gushes About Working With Elizabeth Olsen On WandaVision - Exclusive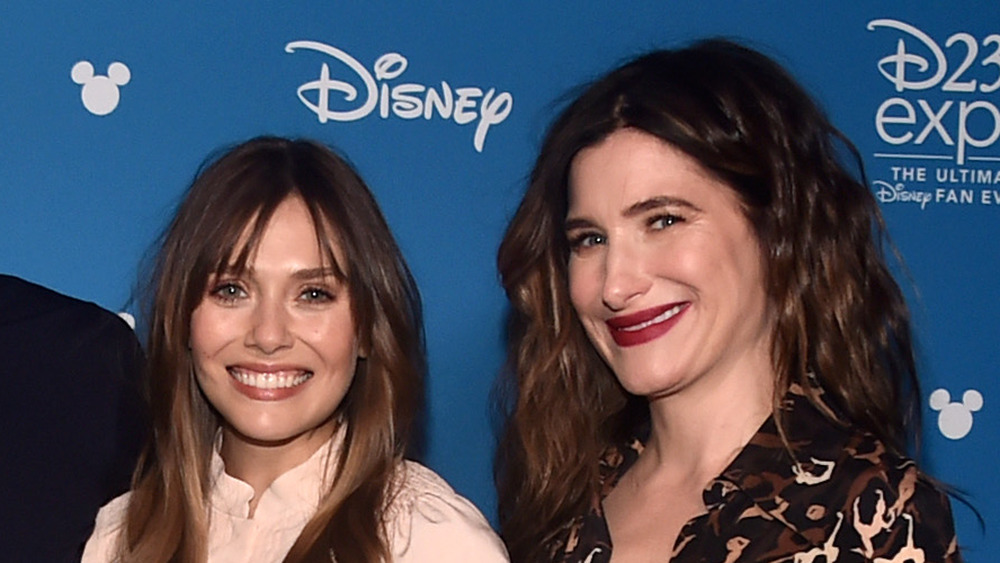 Alberto E. Rodriguez/Getty Images
With WandaVision, superhero enthusiasts and comedy fans are getting the best of both worlds. The Disney+ series ushers in Phase Four of the Marvel Cinematic Universe by melding the world of Wanda (Elizabeth Olsen) and Vision (Paul Bettany) following the events of Avengers: Endgame with the comedic sensibilities of classic television sitcoms of yesteryear.
Not only does this bold approach give Olsen and Bettany the opportunity to reprise their beloved roles from the Avengers saga, it swings the door wide open for comedic talents the caliber of Kathryn Hahn, who left audiences doubled over in laughter in such films as Step Brothers and Bad Moms, as well as TV series like Parks and Recreation.
In WandaVision, Wanda and Vision mysteriously find themselves living an idyllic life together in a classic sitcom world beginning in the 1950s, with each episode taking on a new decade inspired by TV classics like The Dick Van Dyke Show, Bewitched, and The Brady Bunch. As Agnes, who often arrives unannounced at the couple's suburban abode, Hahn fills the role of the classic "nosy neighbor." As she told Looper during our exclusive interview, one of the particular highlights of playing Agnes was working with Elizabeth Olsen.
Kathryn Hahn found instant chemistry with Elizabeth Olsen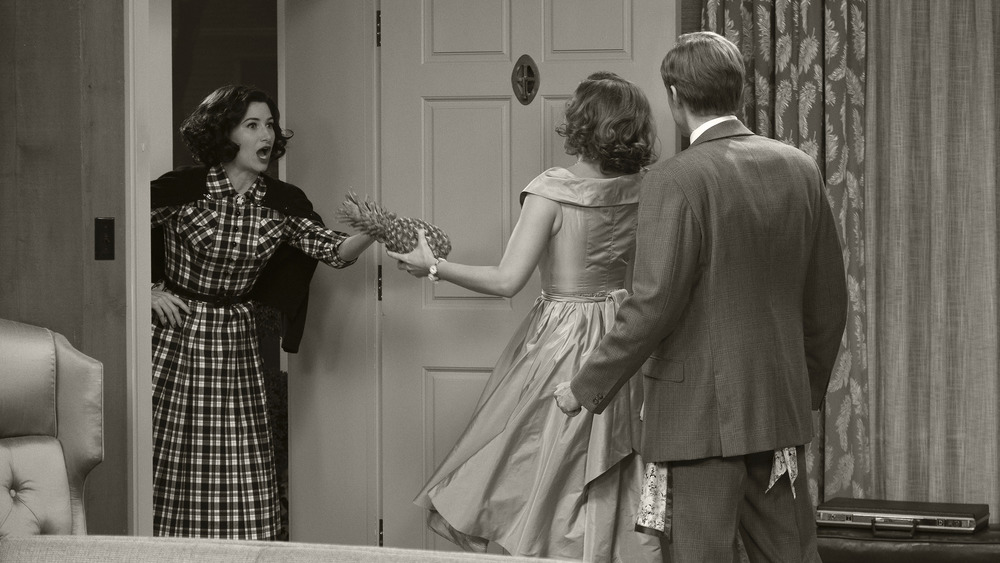 Marvel Studios
Hahn told us about working with Olsen in several key scenes for the first two episodes of WandaVision. The two had an immediate chemistry — chemistry they discovered in rehearsals, and which Hahn knew would enhance her performance.
"Just reading in the same space as your scene partner, you find so much of your performance through the other person," she says. "So yes, I was so excited to work with her in advance, 'cause I just think she's so tremendous. And then when we got down to it, I mean, she's just a phenomenal, diligent, wonderful actor."
Hahn says working with Olsen even made the more taxing parts of recreating classic television sitcoms pleasurable. She doesn't even want to call the work challenging, because "it was so fun as an actor."
"There were other elements that we had to put on; the costumes, the period, the accent, everything, the lights — turns out [the lights] are much hotter in the '50s — but we were able to get through all of that," Hahn says of her work with Olsen. "She just such a decent human, and we did have such great chemistry, which it's no small thing, and I care about her very deeply."
WandaVision drops on Disney+ January 15 with a two-episode premiere.