What To Watch If You Loved Game Of Thrones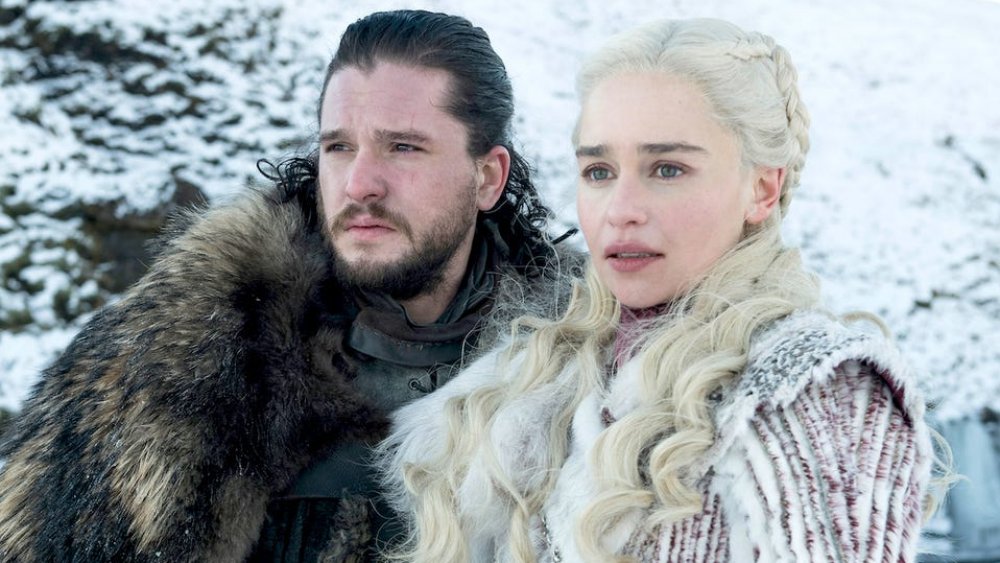 In May 2019, after eight seasons and nearly a decade, HBO's juggernaut fantasy series Game of Thrones — based on the Song of Ice and Fire novels by George R.R. Martin — came to an end, finally revealing who would rule over the contested Seven Kingdoms of Westeros after years of intrigue, bloodshed, and plotting. Right from the beginning, Game of Thrones captured the collective consciousness and dominated the pop culture landscape thanks to a clever mix of epic action set pieces, thorough world-building, several satisfying character arcs (despite some stumbles in that area), and a gripping narrative about warring families and armies all vying for the Iron Throne amidst dragons, ice zombies, and magic.
Despite Game of Thrones' rather lackluster ending, it left enormous shoes to fill on the small screen, with networks trying to score the next big hit that could provide a new adventure for Thrones' most loyal viewers. If you were a huge Game of Thrones fan and you're looking for your next fix, we've got you covered. From new fantasy epics to complicated family stories to historical dramas, here's what you should watch if you loved Game of Thrones.
Succession has the kind of family intrigue you loved on Game of Thrones
A year before Game of Thrones came to an end, HBO introduced a worthy "successor" to its television throne with Succession, a satirical drama created and led by showrunner Jesse Armstrong. This modern take on Shakespeare's King Lear tells the story of the powerful Roy family — who lead Waystar Royco, an enormous global media empire — and its patriarch, Logan Roy (Brian Cox), who must decide which of his children will pick up his mantle when he chooses to retire. Ultimately, his choices aren't great, between hapless Connor (Alan Ruck), chaotic Roman (Kieran Culkin), conniving Siobhan (Sarah Snook), and power-hungry Kendall (Jeremy Strong), leaving Logan in a tough spot. As he dangles Waystar Royco over the heads of his children, they try to come up with their own plans, putting them all at odds over and over again.
Since its premiere, Succession has racked up massive critical acclaim and nominations at the Emmys and the Golden Globes, even beating Thrones for writing at the 2019 Emmys. If you're looking for family intrigue, backstabbing, shockingly sympathetic bad guys, and a longstanding fight over a very different kind of throne, stick with HBO and start watching Succession.
If you're looking for dark fantasy, check out True Blood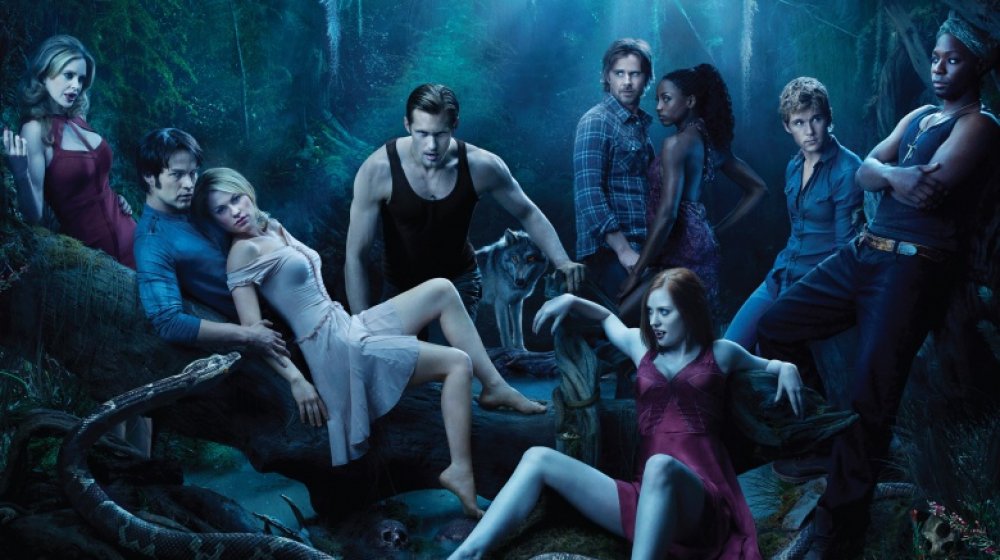 Long before Game of Thrones dominated the airwaves, HBO had another hit on its hands with True Blood, based loosely on Charlaine Harris' popular Sookie Stackhouse books. Academy Award winner Anna Paquin stars on the show as Sookie, a humble waitress in the small town of Bon Temps, Louisiana, with a unique power. She can read people's thoughts, which can get overwhelming pretty often. However, before long, she meets a vampire, Bill Compton (Paquin's eventual real-life husband Stephen Moyer), whose mind is closed to her, creating an immediate attraction. 
Bill isn't exactly rare, either. The series is set in a world where vampires walk among humans thanks to the invention of synthetic blood, the titular "True Blood," that lets them "come out of the coffin" and prevents them from feasting on real blood. Besides vampires, Sookie has other magical creatures to deal with like werewolves, maenads, and fae, keeping her busy throughout the series' seven seasons.
Though the show fell apart a bit later on, True Blood's first five seasons earned plenty of acclaim, and ultimately, it shares plenty of DNA with Thrones, from fantastical elements to soapy drama to countless steamy scenes. If you're missing Thrones, head back a little further in HBO's history and check out True Blood.
The Dark Crystal: Age of Resistance is the perfect adventure for all ages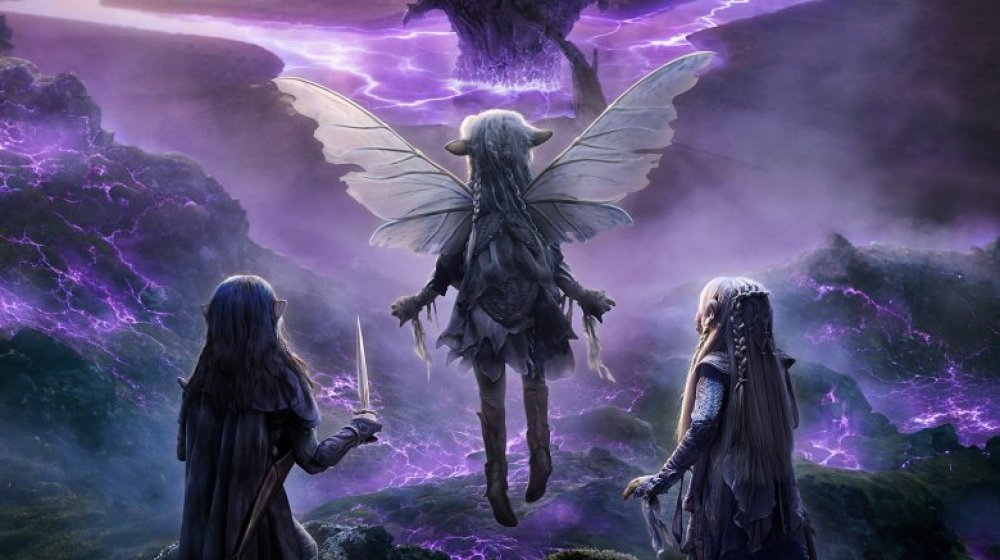 Years after Jim Henson's fantasy epic The Dark Crystal charmed generations, Netflix brought viewers back to Thra with The Dark Crystal: Age of Resistance, a prequel series that explores Henson's world even further. The show focuses on three Gelflings — the native race of Thra — named Rian (Taron Egerton), Brea (Anya Taylor-Joy), and Deet (Nathalie Emmanuel), who discover an insidious plot by their evil Skeksis overlords that could destroy Thra entirely. Together, they must work to overthrow the Skesis race and protect Thra from utter destruction.
The Dark Crystal: Age of Resistance shares similarities to Game of Thrones that include intrigue, a battle to save an entire race from impending doom, and excellent world-building, but more than that, the shows actually share quite a few cast members. Several Thrones alumni, including Emmanuel, Natalie Dormer, and Lena Headey lend their voices to Age of Resistance, making it familiar to Thrones fans. And beyond that, unlike Thrones, Age of Resistance is perfectly suitable for fans of all ages.
The Witcher is a great replacement for Game of Thrones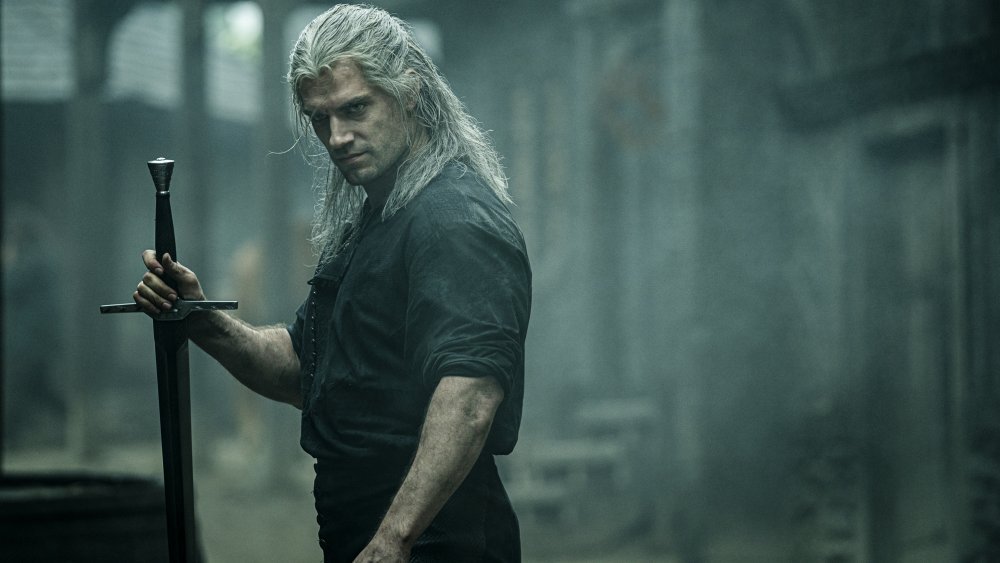 In the wake of Game of Thrones' finale, plenty of shows tried to take its place, and Netflix threw its hat into the ring with The Witcher, an adaptation of a book series of the same name by Polish writer Andrzej Sapkowski. The story of Geralt of Rivera (played by Henry Cavill) set on the fictional "Continent," The Witcher chronicles Geralt's monster-hunting and his cosmic connection with Ciri (Freya Allan), a princess with magical powers. Alongside Yennefer of Vengerberg (Anya Chalotra), a part-sorceress who's also linked to Geralt, the two must navigate the fraught Continent and make their respective ways, while audiences learn their backstories through a time-shifting narrative.
Between its fantastical elements, monster-hunting, and penchant for prophecies, The Witcher seemed like a perfect Game of Thrones replacement when it premiered in December of 2019, As it continues, Cavill's winning central performance will certainly keep this fantasy epic going for Thrones fans looking for a new fix.
Westworld generates a whole lot of fan theories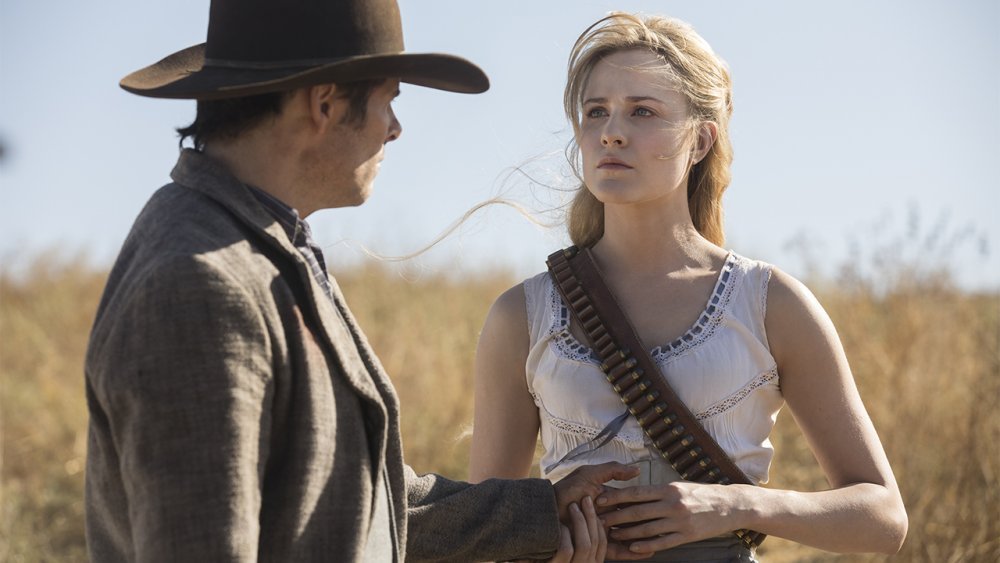 Based on the 1973 film written and directed by Michael Crichton, HBO's Westworld was created by Jonathan Nolan (Christopher Nolan's brother) and his wife, Lisa Joy. The series tells the twisting, turning story of a futuristic theme park filled with hyper-realistic androids, or "hosts," designed to entertain the park's guests. Each host has an incredibly involved backstory and can live and die at their guest's pleasure, including Dolores (Evan Rachel Wood), Teddy (James Marsden), and Maeve (Thandie Newton), who spend their endless lives performing the same stories over and over again. However, when the hosts start to gain sentience, relations between humans and androids — especially the humans who run and oversee Westworld and other, similar parks — become fraught, to say the least.
There's plenty of overlap between Westworld and Game of Thrones. Composer Ramin Djawadi worked on both projects, and Thrones showrunners David Benioff and D.B. Weiss made a cameo during Westworld's third season. But for most fans, the world-building and fantasy elements are enough. However, Westworld can also fill one particular void for Thrones fans, in that it's a show that sparks crazy theories. Thrones lovers who miss musing about what might happen next season will be able to fill that time wondering about what's next on Westworld.
Stranger Things introduced the world to rising young stars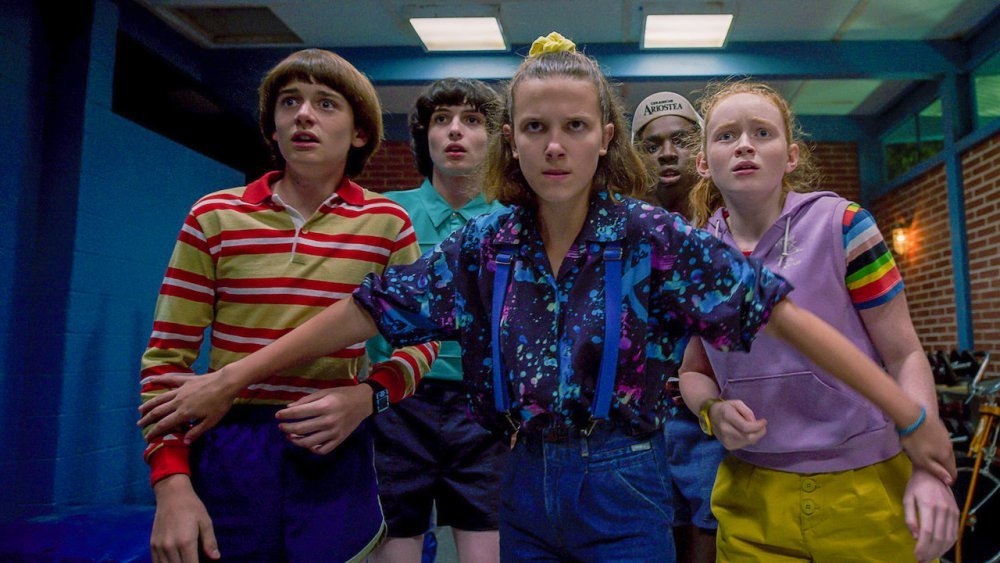 Stranger Things, which has become one of Netflix's flagship original series since it premiered in the summer of 2016, might not seem like it has a ton in common with Game of Thrones, but they probably share a fair amount of fans. Set in the supernaturally troubled town of Hawkins, Indiana, the Duffer Brothers' beloved Stranger Things focuses on a plucky group of teenagers and their parents who constantly find themselves at odds with frightening forces, including an entire "upside down" world, creatures like demogorgons, and even evil Russians. Throughout three seasons, the show has captured the collective imagination just like Thrones did when it first premiered, inspiring plenty of fan theories and drumming up excitement for future seasons.
Beyond that, Stranger Things and Game of Thrones share one huge common denominator. Both shows have served as a launching pad for talented young actors. When Thrones began, stars like Kit Harington, Emilia Clarke, Sophie Turner, and Maisie Williams were young and completely unknown. Meanwhile, Stranger Things has made stars out of young talents like Finn Wolfhard, Millie Bobby Brown, Joe Keery, Natalia Dyer, and more. If you want to catch future stars like these in their first big projects, these two shows are a pretty good place to start.
Outlander is a romantic alternative to Game of Thrones
Based on the successful series of novels by Diana Gabaldon, Starz's Outlander tells the story of Claire Randall (Caitriona Balfe), a nurse living through World War II who stumbles across a tree that transports her to Scotland in the mid-1700s. There, she meets Jamie Fraser (Sam Heughan), a formidable and smoldering Highland warrior, and the two form an inseparable bond as they fight through the Jacobite uprisings of the time, all while Claire lends her suspiciously advanced medical expertise to the people they encounter. Though Claire and Jamie are frequently separated by time — Claire eventually returns to the 20th century, pregnant with Jamie's child and still in love with him, as he heads into a dangerous Scottish battle — they always find their way back to each other, despite their impossible circumstances.
Game of Thrones was famous for everything from its battle scenes to its shocking plot twists, but it was also known for its steamy love scenes. In fact, critics even coined the term "sexposition" thanks to Thrones, referring to scenes that were awash with sex and nudity for seemingly no reason at all. Outlander handles these a bit differently, infusing intimacy and meaning into Claire and Jamie's sex scenes, so if you're looking for a slightly more romantic approach, Outlander would be a surefire bet.
Rome was Game of Thrones before Game of Thrones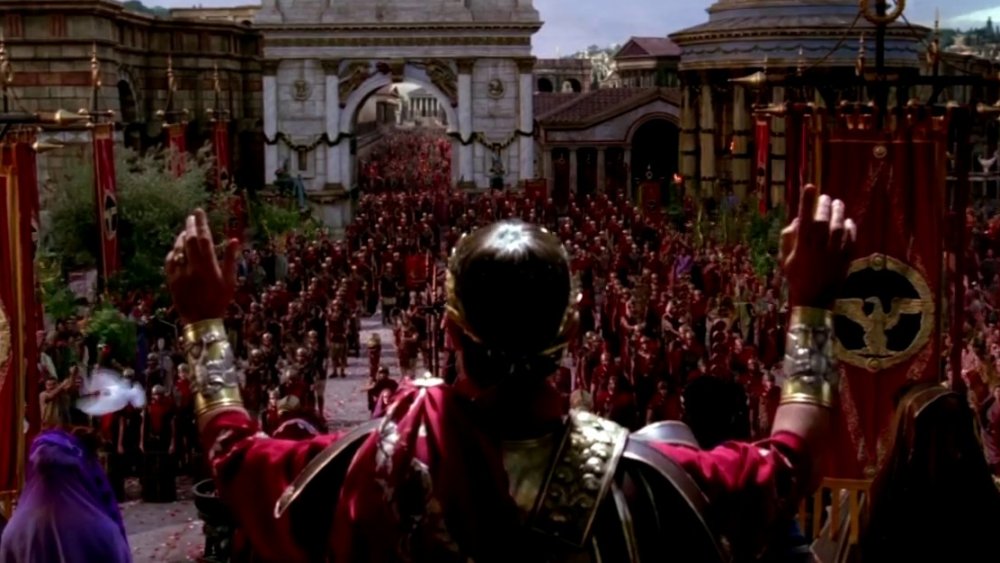 Widely regarded as the most obvious predecessor to an ambitious project like Game of Thrones, HBO's big-budget historic epic Rome, which ran from 2005 to 2007, brought the intrigue and intricacies of Ancient Rome to life long before viewers visited Westeros. The two shows even shared some cast members — Ciaran Hinds played Julius Caesar and wildling king Mance Rayder, Indira Varma played Niobe and Ellaria Sand, and Tobias Menzies played Brutus and Edmure Tully on Rome and Thrones, respectively — and both focused on endless fights for power and the people seeking it, set against a sprawling, epic backdrop.
Though Rome only lasted for two seasons, it drew significant critical acclaim during its run, and it certainly set the stage for an epic like Thrones, which tells an extraordinarily similar yet completely fictional story. If you want to see the shows that set the stage for Thrones, you'll definitely want to go back to a different era and check out Rome.
The Tudors features a fantastic Natalie Dormer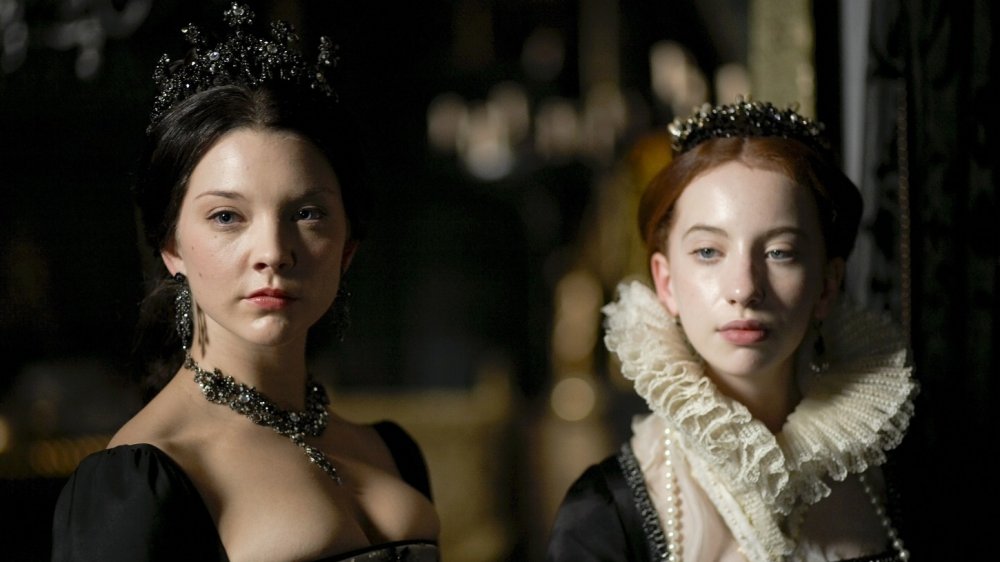 If you think Game of Thrones is full of salacious intrigue, drama, and evil would-be monarchs, you might want to dive into British history to learn about some of its most fascinating real-life monarchs. A perfect example is King Henry VIII, the Tudor king who famously married six women and "disposed" of a couple of them. Henry's reign — characterized by terror, infidelity, intrigue, and ill-fated marriages — has been chronicled for years, including in the Showtime series The Tudors.
With Jonathan Rhys Meyers as King Henry VIII, The Tudors offers up all of the royal intrigue many Game of Thrones fans likely miss, and the two shows share one huge thing in common — specifically, Natalie Dormer. Thrones fans know Dormer best for playing the scheming, ascendant Margaery Tyrell, who serves as the queen of the Seven Kingdoms before meeting a terrible fate, a role which was likely all too familiar to Dormer after she played Anne Boleyn on The Tudors. Boleyn, who spent decades plotting to be Henry's queen, briefly won her prize before ending up with her head on the block. Much like Margaery, she climbed as high as possible only to fall in the end. If Margaery was your favorite character, you'll want to check out Dormer's first turn as an aspiring queen on The Tudors.
The White Queen and The White Princess focus on the real-life war that inspired Game of Thrones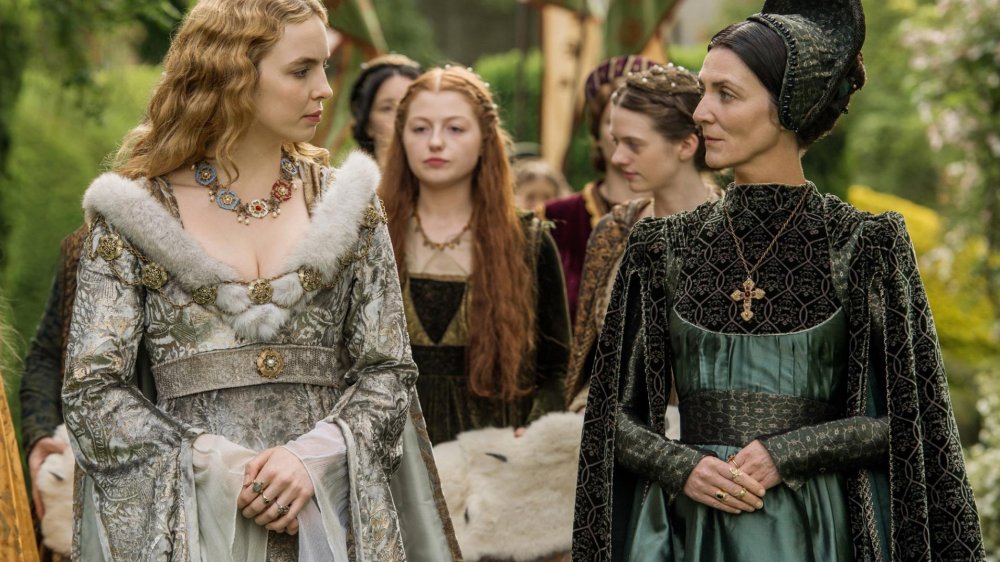 It might be hard to believe that Game of Thrones has any basis in historical fact, but if you take away the dragons and prophecies, the basic events bear a striking resemblance to the War of the Roses. A years-long battle for the throne between the Lancaster and York families — which was eventually won by Henry Tudor, a stranger from a faraway land who showed up in England and claimed the throne — the War of the Roses was a major inspiration for George R.R. Martin, and it's easy to see its influence.
If you're unfamiliar with the War of the Roses and want to see where Martin got so many of his central ideas, you'll want to check out the Starz shows The White Queen and The White Princess, which tell the stories of Elizabeth Woodville (played by Rebecca Ferguson), a commoner who became a York queen, and her daughter Princess Elizabeth (played by Jodie Comer), who would go on to marry Henry Tudor and oversee a new English dynasty. (The White Princess and Game of Thrones also share actor Michelle Fairley, who played Margaret Beaufort in the former and Catelyn Stark in the latter.) By focusing on the female voices of the War of the Roses, viewers get new insight into the bloody battles fought between the Yorks and Lancasters, and it might give Thrones fans a new outlook on their favorite show as well.
The Last Kingdom is basically the story of Daenerys Targaryen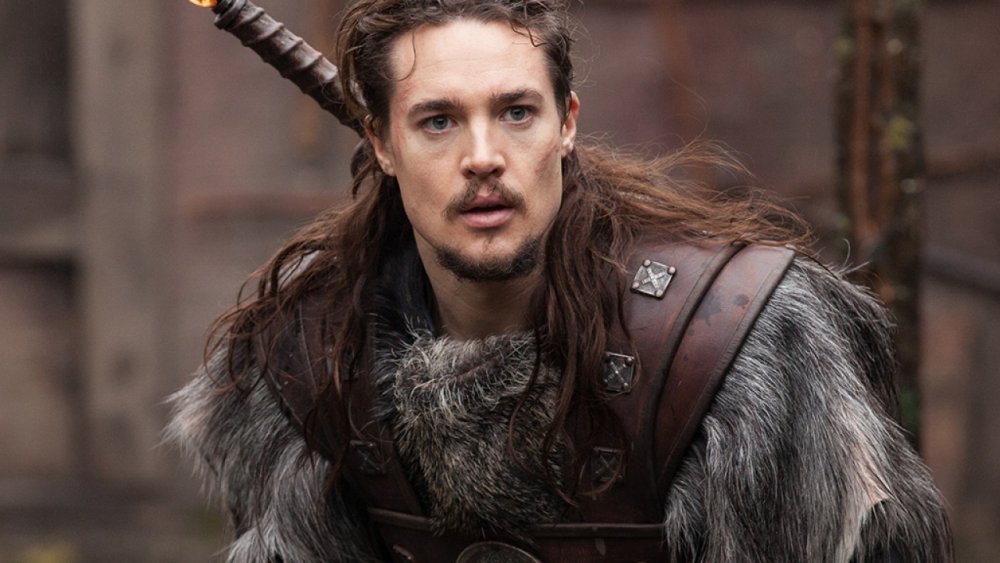 Based on Bernard Cornwell's novels, The Saxon Series, Netflix's The Last Kingdom, which is produced with BBC, stars Alexander Dreymon as Uhtred of Bebbanburg, the leader of a fictional kingdom that results from battles and divides immediately after the Viking era in England. Uhtred, who straddles the divide between the Anglo-Saxons and Danes, must also fight against enemies who would keep him from both avenging his father and claiming control of Bebbanburg, which he deserves.
It's easy to see the parallels between Uhtred and Daenerys Targaryen (Emilia Clarke), the foreign queen whose ancient, royal blood ties her to both Westeros and the Iron Throne. However, unlike Daenerys, Uhtred's story is still ongoing, so it's possible he'll meet a more successful end than the Mother of Dragons. If you loved watching Daenerys fight her way to power by overcoming insurmountable obstacles and finding a way to bridge the gap between her ancestry and her future, you'll love Uhtred's journey on The Last Kingdom.
Vikings is full of bloody battles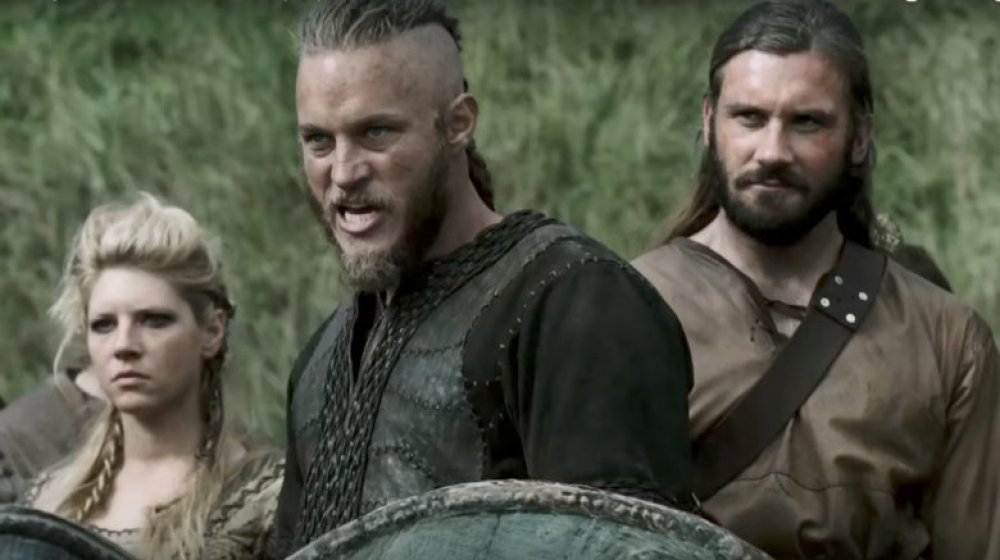 If you're looking for huge battle scenes, incredibly intense makeup and costuming, and medieval intrigue, the History channel's Vikings is a perfect choice to satisfy your Game of Thrones cravings. Based on the real-life stories of Ragnar Lothbrok, a famous Viking and Norse hero, Vikings focuses on Ragnar's rise from a humble farmer to a conqueror as he makes his way through small towns in England, eventually earning a crown as a Scandinavian king thanks to his successes on the battlefield. As Ragnar's family grows, the series begins to follow his sons and their respective conquests, expanding the Lothbrok legacy even further.
The Viking era has always held a fascination for modern audiences, so there's never a bad time for a show about these brutal soldiers. However, when Vikings premiered in 2013, it served as a perfect addition to a television landscape dominated by medieval fantasies for Game of Thrones, thanks to its world building and real-life roots. If you're missing Thrones, you'll definitely want to check out Vikings next.
Like Game of Thrones, The Great is full of royal plots and backstabbing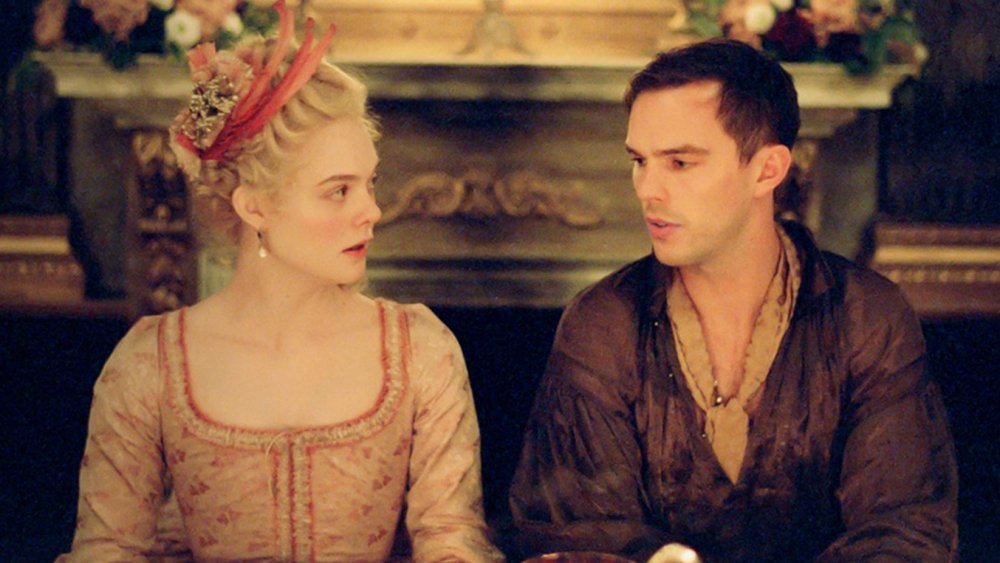 Not every historical drama sticks particularly closely to the truth, which is especially, delightfully true of Hulu's 2020 series The Great. The somewhat true tale of Catherine the Great of Russia — who staged a coup with her lover to overtake her obnoxious husband, Peter III — The Great was adapted from real Russian history by The Favourite writer Tony McNamara and stars Elle Fanning as Catherine, the empress, alongside Nicholas Hoult as the crude, hapless emperor, Peter. When the series begins, Catherine is a naive, wide-eyed young bride who's sent to Russia to become Peter's wife, but when she realizes what an ineffective ruler her husband is, she begins plotting to overthrow his regime in secret.
Thanks to anachronistic touches and outrageous, excellent performances from Fanning and Hoult, The Great succeeds despite — or perhaps, because of — its liberties with its very real backstory. If Thrones' Cersei Lannister (Lena Headey), the conniving Lannister matriarch and erstwhile queen of the Seven Kingdoms, was always your favorite character, you'll love the machinations of The Great's badly behaved, constantly plotting young royals.