The Real Reason WandaVision's Paul Bettany Sat In A Sauna With Wine After Filming Episodes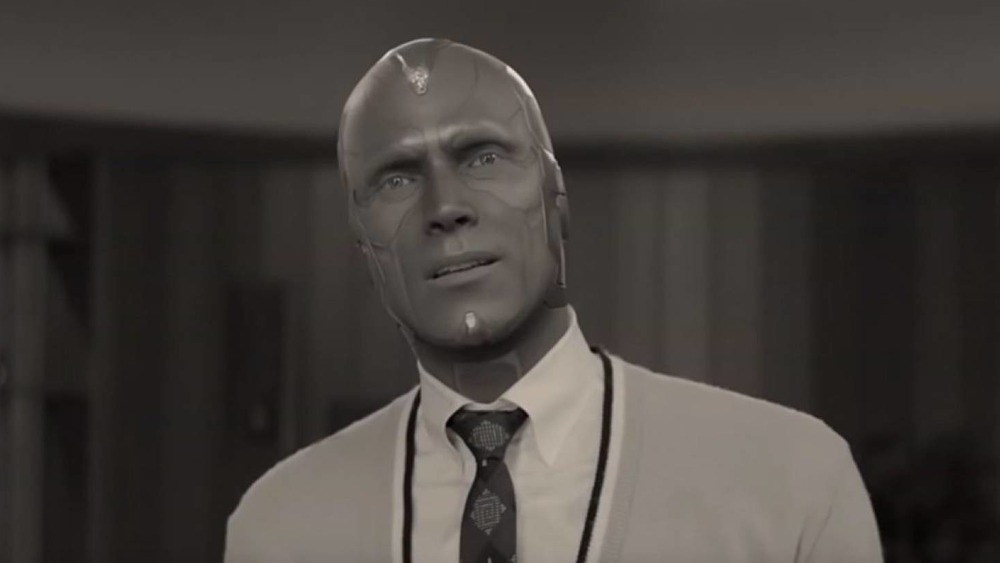 Disney/Marvel Studios
So far, audiences have seen Scarlet Witch (Elizabeth Olsen) and Vision (Paul Bettany) get into political conflicts with the Sokovia Accords in Captain America: Civil War and battle the forces of Thanos in Avengers: Infinity War. On January 15, 2021, comic book fans will see a new side of these heroes as a domesticated couple cracking jokes in front of a live studio audience with the first Disney+ original series set in the Marvel Cinematic Universe, WandaVision. 
The trailer for the series promises a wild, trippy journey as our heroes jump from one sitcom era to the next, starting off with a black-and-white homage to The Dick Van Dyke Show and venturing through situations inspired by the likes of Bewitched, The Brady Bunch, and beyond. Of course, when dealing with the reality-altering powers of Scarlet Witch, it's obvious things aren't quite what they seem, and there are bound to be a few surprises in the mix. 
According Paul Bettany in a recent interview with The Hollywood Reporter, the biggest surprise of all was simply that he got to come back to play this hero after getting killed twice in Infinity War. He even recalls walking into Marvel Studios president Kevin Feige's office expecting to get fired, only to be offered a part on a TV show. Naturally, he was more than up for the task of returning as the sentient android, and there was one aspect of the process that sounds like an utter delight.
Paul Bettany sat in a sauna to help remove his makeup at the end of the day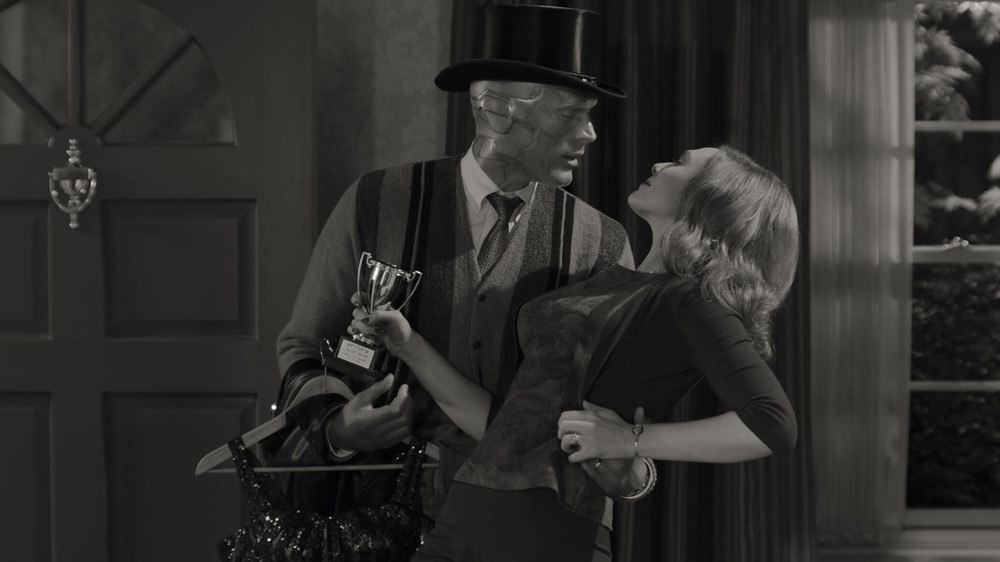 Disney/Marvel Studios
In 2015, Paul Bettany went from just being the voice of J.A.R.V.I.S. in the Iron Man movies to being a fully-fledged Avenger when the A.I.'s consciousness was delivered into a physical body in the form of Vision during the events of Age of Ultron. It was at that point Bettany that joined the ranks of Jennifer Lawrence (Mystique in the X-Men movies) and Dave Bautista (Drax in Guardians of the Galaxy) as actors who had to wear copious amounts of makeup for a superhero movie. A featurette released by Marvel Studios shows the intensive process that goes into bringing Vision to life, and while CGI does come into play a little bit, it's mostly makeup and prosthetics. 
It makes sense, then, that in the lead-up to WandaVision, Bettany was asked by The Hollywood Reporter if the process of turning into Vision has gotten easier over time. "Yes, it has," he said, "a little bit." He went on to explain that production on WandaVision was a bit easier than the feature films, as he got to spend most of the time in human clothing rather than a full android bodysuit. Of course, he still had plenty of scenes with his face under prosthetics, which isn't exactly a walk in the park. "The consequence of having to change so often, when you're shooting every day, is that your skin is ragged," he explained. "It's not like makeup; it's more like paint."
Luckily, there was a reliable (and, from the sounds of it, fun) way to remove those facial appliances. "It's an over-an-hour process of taking the makeup off," he said, "and we found that the thing that really helped us be gentle with my bella faccia was to spend 20 minutes in a sauna with a glass of wine. So, when I begin to sweat, it would want to lift off." Sounds like a tough job, but we're sure Bettany was able to power through it. 
You can watch Bettany and Elizabeth Olsen as you've never seen them before when the first two episodes of WandaVision drop on Disney+ on Friday, January 15.