The Truth About The Breaking Bad Theme Song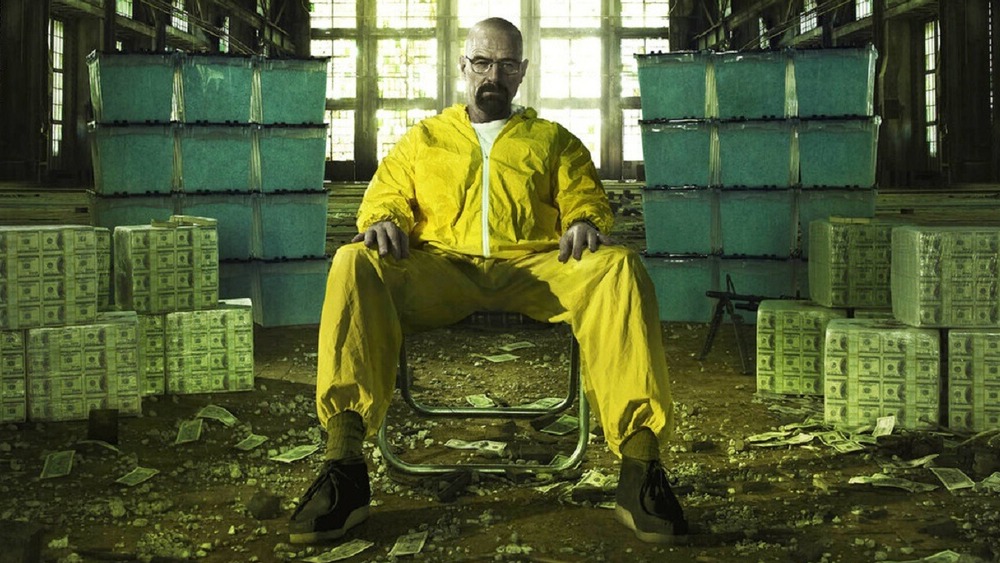 AMC
The iconic AMC series Breaking Bad has drawn more praise from more angles than perhaps any television series ever made, and rightfully so. The story of high school chemistry teacher-turned-methamphetamine kingpin Walter White (Bryan Cranston) will probably have fans rewatching and dissecting it until the heat death of the universe, but only because there is just so much to admire. From its airtight writing, to its stellar cinematography, to its talented ensemble cast, to Cranston's towering lead performance — one that Sir Anthony Hopkins called the best acting he had ever seen — Breaking Bad seemed to be firing on all cylinders at all times. If there's one aspect of the series that doesn't get talked about quite as much as it maybe should, though, it might be its ingenious use of music — which was handled for all five seasons by veteran television composer Dave Porter.
Porter was responsible for selecting the many tunes that punctuated some of the series' most memorable moments, not to mention composing the leitmotifs, or brief musical cues, associated with certain characters (or, in the case of Walter's famous porkpie hat, objects). He is also the composer of the show's main title theme, which was trimmed down to its final 15 seconds or so to accompany the periodic table-themed, smoky animation that followed every episode's cold open. In a 2013 conversation with the Wall Street Journal, Porter revealed his thought process behind the composition of the piece, and spoke about his desire to somehow fit the full-length version into the show's narrative, which he was eventually able to do.
Dave Porter had a specific goal in mind with Breaking Bad's theme song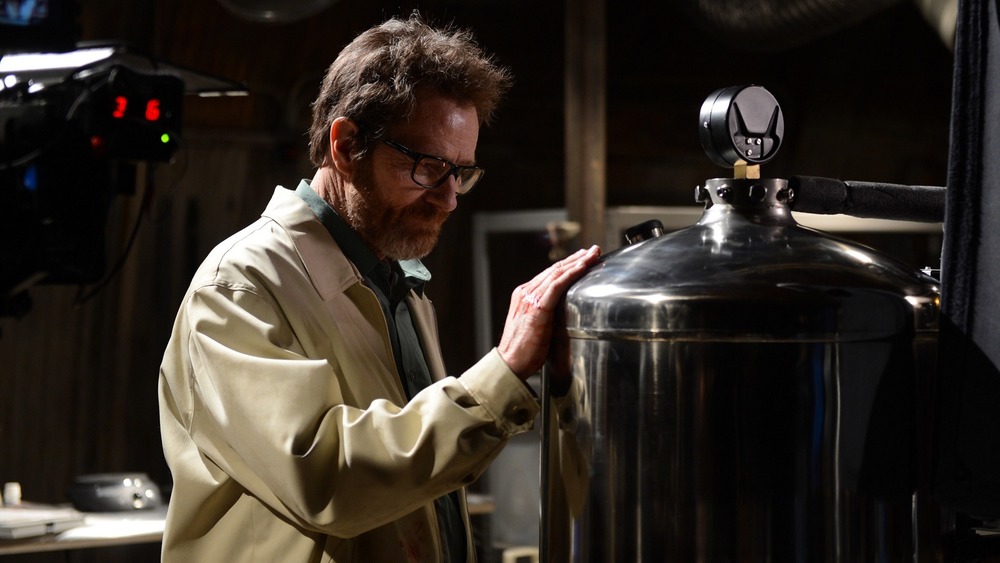 AMC
Porter told WSJ that he knew he had his work cut out for him in composing a theme that would seem equally appropriate to Breaking Bad's first season, which was relatively light in tone, and later seasons, which he knew would be going to some pretty dark places. "When I wrote [the theme music], I was trying to come up with a thematic statement that encompassed the show," he explained. "[Series creator] Vince Gilligan would admit that he didn't know that much about where the story was going to go. He did know that the backbone was Walter White's descent and devolution from being a milquetoast run-of-the-mill guy to being this very hardened and darkly driven character. I wanted to give a glimpse of that destination, which the viewer would hear every time they watch the show. In the first season, the theme may have seemed a little darker and bolder than the show actually was."
The full version of the theme runs one minute, 18 seconds, and it primarily uses a hollow-bodied, wood and metal guitar called a dobro as its twangy, Southwest-flavored lead instrument, along with sparse percussion and synthesized strings. You can check it out on YouTube, but if you've watched every season of Breaking Bad, you've heard it before — at the tense conclusion of "Granite State," the series' penultimate episode.
"[I had] been biding my time, looking for a moment where I could introduce the theme into the story itself," Porter said. "We had considered using it at the end of season four, when Gus [Fring] is finally removed from the picture. We tried it there as an experiment, but it felt like there was too much closure." Ultimately, the composer said that it felt right to use the extended theme at the moment Walter decides to return to New Mexico, for a specific reason. "I viewed this moment as the one where we realized that the transformation in Walter's character is complete," he explained. "The two halves that we witnessed so much, the milquetoast and the Heisenberg guy, have melded into one."
Better Call Saul contains some musical callbacks to Breaking Bad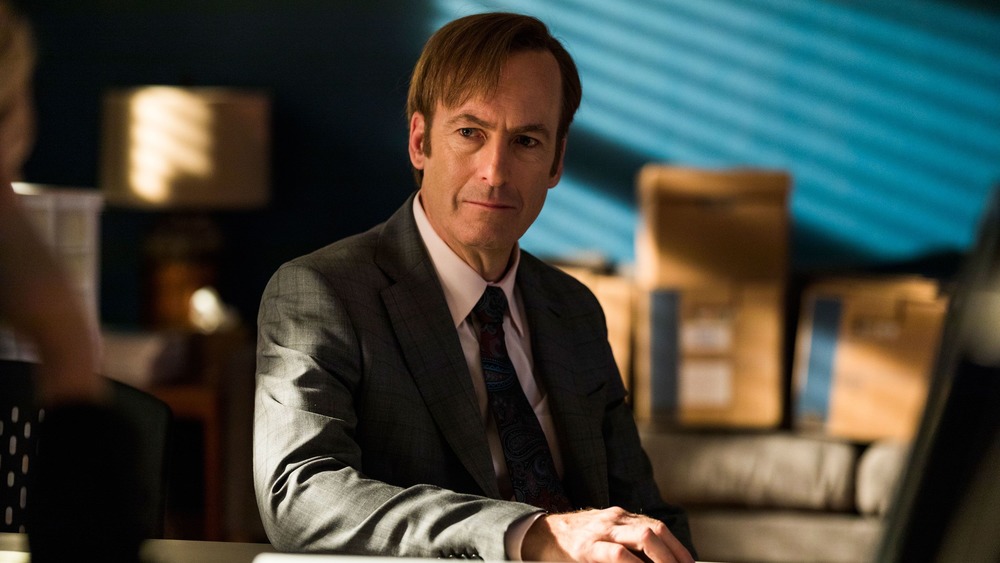 AMC
Porter has also handled musical duties on every season of Breaking Bad spin-off prequel series Better Call Saul, which explores the early career of Jimmy McGill (Bob Odenkirk) prior to his transformation into "criminal lawyer" Saul Goodman, and which will air its sixth and final season in 2021. In a 2017 talk with The Wrap, the composer mentioned that it had been satisfying to revisit some of the motifs he had created for Breaking Bad for characters who made return appearances for the spin-off, such as Hector "Tio" Salamanca and the infamous, silent hit men known as the Cousins. However, he noted that during Breaking Bad's entire run, Saul never had a motif of his own.
"[Saul] was comic foil interjected in between moments of tension, and as such never needed [a leitmotif]," Porter explained. "This freed me up at the beginning of Better Call Saul because it meant that when it came to establishing a sound for Jimmy-slash-Saul, I could start from scratch. Compared to the Breaking Bad score, I'm utilizing far fewer synthesizers and sound design, instead relying on a palette of instruments that feels a bit more spontaneous and intimate."
Sharp-eared viewers of Better Call Saul, though, have noticed that the show's end credits music sounds oddly familiar. It is, in fact, very similar to Breaking Bad's theme song — just performed with different instruments and a more conventional, jazzier arrangement. It's a subtle but fitting nod to Breaking Bad, arguably the greatest hour-long drama of all time — even if some critics would argue (and pretty convincingly) that Saul is even better.