The Generation-Defining Teen Comedy That's Killing It On Netflix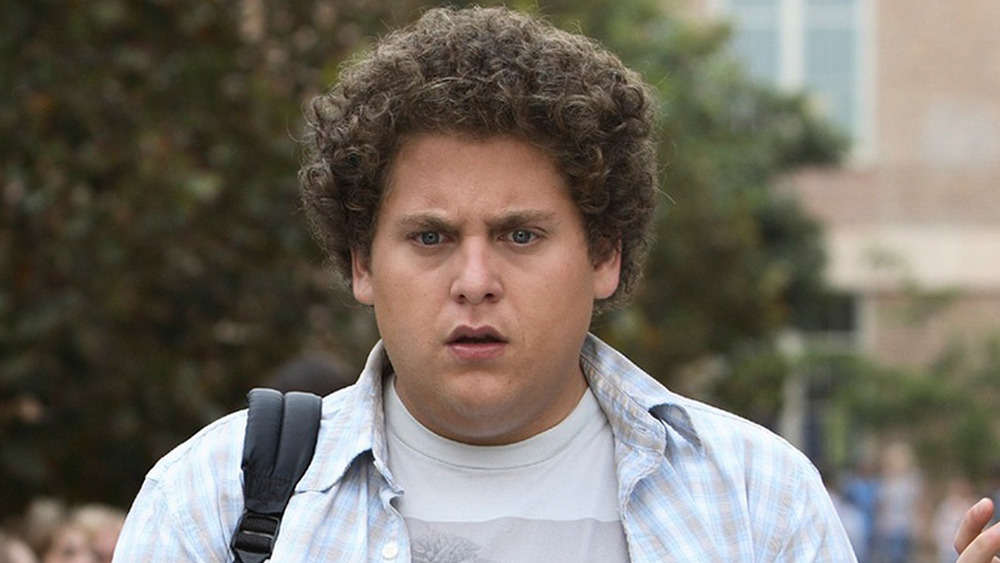 Sony Pictures
Hey Millennials, wanna feel old? Superbad came out 14 years ago. 
That's right, the classic high school comedy would be entering high school itself this year, right around the time it reaches the anniversary of its release on August 17. Even though the movie is old enough to go to the mall by itself, it remains very popular — it's currently the number nine movie on Netflix. People are still, apparently, lovin' McLovin.
For the uninitiated 16-year-old just discovering the endlessly rewatchable comedy, Superbad follows two foul-mouthed high school seniors who have been best friends since childhood, Seth (Jonah Hill) and Evan (Michael Cera). In true teenage form, the two are determined to lose their virginities before they graduate. The problem is, they're extremely uncool, and they feel that they need to do something to impress girls to make themselves desirable. 
So Seth promises his crush Jules (Emma Stone) that he'll buy alcohol for her party, and Evan tells his crush Becca (Martha MacIsaac) that he'll get her a bottle of her favorite vodka — Goldslick, which has little gold flakes in it. They go with their friend Fogell (Christopher Mintz-Plasse) to buy the booze, despite his fake ID saying he's a 25-year-old man from Hawaii named McLovin, which leads to a nightlong odyssey involving a pair of inept cops (Seth Rogen and Bill Hader), a shady party with some intimidating adults, and a test of Seth and Evan's friendship. And it contains the line "Take off that vest. You look like Aladdin."
Superbad is an important movie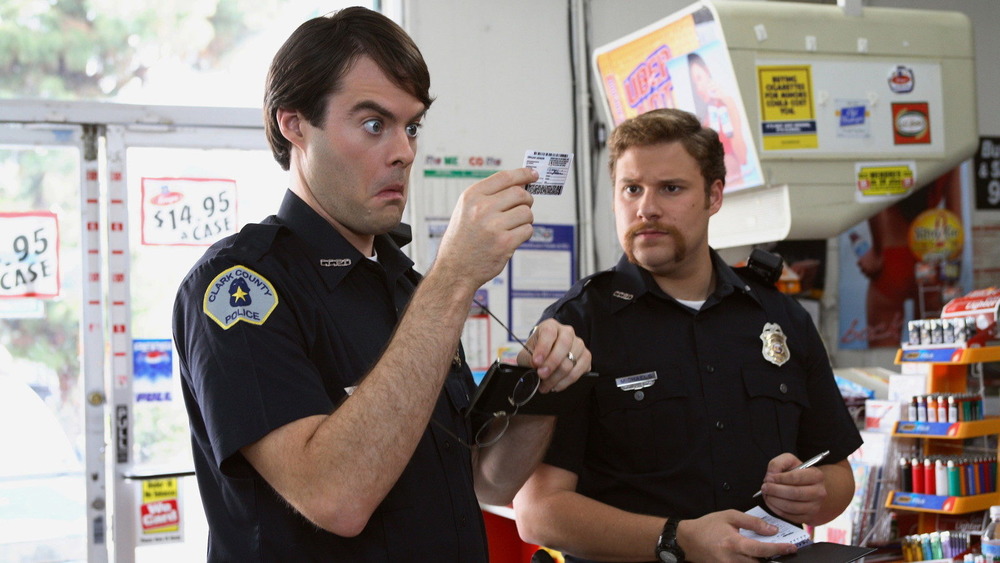 Sony Pictures
Superbad came out at the peak of Judd Apatow's imperial phase atop the comedy box office, and helped make Seth Rogen into a superstar. Rogen, who broke out with a supporting role in Apatow's The 40-Year-Old Virgin two years prior, owned the summer of 2007, starring in Apatow's Knocked Up and playing the extremely hilarious supporting role of Officer Michaels in Superbad. Rogen also wrote the script for the film with Evan Goldberg. The story is inspired by Rogen and Goldberg's own high school experiences and friendship, as they too have been friends since childhood, just like their namesake characters. They've since become powerful TV and movie producers, shepherding projects like The Boys and Sausage Party to the screen.
Superbad launched the careers of Jonah Hill and Emma Stone, who have also become big stars with five Oscar nominations (and one win) between the two of them, and elevated the profile of Bill Hader, who grew into an Emmy-winning writer-producer-actor. It also influenced later films like Booksmart (which stars Jonah Hill's sister Beanie Feldstein). Since its release, Superbad has become a cultural touchstone for people who were in high school in the mid-2000s the same way The Breakfast Club was for the '80s, and (arguably) Euphoria has become for the nows. Despite some jokes that haven't aged so well, Superbad holds up as a movie with a ton of humor and heart. 
Take a break from the news, and settle in with Superbad for some uncomplicated laughs, plain and simple.