The Most Rewatchable Comedy Movies Ever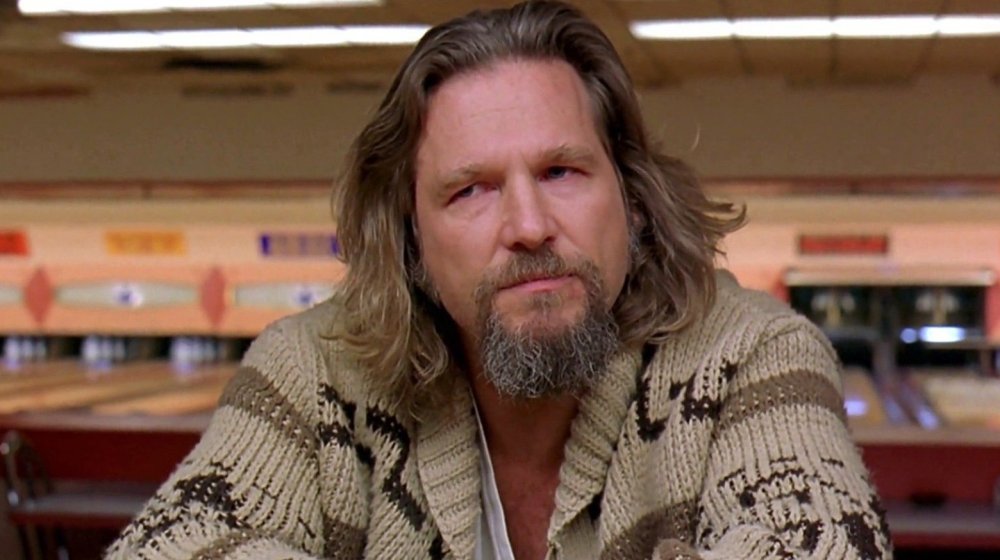 Sometimes, when everything feels overwhelming and everyday stress becomes too much, you just want to relax and laugh with a great comedy film — and in those moments, you might be tempted to return to an old favorite rather than trying something new. For years, scientists and psychologists have researched why people rewatch movies instead of enjoying a new story, and ultimately, the consensus seems to be that whether you're looking for nostalgia or just want to know how the story ends, watching something you already know and love can be incredibly soothing during a tough time.
And when it comes to comedies, there are plenty of amazing options to help you unwind, but when it comes to rewatchability, some comedy films rise above the pack. Whether they're well-loved classics or newcomers to the genre, these films are laugh riots that demand to be watched over and over again. After all, even if you know every line in the entire movie, it can be extraordinarily comforting and comfortable to revisit a film that you know will definitely make you chuckle. From raunchy flicks to spot-on spoofs, here are the most rewatchable comedy movies of all time.
Anchorman is one of Will Ferrell's most rewatchable comedies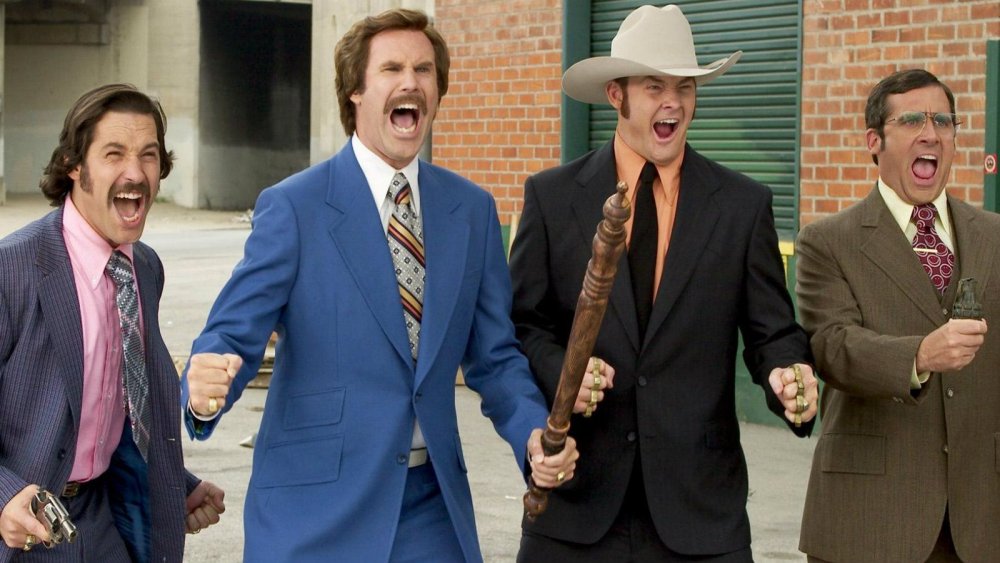 Will Ferrell has made plenty of beloved films throughout his career, but few loom as large as Anchorman: The Legend of Ron Burgundy. Released in 2004, the film casts Ferrell as newsman Ron Burgundy, a legendary California newscaster adored by his fans and his team, which includes Champ Kind (David Koechner), Brian Fantana (Paul Rudd), and Brick Tamland (Steve Carell). However, when a new female reporter, Veronica Corningstone (Christina Applegate), shows up, the gang's chauvinistic world is turned upside down.
Packed with super-quotable lines, unforgettable moments, and incredible performances from the entire cast, there's no doubt as to why Anchorman is "kind of a big deal." Seriously, how does it get better than that crazy street fight or when Ron and company perform a charming rendition of "Afternoon Delight?" Though it ultimately spawned a sequel — 2013's Anchorman 2: The Legend Continues — the original is still one of the funniest comedies in recent memory, and somehow, this well-loved film stays fresh no matter how many times you watch it.
Scott Pilgrim vs. the World is a video game extravaganza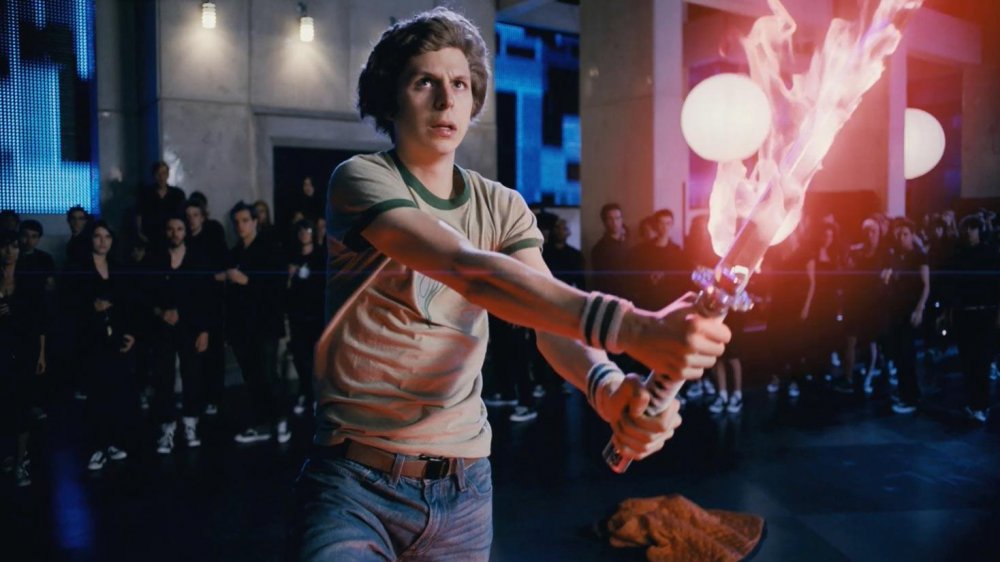 In 2010, Edgar Wright, known for incredible comedies like Shaun of the Dead and Hot Fuzz, adapted a Canadian comic book by Bryan Lee O'Malley and ended up crafting one of the most rewatchable and enjoyable films of the decade with Scott Pilgrim vs. the World. Led by Michael Cera, the film follows the adventures of Scott Pilgrim, a Toronto slacker who plays in a mildly successful rock band, but his world is turned upside down when he meets the mysterious, beautiful Ramona Flowers (Mary Elizabeth Winstead). To win her heart, however, he has to defeat her seven evil exes, culminating in a huge boss battle against a sword-wielding music producer (Jason Schwartzman).
Beyond its incredible cast — which boasts names like Anna Kendrick, Chris Evans, Brie Larson, and Kieran Culkin, among others — and Wright's whip-smart direction and script, Scott Pilgrim remains so rewatchable because of its overall style. Structured like a video game, Scott Pilgrim is unlike pretty much any other film you've seen, and you'll definitely catch new references you've never noticed before on every rewatch.
Bridesmaids proves women can be as raunchy as men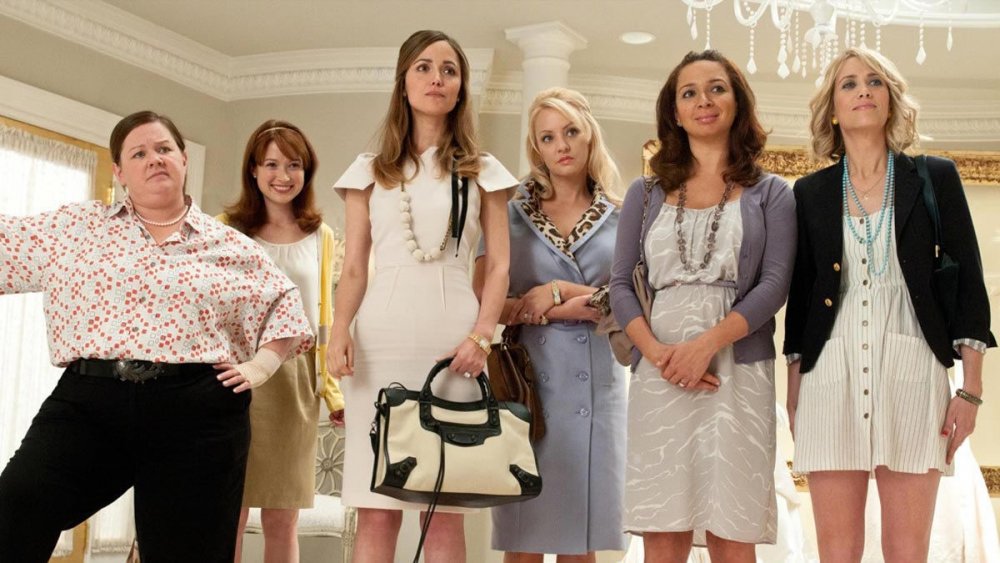 Raunchy female-fronted comedies are, unfortunately, not as common as their male-led counterparts, but in 2011, Bridesmaids proved that women could be just as dirty as dudes. Led by Kristen Wiig as Annie, a down-on-her-luck baker, Bridesmaids watches as Annie struggles with her best friend Lillian's (Maya Rudolph) engagement and wedding. Meanwhile, Lillian's new wealthy best friend, Helen (Rose Byrne), has come between Annie and Lillian, threatening to upend a long-term childhood friendship just when Annie needs Lillian the most. Despite her own issues, Annie must learn to open herself back up after years of disappointment, and ultimately, save Lillian on the day of her wedding.
Thanks to a surprisingly deep emotional core, an excellent script from Wiig and her co-writer Annie Mumolo, and thoughtful direction by Paul Feig, Bridesmaids definitely stands the tests of time. But of course, the true highlight of the film is the incredible Oscar nominated performance by supporting player Melissa McCarthy as the hilariously foul-mouthed Megan Price. So, the next time you need a reminder about the importance of friendship that features an inexplicably disgusting food poisoning scene, you'll definitely want to replay Bridesmaids.
The Princess Bride is equal parts hilarious and heartwarming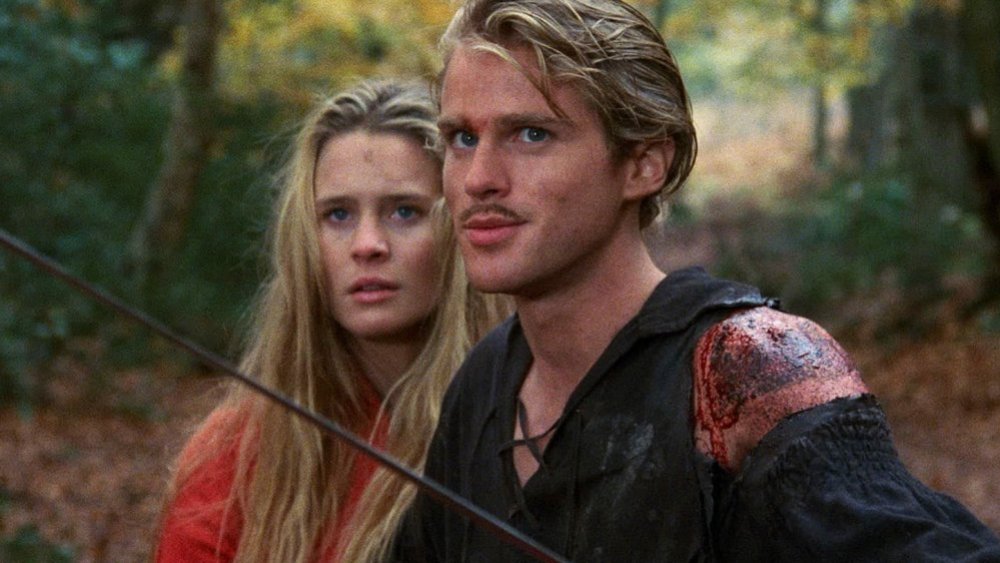 Based on William Goldman's classic novel, Rob Reiner's 1987 classic film The Princess Bride tells the love story of Princess Buttercup (Robin Wright) and Westley (Cary Elwes) through a bedside story lovingly read by a grandfather to his grandson. However, when Westley disappears, Buttercup moves on with her life, only to be confronted with her decision when Westley returns years later.
As Buttercup and Westley try to avoid her evil new fiancé, Prince Humperdinck (Chris Sarandon), they encounter a number of other obstacles, from sinister six-fingered men to rodents of unusual sizes to fire swamps. With an outstanding cast that includes amazing turns from stars like Mandy Patinkin, Wallace Shawn, and Billy Crystal, The Princess Bride is a classic that you'll definitely want to watch over and over and over again. Plus, who hasn't quoted that hysterical wedding speech or Inigo Montoya's badass monologue?
Beyond all that, thanks to its narrative construct — where a grandfather tries to help his grandson with a story when he's not feeling well — it's a perfect sick day movie that will comfort you any time you're home from work and feeling a bit under the weather.
Superbad might be the ultimate high school comedy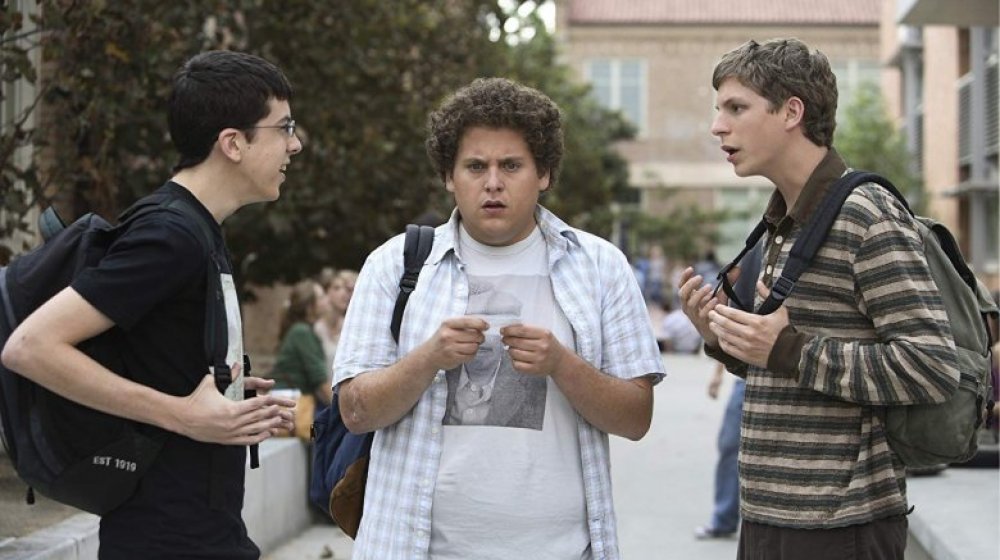 All raunchy teen comedies that followed Superbad effectively live in this 2007 film's shadow, and it's easy to understand why. Written by Seth Rogen and Evan Goldberg — who started the screenplay when they were teenagers themselves — the film stars Michael Cera and Jonah Hill as Seth and Evan, two dorky high school seniors desperate to have one cool night out before they graduate and head to separate colleges. As they set out for a huge party, Seth and Evan's night takes several turns nobody saw coming, almost destroying and eventually solidifying their friendships.
Superbad ultimately succeeds thanks to its hilarious script, appearances by Rogen and Bill Hader, a debut performance by future star Emma Stone, and the central friendship between Seth and Evan. And of course, you've got Christopher Mintz-Plasse in his first feature film, playing the inimitable McLovin, one of the most unforgettable film characters of the 2000s. A perennial classic and staple of the high school comedy genre, Superbad will make you laugh every time you relive Seth and Evan's adventures.
The Hangover is one of the most rewatchable comedies ever made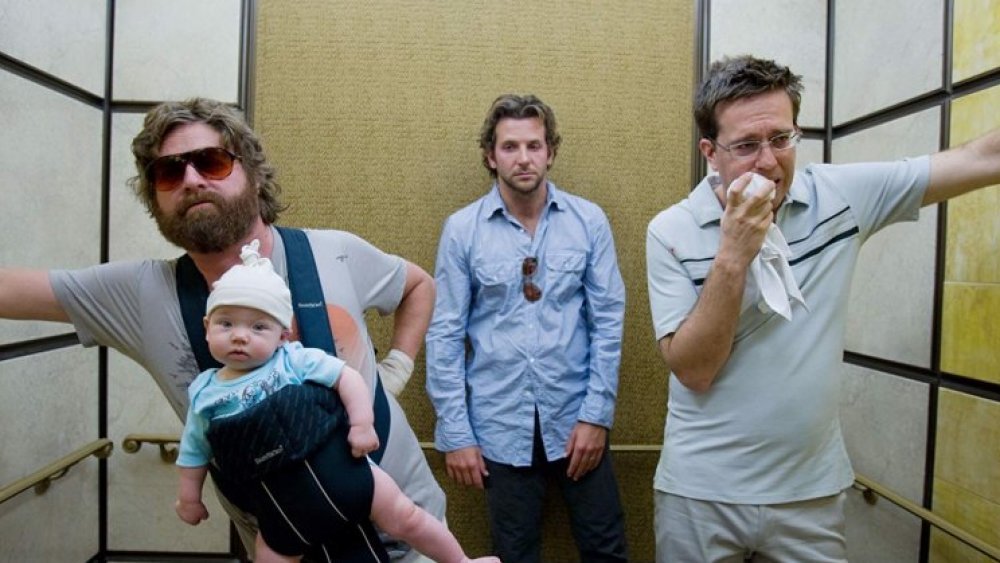 When The Hangover hit theaters in 2009, audiences fell in love with the dirty, hilarious mystery centered around the disappearance of Doug (Justin Bartha) during his Las Vegas bachelor party and his friends' efforts to find him and remember any specific details about the craziest night of their lives. As Alan (Zach Galifianakis), Stu (Ed Helms), and Phil (Bradley Cooper) try to track down their missing friend and get him home in time for his wedding, they must retrace their steps while living through the world's worst hangover, discovering all of the trouble they got into the night before.
This clever narrative from eventual Academy Award nominee Todd Philips made for a smart, engaging film, anchored by star-making performances from Helms, Cooper, and Galifianakis. Thanks to its overwhelming success, the film ultimately spawned two sequels, and though neither was as strong as the original, they performed exceptionally well at the box office. Still, the raucous, raunchy humor of The Hangover definitely holds up year after year, and even if you know the ending, it's always worth another viewing.
21 Jump Street is a gut-busing adaptation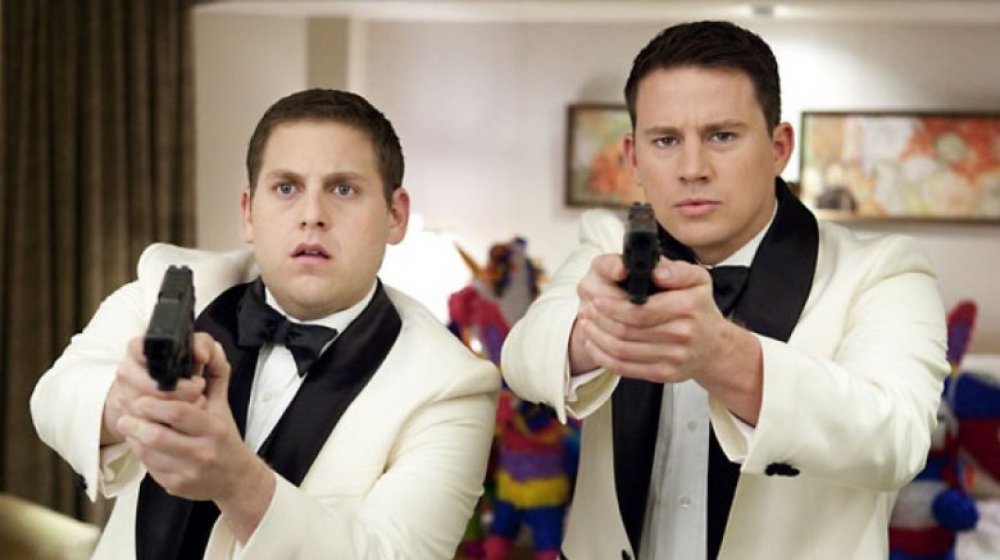 Turning a beloved, campy 1980s television series into a movie decades later might seem like a bad idea, but Chris Lord and Phil Miller's 2012 adaptation of 21 Jump Street easily proves any and all naysayers wrong. Led by Channing Tatum and Jonah Hill as Schmidt and Jenko, the film watches as these two inept cops are forced to return to high school and go undercover as students to figure out who's supplying a new, dangerous brand of synthetic drugs to its students. Alongside Tatum and Hill, the film also features supporting turns from stars like Dave Franco, Brie Larson, and Ice Cube, the last of whom plays Schmidt and Jenko's boss at the titular Jump Street division.
With its tongue firmly in its cheek and great chemistry between Tatum and Hill, 21 Jump Street's self-awareness makes it an instant classic, and its sequel, 2014's 22 Jump Street, is just as meta and hilarious as its predecessor. If you need a guaranteed gut-buster, 21 Jump Street always does the trick and never gets old. Plus, that incredible cameo is funny every single time.
We simply can't forget Forgetting Sarah Marshall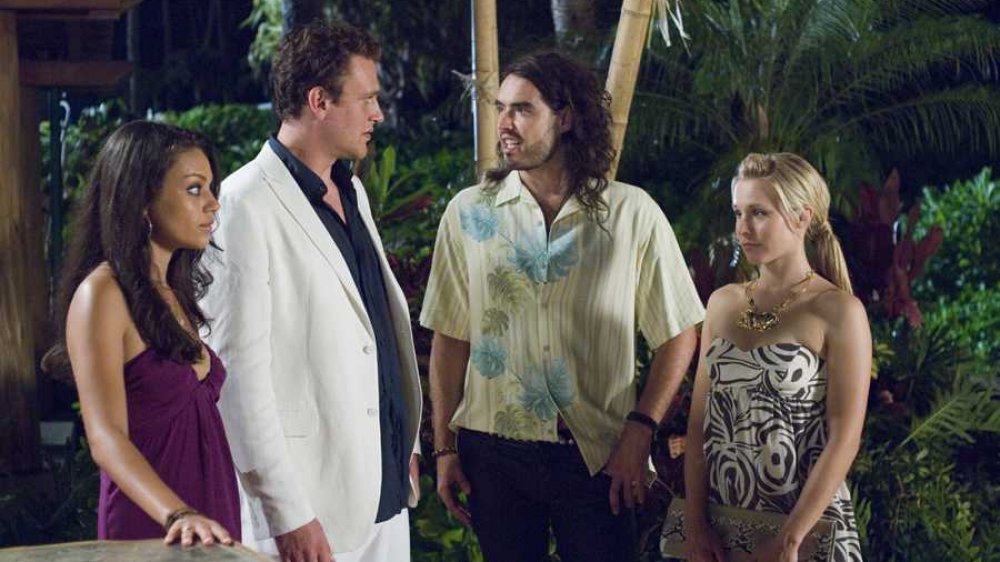 One of the most enjoyable breakup comedies around, Jason Segel's 2008 writing debut Forgetting Sarah Marshall tells the story of Peter (Segel), who's left heartbroken when his famous girlfriend, Sarah Marshall (Kristen Bell), suddenly dumps him after five years together. To take his mind off the breakup, Peter takes an impromptu trip to Hawaii, where he runs into Sarah ... and Sarah's new boyfriend, pop star Aldous Snow (Russell Brand). Luckily, he also meets Rachel (Mila Kunis), and the two immediately hit it off in the wake of Sarah's betrayal.
Between Peter's Dracula musical, Aldous' ridiculously terrible songs, and a hilarious central performance from Segel, Forgetting Sarah Marshall became an instantly beloved comedy upon its release, elevating Segel — who starred on How I Met Your Mother for nine seasons — from television fixture to movie star. If you're looking for a romantic comedy that's just as heartfelt as it is hilarious, Forgetting Sarah Marshall is the perfect choice.
Clue's multiple endings and amazing cast make it a classic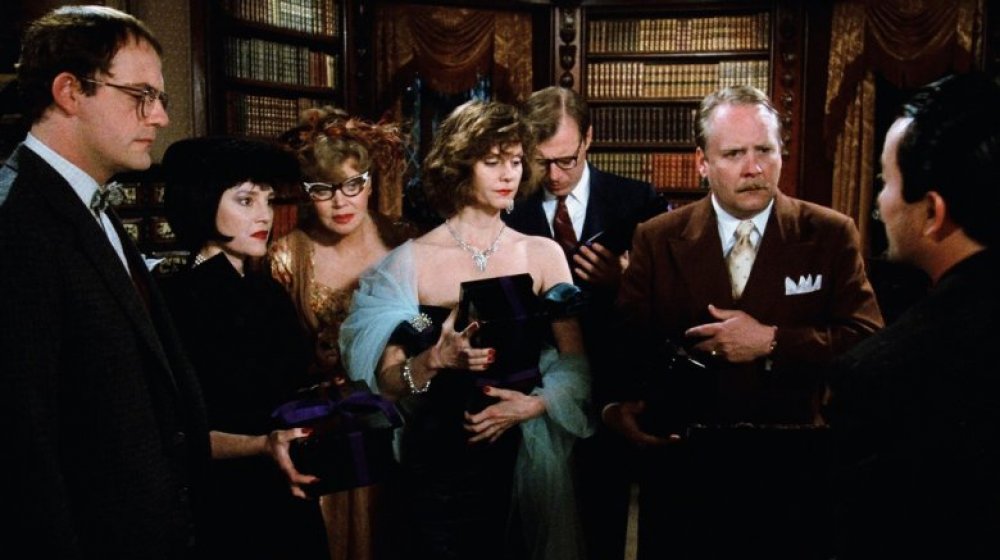 Though Clue flopped upon its initial release in 1985, in the years since, this board game adaptation has become a cult classic, and it's pretty easy to understand why. Based on the beloved game by Hasbro, Clue features a stellar comedic cast — which includes Tim Curry, Martin Mull, Michael McKean, Lesley Ann Warren, Christopher Lloyd, Eileen Brennan, and Madeline Kahn — and focuses on a murder mystery, leaving viewers to guess the conclusion as Wadsworth (Curry), the creepy mansion's butler, guides the guests through different clues in search of the truth.
With three distinct endings that build upon one another, which are definitely best viewed sequentially (initially, theaters showed different endings in different showings, a factor that contributed to the film's poor showing at the box office), Clue has certainly earned its status as a comedic classic, proving endlessly rewatchable even if you already know each ending by heart. No matter what mood you're in, it's always a good time to revisit Clue.
Dumb and Dumber is delightfully stupid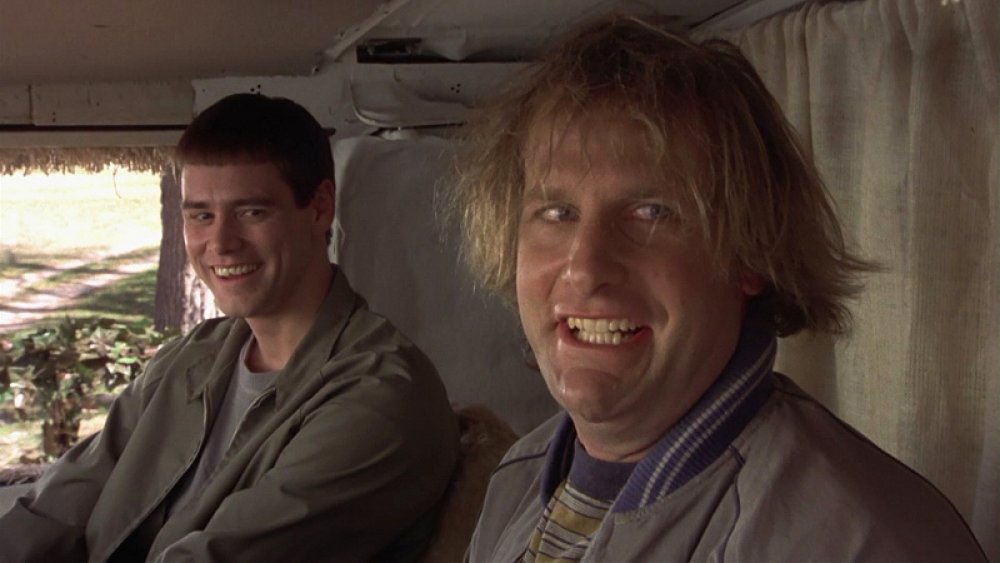 Dumb and Dumber has spawned a sequel, a prequel, and even an animated television series, but the first effort is still the best of the franchise and one of the funniest movies around. A gross-out goofball comedy that stars Jeff Daniels and Jim Carrey as Harry and Lloyd, respectively, Dumb and Dumber chronicles the adventures between these big-hearted but incredibly dim-witted best friends as they drive cross-country to try and return a briefcase of money to its rightful owner. However, when the money they assumed was simply lost turns out to be a ransom, their journey takes a very different turn than either Harry or Lloyd expected.
Created by the Farrelly brothers, Dumb and Dumber hit theaters in '94, a huge year for Carrey, as it also saw the release of The Mask and Ace Ventura: Pet Detective. And needless to say, the movie ensured his star (as well as Daniels') would continue to shine ever brighter. Plus, the film ensured that Harry and Lloyd would become two of their most unforgettable characters. Beyond that, it also launched the Farrelly brothers, Peter and Bobby, to stardom. Dumb and Dumber is delightfully stupid, but that just makes it all the more enjoyable, especially when you need to rewatch a movie that will keep you laughing from beginning to end.
Caddyshack is Bill Murray at his best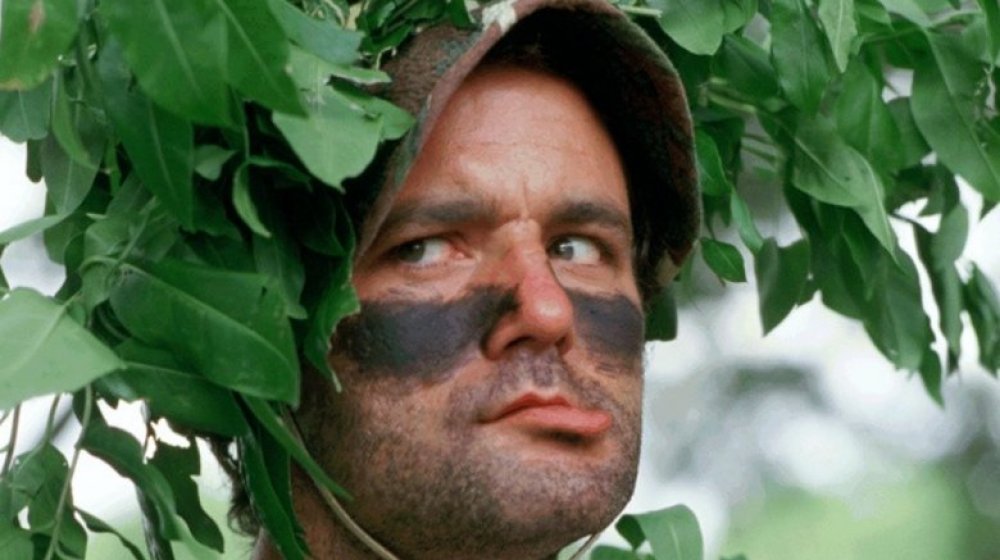 No list of rewatchable comedies would be complete without a Bill Murray classic, and Caddyshack, one of the star's best outings, is definitely one you'll want to revisit over and over again. Written by Murray's brother, Brian Doyle-Murray, and directed by Harold Ramis, 1980's Caddyshack mainly focuses on the workers and members of the upscale Bushwood Country Club, especially Danny's (Chevy Chase) attempts to impress wealthy, upper-crust members of the club as a caddy so he can earn enough money for college. 
However, most people probably remember Caddyshack best for Murray's unhinged performance as groundskeeper Carl Spackler, who's locked in a bizarre land war with a rogue gopher and will stop at nothing to defeat the animal. Based on real-life experiences Doyle-Murray had while working at a fancy country club, Caddyshack is an undisputed comedic classic, and it's one you'll want to revisit a million times. If you need a guaranteed laugh that won't let you down, you can't go wrong with Caddyshack.
Airplane! is slapstick at its funniest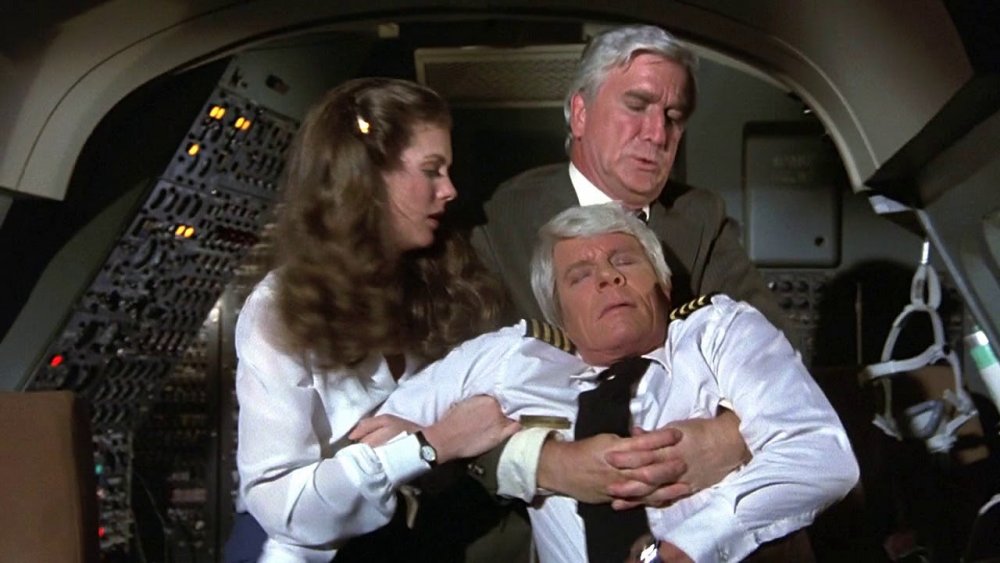 A truly fantastic example of slapstick comedy, 1980's parody film Airplane! is certainly one of the most beloved comedies ever made, perfectly spoofing big-budget disaster films like the Airport movies and Zero Hour! As for the plot, it's the story of down-and-out veteran Ted Striker (Robert Hays), who, despite having a crippling fear of flying, books a cross-country flight to reunite his with his flight attendant ex-girlfriend, Elaine (Julie Hagerty), only to experience several mid-air disasters that include turbulent weather, food poisoning, and several extraordinarily inept pilots. Of course, the "plot" isn't important here. It's all about the jokes, from Ted's "drinking problem" to every line uttered by the hilariously deadpan Leslie Nielsen.
Since its release, Airplane! has become one of the most influential films in history, landing on multiple lists of the best comedies of all time and earning a spot in the Library of Congress' National Film Registry. And yeah, it totally deserves that honor. After all, at least once in their life, everybody on the planet has said, "I am serious, and don't call me Shirley." Even if you, like Ted, fear flying, Airplane! is sure to make you laugh, even if you've already seen it so many times that you can recite the film's most unforgettable quotes right along with the actors.
Step Brothers is a truly wild, insane, and rewatchable comedy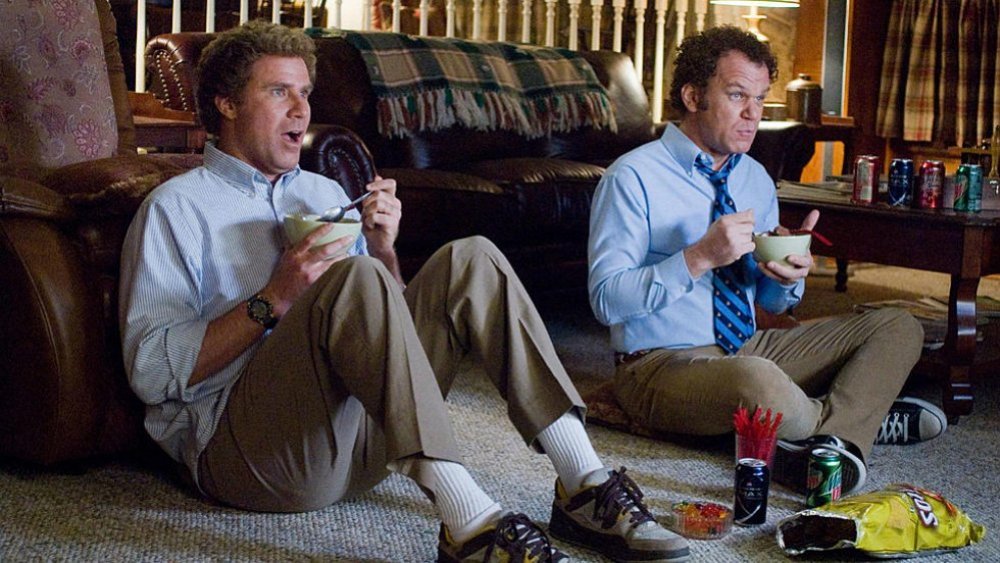 Once referred to by Vulture as "the weirdest and most aggressively insane" Will Ferrell movie around, 2008's Step Brothers features some of the craziest and strangest jokes and sequences of any of the comedy star's movies, making it endlessly rewatchable and deservedly beloved among his fans. The film, which pairs Ferrell with John C. Reilly (reuniting the two after 2006's Talladega Nights: The Ballad of Ricky Bobby), tells the story of Brennan (Ferrell) and Dale (Reilly), two overgrown man-children forced to live together after their parents get married. Though Brennan and Dale clash at first, they eventually become best friends, working together to try to grow up after years of stasis.
If you can get on board with Step Brothers' sheer absurdity — and it's pretty hard not to — you'll definitely want to add this bizarre, joke-packed comedy to your regular viewing rotation. Ferrell certainly has plenty of great films, but if you're looking for a super strange outing that will leave you in stitches no matter how many times you watch it, Step Brothers is the perfect choice.
The Big Lebowski is the Coen brothers at their craziest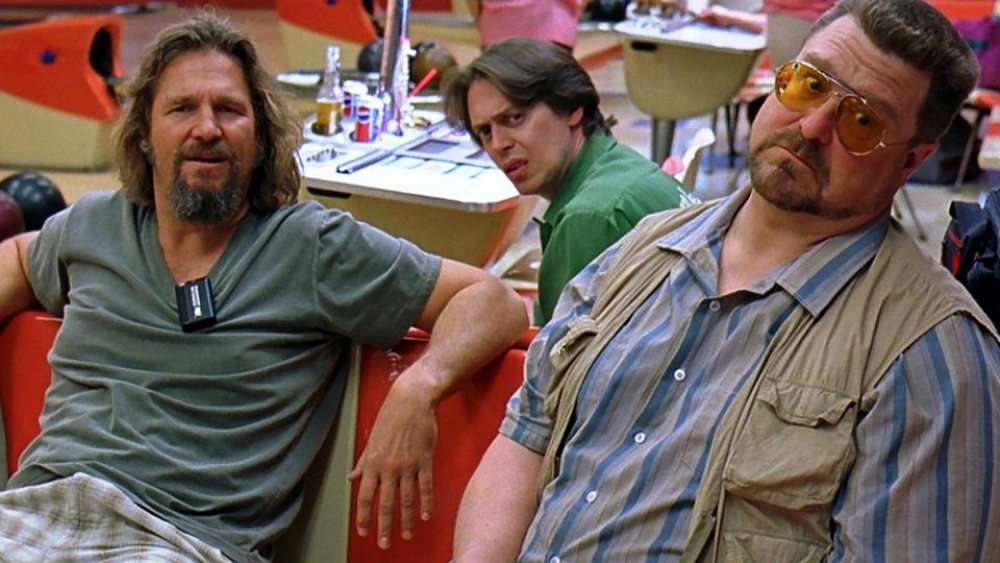 Joel and Ethan Coen are some of the most sought-after directors in cinema, but from time to time, they indulge their sillier side with a comedy. And their best lighthearted flick, without question, is The Big Lebowski. 
This absurd 1998 crime comedy tells the story of Jeffrey Lebowski (Jeff Bridges), known as "the Dude," who favors White Russians, loves wearing bathrobes outside the house, and spends his days bowling with his two bickering buddies. However, his slacker lifestyle gets a bit complicated when he end up involved in a kidnapping concerning a much richer and very different man also named Jeffrey Lebowski. Soon enough, the Dude is forced to deliver a ransom in a case that has nothing to do with him at all, and along the way, he encounters a severed toe, nihilists, and an amphibious rodent.
Aside from Bridges' career-defining central performance, the Coens' smart, modern take on the classic tale The Big Sleep is one of the funniest films of the '90s, especially when you factor in unforgettable performances from supporting players like John Goodman, Steve Buscemi, and Philip Seymour Hoffman. The Big Lebowski is an undeniably ridiculous movie, but it's endlessly rewatchable.