Dave Bautista Says He'll Quit Guardians Vol. 3 If Disney Doesn't Use James Gunn's Script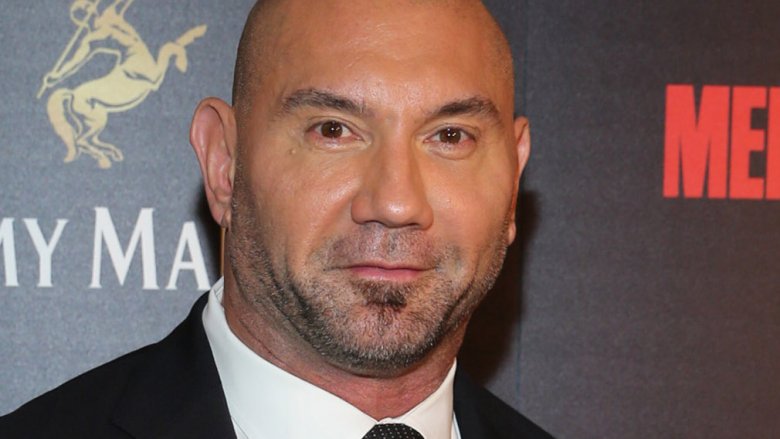 Getty Images
Guardians of the Galaxy Vol. 3 without James Gunn's script? Dave Bautista doesn't want to have any part of that. 
Bautista, who plays the blue-skinned intergalactic ex-criminal Drax the Destroyer in the Marvel Cinematic Universe, has revealed his intention to quit Guardians Vol. 3 if Walt Disney Studios (the parent company of Marvel Studios) opts to not use the script Gunn had been working on before he was fired from the film in late July. 
"Where I'm at right now is that if [they] don't use that script, then I'm going to ask them to release me from my contract, cut me out, or recast me," Bautista told ShortList's Tom Ellen. "I'd be doing James a disservice if I didn't."
Disney removed Gunn as director of the third Guardians of the Galaxy film — long thought to be slated for a 2020 debut – the same day he was due to make what was believed to be a major announcement at San Diego Comic-Con 2018. The studio pointed to past tweets of Gunn's, in which the filmmaker made light of sensitive topics including rape and pedophilia, that conservative media personalities dug up and brought back into the spotlight as grounds to fire him. 
At the time, Disney chairman Alan Horn stated, "The offensive attitudes and statements discovered on James' Twitter feed are indefensible and inconsistent with our studio's values, and we have severed our business relationship with him.
Reactions to Gunn's firing have been mixed, but for Bautista's part, he has expressed public outrage at Disney's decision from the moment he heard the news. He first took to Twitter to express his support of Gunn, calling him "one of the most loving, caring, good-natured people" he had ever met and making it clear that he wasn't happy about what Disney had done. 
Bautista doubled down on these remarks with ShortList. "Nobody's defending his tweets, but this was a smear campaign on a good man," he said. "I spoke to Chris Pratt [who plays Star-Lord] the day after it happened and he's a bit religious so he wanted time to pray and figure it out, but I was more like: f*** this. This is bulls***. James is one of the kindest, most decent people I've met."
The actor's comments here come just hours after he addressed his connection to the Guardians franchise now that Gunn is out of the director's seat. 
On Monday, August 6, Bautista tweeted that he will do what he is "legally obligated to do," meaning that he will fulfill his contract that apparently calls for commitment to the full trilogy, but that a Gunn-less Guardians movie isn't what he "signed up for." He added that he finds it "pretty nauseating" to work for Disney, claiming that the company "empower[ed] a smear campaign by fascists [and] cybernazis."
Now, it appears Bautista has had a change of heart and is no longer willing to satisfy the terms of his contract if Disney and Marvel throw out Gunn's script in favor of a different screenwriter's story. Sounds like the script might be the straw that breaks Bautista's bond to Guardians for good. 
Despite Bautista's outspokenness and irrespective of the fact that the entire Guardians of the Galaxy movie series cast wrote and signed a letter calling for Disney to reinstate the director, the company is reportedly unlikely to rehire Gunn. Bautista admitted that he doesn't think the letter will be enough to get Gunn back on board for Guardians Vol. 3, but mentioned that he hopes the situation can open "people's eyes to James' character."
Neither Disney nor Marvel has announced a director to replace Gunn, though Variety did previously claim that Disney is looking for someone with an "offbeat sensibility" who has never directed a Marvel film before. We also haven't yet heard about another writer potentially taking Gunn's place, so it seems Bautista is simply taking a precaution here. Better safe than sorry, right?