First Look At Sylvester Stallone's New Superhero Movie Is Finally Here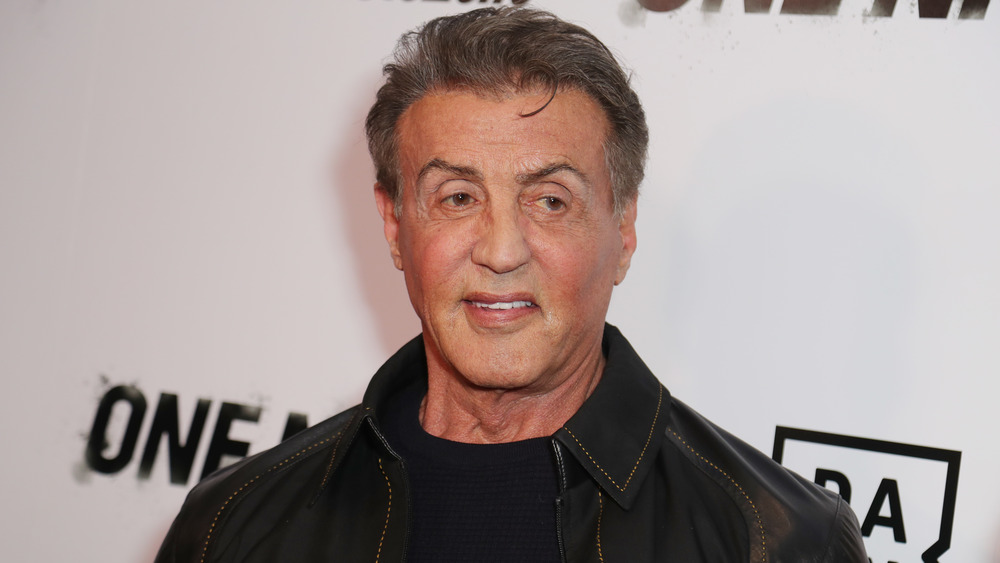 Leon Bennett/Getty Images
In a way, Sylvester Stallone has been playing superheroes his entire film career. Rocky Balboa takes more hits in the ring than has ever seemed humanly possible. John Rambo can waltz through a hail of bullets without being shot. Frankly, any action star who can seem that tough while sharing a name with the cat who loses to Tweety Bird on the regular is basically a god.
Stallone formally entered the world of superheroes when he portrayed Judge Joseph Dredd in 1995's Judge Dredd, then circled back to it when he made a cameo as Stakar Ogord in Guardians of the Galaxy Vol 2. Clearly, Stallone felt good about working on a superhero movie with director James Gunn, because the actor will appear in both Guardians of the Galaxy Vol. 3 and Gunn's first foray in the DCEU, The Suicide Squad. Stallone plans to round out this trifecta by starring in another superhero film that exists outside of the Marvel and DC realms: Samaritan.
Even though Stallone recently dropped the epic news that he has been spending less time acting and more time in the editing bay to create a new cut of his classic film Rocky IV, filming on Samaritan is in full swing. Now, we finally have a look at Stallone in the leading role, thanks to an exclusive image released by Total Film Magazine (via GamesRadar+). 
Stallone's costume is similar to another superhero's
We don't know a whole lot about Samaritan just yet — only the basics. In the film, Stallone plays Stanley Kominski, a hardened former superhero who's rediscovered by a young boy after years of being presumed dead. The film is directed by Julius Avery, best known for helming the J.J. Abrams-produced action horror film Overlord, with a script from Bragi F. Schut, who created the short-lived sci-fi series Threshold and wrote the highly underrated horror film Escape Room, as well as the properly rated Season of the Witch.
In the new image of Stallone in Samaritan, he's holding a young boy while seemingly flipping an automobile. What's immediately relevant about the image is that Stallone is bearded and wearing a hooded, green puffy coat in a way that could mask his identity. Stallone's look here is reminiscent of another wary superhero: David Dunn (Bruce Willis) from Unbreakable. Dunn's costume is a essentially a hooded, green poncho. M. Night Shyamalan told Unbreakable in a way that was often horrific. Avery's Overlord is a horror film, and the same goes for Schut's Escape Room. It'll be interesting to see just how much Samaritan leans into these potential horror trappings.
Samaritan is filming now and is currently due for release on June 4.