The Surprising Way Robert Rodriguez Planned Boba's Return The Mandalorian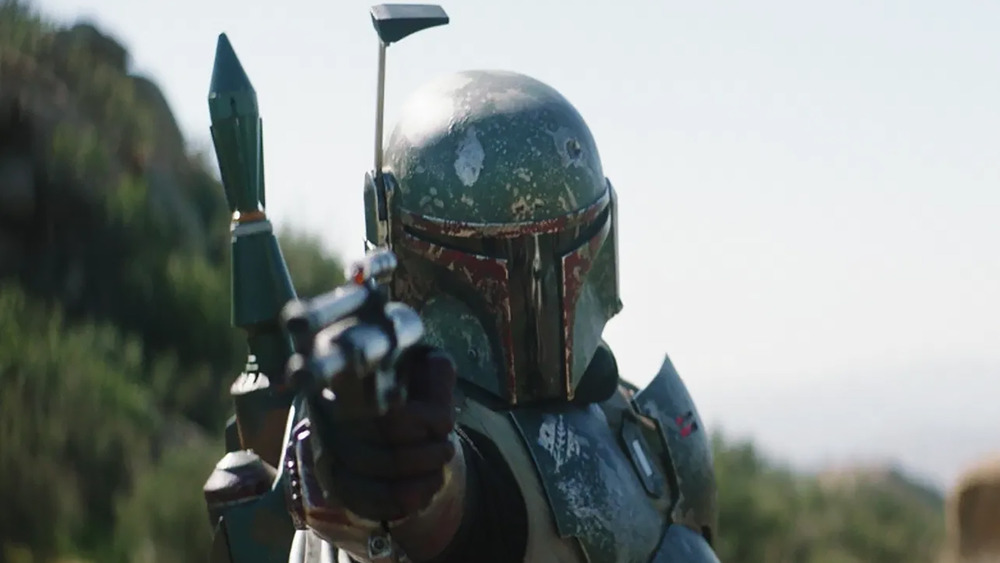 Lucasfilm/Disney
Hindsight is hardly needed to know 2020 was a year full of surprises. And while many of them were of the decidedly unwelcome sort, one that was met with almost universal glee was the return of legendary Star Wars baddie Boba Fett.
The infamous bounty hunter was last seen (at least timeline wise) falling into the gaping mouth of a Sarlacc, to presumably be "digested over a thousand years." This momentous event comes in the opening moments of 1983's Return of the Jedi, so it was a legitimate shock when the character was briefly glimpsed in the final moments of The Mandalorian's season one episode, "The Marshal." Things got even more surprising when he returned in season two and became a major player in Mando's (Pedro Pascal) quest to find a suitable home for little Grogu. 
That quest, of course, led to another unexpected return – but that's a whole other story. Regarding the return of Boba Fett (played by Attack of the Clones vet Temuera Morrison), the big moment comes in episode six of The Mandalorian's second season. Once the man finally gets his armor back, fans get a first-hand view of the brutality that's made him one of the most feared bounty hunters in the galaxy.
Titled "The Tragedy," said episode was directed by Robert Rodriguez, who staged Boba's thrilling return to action with as much energy and ingenuity as you'd expect from the man behind films like From Dusk till Dawn, Sin City, and Alita: Battle Angel. In a recent video interview posted to the LoreFreak YouTube channel, the director detailed exactly how he first plotted out Boba's action-packed return. The DIY nature of that planning session is every bit as Robert Rodriguez-y as you might imagine.
Robert Rodriguez approached Boba Fett's return in The Mandalorian in true Robert Rodriguez fashion
If you're not familiar with Robert Rodriguez's history, here's a primer. Though he's now working on big-time Hollywood projects, he's a fiercely independent filmmaker whose work has always reflected his proudly do-it-yourself aesthetic. He's never been one to keep his methods a secret, either. After the unexpected success of his breakthrough film, 1992's brilliant El Mariachi, he even went so far as to publish a book, 1995's Rebel Without A Crew, showing aspiring filmmakers how to deliver big budget thrills in no budget indies.
Rodriguez continues to embrace a DIY approach today, evidenced by how he first staged Boba Fett's fearsome return to form in The Mandalorian. In the aforementioned interview, Rodriguez details how he blocked out the electrifying Boba Fett fight scene in his own backyard with his sons standing in (wearing the director's old Boba Fett and Stormtrooper Halloween costumes no less). Star Wars action figures were utilized for scenes where special effects and stunt work were required.
The director naturally shot and edited the backyard scenes himself, and as that handheld footage is inter-spliced with actual footage from The Mandalorian for the interview, you can clearly see much of the episode's action unfolds exactly as it did in Rodriguez's backyard. That's largely because Rodriguez presented the homemade footage to his Mandalorian bosses Jon Favreau and Dave Filoni when laying out his plan for the scene. To the director's surprise, both were enthusiastic — not only about the action, but also about the DIY feel.
The action obviously plays bigger in the episode, but Rodriguez's account of how he first staged it should only make fans adore the moment all the more. Here's hoping we get more of the same when The Book of Boba Fett makes its Disney+ debut. 
Robert Rodriguez has actually taken a similar approach in past projects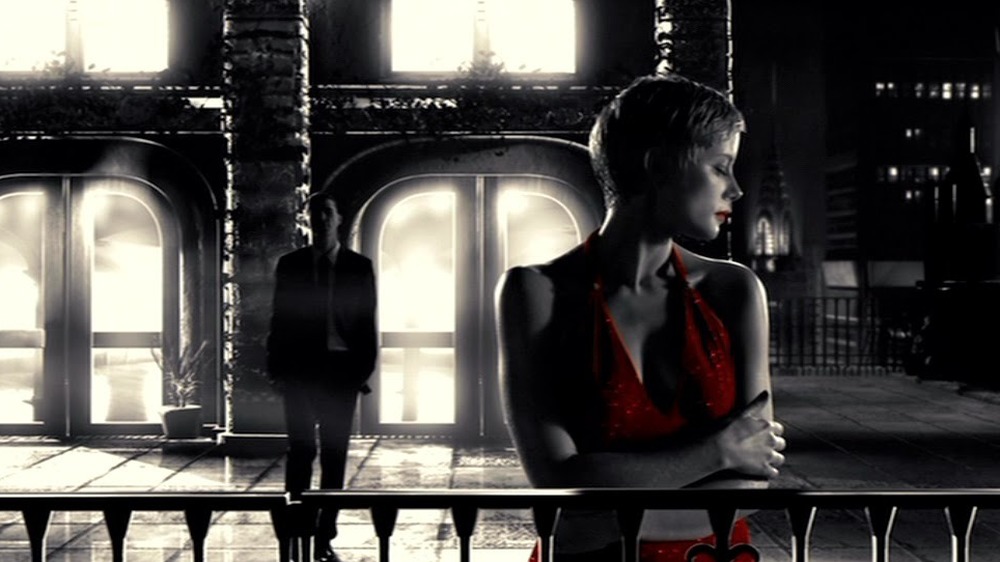 Dimension Films
If you are familiar with the work of Robert Rodriguez, you know this isn't the first time he's taken this unique approach. In fact, he pulled a similar stunt when trying to procure the big screen rights to Frank Miller's noir-tinged comic series, Sin City. 
As the story goes, Miller had long soured on Hollywood adapting his hard-nosed tales to the big screen, and initially had little interest in Rodriguez taking a shot at Sin City. Determined to see his vision for the project through, Rodriguez decided not to pitch Miller on the adaptation with words, instead inviting the comic book legend to his own Troublemaker Studios in Austin, Texas to see what the director had in mind for the movie first-hand.
Miller agreed, with Rodriguez inviting Josh Hartnett and Marley Shelton to town to shoot what would become the opening scene for the Sin City movie. If Miller still said no, Rodriguez would gift him the scene for his time. Rodriguez proceeded to shoot, edit, score, and apply the film's groundbreaking special effects in a single day, delivering a scene that looked as vividly rendered as the singularly stylish images from Miller's books, and therefore unlike anything cinema had ever seen.
The rest, as they say, is history, with Miller being so impressed he immediately signed the rights to Sin City over to Rodriguez, and even signed onto the big screen adaptation as co-director. And yes, the scene eventually served as the opening for Sin City. As for the movie, it became that rarest of comic book adaptations that impressed everyday moviegoers and die-hard fans of the source material in equal measure. It also remains the boldest film in Robert Rodriguez's brilliant, if sometimes spotty cinematic oeuvre.