Cobra Kai Fans Aren't Happy That This Character Won't Be Back In Season 3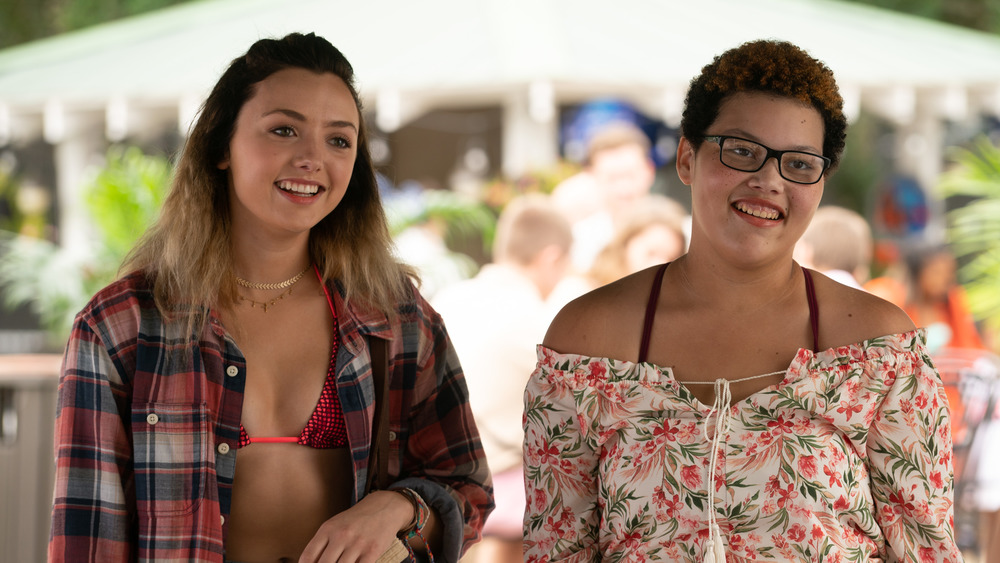 Netflix
Cobra Kai about to drop its third season, and there are a ton of storylines carrying over not just from last season's finale, but also from the first season's too. But while most of the members of the Cobra Kai dojo are returning for season 3, there's one character who will be absent: Aisha Robinson (Nichole Brown), Sam LaRusso's (Mary Mouser) friend who joins the Cobra Kai dojo to escape being bullied. 
To get it out of the way: No, Aisha isn't the first character on Cobra Kai to vanish for an entire season. Characters like Kyler (Joe Seo), Yasmine (Annalisa Cochrane), and Daniel LaRusso's (Ralph Macchio) cousin Louie (Bret Ernst) all disappeared after season 1. However, in all three cases, those characters are coming back for Cobra Kai season 3. There's a chance Aisha will return to Cobra Kai sometime in the future, but right now, fans are unhappy at the fact that she won't be in the new season of their favorite show.
Aisha is more human than most on Cobra Kai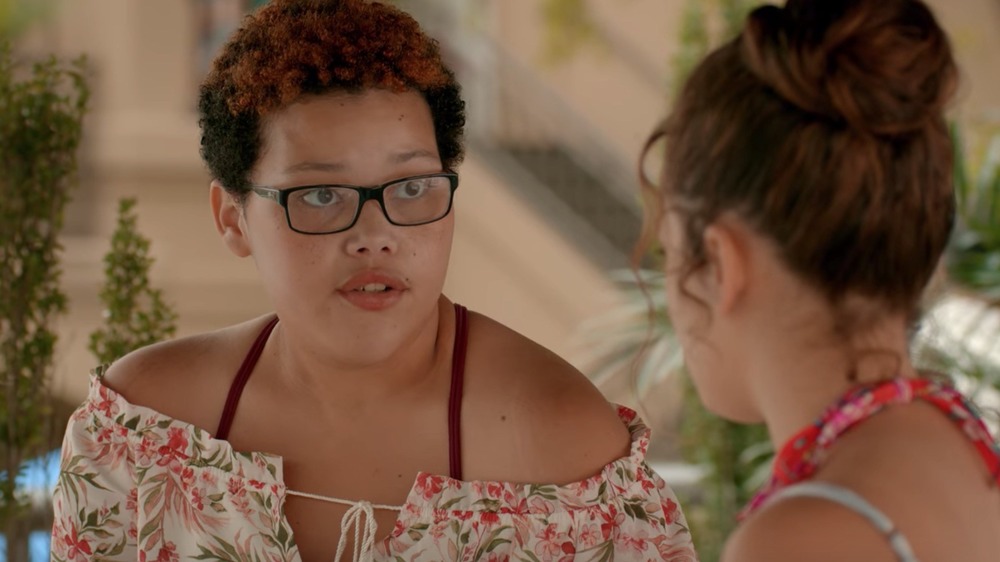 Netflix
Cobra Kai is a show whose success is rooted in its audience's acceptance that a high school could suddenly break out into a martial arts war. The second season of Cobra Kai concludes with just that: The students of Miyagi-Do Karate and the students of Cobra Kai have an all-out brawl. Sam fights Tory (Peyton List), Hawk (Jacob Bertrand) fights Demetri (Gianni Decezno), and Robby (Tanner Buchanan) knocks Miguel (Xolo Maridueña) down a flight of steps. Aisha had already separated herself from these kinds of shenanigans before the dojo-versus-dojo battle broke out, and she's gone from the Cobra Kai dojo once John Kreese (Martin Kove) takes over. Effectively, Aisha seems a little too mature to keep getting involved with a generations-long battle between rival dojos.
As it happens, that's exactly why fans are so bummed that Aisha isn't coming back for season 3 — she simply seems more like a mature human being than the rest of the teens (and adults) around her. On Reddit, one Cobra Kai fan wrote, "Just finished Cobra Kai and found out Aisha's character isn't going to be in season 3. Aisha was honestly the best character in the show and especially the best female character. She was the only two dimensional female character, she struggled with self esteem issues in season one and became a good fighter and stood up for herself."
There are, effectively, only two other lead teenage female characters on Cobra Kai: Sam and Tory. Though both characters do have their own separate arcs, the ongoing conflict between the two young women is over Miguel. In other words, a lot of Sam and Tory's stories boil down to fighting over a boy. Aisha's story is more about where she fits in this conflict between her friends and the two dojos, and many fans wanted to see where her narrative would go in season 3. Sadly, that's not going to happen.
Aisha may be gone, but it probably won't be forever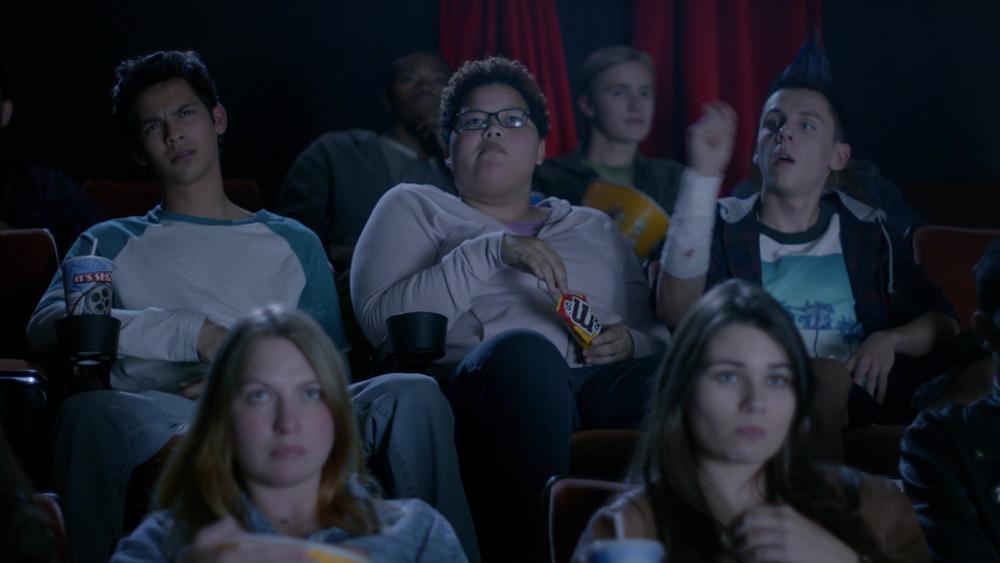 Netflix
On the flip side, not everyone was surprised to see Aisha depart. "I love Aisha, but you could kind of see it coming," wrote Reddit user u/Accomplished-Fan-116. "Her character got pushed into the background more and more. She didn't even really have a substantial plotline in season 2 like the other characters did." That same Redditor also asked another interesting question: "Also did anyone notice Aisha didn't have a Miyagi-Do counterpart? Maybe that had to do with it the decision not to bring her back in season 3."
It seems that the reality of the situation is this: There are an awful lot of conflicts to resolve in Cobra Kai season 3, and without already having a specific ongoing plot to deal with, Aisha could be seen as temporarily unnecessary. In fact, her mature presence could even hasten conflict resolution. Additionally, since Netflix has already greenlit Cobra Kai is for a fourth season, it's unlikely that every problem from season 2 will be resolved by the end of season 3. Still, unless something changes, Aisha's absence also means the absence of any recurring Black female characters on Cobra Kai. 
In an interview with TVLine, Cobra Kai co-executive producers and co-showrunners Jon Hurwitz and Josh Heald addressed Aisha's absence from the show's upcoming third season — both signaling that she likely won't be gone forever. 
"Certain characters we loved in season 1 didn't appear at all in season 2, like Kyler, Yasmine and Louie. Before the season, we told Nichole the same thing we told those actors — that just because a character doesn't appear for a period of time doesn't mean they've left the universe, that they can't return again. We love that character, and perhaps we'll see her again one day," said Hurwitz. 
Heald then added, "We have a long story left to tell. We tend to look at the show in a very long view, where entrances and exits are impactful and important. Sometimes people need to exit to make their [re-entry] a little bit different and bigger."
It seems likely fans will continue talking about Aisha's absence from Cobra Kai season 3 in the coming months. Whether or not that talk will yield Aisha's return for season 4 is anyone's guess.
Cobra Kai season 3 drops on Netflix on January 1, 2021.