Cobra Kai's Showrunners Weigh In On The Next Karate Kid's Julie Appearing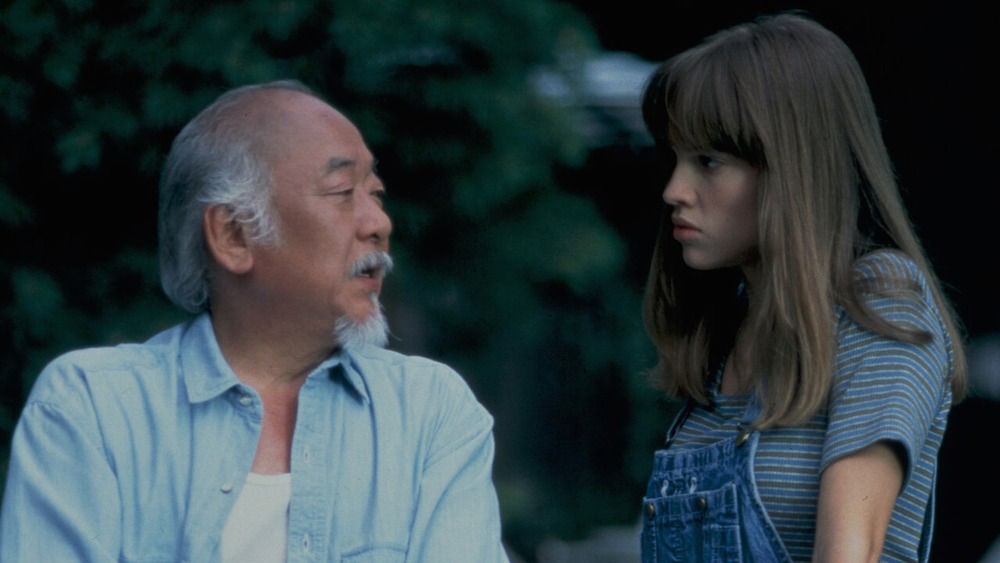 Columbia Pictures
The Karate Kid franchise is essentially synonymous with Daniel LaRusso (Ralph Macchio) the titular character from the first three films. There is, however, another kid to whom Mr. Miyagi (Pat Morita) taught karate. In 1994, Morita reprised his role of Mr. Miyagi once more to train a young woman named Julie Pierce in The Next Karate Kid. What makes the film noteworthy beyond Ralph Macchio's absence is who took his place — future A-lister Hilary Swank.
Yes, long before Swank became a household name playing Carly Reynolds on Beverly Hills, 90210 or a critical darling as Brandon Teena in the biographical Boys Don't Cry, she was a karate kid. While you can certainly feel the absence of Ralph Macchio's Daniel LaRusso in The Next Karate Kid, the fourth film in the franchise is still remembered relatively fondly by most fans based on Swank's strong performance and chemistry with Pat Morita.
Cobra Kai has already brought back Daniel LaRusso, Johnny Lawrence (William Zabka), and John Kreese (Martin Kove) in its first two seasons. When the third season debuts in January 2021, we already know that both Kumiko (Tamlyn Tomita) and Chozen (Yuji Okumoto) from The Karate Kid Part II will return as well. Naturally, Karate Kid fans are wondering whether or not Hilary Swank could turn up as Julie Pierce next. It turns out, Cobra Kai's creative team have Julie on their minds, too.
Here's what counts (and what doesn't) in the Miyagi-verse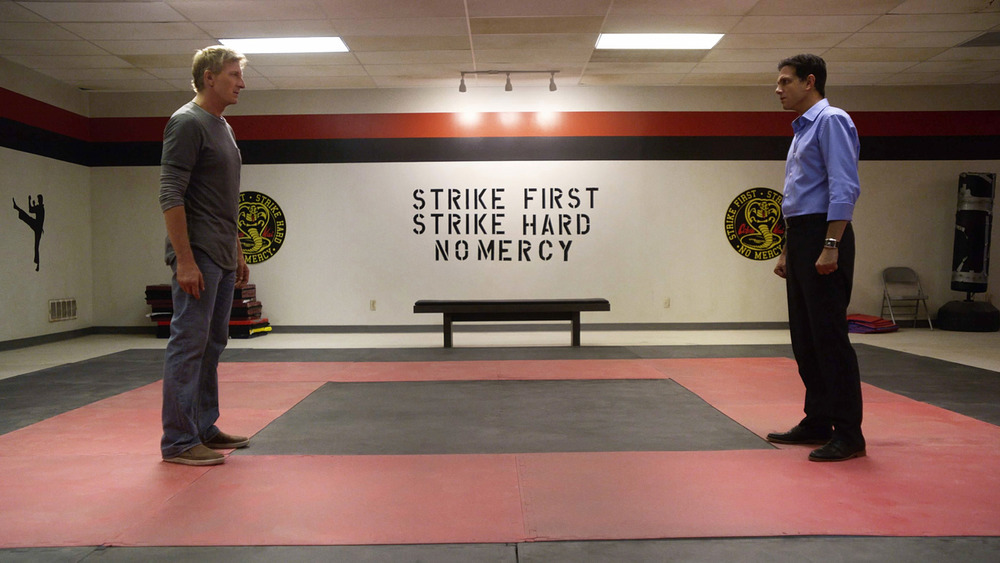 Netflix
In a recent interview with CinemaBlend Cobra Kai creator Jon Hurwitz opened up about the possiblity of Hillary Swank's return to Miyagi-Do Karate. "In our writers' room we speak about literally every character that has appeared in the Miyagi-verse, so it's obvious that we've spoken about Julie Pierce," says Hurwitz. "As to whether or not she'll return to the series, that's something you'll just have to wait to find out."
The really big take away from this interview isn't just Swank's canonicity in the franchise, but the way Cobra Kai's creators view the franchise as a whole. "We always say that our show takes place in the Miyagi-verse," said Hurwitz. "In our minds, any story in which Mr. Miyagi was a character, with Pat Morita playing Mr. Miyagi I should say, is canon to our world. The Next Karate Kid is a part of our universe. We believe that the events of that movie happened. In terms of that movie, it has its pluses and minuses. One of the things that's really special about it is it's very early work for Hilary Swank and she's gone on to be one of the great actors in Hollywood. Her performance is great in that movie and her chemistry with Pat Morita is fantastic."
Basically, it sounds like everything but the 2010 The Karate Kid remake counts in Cobra Kai. Anyone could feasibly return unless they're Jaden Smith or Jackie Chan. Whether or not that means Hilary Swank (who has already appeared in Netflix series BoJack Horseman and Away) will return to the Miyagi-verse is unknown — but it's possible!
Cobra Kai returns to Netflix for its third season January 2021.