The Nine Inch Nails Easter Egg You Missed In Soul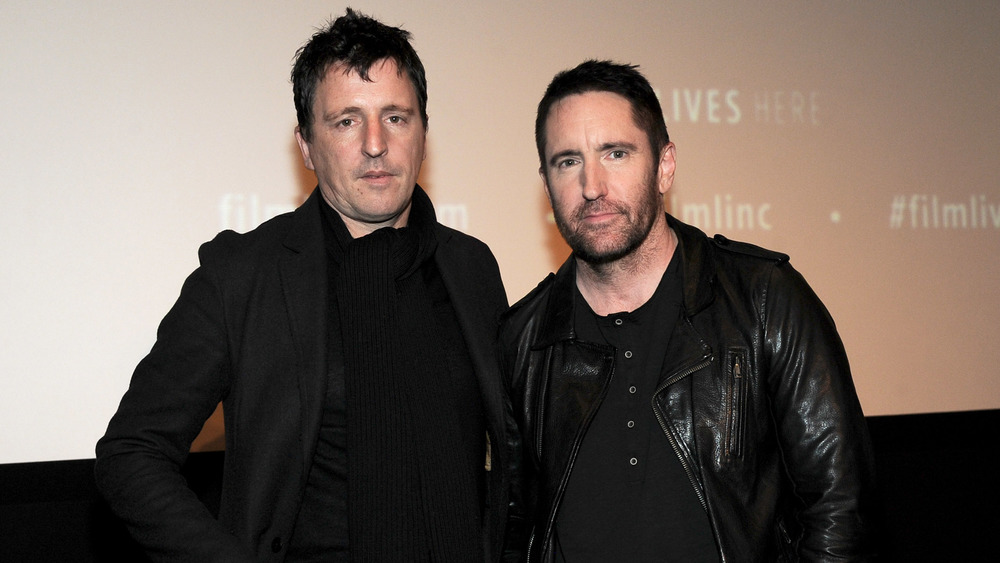 Rommel Demano/Getty Images
Trent Reznor and Atticus Ross have been among Hollywood's most in-demand composers ever since they won an Oscar for their score for The Social Network. They've collaborated on scores for some of the best and/or most popular movies and TV shows of the past decade, including Gone Girl, Bird Box, and Watchmen. They work on film scores in addition to the musical project that made them famous in the first place, Nine Inch Nails, the industrial rock outfit that Reznor started in 1988 and was the sole permanent member of until Ross officially joined him in 2016. In 2020, the musical partners produced two scores: Mank, which reunited them with their frequent collaborator David Fincher, and Soul, the Pixar film from director Pete Docter.
Soul is a very unusual project for the pair, and a big departure from any other project they've worked on. It's so different, even, that the fact that they're responsible for it seems impossible. Soul is an animated family film that's distributed by Disney, while Trent Reznor is the guy who sang "I wanna f*** you like an animal." You would never expect to see his name in the credits of something like this. (They were recommended for the project by sound designer Ren Klyce, who had worked with them on several Fincher films.)
The score for Soul doesn't even sound like a typical Reznor & Ross score. The soft synth bleeps and bloops they devised for the soul world sections of the film (the jazz score of the physical world was handled by Jon Batiste) are very different from the ominous and propulsive music they're associated with. You probably wouldn't know it was them unless you noticed their names in the credits — or caught a very funny little Easter egg snuck into the film.
9" Nails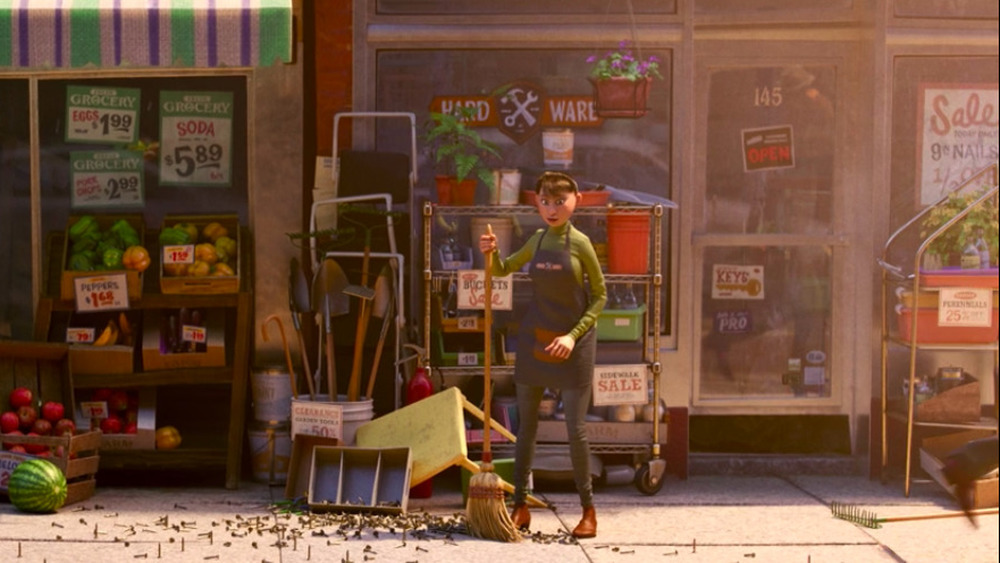 Disney+
Film critic Aaron Prescott pointed out on Twitter that a hardware store that Joe Gardner (voiced by Jamie Foxx) passes by right before he falls down a manhole to his death has a sign in the window advertising a sale on "9 in nails," the kind used for hammering, which have been spilled all over the sidewalk and Joe narrowly misses stepping on in his excited inattention after getting a coveted jazz piano gig. "Please adjust your @letterboxd score a half star up if applicable," Prescott joked.
This is one of many Easter eggs in Soul, which like all Pixar films is packed with little allusions to movies and people important to the studio. Other blink-and-you-miss visual gags in the film include a subway ad for Brang, the startup where Riley's father works in Docter's previous film Inside Out, and a statue that's a reference to Partners, the famous statue of Walt Disney and Mickey Mouse that can be found in Disney theme parks.
Kudos to the clever animator who slipped that NIN Easter egg in there. Extra credit would have been slipping in a reference to How to Destroy Angels, Reznor and Ross' other band. Maybe there is one in there, waiting for some eagle-eyed Nine Inch Nails superfan to spot it. Guess you'll have to watch Soul again to look and see if it exists.