The Parks And Recreation Character Fans Forget Had A Canonical Death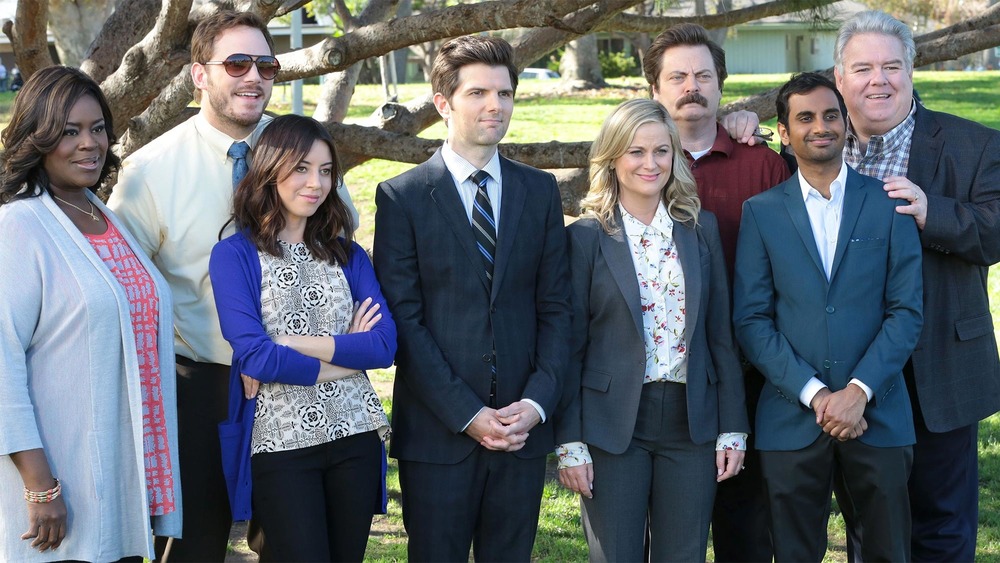 NBCUniversal
Parks and Recreation might be set up very similarly to The Office, but it is an entirely different beast when it comes to the show's memorable cast of characters, and the talented actors who play them. 
Not that The Office's characters and cast aren't fantastic in their own right, but the two mockumentary sitcoms are often (and rightfully) compared, so it's important to realize what distinguishes them from one another. Leslie Knope (Amy Poehler) definitely starts out as a spin on Michael Scott (Steve Carrell), but she quickly forges her own path. The rest of Parks and Recreation followed suit for seven seasons, and after amassing an enormous following over the course of its 120+ episode run, fan expectations for the series finale were beyond sky high. In that episode, each major (and some minor) character's ending and future are explored, wrapping things up nicely and putting a bow on it all.  
Back in 2015, Chris Pratt, who played Parks and Rec's golden-retriever-in-human-form Andy Dwyer, joked to Seth Meyers about wanting a darker ending, in which it's revealed how each character dies — an interesting concept, but one that doesn't match up with the show's generally upbeat, keep-chugging-along tone (via the Hollywood Reporter). However, one character's death is canonically touched upon in the finale: Gerald "Garry" Gergich (Jim O'Heir), best known as Jerry (though Larry, Lenny, Terry, and Barry also work).
A full life, a full death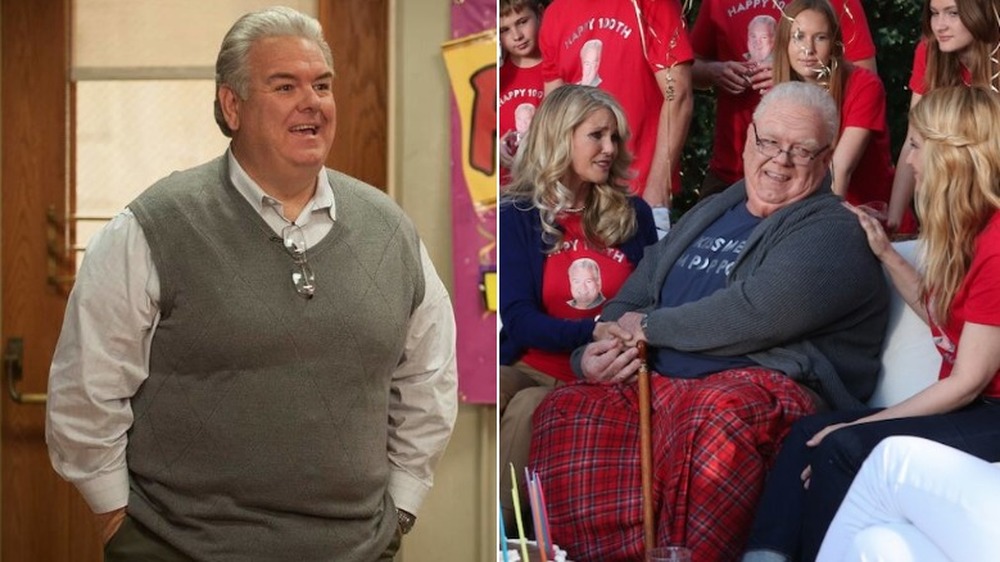 NBCUniversal
Jerry is one of Pawnee, Indiana's longest-serving government employees ... and the Department of Parks and Recreation's office punching bag. He's admittedly something of a klutz, so it's easy for the other workers to blame things on him or straight-up ignore him, but he has a heart of gold and the fortitude to smile through it all. As it turns out, he has every reason to smile: he is married to a beautiful woman (Christie Brinkley), has three daughters who love him (Sarah Wright, Maliabeth Johnson, and Katie Gill), and fills his free time with things he enjoys, like painting and music. The undeserved heat he gets at work certainly doesn't impede on his happiness at home.
Near the end of season seven, Jerry becomes Pawnee's interim mayor after Mayor Gunderson (Bill Murray) passes away. And in his finale flash-forward, viewers watch as he is elected mayor again, and again, and again — more than happy to serve the community he loves, each time. Despite his laundry list of health problems (obesity, diabetes, you name it), Jerry lives to be a century old, smiling all the way. He dies not because of some accident, or because one of his ailments finally gets to him, but simply because of old age. His unbreakable spirit lives on through his adoring family, from his wife to his great-grandchildren, and so his love and legacy become permanent fixtures in the town of Pawnee.
It just goes to show that a little bit of happiness can go a long way. Jerry's life wasn't a perfect one, courtesy of his coworkers and his own clumsiness, but he made the most of it.
Wrapping on Parks and Rec was emotional, and celebrating the series' end was so fun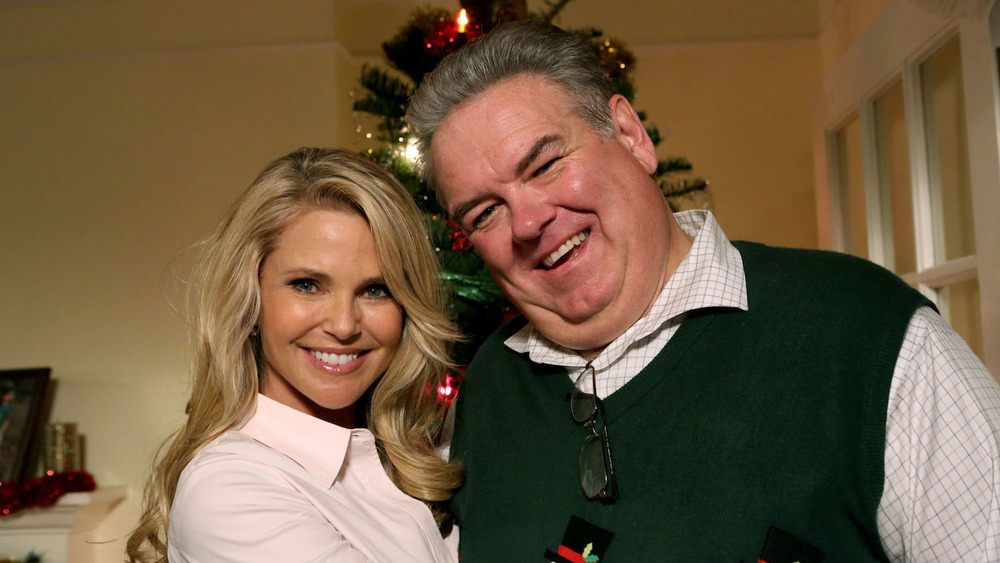 NBCUniversal
When a series as beloved as Parks and Rec ends, emotions naturally run high — both amongst fans and the series' stars themselves. Saying goodbye to their favorite characters isn't an easy thing for fans to do, and it's often even more difficult for actors to step away from the projects they've spent years bringing to life. By and large, though, the overarching emotion is one of gratitude — one that outweighs the sadness by a wide margin. And for Jerry actor Jim O'Heir, that fact holds true. 
In a 2015 Esquire interview centered on the Parks and Recreation series finale, O'Heir opened up about what it was like filming his last scene, which was actually the whole cast's final scene. As O'Heir tells it, the day was an emotional one filled with bittersweet tears — followed by a massive celebration that same night, then an even bigger party that reunited everyone who'd been on Parks and Rec in any capacity. 
"We were all together for the final scene. And then I thought they were going to do what the normally do on a show, which is, "Ladies and gentlemen, that's a series wrap on the cast of Parks and Recreation.' Well, this time they did it individually. 'Ladies and gentlemen, that's a series wrap on Jim O'Heir. That's a series wrap on Retta.' So the tears just kept going," O'Heir said with a laugh. "The second it was all over they had food and booze and everything's brought in. And then the next night, we had the big farewell party with everybody who's ever been on the show. Jon Hamm was there. It was awesome. [Chris] Pratt got on the vocals and Nick Offerman got on guitar and we all sang 'Bye Bye Lil' Sebastian.' It was awful. And wonderful."