The Line In Hamilton You Never Realized Was Inspired By Leslie Knope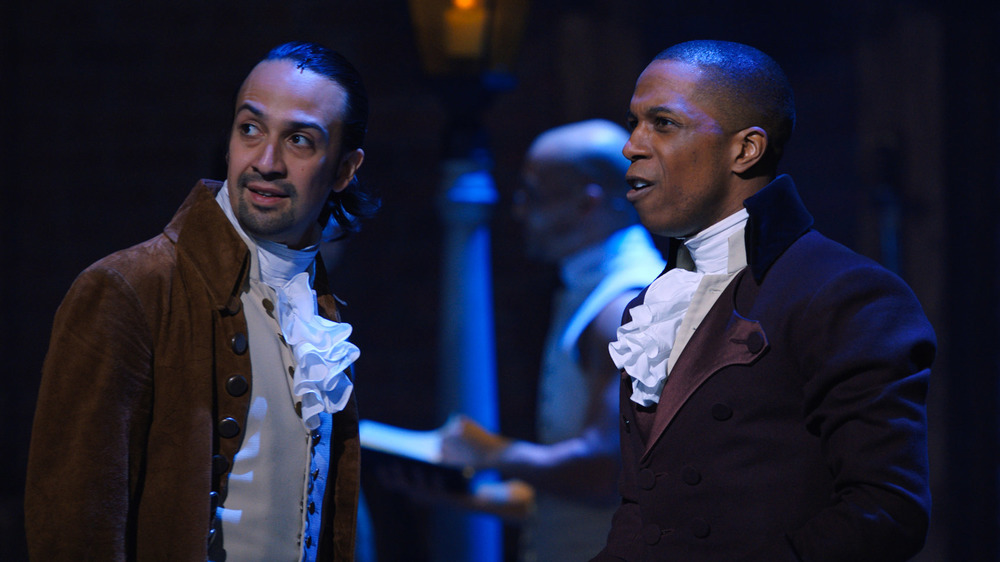 Disney
One of Broadway's biggest musicals has a Parks and Recreation Easter egg hiding within its lyrics.
Political narratives and stories have been extraordinarily popular in pop culture throughout the years, whether it's a new spin on the origin of the Founding Fathers or an ode to the glory one can find within local government. In recent years, in the shadow of genre-defining works like Aaron Sorkin's The West Wing, both the small screen and the stage have produced some pretty important political works, and ultimately, there's probably a lot of overlap between fans of Hamilton and Parks and Recreation.
Between Lin-Manuel Miranda's game changing hip hop musical about the founding of America through the eyes of Alexander Hamilton and Michael Schur's sweetly funny show about a local Parks and Recreation department in the small town of Pawnee, Indiana, political junkies have a wide variety of pop culture to choose from. However, fans of both Hamilton and Parks and Recreation might not know about Miranda's tiny homage to one of his favorite shows. Here's the line in Hamilton that's actually a direct reference to the main character of Parks and Recreation.
There's a line in Hamilton about Parks and Recreation's Leslie Knope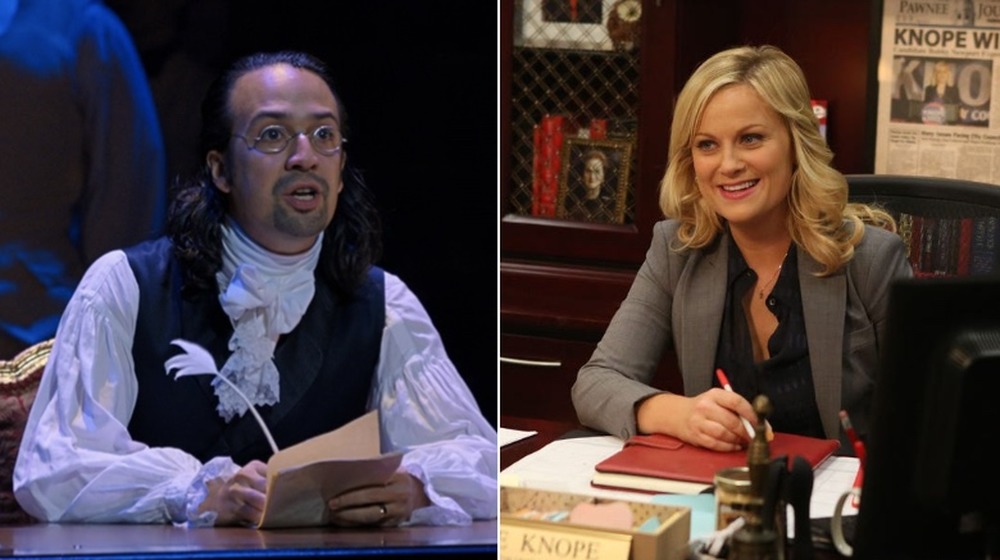 Disney/NBC
In the second and final act of Hamilton, Alexander Hamilton (Miranda), reeling from the death of his son and a very public sex scandal, makes an unexpected decision and endorses his political enemy, Thomas Jefferson (Tony Award winner Daveed Diggs), for President over his supposed friend, Aaron Burr (Tony Award winner Leslie Odom Jr.). Incensed over Hamilton's betrayal, Burr writes an angry letter to the Treasury Secretary, demanding to know why, at every turn, Hamilton has stood in the way of Burr's political success.
In response, Hamilton fires off a letter of his own, writing that he has not tried to stop Burr per se, but simply says what he means at all times, including that nobody in the fledgling United States "knows what [Burr believes]." Immediately after that, Hamilton tells Burr that in order to prove Burr's accusation, he would need to "cite a more specific grievance," sending over "an itemized list of thirty years of disagreements." Shocked and visibly annoyed, Burr simply mutters, "Sweet Jesus."
This might not seem particularly obvious, but in Hamilton: The Revolution, where Miranda breaks down the show's lyrics line by line, the writer confirms that Hamilton's attraction to paperwork is a reference to Leslie Knope (Amy Poehler), the intrepid and overzealous leading character of Parks and Recreation. "This is my Parks & Recreation homage," Miranda writes in a footnote. "Such a Leslie Knope thing to do."
Parks and Recreation is available to stream on Peacock, and the filmed version of Hamilton — featuring the original cast, including Miranda and Odom Jr. — is available to stream on Disney+.