Michael Keaton Confirmed As Vulture In Spider-Man: Homecoming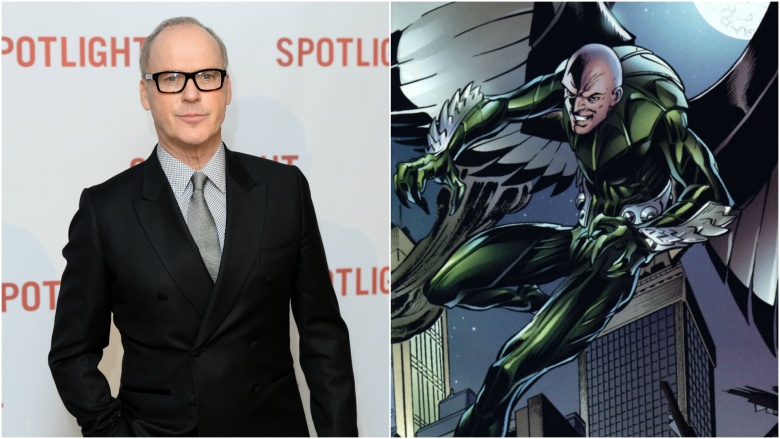 Getty Images/Marvel
After months of secrecy but plenty of speculation, Marvel Studios president Kevin Feige finally confirmed that Michael Keaton will play Vulture in Spider-Man: Homecoming.
Keaton was added to the cast last May (via Variety), but the only thing revealed at the time was that he would play the villain. When word got out a few months later that Vulture would be the main baddie, it seemed pretty likely that would be Keaton's role. But nothing was ever officially announced, and Keaton was never spotted in costume on the set.
However, Feige casually made the confirmation during a recent interview with The Toronto Sun. When asked about future villains in the MCU, Feige said, "We've had a wish list and most of them in the near-term are coming together. Cate Blanchett is playing Hela in Thor: Ragnarok. Michael Keaton's Vulture in Spider-Man is something. And of course, finally, we're showcasing Josh Brolin's Thanos (in Avengers: Infinity War). We're looking forward to that very much."
Spider-Man and Vulture (aka Adrian Toomes) go way back, all the way to the villain's first appearance in the 1963 comic Amazing Spider-Man #2. He's a former electronics engineer who designed a special harness that allows him to fly and enhances his strength. In the comics, he's often depicted as very old, and at one point, he uses a device to steal Spidey's youth. Just this week, possible concept art of Keaton's Vulture leaked online (via MCU Exchange).
Tom Holland, who debuted as Spider-Man in Captain America: Civil War, will take the spotlight in Spider-Man: Homecoming, and he'll be joined by Robert Downey Jr. as Tony Stark/Iron Man. Michael Chernus will play the Tinkerer, another villain and likely ally to Vulture. Donald Glover and Bokeem Woodbine also have mystery roles in the flick, and it's possible that one of them will portray Shocker.
Spider-Man: Homecoming arrives in theaters July 7, 2017. While we wait, check out some of the worst things that ever happened to Spider-Man.