Spider-Man: Homecoming Concept Art Unveils Main Villain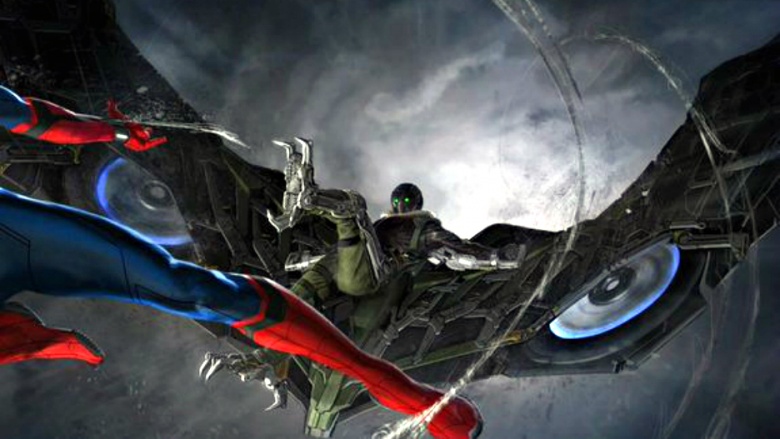 Although we don't know who will wear the wings just yet, Marvel has offered up the first glimpse of the Vulture, the main villain in the upcoming Spider-Man: Homecoming.
Director Jon Watts opened up about the decision to include the classic comic book character in the Spidey solo flick. "We wanted to sort of go back to the origins of what made Spider-Man and Peter Parker so unique, and that's why we just sort of really doubled down on the idea that he is a kid," Watts said. "He is a high school student in this crazy universe. He has to keep his identity a secret, which a lot of the other characters in the MCU don't, um, and just, in general, going back to those origins ya know. The Vulture is really the first super-villain that Spider-Man ever fights in Amazing Spider-Man, the second issue, after the Chameleon, so it just felt like the right thing to do, to go back to the roots in that way."
The concept art shows a high-tech version of the Vulture with cybernetic wings attached to his green jumpsuit. While Sony hasn't announced the actor who will portray the villain, Michael Keaton is a member of the cast and is rumored to play Adrian Toomes – the alter ego of the Vulture.
Watts also explained where he thinks Spider-Man: Homecoming fits into the Marvel Cinematic Universe. "I think of it as the ground floor. If the Avengers Tower is the penthouse and we know what it's like to be a millionaire, billionaire playboy to be Tony or we know what it's like to be a God on another planet, that's the penthouse level of the MCU," Watts said. "Spider-Man is the ground floor. What does a high school in the MCU look like? What does riding the subway in the MCU feel like? Spider-Man seems like the most perfect opportunity because he's the most regular person in the canon that I thought he was a great chance to show what that angle of the MCU feels like."
Spider-Man: Homecoming hits theaters July 7, 2017. Check out our exclusive photos from the set.