Eddie Redmayne Auditioned For Kylo Ren In Star Wars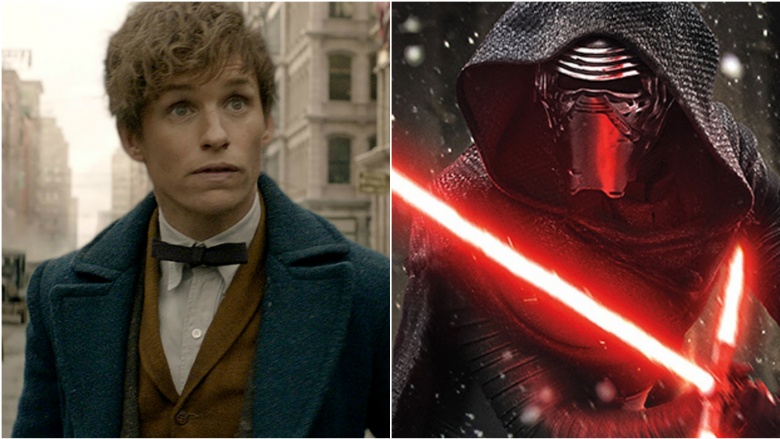 Things have turned out pretty fantastic for Eddie Redmayne. But a few years back, he apparently flubbed an audition for Star Wars: The Force Awakens in spectacular fashion.
During an interview with Uproxx, the star of the Harry Potter spinoff Fantastic Beasts and Where to Find Them revealed that he tried out for the part of Kylo Ren–a key role that went to Adam Driver. Although Redmayne isn't entirely sure that was the specific character because the casting process was so secretive.
"They gave me like a Star Trek scene or like something from Pride and Prejudice," he said. "It was one of those films. With films that top secret, they don't give you the actual lines. So they give you a scene from Pride and Prejudice, but then they tell you you're auditioning for the baddie. If you're me, you then put some ridiculous voice on."
Redmayne said the voice didn't go over well. "That was really a hilarious moment. Because it was [with casting director] Nina Gold, who I have to thank a lot because she's cast me in several films. And she was just sitting there and I was trying again and again with different versions of my kind of 'koohh paaaah' [Darth Vader breathing sound] voice. And after like 10 shots, she's like, 'You got anything else?' I was like, 'No.'"
As ScreenCrush points out, although Redmayne didn't get the part, he did go on to play a similarly power-hungry space emperor in Jupiter Ascending. And he definitely got to use a couple different evil voices in that one.
Meanwhile, Fantastic Beasts (the first installment in a five-movie series) opens Nov. 18. Johnny Depp has a prominent role in the upcoming second chapter and we also know we'll see a young version of Dumbledore, too.