Joe Manganiello Says The Batman Will Be 'Gritty' And 'Cerebral'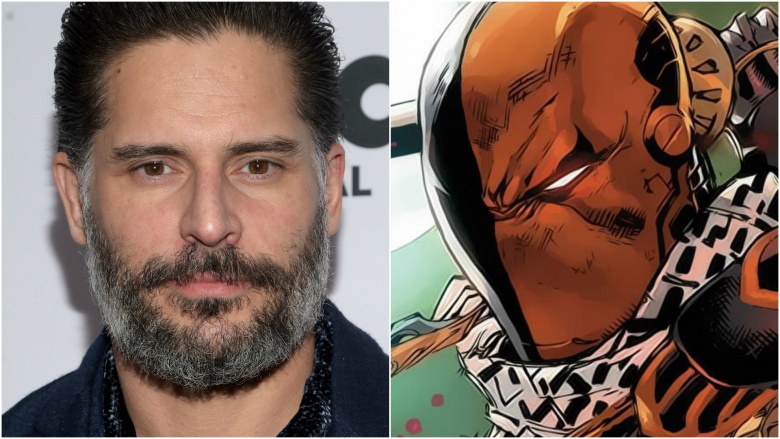 Getty Images/DC Comics
Although Ben Affleck has made it clear that he isn't ready to start talking about the standalone Batman movie he's set to write and direct, Deathstroke actor Joe Manganiello is apparently a lot more eager to open up.
Affleck recently caused a stir when he said "there is no Batman movie happening yet," especially considering that True Blood's Manganiello had already been announced as the villainous Deathstroke and Warner Bros. CEO Jeff Bewkes revealed the movie could be just "a year and a half out."
But it's likely that Affleck only meant that everything was still in the early stages, because it definitely sounds like he's got a specific vision for the film, which may or may not be called The Batman.
Manganiello spoke about the flick on the podcast of former pro wrestling announcer Mark Madden (via CBM), and he said there's plenty to be excited about.
"[Affleck's] take is a fresh take, but I think the audience is going to be surprised," Manganiello said. "Because it's a road that no one's really gone down that's completely integral to, you know, who Batman is. And I think it's gonna be refreshing but at the same time completely familiar. But it's going to take this franchise in a direction that I think a lot of people are going to be really happy about. It's going to be gritty and action-packed and cerebral and all of those elements that people love about Batman."
As for any concern about Affleck taking over the franchise, Manganiello offered nothing but praise for him. "Ben's a great director," he said. "I mean, the last movie that man directed won best picture. He's got an Oscar for writing. Like, this is all the components to go down as a... everything is lined up for a really, really, really great movie. Not only a superhero movie but just a great, great movie."
Aside from the casting of Manganiello, not much else is known about the flick. But we know we'll first see Affleck as Batman in Zack Snyder's ensemble Justice League, alongside Gal Gadot as Wonder Woman and Jason Momoa as Aquaman.
Let's just hope The Batman doesn't end up on this list of potentially huge movies that never happened.