Hidden Gems Coming To Netflix In January 2021
This content was paid for by Netflix and created by Looper.
The new year is almost here, and with it, you will have some exciting new streaming options to add to your list. In January, Netflix will bring us all back to the dojo for the much-anticipated third season of Cobra Kai, and Disenchantment fans will also be treated to Part 3 to start the year off on a fantastic note. Meanwhile, a new Nicolas Cage-hosted series called History of Swear Words will break down all of your favorite four-letter words, and Fate: The Winx Saga will take us all on a much-needed trip to Otherworld. The month will also usher in the premieres of some exciting new films, including the new Anthony Mackie-led action movie Outside the Wire and the book-to-screen adaptations of Dig, Penguin Bloom, and The White Tiger.
But in addition to these buzzy new Netflix Originals, Netflix will also be adding some amazing films that might have slipped under your radar during their initial releases. Even if you didn't catch them the first time, they're definitely worth the watch when they arrive on the platform next month. Let's take a look at some of the shiniest hidden gems coming to Netflix in January 2021.
17 Again - January 1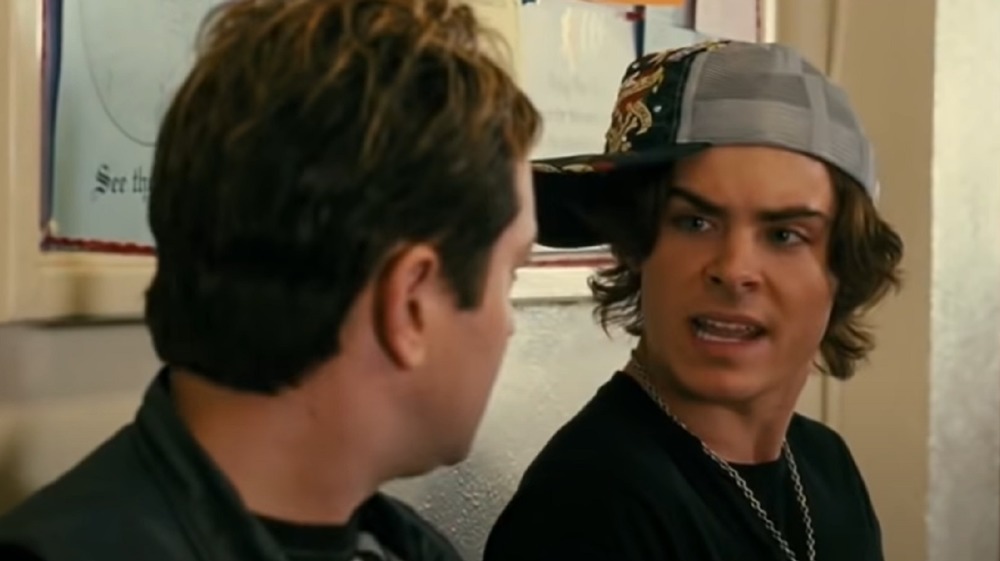 New Line Cinema
If you've ever wondered what it might be like to relive your high school years with the acquired wisdom and maturity of adulthood, well, 17 Again makes it look pretty great. The 2009 comedy, which comes to Netflix on January 1, introduces us to Mike (Matthew Perry), a 37-year-old whose struggling marriage, floundering career, and near-middle age malaise makes him yearn for the halcyon days of being young and carefree.
After a strange encounter with a magic janitor on a bridge, Mike gets a chance to do it all over again when he finds himself back in his 17-year-old body (this time, played by Zac Efron). With the help of his friend-turned-faux dad Ned (Thomas Lennon), he re-enrolls in the same high school as his two teenage kids and gets to see himself and the people in his life from a very different vantage point. Not only is the movie a fun and vicarious little body-swapping adventure, but it also has a lot of heart, as Mike learns just how lucky he is — at any age.
Blue Streak - January 1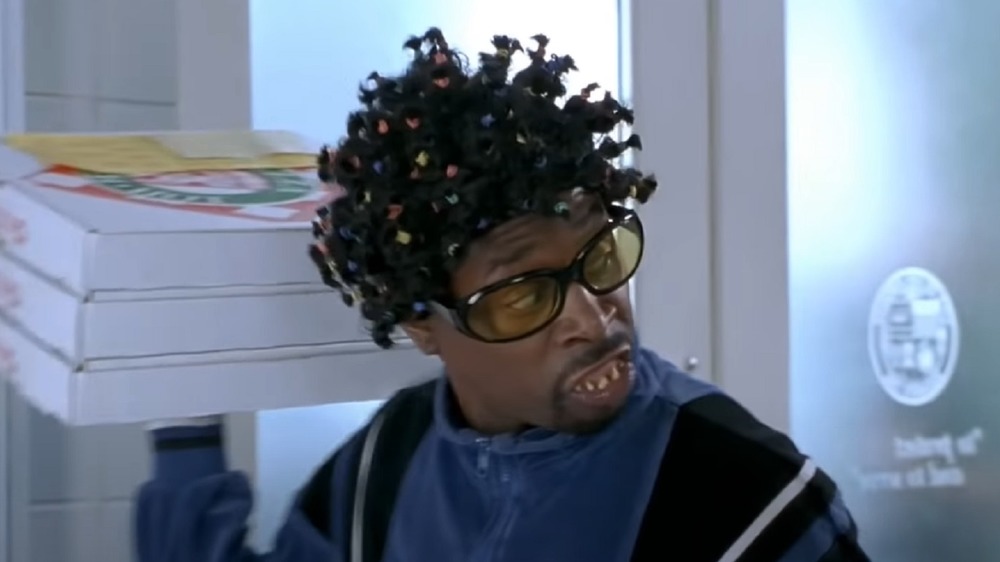 Columbia Pictures
Martin Lawrence has starred in a lot of unforgettable films, but Blue Streak is an especially uproarious buddy cop comedy. The 1999 pic features him as a jewel thief named Miles Logan who's forced to hide his diamond heist score in the air conditioning ducts of a construction site as the police move in on him. After spending two years behind bars for the robbery, Miles is horrified to discover that the building where his loot is stashed away has since become an LAPD station.
Thanks to some creative con artistry, Miles manages to infiltrate the building as a fake cop — but inadvertently earns a new partner in the gullible Detective Carlson (Luke Wilson), who gets him right to work on street assignments. Miles' quick thinking and familiarity with the criminal underbelly of the city make him a convincing enough partner to Carlson at first, but the complications still continue piling up in hilarious and unexpected ways. As Miles navigates everything from bureaucratic processes to murderous former associates, Lawrence's comic timing make this now-vintage pic a classic comedy you shouldn't miss when it hits Netflix on January 1.
Good Hair - January 1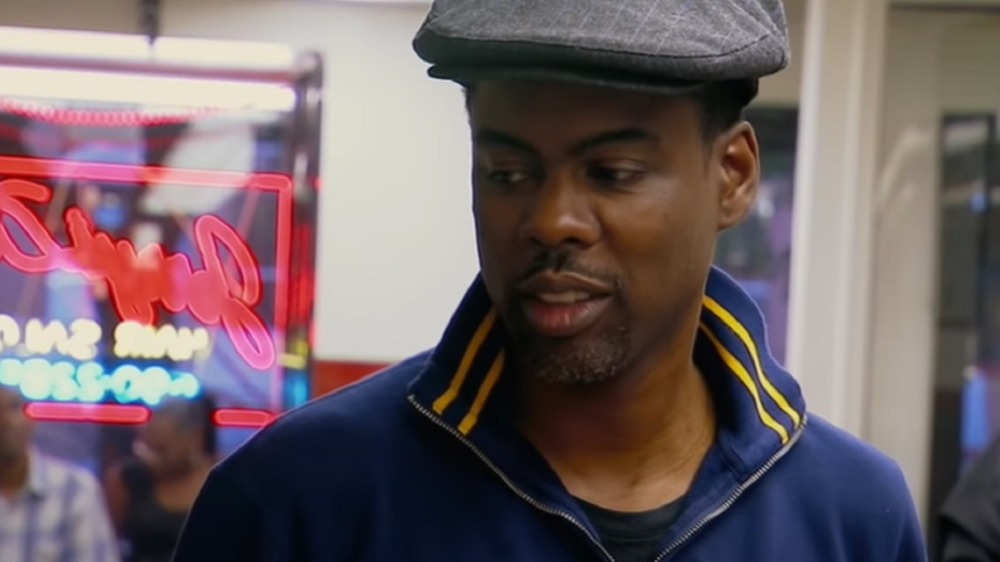 HBO Films
For comedian Chris Rock, the subject of his 2009 documentary Good Hair was not a laughing matter at first. After his own daughter approached him and asked why she didn't have "good hair," Rock decided to take a deeper dive into the world of Black hair. However, as he uncovered a wealth of significant cultural, historical, and even industry information during his journey, Rock managed to find the humorous aspects of the issue, too, including some of the more uncomfortable complications of wearing hair appliances in intimate situations.
In Good Hair, which will appear on Netflix on January 1, Rock highlights the expertise of everyone from barbers, to the chemical plant workers who mix relaxer serums, to wig retailers — all to get a full understanding of how "good hair" happens. Rock also features commentary from an all-star list of fellow Black celebrities — including Kerry Washington, Meagan Good, Ice-T, Raven Symone, Eve, and Reverend Al Sharpton, just to name a few — who talk about their relationships with their own hair and the societal and beauty expectations they must grapple with in the spotlight. Good Hair is both entertaining and informative, and the film is full of important perspectives about this aspect of the African American experience.
The Intouchables - January 11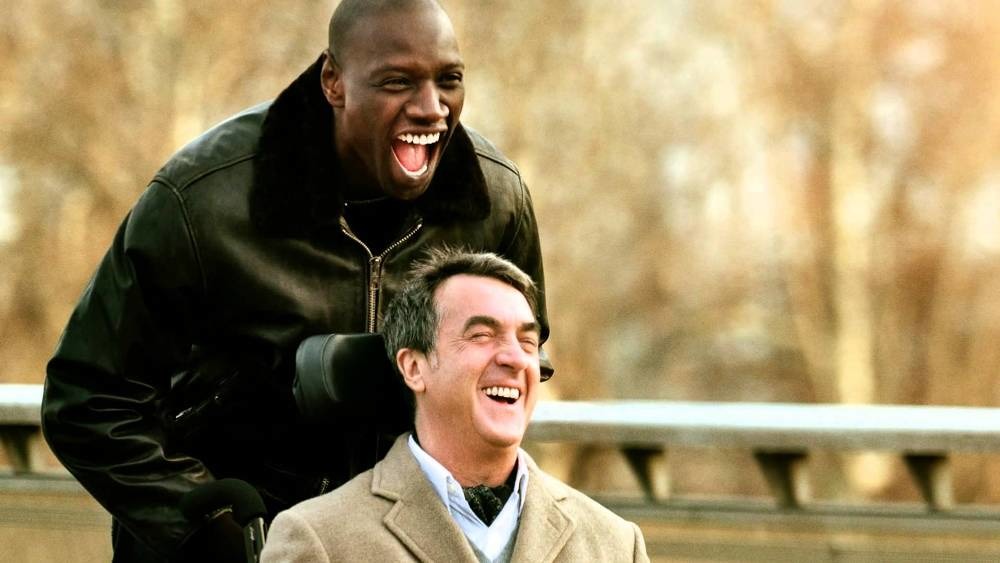 Gaumont
Be sure to have your tissues nearby when you press play on this heart-swelling French dramedy when it hits Netflix on January 11. The 2011 film cleaned up at the Cesar Awards thanks to its indelible story of friendship and the incredible performances of its actors. The Intouchables tells the story of a wealthy quadraplegic businessman named Philippe (François Cluzet) who hires the reluctant Driss (Omar Sy) to become his live-in caregiver. Despite Driss' initial disinterest in the job and extremely unconventional methods, he flourishes in the role and develops a sincere friendship with Phillippe. Together, the two embark on a journey to find joy and challenge one another with good humor.
The film, directed by Olivier Nakache and Éric Toledano, is based upon the true story of the hotelier Philippe Pozzo di Borgo and his beloved aide Abdel Sellou. The movie was a major box office hit in France and notched several other accolades, including a Golden Globe nomination for Best Foreign Language Film and an NAACP Image win for Outstanding International Motion Picture.
A Monster Calls - January 16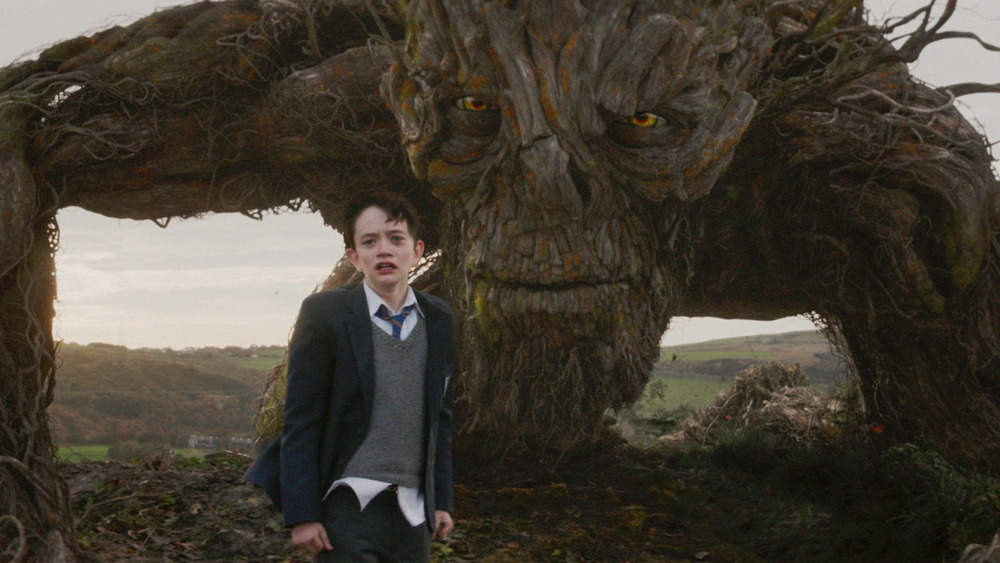 Lionsgate/YouTube
Another tearjerker you might've missed during its initial run is A Monster Calls, which J.A. Bayona adapted from the bestselling fantasy book of the same name by Patrick Ness. The movie, which hits Netflix on January 16, follows 13-year-old Conor O'Malley (Lewis MacDougall), a boy who faces one of life's most difficult developments, as his beloved mother Lizzie (Felicity Jones) begins to fade from a terminal illness.
As Conor dives into his drawings to cope, he finds another unexpected avenue of escape from the harshness of his reality when he's visited by the tree-like Monster (Liam Neeson), who introduces him to three fantastical stories that ultimately intertwine with his own real-life narrative in some heartbreaking ways. A Monster Calls offers dazzling visuals as Conor and the Monster explore these fictional realms, but it's also grounded in certain immovable truths about the human condition, including a very unique statement on grief and the resilience of young minds.
Mystic Pizza - January 1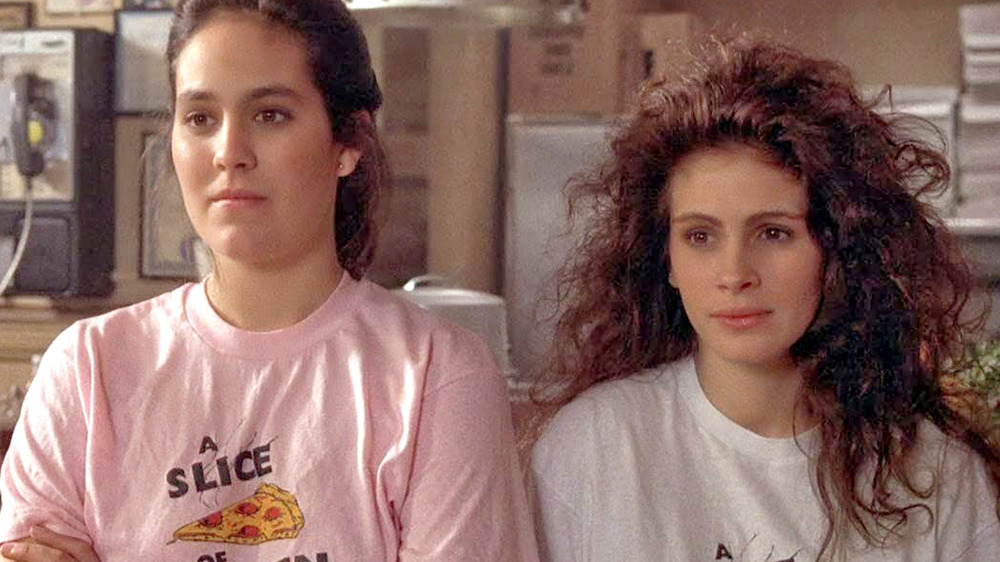 The Samuel Goldwyn Company
Before films like Steel Magnolias and Pretty Woman made Julia Roberts a household name, she starred in the 1988 romantic comedy Mystic Pizza. In it, Roberts stars as Daisy, a young woman who works alongside her sister Kat (Annabeth Gish) and best friend Jojo (Lili Taylor) at a local pizza parlor named — you guessed it — Mystic Pizza.
The three women all have very distinct personalities and ambitions, and while they all plan to eventually leave the place that has brought them all together, they have drastically different ideas about how to do so. At the same time, they are all experiencing the pitfalls of love in their own unique ways as well, and they must rely on one another to get through their heartaches. In addition to being a must-see for fans of Roberts' esteemed career, the movie also marked the big-screen debut of director Donald Petrie, who went on to helm so many other beloved comedies, including Grumpy Old Men, Miss Congeniality, and How to Lose a Guy in 10 Days. Make sure to order a slice of Mystic Pizza when it premieres on Netflix on January 1.
Spring Breakers - January 10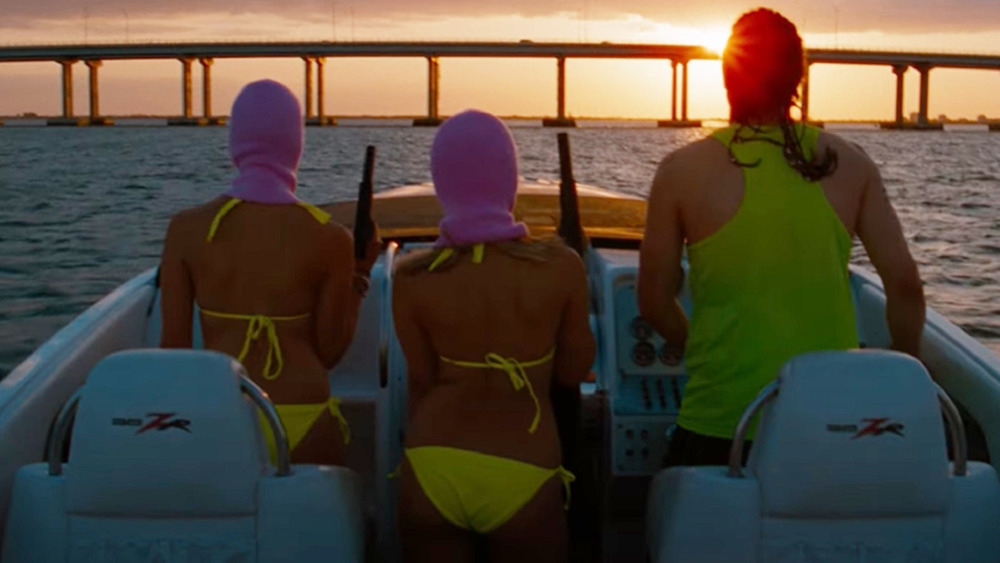 A24
Spring break is a notoriously raucous affair for almost anyone who partakes in the college getaway tradition. But none can ever be as wild as what happens to the characters in Spring Breakers. The 2012 dark comedy was written and directed by Harmony Korine and follows a group of college students who are desperate to go on spring break and commit a drug-fueled robbery to come up with the money for their trip. That brush with crime is just the start of their misadventures, though.
Once they make it to Florida, the four friends (played by Vanessa Hudgens, Selena Gomez, Ashley Benson, and Rachel Korine) are soon arrested and befriend a local dealer named Alien (James Franco), who takes them down an even messier path within his crime ring. Some critics dubbed the film "Scarface meets Britney Spears" to capture its jarring juxtapositions of chipper characters with such hardcore circumstances. And almost everyone can agree it is an absolute thrill to watch — which you can do when it smashes onto Netflix on January 10.