Here's What Ronda Rousey Would Have Looked Like If She Was Cast As She-Hulk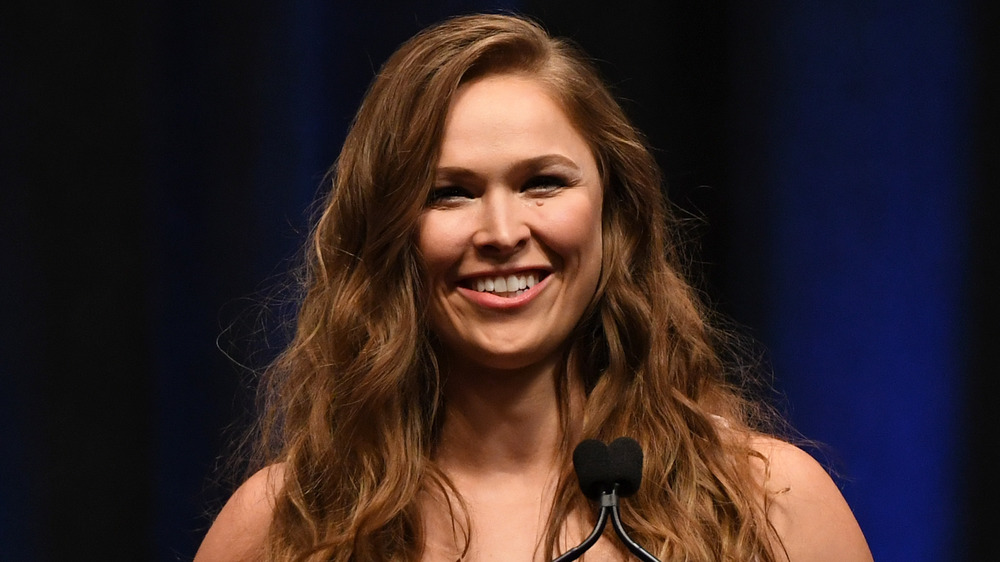 Ethan Miller/Getty Images
Ronda Rousey has worn many hats over the years. Pivoting from UFC women's bantamweight champion to acting in films like The Expendables 3 and Furious 7, to signing with World Wrestling Entertainment as heel "Rowdy" Ronda Rousey, the athlete has proven she can take on many roles and kick butt in all of them. But one role, in particular, has eluded Rousey: a Marvel superhero. 
One MCU part that she had hoped to land was Captain Marvel, in 2015 even posting fan art on her Instagram of what she'd look like in the role. That superhero part, of course, ultimately went to Brie Larson, but another fan-favorite hero soon became available: In 2019, Disney+ confirmed they would be premiering a She-Hulk TV series. The show would center around defense attorney Jennifer Walters, who, after a blood transfusion from her gamma-irradiated cousin Bruce Banner (Mark Ruffalo), turns into She-Hulk.
So, who would play the starring role? Many sites reported that actresses such as The Good Place actress Jameela Jamil, Blake Lively, Lily Collins, and GLOW's Alison Brie were all in talks to star. But rumors also swirled, at one point — whether true or not — that Marvel could be eyeing Rousey to play Walters. Those rumors were soon quashed, once Orphan Black's Tatiana Maslany was cast to star. 
However, that didn't stop us from wondering what Rousey would have looked like had she been cast. No shock — she looks like she's made for the part.
Ronda Rousey would make a convincing She-Hulk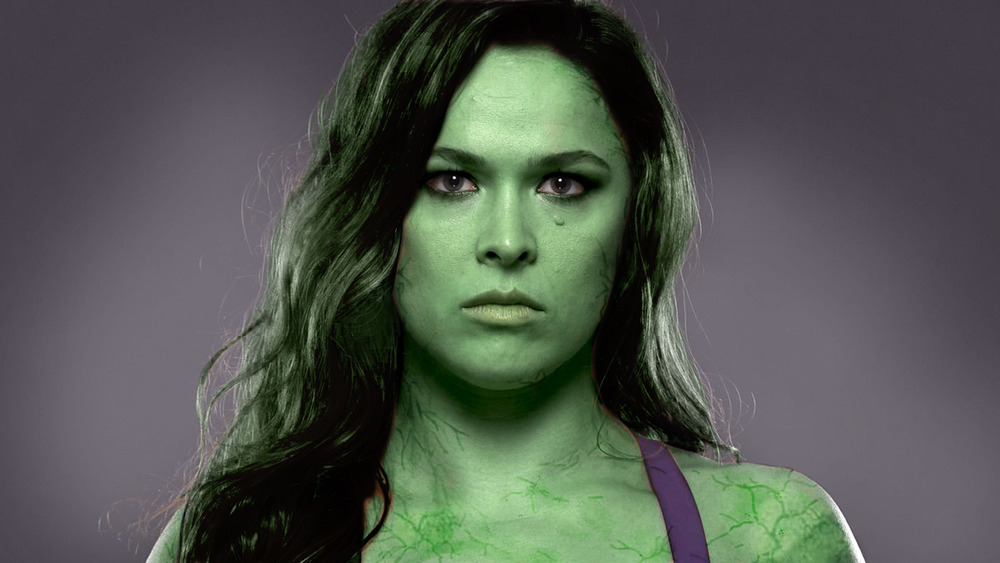 Looper
To see how Rousey would have looked as the green-skinned, gamma-powered superhero, Looper created the photoshopped image above, which depicts an alternate reality in which Rousey landed the role. Considering the context of Rousey's fighting career, and her ability to convincingly play a badass onscreen, Rousey could have been a great fit for the role.
However, Maslany landing the part (with her casting finally being confirmed by Kevin Feige) is great news for fans. The versatile actress has previously won an Emmy (via IndieWire) for Outstanding Lead Actress in a Drama Series in 2016 for Orphan Black, and she proved she had the necessary comedy chops for She-Hulk on Parks And Recreation. Additionally, she'll be joined by some fellow A-listers such as Mark Ruffalo, who plays The Hulk in the Marvel Cinematic Universe, and Kevin Feige hinted that other Marvel superheroes will pop up in the series as well: for instance, some sites have speculated that She-Hulk's legal setting would be a great opportunity to bring in Charlie Cox's Daredevil, particularly if the rumors of him returning in Spider-Man 3 prove true. 
Though no official release date is set for She-Hulk, the series is expected to premiere sometime in 2022. And even if we won't get to see Rousey show off her superhuman strength and speed in She-Hulk, there might be a different Marvel role for her somewhere down the line.