She-Hulk Series In The Works At Disney+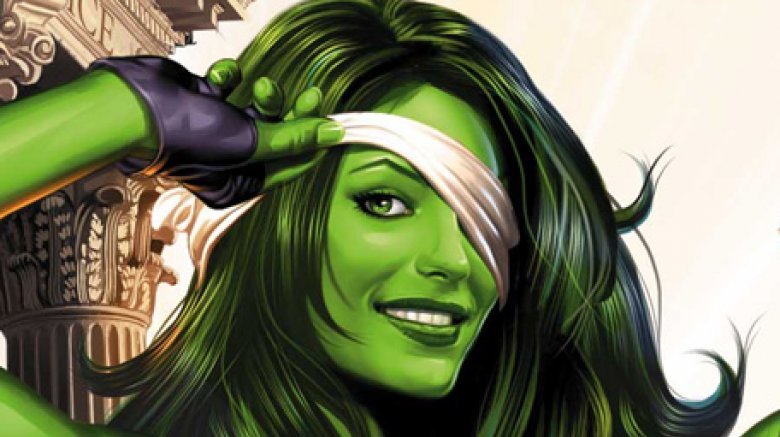 Marvel Comics
Jenny's officially coming to the Disney+ block. 
At the 2019 D23 Expo on Friday, August 23, Marvel Studios announced that Jennifer Walters — better known as She-Hulk — is getting her own television series on Disney+. 
The company also shared the logo for the series, simply titled She-Hulk, on the Marvel Entertainment Twitter account. 
No further information about She-Hulk was immediately available during the Disney+ presentation at D23, but it seems it's only a matter of time before the bigwigs at Marvel start dishing up more details on the series. 
For those unfamiliar with the green-skinned attorney-by-day-superhero-by-night, She-Hulk is actually the cousin of the Hulk, Bruce Banner. She obtained her powers — which include a regenerative healing factor, superhuman speed and strength, heightened endurance, and incredible durability — after sustaining a gunshot wound inflicted by a down and dirty gangster. Jennifer received an emergency blood transfusion from her cousin Bruce, who passed down a less intense version of his Hulk condition. But make no mistake: just because Jenny's not quite as beastly as Bruce when she transforms into She-Hulk, it doesn't mean she's not totally savage. 
She-Hulk first appeared in the Marvel Comics canon in The Savage She-Hulk #1 (see, we told you she was savage!), carrying out a two-year original series before joining the Avengers and the Fantastic Four and sticking out in the superhero roster as one of the more unique characters. Her strength as She-Hulk and her smarts as Jennifer make her an equal counterpart to the Hulk, but throughout the comics, she's shown that she has an even more distinct personality. And there's a pretty key difference between Hulk and She-Hulk: the latter keeps her intelligence and her personality when she's in her giant green form. In fact, she even prefers to be Hulked out rather than walking around as a human. 
As the last significant Marvel Comics character the late Stan Lee co-created (in this case, alongside artist John Buscema) before his death, She-Hulk is a character many fans have hoped would join the MCU one day. Shortly before Marvel made the She-Hulk series announcement, rumors claiming that She-Hulk would make her MCU debut in the third Spider-Man movie began to surface. Just a week later, Disney and Sony failed to reach an agreement to extend their deal to divide ownership over the Spider-Man franchise and keep Tom Holland's Spidey in the MCU — which cast concern over how a third Spider-Man flick would come together and which characters it could legally include. Now that we know Marvel Studios is working on a She-Hulk series, those past reports were pretty bogus. She's not making her MCU debut in Spider-Man 3, she's doing it in She-Hulk. 
As we mentioned, not a lot is known about She-Hulk as of this writing. Check back with Looper for additional updates on the series as more information becomes available.