Why Joe Manganiello Didn't Want Deathstroke To Be Superpowered In The DCEU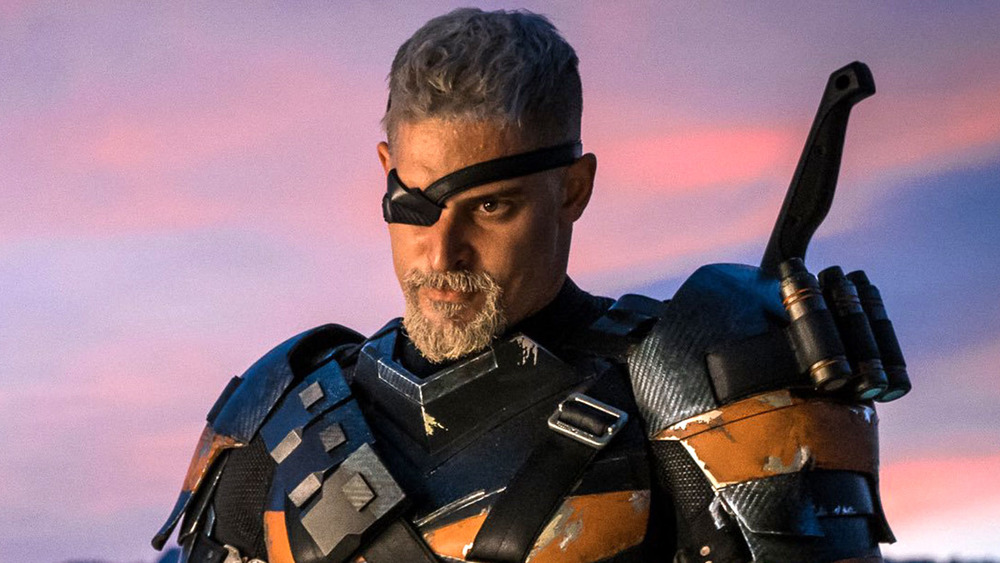 Warner Bros./DC Entertainment
In Justice League's theatrical cut — not to be confused with the upcoming HBO Max exclusive Zack Snyder's Justice League, or the Snyder Cut — the post-credits scene features Jesse Eisenberg's Lex Luthor discussing a way to bite back at the titular team with Joe Manganiello's Deathstroke, AKA Slade Wilson. As of December 2020, it marks the only canonical DC Extended Universe appearance of the latter, though all signs point to both character and actor returning in some capacity. It could be the Snyder Cut, it could be an as-yet unannounced Deathstroke film, it could be both, or it could be neither. Time will tell.
Regardless, aside from staying in tip-top shape to prepare for any physicality the role may require, Manganiello has admitted to always being very adamant about having a say in how Deathstroke is handled in the DCEU. 
"A lot of the talks I had early on, after being initially cast, was about trying to keep [Slade] human," he told SYFY WIRE.
Comparing the character to Batman, Manganiello noted how the Caped Crusader lacks superpowers but uses the trauma of his past to fuel his heroism. Deathstroke uses the trauma of his own past, Manganiello remarked, "to enact his own agenda." 
Originally set to star in The Batman alongside Ben Affleck before the superhero actor dropped out of the project, Manganiello makes a good point in saying the dynamic is more interesting if the non-powered Batman fights a non-powered Deathstroke. That would make Deathstroke more of a dark mirror to Batman than a true villain, which in Manganiello's estimation sounds a lot more interesting of a role to play. 
"If [Deathstroke] was super-powered and Batman wasn't, I think the hot air balloon just drips away," he said.
Does Deathstroke have superpowers in the comics?
Carlo Pagulayan/DC Comics
Courtesy of an experimental procedure he signed up for, DC Comics' (main) version of Deathstroke is enhanced to superhuman levels in both mind and body. His abilities lie on the lower end of the superhuman spectrum, but he easily outstrips even peak-level human athletes. Reflexes, endurance, strength, speed — he's got it all. Add on his heightened senses, accelerated healing factor (which translates to decelerated aging), and supercomputer-like mind, and Deathstroke more than makes up for his missing eye.
What, then, would a de-powered Deathstroke like Manganiello's bring to the table? First and foremost, his tactical mind is second to none. Part of that may have to do with the enhancements he received, but enhancements are just that — they build on what's already there. Without them, Deathstroke still has years of military experience to fall back on, making him as analytical as he is deadly. And he is deadly, make no mistake. Trained in a variety of martial arts and weapons, he can take on any opponent and hit any target.
His non-combat skills aren't to be underestimated, either. He can sneak in and sneak out of the highest security facilities, meaning no information is safe from his prying eye. Years of hunting for sport has made Deathstroke an expert tracker, and his intimidating presence can throw off even the most prepared opponent. And should he ever be captured, he's well-practiced in escapology, able to use whatever he has on hand to slip out of whatever chains hold him down.
Honestly, it's hard not to draw parallels to Batman, as Manganiello himself does in the SYFY interview. Both men are pinnacles of skill and efficiency, only Batman won't use that skill and efficiency to kill, while Deathstroke is more than willing to live up to his name — he doesn't carry a sword around for no reason. Powers or no powers, Manganiello sounds fully equipped to embody the spirit of this dangerous character, and DCEU fans can only cross their fingers in the hopes that whatever project(s) he's a part of moves forward soon.