Tyrese Gibson And Jahzir Bruno Of The Christmas Chronicles 2 - Exclusive Interview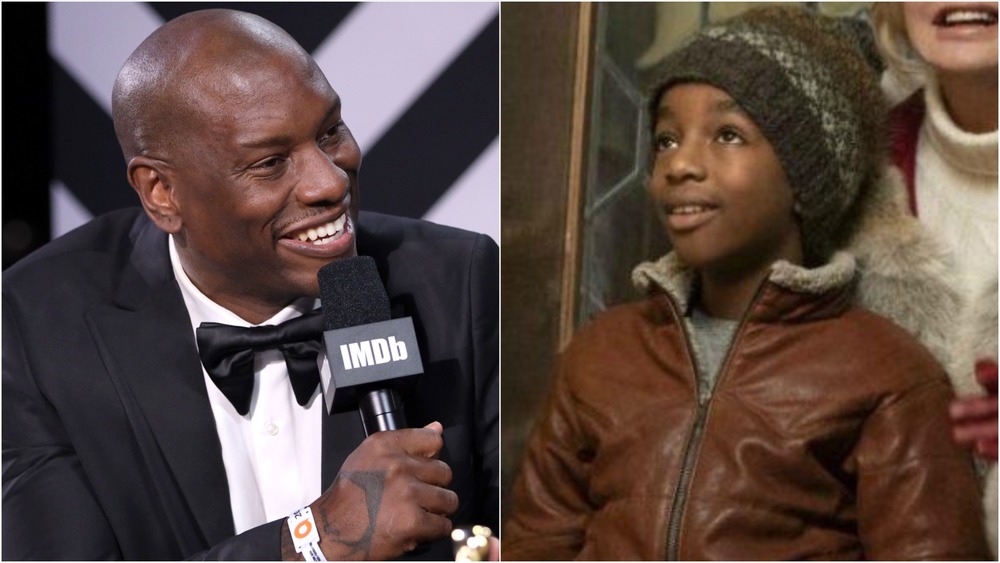 Rich Polk/Getty Images
The Christmas Chronicles was a holiday hit for Netflix when it arrived in 2018, so it's no surprise that a sequel was in the offing. Why save Christmas only once, after all, when Santa's global gift-giving spree is an annual tradition? The Christmas Chronicles 2 hit the streaming giant in late November of 2020, bringing back Kurt Russell's robust take on the holiday icon, along with first-film protagonist Kate Pierce, played by Darby Camp.
While it features some familiar faces, however, The Christmas Chronicles 2 also came with its share of new talent. Among those names are Jahzir Bruno, whose Jack accompanies Kate on her North Pole adventure, and Tyrese Gibson, taking a break from the type of hard-hitting action flicks for which he's been known of late to play Jack's father and the love interest of Kate's mother.
Prior to the film's release, Looper caught up with Bruno and Gibson to talk about their favorite holiday films, the joy of caroling in a movie, and why the end of this difficult year is the right time for the festive feeling of The Christmas Chronicles 2.
The Christmas Chronicles 2's action-packed positivity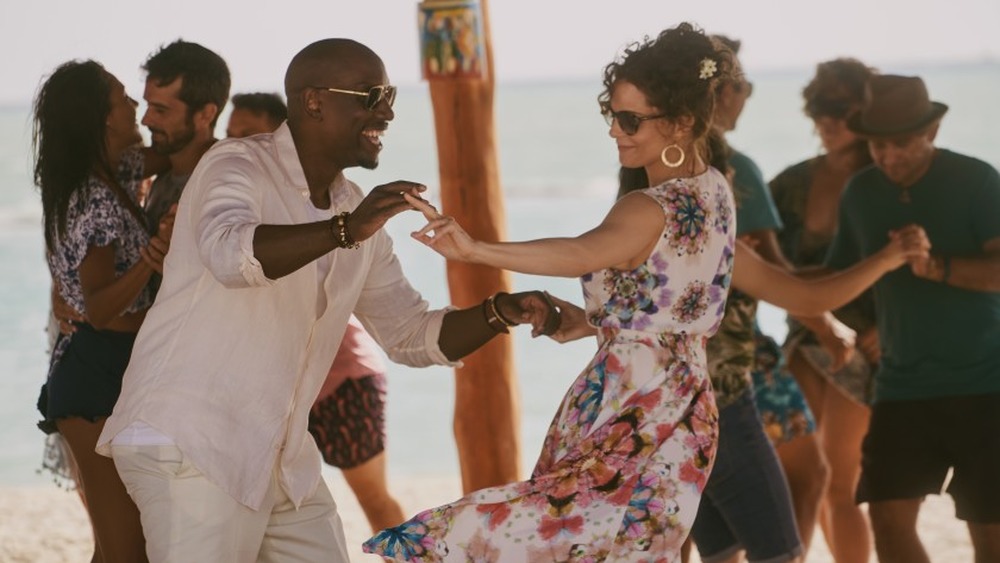 So the first question is for Tyrese. This is a little bit of a lighter movie than the action-heavy stuff you've been doing lately. What drew you to it?
Tyrese Gibson: Well, I'm a girl dad, man. I got two daughters, 2 years old and 13. So, I figured I might as well do a movie that I could actually watch with them from top to bottom. At this point, when I do movies, it just gives my kids bragging rights. It's just kind of like, "My dad's in that."
Other than that, I'm very grateful to be a part of the Christmas spirit. That's always positive and warm and fuzzy, and food and family. And the amount of people around the world that are going to be sitting in their couches and living rooms, eating food, in their pajamas, hugged up on the couch after the year we've just had... what a blessing it is that our energy is going to affect their energy around the world via Netflix. This is also my first movie with them. I've never worked with Netflix, and to get this phone call was very amazing for me personally.
Meanwhile, Jahzir, you got a lot of action in this movie, particularly versus a lot of the CGI elves. Can you talk a bit about what those scenes were like to shoot?
Jahzir Bruno: Those scenes were funnest scenes in the movie to me, since it's going to be my second time getting into a harness. I really love doing stunts. The harness is just so fun to me. And when we were rehearsing, sometimes they would let me add some of my tricks. They would put me in this harness where I could do a backflip or other stuff like that. But I really love stunts and I had a blast doing them, all of them.
Was it hard, considering all the elves weren't really there?
Jahzir Bruno: Not really, because they had this little metal rod and they put a tennis ball on top of it and they said, "Shoot at this and then hit these." And I didn't actually... I knew there were the elves, but I didn't know the elves would actually come out that good.
The Christmas Chronicles 2's big caroling scene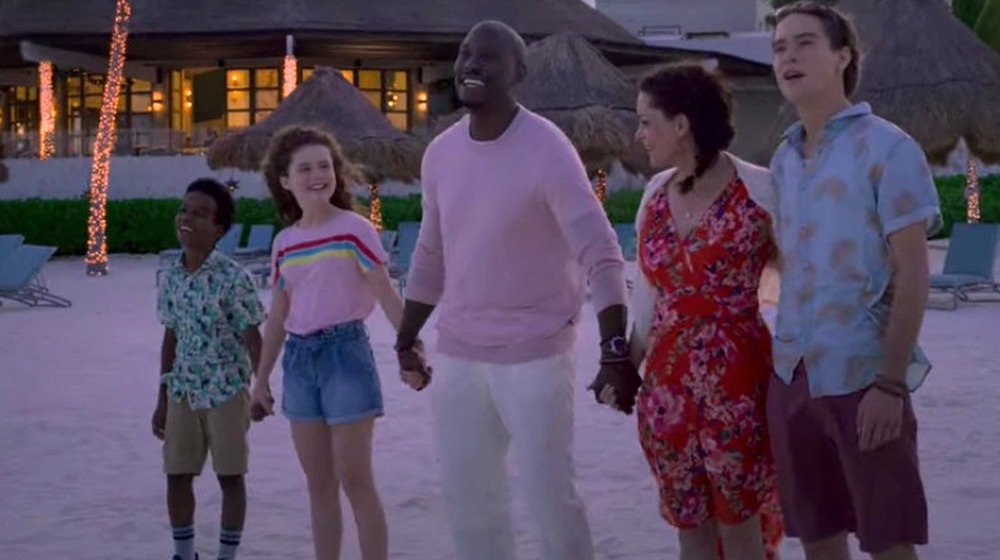 So a big scene for you guys is when the movie ends with this big caroling singalong. Who in the cast really crushed it from a carol singing standpoint? Who was the best carol singer?
Tyrese Gibson: It's all prerecorded, man.
Jahzir Bruno: Yeah. I don't want to judge.
Tyrese Gibson: We all sound great because we went to the studio first. Autotune is our friend.
Other than the song that was actually used in the movie, do you guys have particular Christmas songs that you love to either sing or enjoy with family?
Jahzir Bruno: Rudolph.
Tyrese Gibson: I'm a Donny Hathaway fan with the song "This Christmas." I'm a Stevie Wonder fan, Luther Vandross, Jackson Five... the Boyz II Men Christmas album is still a classic. The song "Let It Snow" featuring Brian McKnight .... I pull from a few classics for sure.
And Tyrese, obviously it was the chance to show off your singing chops. Was that something that appealed to you here?
Tyrese Gibson: It was actually something that I wasn't looking forward to because, I mean, I do sing, but Christmas carols is not considered R&B. You've kind of got to sing (sings in a Christmas carol style). It's a different approach to singing. But the director said, "Let's do this, let's do it this way." And I said, "Hey man, let's get it." Because again, with the year that we've had, with the racial tension and political tension and just everything that's been going on, COVID and the pandemic, we're all almost desperate at this point for positivity. And I like the idea that even though people can't go to the movie still in the theaters, they can be at home using streaming and get a chance to embrace this warm and fuzzy movie. So I'm excited about the shift in energy that's about to happen when this is released.
Tyrese Gibson and Jahzir Bruno on a few of their favorite things
Do you guys have favorite Christmas movies that you like to watch that are traditional for you?
Tyrese Gibson: Christmas Chronicles.
Jahzir Bruno: Yeah. Christmas Chronicles and Elf. I love Elf.
Tyrese Gibson: Yeah. I love How the Grinch Stole Christmas with Jim Carrey.
Were you a fan of the original Grinch movie before that one came out?
Tyrese Gibson: Yes, I was. But I'm a Jim Carrey fan. I go all the way back to Ace Ventura: Pet Detective. I just love what he brings to comedy and humor. And I also think he's a great dramatic actor, and I hope he gets more dramatic roles, because they all make a transition at a certain point, like Monique and Jamie Foxx. There's only so many jokes you can crack before you've got to cross over to the other side.
Jahzir, you got to spend a lot of time onscreen with a couple of legends from Hollywood, Kurt Russell and Goldie Hawn. Can you talk a bit about what that was like?
Jahzir Bruno: Working with Goldie Hawn and Kurt Russell, it was definitely an honor and I love working with them. They're very cool to work around with. And they were the nicest people on set.
Did they bring anything of their own to the actual set, in terms of creating the characters or helping you find your character?
Jahzir Bruno: Yeah. Kurt would actually stay on set even when he wasn't supposed to be. He would stay on set and help out. One time, we were originally just supposed to look at this little tennis ball that was supposed to be Kurt, but, he decided to come on set and he said his lines and we really had something to look at. So he really helped everybody out in the way. He's a very good person.
You recently also starred in The Witches and were sharing the screen with Chris Rock, Octavia Spencer, Stanley Tucci, and Anne Hathaway. What was it like crossing paths with these big stars, given you're still early in your career?
Jahzir Bruno: Oh man, I loved working with them. Miss Octavia, she was so funny. She was the kindest person in the world. She used to take me some places. And Anne Hathaway, just so lovable. And I just loved working with them all. They were all very kind people.
So now you've worked with Tyrese, you've worked with Kurt Russell, Goldie Hawn, all these names, who is somebody else that you'd love to get the chance to share the screen with soon?
Jahzir Bruno: I would love to work with Samuel L. Jackson.
What's a Samuel L. Jackson thing that he's done that you really like?
Jahzir Bruno: Well, mostly his movies are a little adult. So I would love to be in a Marvel movie with him as he's playing as Nick Fury. That would be great.
Wrapping it up with Tyrese Gibson and Jahzir Bruno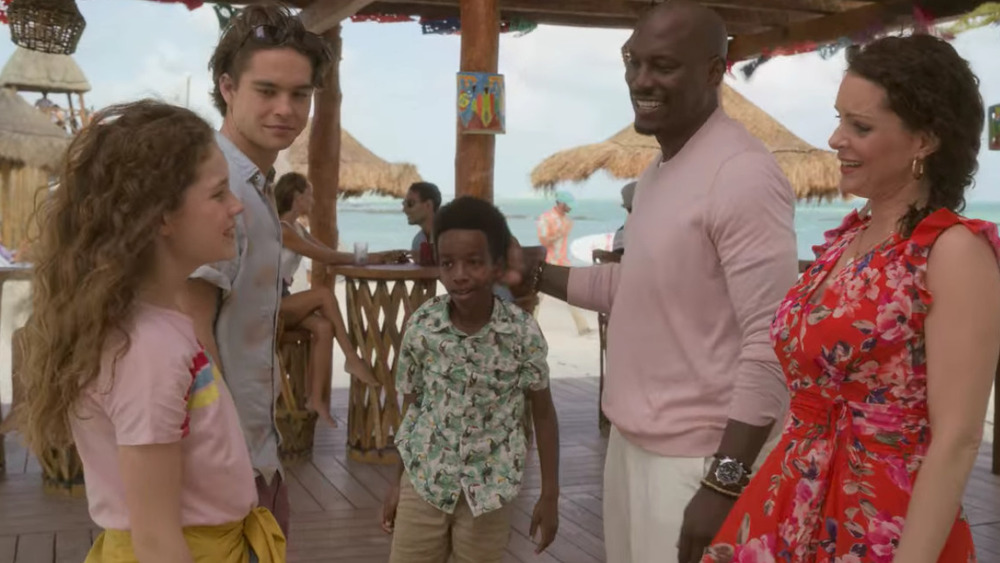 Tyrese, we have to ask about The Fast And The Furious. Obviously, F9 was delayed this year. What's your feeling on that franchise and where things sit, and what we can expect when the movie finally does arrive?
Tyrese Gibson: I can't give the movie away, but there's going to be some fast and there's going to be a couple of people that are furious. I don't know, man. We've never had a movie to get pushed other than when we lost our brother Paul. So that was just very interesting to just know that we have a scheduled release day, we were all getting our publicists in order and trying to map out domestic and international travel. And then this thing called COVID. And so it's not really about movies to me. It's about when and if these movies happen, I'm really excited about the energy that these movies are going to bring. Movies are the best form of escapism, other than music and reading books and going to certain places with the ocean or mountain views. It just kind of helps you to pull your energy and keep your head out of the pits.
So I'm excited about the escapism that only Fast can bring. And that's the same way I feel about Christmas Chronicles. We want positivity. We want energy. We want people screaming and laughing and cheering at the screen or from the luxury of their houses. We want that energy badly, especially now.
Jahzir, what are you hoping people take away from Christmas Chronicles 2? Tyrese just talked about the positivity; what's your biggest takeaway from the film?
Jahzir Bruno: How important family is. Family is key, family is the reason you're here right now. So, I'm very grateful for my family. I feel like that's what they really need to receive from this message in the movie.
As kind of a wrap-up question, obviously we all wish the pandemic was gone, but what would you say is your Christmas wish for this year?
Jahzir Bruno: My Christmas wish is to have an Xbox Series X and just to hang out, relax, and just chill with my family.
How about you, Tyrese?
Tyrese Gibson: I feel the same. As a father who's always... I mean, I'm probably about 7,000 flights into my career and life and lifestyle that I live. To finally be home, at first it was kind of traumatic to just kind of be paused and standing still and not moving, but you realize that you're always in the presence of people, but you're not always fully present. And so there's been a really beautiful experience pertaining to hitting the pause button, and I've already written four scripts. I'm finishing my third book. I'm launching voltrontravel.com with Priceline. And I just got so many different ventures and opportunities that's happening that I would have never had time to do. So I've taken advantage of all of this quarantine for the better.
Are you a Voltron fan?
Tyrese Gibson: Yeah. ThunderCats, Voltron, Transformers, all the childhood goodies, man.
So, if there's a Voltron live-action film at some point, can we expect to see you in it?
Tyrese Gibson: Yeah, if there's a Voltron movie, I hope that it's better than Transformers, so I probably would gracefully bow out. But at this point, I don't just do movies. I'm like, "What is it? Who's in it? And what's the script and what's the direction?" You don't want to just be franchise-hopping. You want to say that, "Man, this is good." I'm in Morbius this year with Jared Leto, coming up. And so you just want to say, "This is franchise magic, yes. But this is different than this. And this is different than that." And I've never done a Netflix movie and never been in a Christmas movie on this level. So Kurt Russell, Goldie Hawn have not done a movie together [in years], but they've been together for almost 40 years. And my favorite movie as a kid was Overboard, so God is just continuing to pinch me, man. I Just can't believe it.