The Best LGBTQ+ TV Shows On Netflix Right Now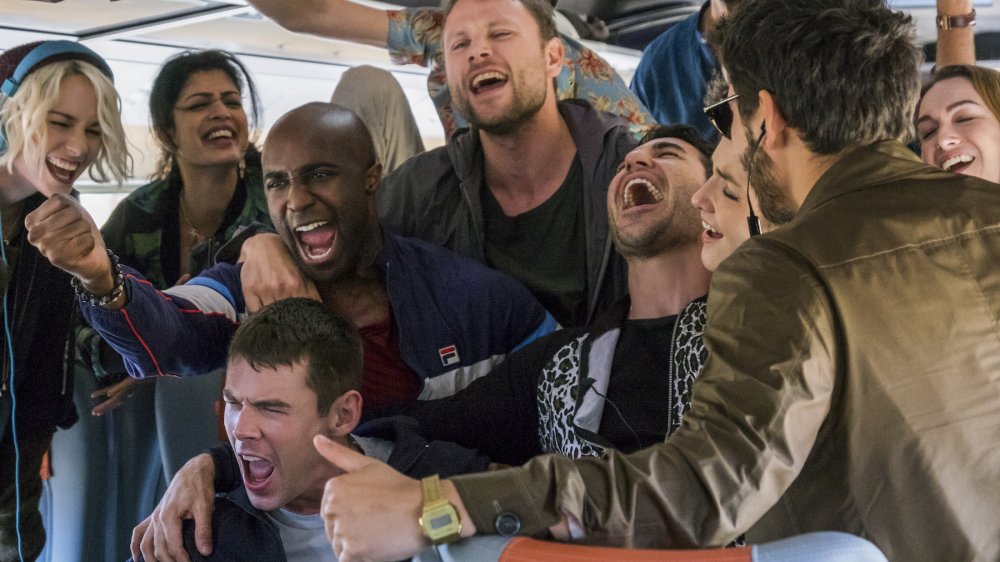 Over the past few years, there has been a welcome increase in LGBTQ+ representation in movies and TV shows. There's no denying that the LGBTQ+ community has always been a driving creative force within the entertainment industry, and now they're finally starting to get the representation they deserve. Sure, there were a few popular TV shows that featured LGBTQ+ characters in a positive light — Will & Grace, Modern Family, and The L Word among them — but now it looks like we've entered a whole new era of representation.
And there's no shortage of shows featuring LGBTQ+ characters on Netflix. Not all of them are exclusively focused on storylines about romance, coming out, or social justice — and it's refreshing to see so many series that simply feature LGBTQ+ characters who are living their lives. Whether you're interested in the famous drag balls of 1980s New York City or stories of high school students coming to terms with their identities, these Netflix series all feature fantastic LGBTQ+ representation.
Pose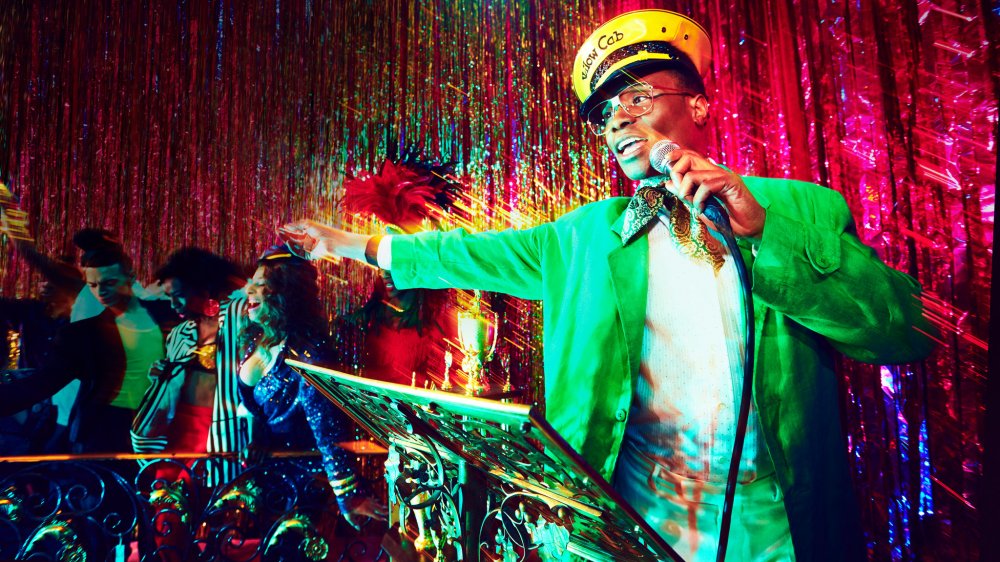 Ryan Murphy's drama series Pose takes viewers into the underground world of New York City ballroom culture in the 1980s, where African-American and Latino dancers and models competed for trophies and formed their own "chosen families," or Houses, in the face of rejection from their own households. It was inspired by the famous documentary Paris is Burning, which documented ballroom culture in NYC during this decade. The second season takes place in the 1990s and focuses heavily on how the AIDS epidemic affected every aspect of life for the LGBT community. 
Yes, Pose does feel a bit like a soap opera at times, but there's no denying that this series has heart and style. Pose is particularly notable for prominently featuring trans women of color in leading roles, like Blanca (Mj Rodriquez), the founder of House of Evangelista, and Elektra (Dominique Jackson), who forms the House of Wintour. When it comes to representation, the show has made history: Billy Porter, who plays the emcee Pray Tell, became the first openly gay black man to win an Emmy in a lead acting category when he took home the Emmy for Outstanding Lead Actor in a Drama Series in 2019.
The House of Flowers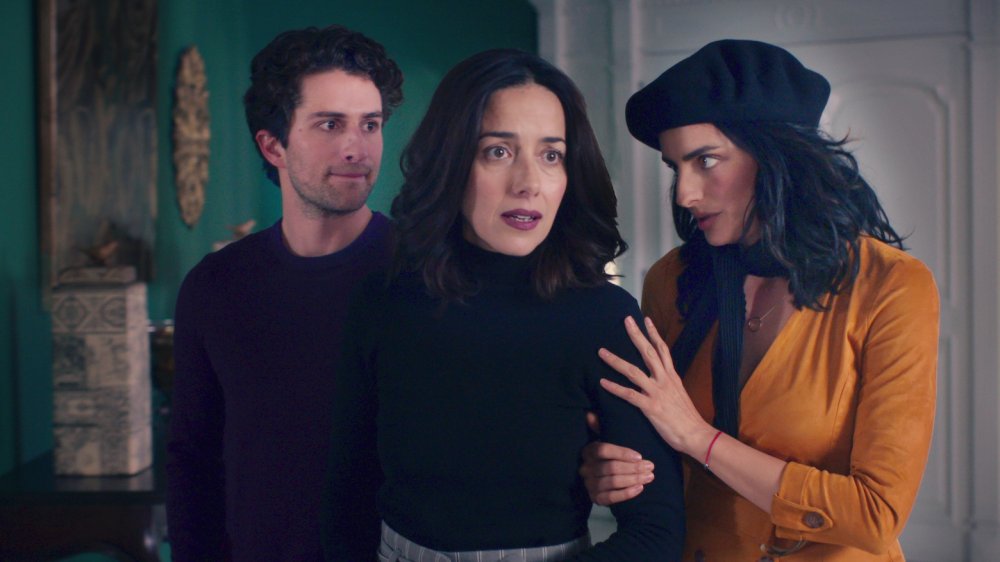 The Mexican black comedy The House of Flowers satirizes classic telenovelas while incorporating common tropes from this genre. The de la Mora family presents a polished appearance to the world, but behind the scenes, the façade falls apart, and this undeniably dysfunctional group struggles to keep it together. They run a floral shop and a cabaret, both named "The House of Flowers."
The family is hit with a major shock when Ernesto de la Mora's mistress Roberta commits suicide, and Ernesto is subsequently sent to prison for accusations of fraud. The family fears losing their financial standing and butts heads as they try to figure out how to run their businesses. In the midst of this mess, their youngest son Julian comes out as bisexual — and just to complicate matters more, he's dating the family's accountant, Diego. Paulina, the oldest daughter, has to reach out to her former spouse Maria Jose for legal assistance, and although they separated when Maria came out as transgender, Paulina begins to fall for her again. The family drama on The House of Flowers is downright addicting, especially if you're a fan of telenovela-inspired shows like Jane the Virgin.
Orange Is the New Black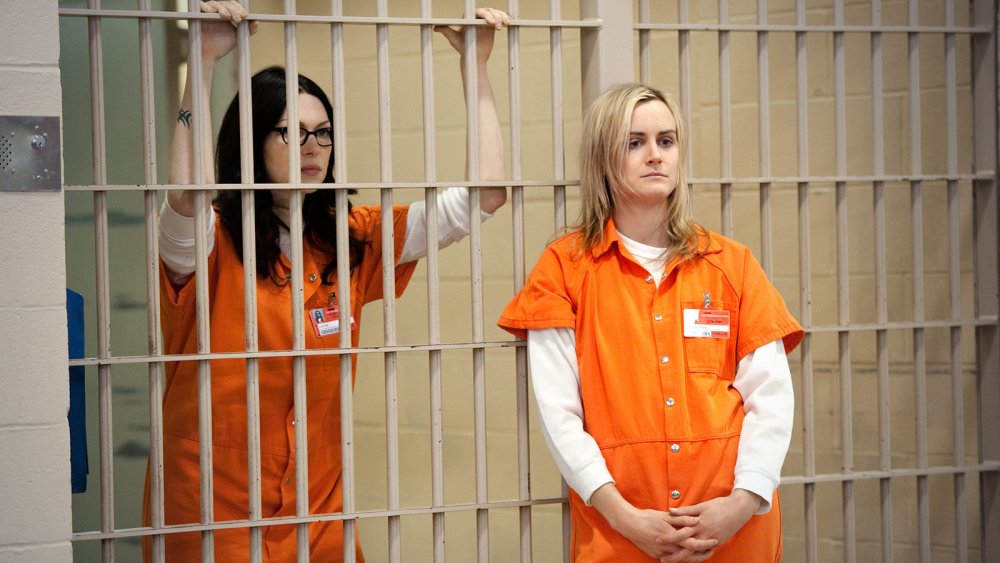 Piper Chapman never expected to end up in prison for transporting a suitcase full of drug money across international borders for her ex-girlfriend Alex — but when her past catches up to her, she's sent off to Litchfield Penitentiary, where she ends up reuniting with Alex and meets the other inmates who she'll be living side by side with for the next 15 months.
The Netflix original series Orange Is the New Black was based on Piper Kerman's memoir of the same name, which detailed her experience of spending a year in a women's prison. The diverse cast includes plenty of LGBTQ+ characters, all of whom have their own unique backstories. The show is particularly strong when it comes to the representation of lesbian and bisexual women, with many of the characters pursuing relationships with each other while in prison. There's no doubt that daily life and relationships in prison are somewhat sensationalized in OITNB, but with plenty of dark humor, drama, and genuinely touching moments, this show genuinely humanizes every woman in Litchfield and asks us to empathize with those living behind bars.
Cable Girls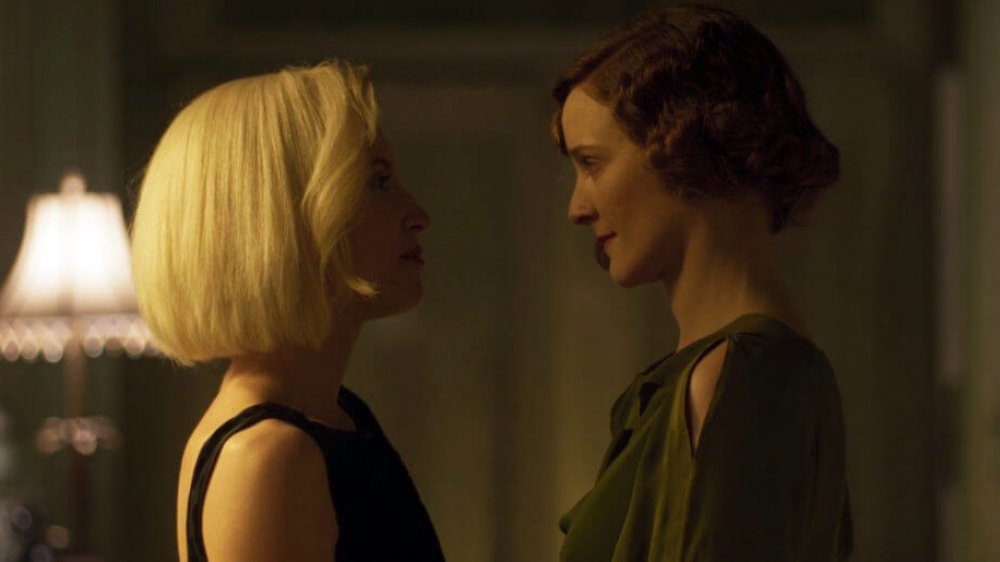 Watching the Spanish period drama Cable Girls feels a bit like stepping into a time machine. Set in 1920s Madrid, the show centers around the lives of four women who are determined to make their own money and gain true independence. Lidia, Carlota, Maria, and Angeles meet when they begin working at a telecommunications company, and although they bemoan the fact that they are not yet considered equal to men, they feel this job could be a ticket to freedom.
Carlota has a boyfriend, Miguel — but she eventually has to admit to herself that she's falling for her boss, Sara. The two end up carrying on with a secret relationship, yet they argue over whether they should make things public. Along the way, Sara discovers that Carlota wasn't the only one who had been repressing her feelings, leading her to make a major confession to Carlota that will change their relationship forever. If you love romance, drama, and the glamorous aesthetic of the 1920s, you'll be drawn into the richly detailed world of Cable Girls.
Everything Sucks!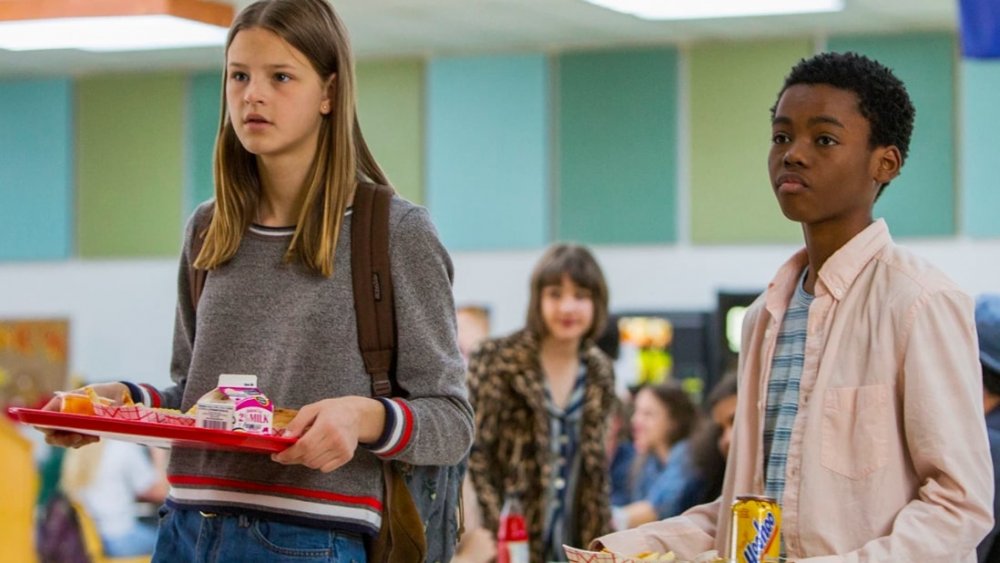 Get ready for some serious '90s nostalgia with the coming-of-age drama Everything Sucks! Set in the fictional town of Boring, Oregon, most of the action takes place in Boring High School, where Kate Messner is a sophomore. Her friend Luke O'Neil from the A/V Club has a crush on her, but Kate's just not that into him — in fact, she's slowly coming to terms with her feelings for other girls, and she just can't stop thinking about Emaline Addario, a drama student at Boring. Of course, the fact that her father just happens to be the principal of the school makes life a lot more complicated when rumors about her crush on Emaline start swirling. 
When the A/V Club and drama club join forces to make a movie together after the school play is canceled, Kate finally has a chance to see if the sparks she feels with Emaline could lead to anything real. Everything Sucks! was canceled after only one season, but look on the bright side — that makes it easy to binge-watch over a weekend.
I Am Not Okay with This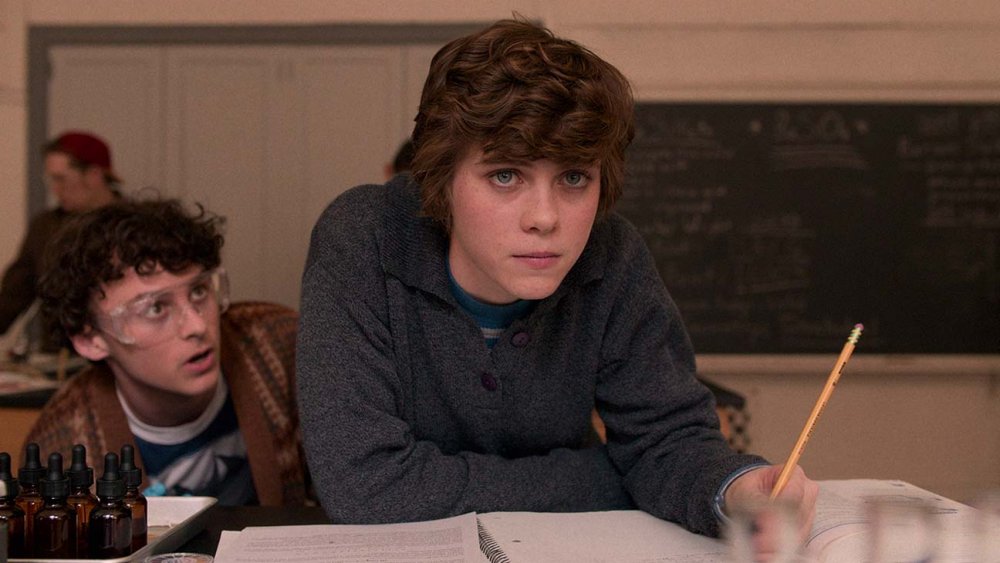 Sydney Novak has a lot on her plate. Her father took his own life a year ago, and her family still tiptoes around the topic. She might have a crush on her best friend Dina, but she's already agreed to go to homecoming with her neighbor, Stanley. And to top it all off, she just might be developing superpowers. As if high school wasn't stressful enough. 
I Am Not Okay with This is more than a coming-out story — it's about Sydney's journey to discovering who she really is, what her father was hiding from her, and why she has suddenly found herself with the ability to move objects with her mind. She's both fascinated and scared by what she's capable of, and at times, she even wonders whether she might be going crazy. Fans of superhero films who have been looking for more LGBTQ+ stories should definitely check this one out.
Sense8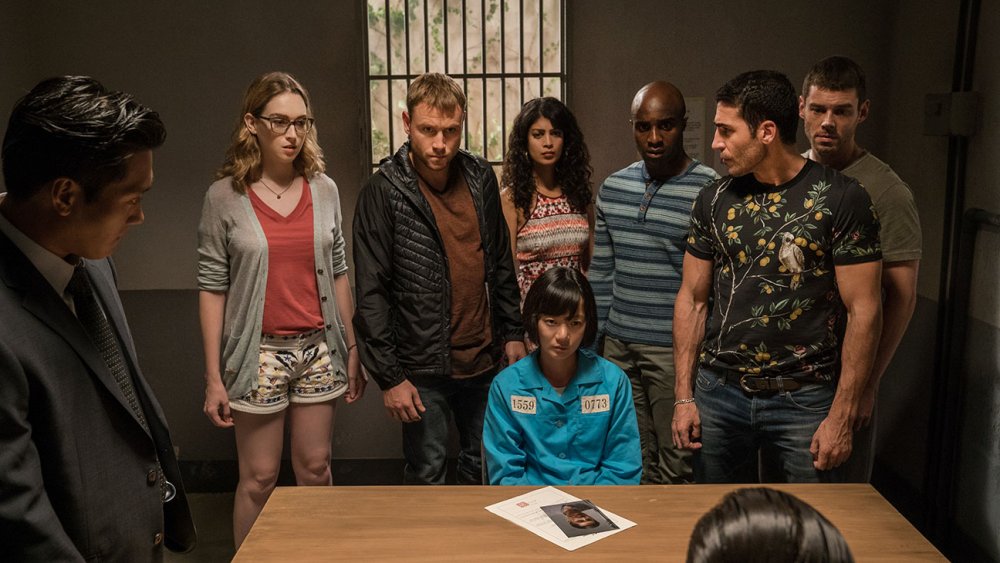 If you love sci-fi but feel like the LGBTQ+ community has been underrepresented in the genre, look no further than Sense8. When eight strangers living in different parts of the world discover that they are something more than human, their lives change forever — and they find that no matter what they do, they'll always be linked.
These eight strangers are "sensates": people who are mentally and emotionally connected, even though it seems they have little in common on the surface. Eventually, they come to find out why they share this connection, and what their mission is now that they know the truth about their identities. Among the group of eight is Nomi, a trans woman and "hacktivist" from San Francisco, whose girlfriend Amanita begins working in solidarity with the sensates. Viewers also meet Lito, an actor who keeps his relationship with his boyfriend hidden from the world. Sense8 explores issues related to race, gender, and sexuality that other sci-fi shows tend to overlook.
Feel Good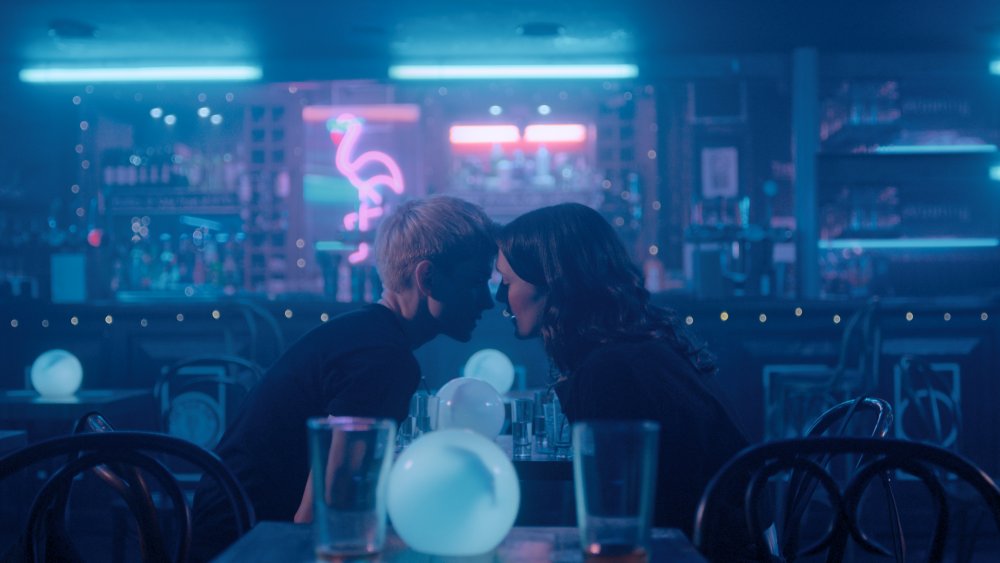 In Feel Good, we're introduced to Mae, a Canadian comedian trying to make it in London. She performs regularly at a certain club, and one night, a friend tells her that a woman in the audience has been to her last few shows and laughs at all of her jokes. She's nervous to introduce herself, but she's curious about her new fan. When the mystery woman, whose name turns out to be Georgina, buys her a drink, sparks fly, and Mae starts falling head over heels.
The first few months of their relationship are blissful, and Mae quickly moves in with George. However, George is a little worried about Mae's emotional intensity, and her feelings aren't quite as strong. And when George finds out that Mae used to struggle with addiction, she's shocked that Mae hasn't opened up to her about this part of her life. As Mae toys with the idea of returning to Narcotics Anonymous meetings, it becomes clear that she's replaced one addiction with another, and her relationship with George might be a way of distracting herself from the pain of her past.
The Politician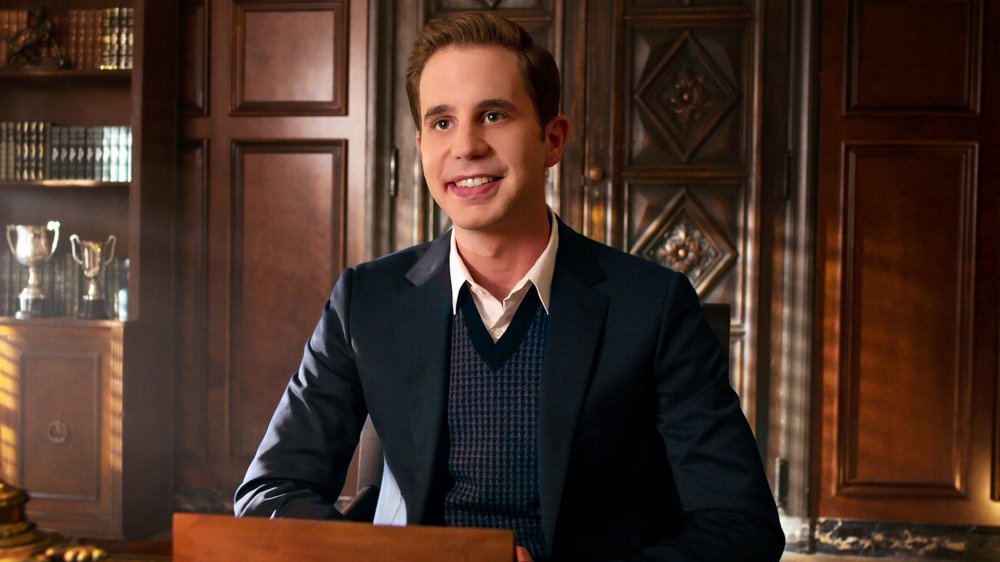 Payton Hobart has serious political ambitions — in fact, he's convinced that he is destined to become the President of the United States someday — but he can't run for office just yet. But he's not willing to sit on the sidelines until he's old enough. Instead, he decides to get his career off the ground by running for student body president at Saint Sebastian High School. There's only one problem: he happens to be running against his extremely popular ex-boyfriend River, who he's still secretly in love with. 
However, the race doesn't kick off like Payton imagined it would. Tragedy strikes, turning Payton's life upside down and setting the tone for this dark comedy. In Payton's world, political drama always comes with high stakes, even in high school. While you're watching The Politician, it can occasionally feel like the showrunners were simply throwing things at the wall to see what would stick — but the result is an irreverent series with surprising emotional depth.
Elite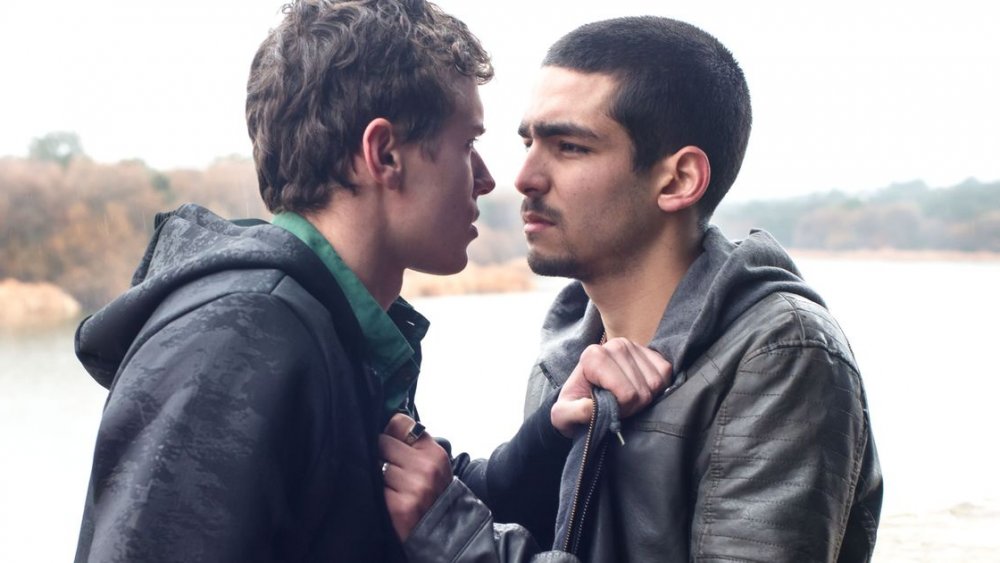 The Spanish crime drama Elite isn't your typical coming-of-age series. Set in an exclusive private school where money and status are everything, things begin changing on campus when three teenagers from working-class families are admitted after their old school's roof collapses. Samuel, Christian, and Nadia become the subject of relentless gossip, and Guzman, a bully from a wealthy family who is determined to preserve his place in the social pecking order, encourages other students to harass and torment the newcomers. As it turns out, the developer behind the shoddy school roof was Guzman's father. In the wake of this discovery, the conflicts on campus begin to spiral out of control, and things take a deadly turn.
In the midst of a murder mystery, a few of the students manage to find love in unexpected places. Ander, a student who hides his middle-class background from his friends at school, ends up falling for Nadia's brother Omar. At first, they deny their feelings — but they accidentally reconnect on an app, and after meeting up in person, they begin an on-again, off-again relationship. While their relationship is not at the center of the story, Elite just wouldn't be the same show without this couple.
Sex Education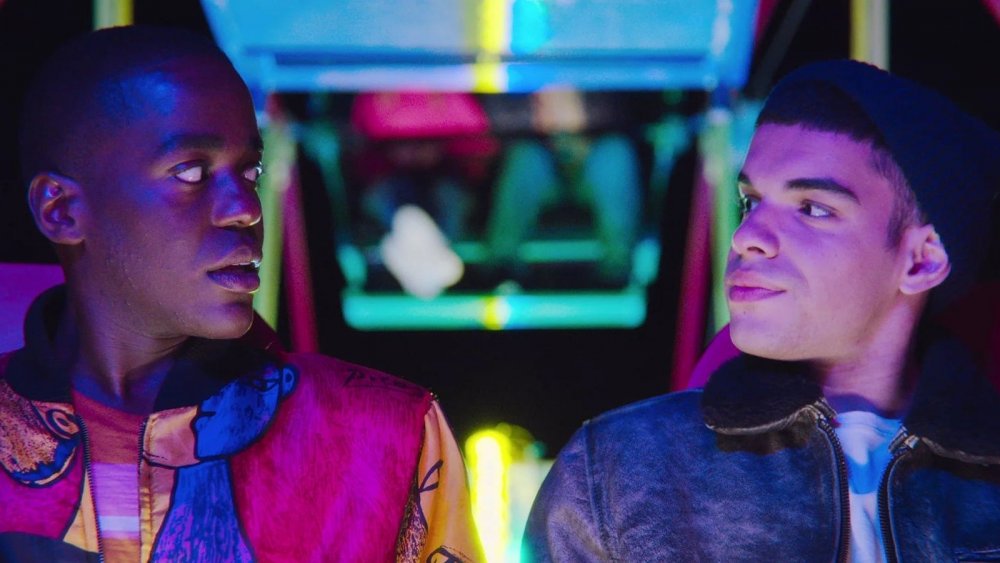 The British comedy Sex Education takes a unique approach to high school drama. Otis Milburn is an insecure high school student who never feels like he has much luck with girls. However, his mother happens to be a sex therapist, and he finds that despite his own anxieties about relationships, he's able to dish out pretty helpful advice to his fellow students. With the help of his classmate Maeve, he sets up his own business to answer his peers' questions and make a little cash in the process. 
Naturally, Otis ends up crushing on Maeve — but he's not the only one struggling with complicated feelings. One of the most interesting storylines on Sex Education involves Otis's friend Eric, his openly gay friend from a very religious family, who endures bullying from Adam, the headmaster's son. As it turns out, Adam's aggression towards Eric is a result of his own suppressed romantic feelings — and their antagonistic relationship might be headed towards unexpected territory.
Glow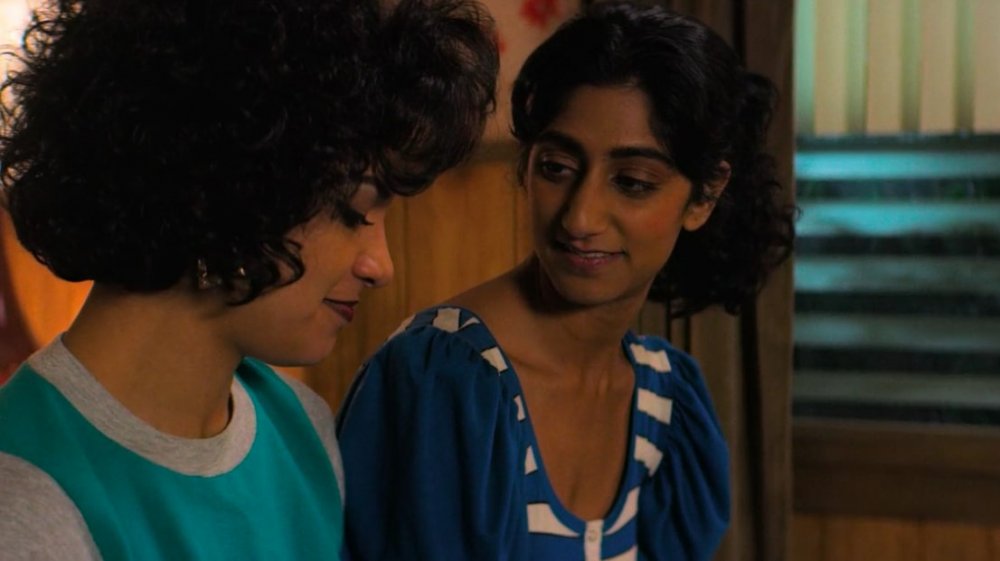 GLOW, which stands for the Gorgeous Ladies of Wrestling, is inspired by the real women who were involved with the syndicated professional wrestling circuit in the 1980s. The series begins with Ruth Wilder, an actress who has been down on her luck, auditioning to be a part of GLOW. And once she becomes part of the league, we meet a whole cast of colorful, vivacious characters, each with her own unique act and alter ego developed for their matches in the ring.
This large cast includes several characters from the LGBTQ+ community. In season two, Arthie, an original member of the crew, meets Yo-Yo, a lesbian who joins the group to replace a former member. While playing her in-ring persona Beirut, Arthie films a segment with Yo-Yo in which she dreams about being a dancer, and Yo-Yo acts as her male partner. The two fall for each other, and Arthie has to consider whether she's ready to come out. As the series has progressed through each season, GLOW has been praised for prioritizing more LGBTQ+ representation.