Why You Should Be Excited For Netflix's Bridgerton
Get ready to unwrap a present full of romance, gossip, and intrigue on Christmas Day in the form of Netflix's new Regency-era drama Bridgerton. It's the first of Shonda Rhimes' new series as part of her deal with Netflix, and it brings a Gossip Girl-esque narrator to a period piece centered around the coming out of London's most eligible debutantes.
While her shows sometimes have just as much drama behind the scenes as they do in the actual story (there are plenty of secrets the Grey's Anatomy cast tried to hide), Rhimes is well known for creating Scandal, one of the best political TV shows, and, of course, the long-running medical drama Grey's Anatomy. She's also executive-produced series like How to Get Away with Murder, The Catch, and more. Now teamed up with producer Chris Van Dusen, who worked on both Scandal and Grey's Anatomy, Rhimes is adapting Bridgerton from the Julia Quinn romance novels of the same name. The Netflix series centers on the Bridgerton family, specifically the eldest daughter Daphne (Phoebe Dynevor) as she tries to find true love amidst her potential suitors.
Bridgerton is not 'your grandmother's period show'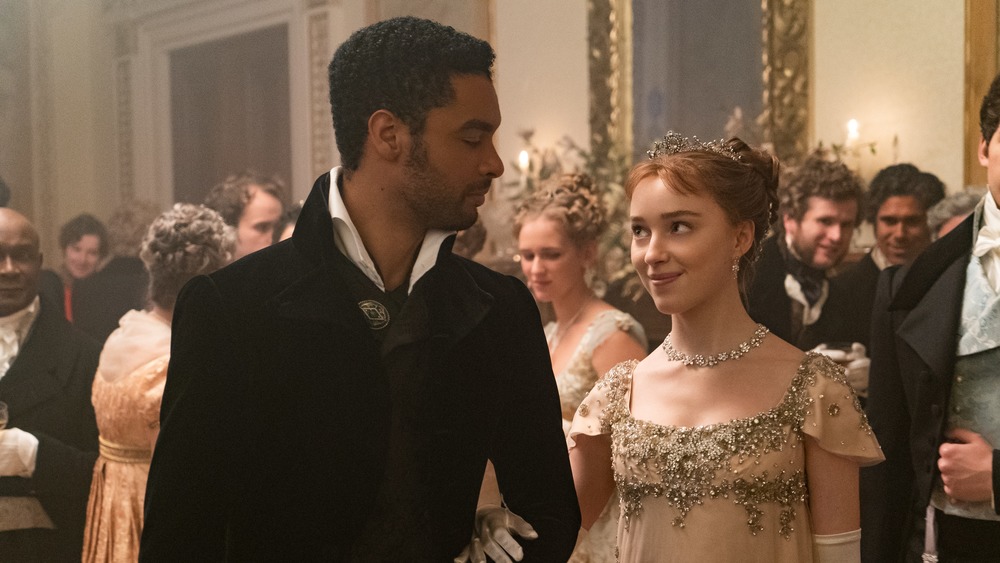 Liam Daniel/Netflix
Since Rhimes' How to Get Away With Murder was canceled this year, Bridgerton is here to fill that Shonda-shaped hole in our lives. Its trailer promises some sort of fake dating situation between Daphne and the handsome, rebellious bachelor Simon Basset, the Duke of Hastings (played by Regé-Jean Page). All the while, the Lady Whistledown (voiced by The Sound of Music's Julie Andrews) writes newsletters about the scandalous lives of the Bridgerton family and everyone else of note.
"Period shows tend to be a little conservative and a little traditional," showrunner Van Dusen told The Hollywood Reporter, but he added, "We're not making your grandmother's period show." In his words, Rhimes told him to make the series as relatable to a modern audience as possible, so viewers should expect Bridgerton to delve into themes of race, gender, sexuality, and class — all with the bonus of sexiness and intrigue.
Rhimes told THR she was eager to adapt the novels, but her producing partner, Betsy Beers, was skeptical at first. Rhimes said, "I remember I was almost scaring people, like, 'We have to get these crazy romance novels. They're hot and they're sexy and they're really interesting.'" Beyond Daphne and her love interest the Duke, the novels have a sprawling cast of characters, including Daphne's many other siblings — enough for many seasons to come, potentially.
Bridgerton premieres on Netflix on December 25.