The Ending Of A Recipe For Seduction Explained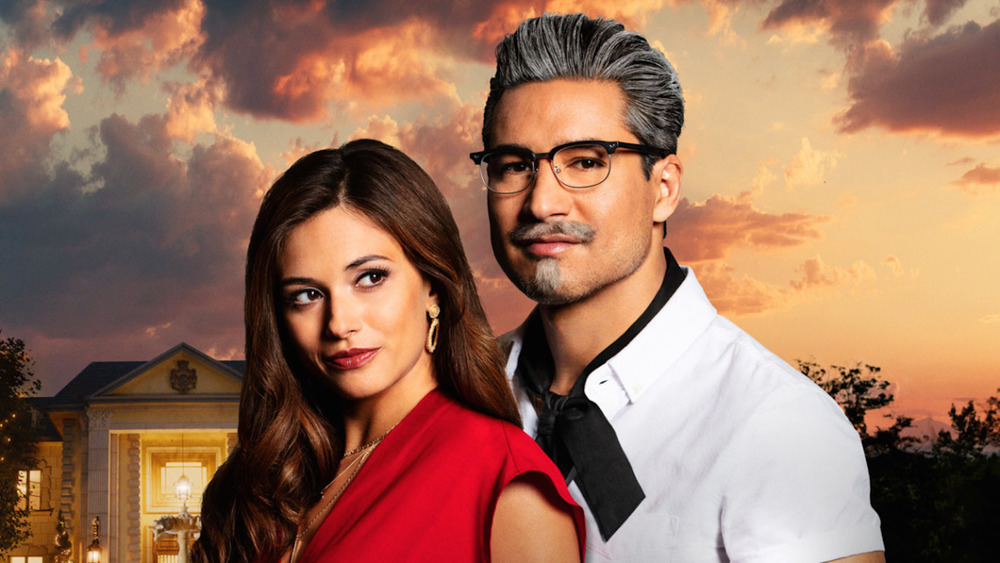 Lifetime/KFC
It's finally here. After much anticipation among the overlapping fandoms of the Lifetime Network and eminent fried chicken chain KFC, the two companies finally unleashed their soapy progeny on the world in the form of A Recipe for Seduction. One part telenovela, one part chicken infomercial, the 15-minute film proved to be everything that was promised and then some — not unlike the experience of ordering a 12-piece bucket of chicken from the restaurant of record and discovering a bonus, thirteenth drumstick tucked away at the bottom in a puddle of grease.
A Recipe for Seduction premiered on Lifetime on Sunday, December 13 as perhaps the buzziest part of the network's "It's a Wonderful Lifetime" coordinated onslaught of saccharine holiday fare. The film stars Saved by the Bell's Mario Lopez as a steamy, muscled version of Colonel Harland Sanders, the American hero responsible for the advent of KFC. At the film's outset, Lopez is working as the personal chef to the Mancera family — a struggling upper class clan grasping at straws to find a way out of massive debt. The scheming family matriarch (Tessa Munro) has a plan to marry her daughter Jessica (Justene Alpert) off to the smarmy Billy Garibaldi III (Chad Doreck), thus rectifying the family's ill fortunes. There's only one problem: Jessica Mancini doesn't love Billy Garibaldi, and she might be falling for the chef.
For a short film commissioned by a fast food company, the story's logic is remarkably sound, and even includes a few juicy twists and turns along the way. By the end of the film, Jessica turns her back on Garibaldi's proposal and locks lips with the handsome Colonel — but that's not all. Even after we watch Jessica and Harland Sanders exchange wedding vows, we're treated to an epilogue scene that throws their happily ever after into doubt.
Here's the ending of A Recipe for Seduction explained.
Jessica and Harland better watch their backs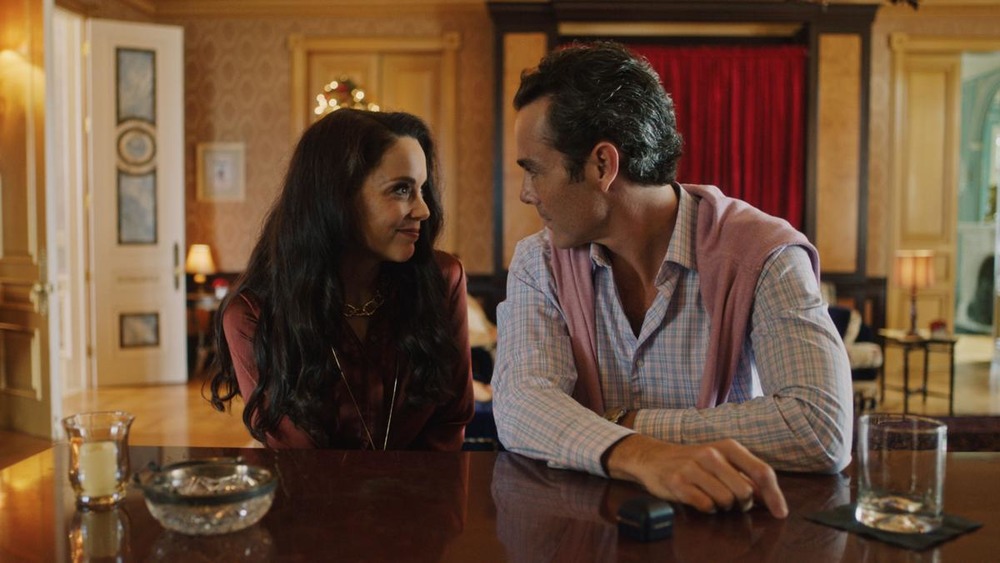 Lifetime/KFC
Spoiler alert: In true Lifetime Movie fashion, the love triangle between Jessica, Garibaldi, and Sanders isn't the only twisted set of relationships in play. To further complicate matters, Garibaldi is having an affair with Jessica's mother, Bunny. "Do you remember our long weekend in the Vineyard," Bunny asks her daughter's boyfriend. Her suggestive tone of voice suggests they might have been doing a bit more than tasting grapes. "How could I forget?" Harland replies.
"If you marry my daughter, there will be more long weekends in the future," she promises. This is enough to inspire Garibaldi to first buy Sanders off, and then — after he turns down a $500,000 check — kidnap and attempt to kill him. Jessica manages to save Sanders from this dire fate, because of course she does, and the two sail off into the sunset together to get hitched. All's well that ends well. Except, Bunny and Garibaldi are still out there, and they want revenge.
The epilogue scene shows Bunny interred at a facility called Serenity Falls, where she sits despondently on a bench in a gray sweatsuit. Garibaldi comes to visit, and the two plot their revenge. In the final shot, Garibaldi lifts a delicious fried drumstick to his lips and takes a bite. What does it all mean? The drumstick suggests that we've leapt several years into the future, and that Harland Sanders has executed on his plan to deploy his secret recipe and bring fried chicken to the world. In this future, Harland and Jessica are no doubt living together in the lap of luxury, enjoying the fortune that fried chicken built.
The fact that Bunny accuses Garibaldi of taking a long time to visit her at Serenity Falls also supports this time jump interpretation. It all adds up to an interesting opening for a sequel, which is no doubt already in the works.