What You Need To Know About Safin's Mask In No Time To Die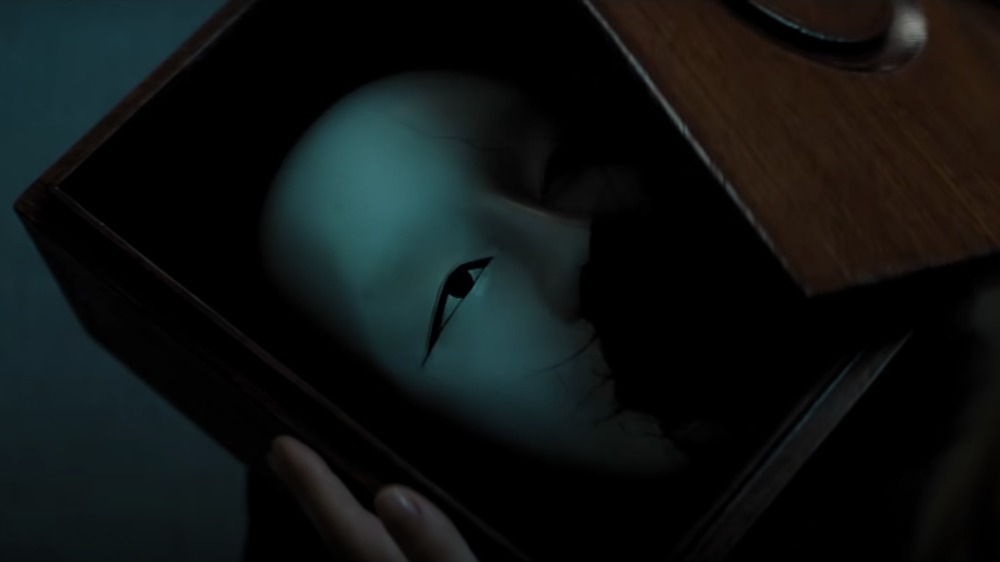 MGM/Universal
Rami Malek's performance as the complicated and beloved musical icon Freddie Mercury in Queen biopic Bohemian Rhapsody solidified his position on Hollywood's A-list of talent. And for his next big role, the Oscar, Golden Globe, and Emmy winner has traded in Mercury's killer wardrobe and charming persona for something much, much darker: 007's latest villain. 
When No Time to Die finally hits theaters in 2021, it won't just mark the end of Daniel Craig's run as cinema's most iconic spy. It may also deliver one of Bond's most terrifying adversaries in Malik's turn as Safin. Described by Bond producer Barbara Broccoli as "a nasty piece of work" and "the one who really gets under Bond's skin" in an Empire magazine interview, Safin is a threat "more dangerous than anyone [Bond] has ever encountered," according to No Time to Die director and writer Cary Joji Fukunaga (via CinemaBlend). Part of the villain's terror lies in the shroud of mystery around him, which is only bolstered by the unsettling mask he wears. 
In a statement for the James Bond store, Bond 25 costume designer Suttirat Anne Larlarb explains how the mask was crafted to illustrate the character's sadism and cruelty. Larlarb reveals that the white, cracked Phantom of the Opera-esque mask was actually based on a Japanese mask known as the Noh. It served as the piece's initial visual reference "because of its pure, expressionless, clean look."
"The first steps initiated were several days of clay sculpting to finesse the 'expression' of expressionlessness... which was a lot more difficult than that sounds. We wanted to remove anything that felt like an expressive human detail while remaining true to a human face — so the mask could reside somewhere between inhuman, artificial, and a serene stare," the custom designer stated.  
Safin's No Time to Die mask helps explain where he comes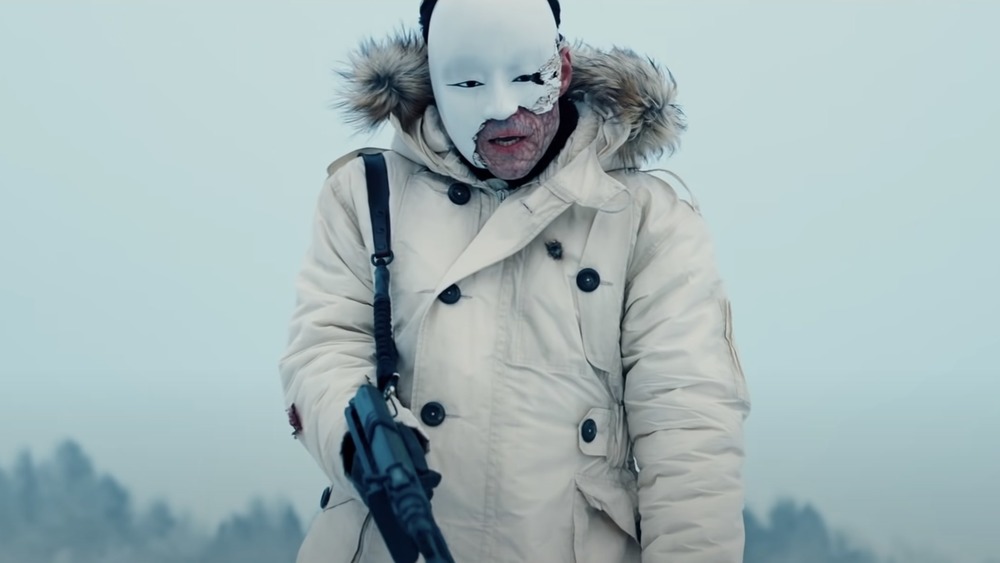 MGM/Universal
To accomplish that, Larlarb said the design process focused on crafting a piece that would resist illustrating or reflecting any emotion while still having dimension. "We worked on minimizing as many facial planes as possible, any spaces, sockets, dips where shadows could inadvertently cue an expression or depth — but I also wanted there to be enough dimension and reality so that it didn't look flat."
Following days of sculpting between Larlarb and the film's designated sculptor, the custom designer said that the mask was then 3D-scanned into a digital model — but the design process didn't end there. "One of the 3D artists added the wood grain surface texture that is readable under the coats of paint on the surface of the mask — just as a real Noh mask would have," Larlarb explained. 
In an interview with Total Film, Malek affirmed the creative care and intent that went into the mask's design, telling the magazine that the film's team didn't "pick a mask off a wall willy-nilly." Fukunaga revealed that the Japanese inspiration of Safin's mask illustrates part of his own creative tastes, as well as mythology the creative team "came up with... about where he's based, and how there can be a mix of cultural influences there."
"We had to think extremely specifically as to what would make the most sense," Malek told Total Film. " If it doesn't make sense to the story and to the character, then arguably it loses impact." 
Fans will get to see just how effective the mask is in turning up Safin's terror when No Time to Die hits theaters on April 2, 2021.