Why The Actor Who Plays Freddie Mercury Looks So Familiar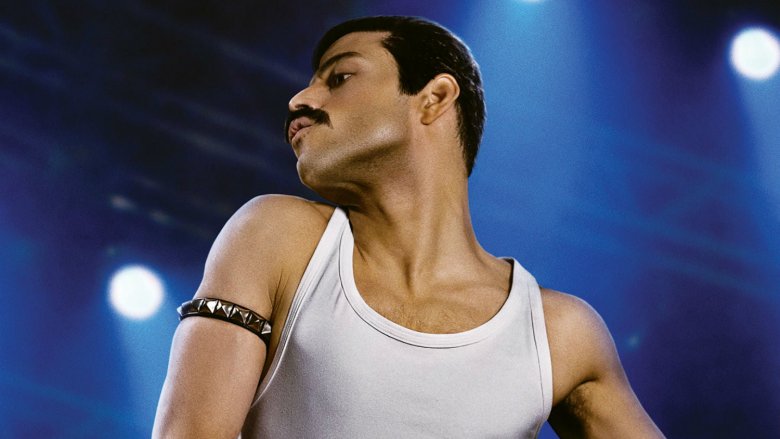 Bohemian Rhapsody, a film about the incredible rise of '70s rock icons Queen, finally hits theaters in November 2018. It's been a long time coming with lots of planning and false starts —  it almost went in front of cameras years ago starring comedian and Borat star Sacha Baron Cohen as Queen's singer, the late Freddie Mercury. But the ship righted itself, and starring in the tale of the band behind songs like "We Are the Champions," "Under Pressure," and, of course, "Bohemian Rhapsody," is actor Rami Malek. 
Who's that? Well, he's arguably not as famous as Cohen, but he's certainly an accomplished talent who's made an impression over the last decade as one of Hollywood's most intriguing young actors. His biggest role, and the one that got him on the radar to play the great Mercury, is Elliot Alderson, a talented hacker with a very complicated inner life on USA's hit drama Mr. Robot. Here are some other places where you might have seen Rami Malek — and all the biggest reasons why the actor who plays Freddie Mercury looks so familiar.
Paying his dues and bills with TV work (2004–2014)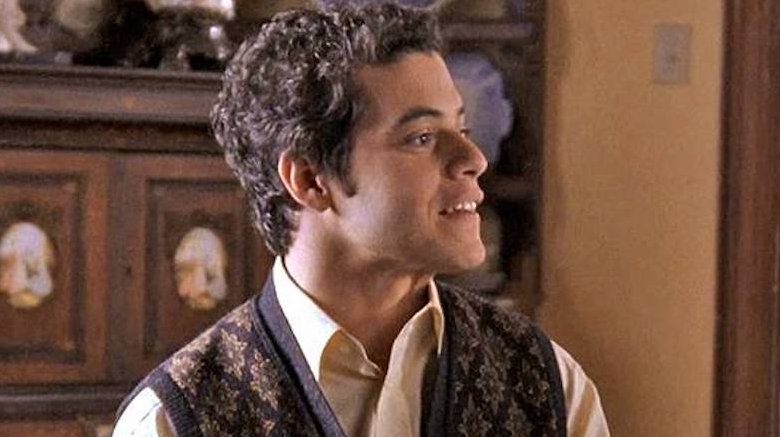 Like pretty much every actor who went to Hollywood with dreams of making it big in movies and on television, Rami Malek started small. He got his start playing a wide variety of roles on a wide variety of television programs. (Everybody's got to start somewhere — and make a living). All the way back in 2004, Malek started regularly landing one-episode gigs on network and cable dramas. His first ever on-screen role was an enthusiastic bible study participant on an episode of Gilmore Girls, which he followed up with one-and-done stints on many of the finest series that early-to-mid-2000s television had to offer, including Medium, Alcatraz, and Believe. 
Also, because of his Egyptian background, Malek was often cast (or typecast) as Middle Eastern characters in series that dealt with the post-9/11 fight on terror, including the Iraq War FX drama Over There and Fox's 24.
The War at Home (2005–2007)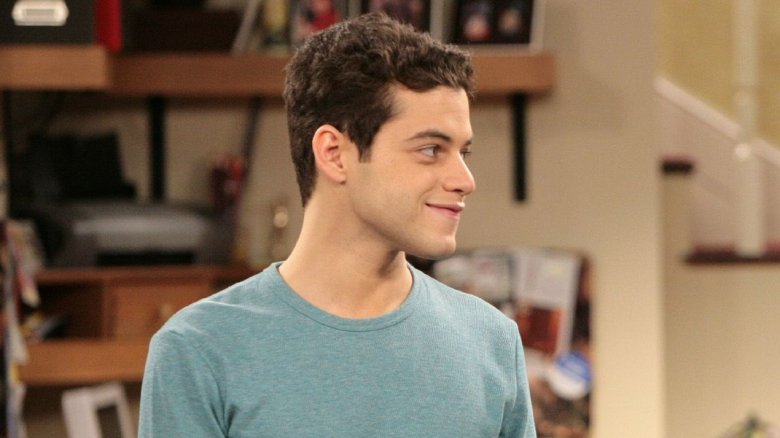 While not as culturally or commercially significant as its animated offerings like The Simpsons and American Dad, Fox still airs the occasional live-action, laugh-track-powered situation comedy. From 2005 to 2007 it broadcast the moderately successful The War at Home. A vehicle for brash but likable actor Michael Rapaport, it centered on the Golds, one of those sitcom families that's always bickering while dad (Rapaport) can't understand how the world has changed so much since he was a kid. The War at Home thusly addressed social issues, particularly through its teenage characters. Larry Gold (Kyle Sullivan) spent most of his time hanging out with his best friend Khaleel Nazeeh Al-Nahir, a Middle Eastern-American who prefers to be called Kenny. Because Larry likes things like figure skating and is very close with his male friend, Rapaport's character assumes the boys are in love, but in truth Larry isn't gay, but Kenny is (and he harbors a secret crush on Larry). A major recurring figure on The War at Home, Malek appeared in 21 episodes of the series.
The three A Night at the Museum movies (2006–2014)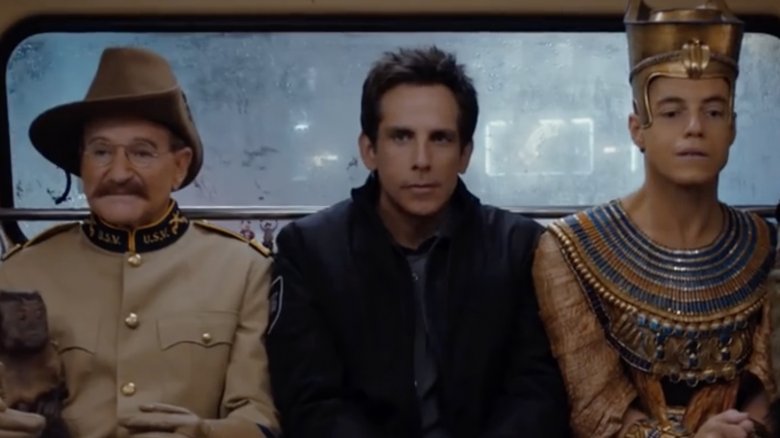 If you were a kid in the mid-2000s, the reason Rami Malek probably looks familiar is because he starred in one of the most popular family film franchises of all time. In the three A Night at the Museum movies (based on the classic kids book by Milan Trenc), Ben Stiller played an unassuming night watchman at the American Museum of Natural History in New York City... where the historical figures in the exhibits come to life. Among them are Theodore Roosevelt (Robin Williams), Ivan the Terrible (Christopher Guest), and Ahkmenrah, a pharaoh from ancient Egypt portrayed by Malek. His recurring plot line throughout the Night at the Museum series: stop the wicked plans of his scary brother, another pharaoh named Kahmunrah (played by Hank Azaria). The guy who would one day play Freddie Mercury under plenty of makeup and prosthetics is still recognizable, only here he acts from underneath a lot of traditional Egyptian garb and head gear.
The Pacific (2010)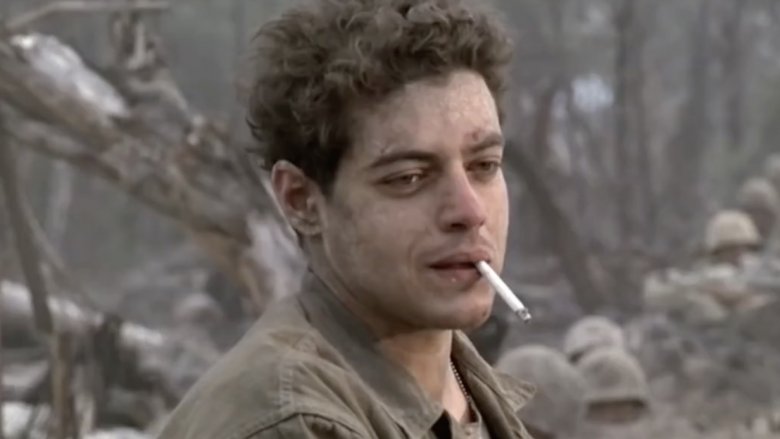 Before his Emmy-winning, star-making work on Mr. Robot, Rami Malek's big TV breakthrough was a major role in HBO's acclaimed 2010 Emmy-winning miniseries The Pacific. A stylistically and philosophically similar follow-up to the 2001 HBO miniseries Band of Brothers (it was produced by the same people), it examined the lives of soldiers fighting in Europe during World War II, and followed American Marines fighting in the Pacific Theater of Operations. Not only is the story obviously based on real events, but so are characters like Malek's Pfc./Cpl. Merriel Shelton, a.k.a. Snafu, a Louisiana-born private who's at first tough on his fellow soldiers and brutal to the enemy, then comes to realize the toll war can have on humanity and decency. In a roundtable discussion in 2016, Malek credited the role with preparing him to play more complex people — such as Elliot on Mr. Robot — but without internalizing the emotional baggage of the character.
Big screen, small parts (2011–2016)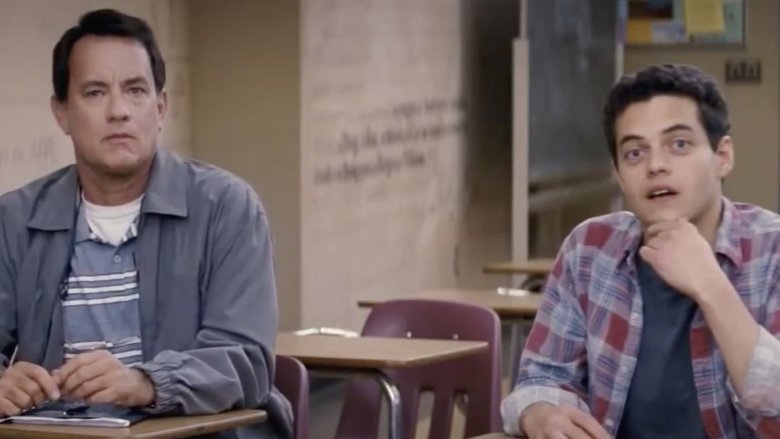 While continuing to look for those career-defining lead roles, Rami Malek kept plugging away, taking on relatively small parts in big movies... or smaller movies starring big names. In 2011, he reunited with his The Pacific producer, Tom Hanks, for the adult-goes-back-to-school comedy Larry Crowne. Malek portrayed Steve, a classmate of the titular Larry (Hanks). He shared scenes with another larger than life actor, Liam Neeson, portraying "Watch Officer" in 2012's Battleship, certainly one of the best war movies ever based on a video game. Paul Thomas Anderson cast him as a religious acolyte in his Oscar-nominated drama The Master, which he followed up with a role as a group home employee in the powerful drama Short Term 12, which would prove to be the breakout film role for co-star Brie Larson. It would also seem that Malek was something of a muse for Spike Lee. The legendary filmmaker cast the future Freddie Mercury in two of his movies, back-to-back: Da Sweet Blood of Jesus and a remake of Oldboy.
Breaking Dawn - Part 2 (2012)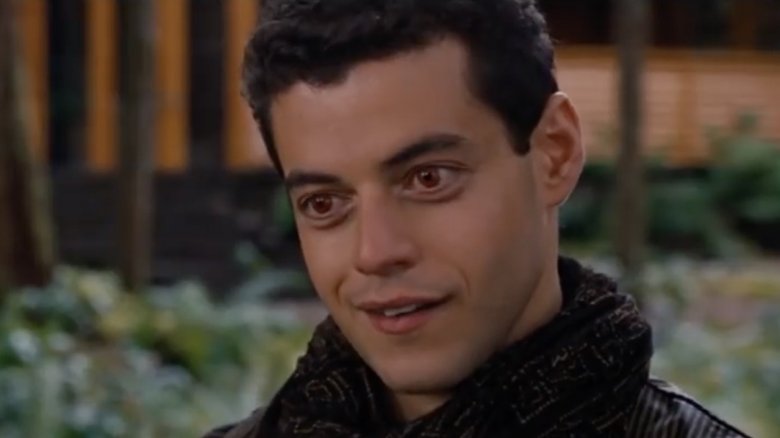 The four-film Twilight series offered many up-and-coming actors their big breaks. Kristen Stewart and Robert Pattinson became well-known stars, Taylor Lautner was briefly a Taylor Swift-dating teen idol, and Anna Kendrick and Dakota Fanning were among those who got a nice visibility boost from playing vampires, humans loved by vampires, or evil vampires. Rami Malek got some attention, too. In Breaking Dawn – Part 2, the fourth and final movie in the Twilight "saga," Malek portrayed a 200-year-old vampire named Benjamin, a member of the mysterious and illustrious Egyptian coven that the central Cullen family summons to help in their war against the Volturi (a coalition of bad vampires). Despite the creepy red eyes (it's a vampire thing), he's a kind and tender vampire with the superpower to alter the elements. Benjamin promises to help out however he can after he meets Renesme, the half-human / half-vampire baby born of main characters Bella and Edward.
Need for Speed (2014)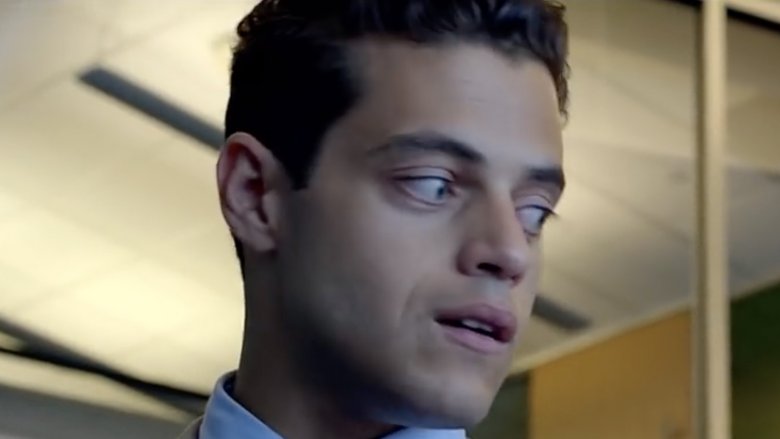 Most movie versions of video games are terrible. There's a long list of duds in this particular subgenre, such as Super Mario Bros., Double Dragon, Postal, Silent Hill, and Max Payne. With a 22 percent rating on Rotten Tomatoes, Need for Speed didn't fare too well either. Based on the long-running car racing series, but obviously released in 2014 to capitalize on the endless popularity of the Fast and Furious franchise, this easy-to-follow film boasts way more talent than it needs or knows what to do with. It stars Aaron Paul, fresh off his stint as Jesse Pinkman on Breaking Bad (which earned him three Emmy Awards), in the thankless role of Tobey Marshall, a mechanic and race car driver framed for a federal crime. Also slumming it in Need for Speed: Preacher star Dominic Cooper and the legendary Michael Keaton. Rami Malek also stars as a loyal friend and associate of Tobey's, the crew's resident computer expert (which every crew simply must have).
Mr. Robot (2015–2019)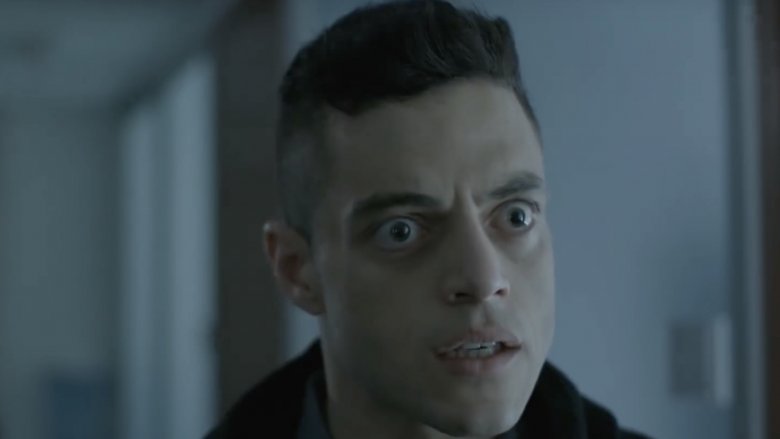 Rami Malek emerged from the young Hollywood pack for good in 2015 when he landed the lead role of Elliot Anderson on Mr. Robot. The ambitious, mysterious, and unpredictable USA series concerns the exploits of Elliot (Malek), a genius hacker and part of a collective of like-minded individuals called f society, bent on bringing the world to its knees by destroying its banking systems and as well as the evil and all powerful E Corp. The main issue with Elliot (which plays with the narrative structure of the series) is that he has a split personality disorder and also can't quite always remember what he did or what happened, or what is or is not reality. It's an extremely complicated role, and it's one that not only made Malek a star, but one that earned him an Emmy Award for Outstanding Lead Actor in a Dramatic Series in 2016.
Papillon (2017)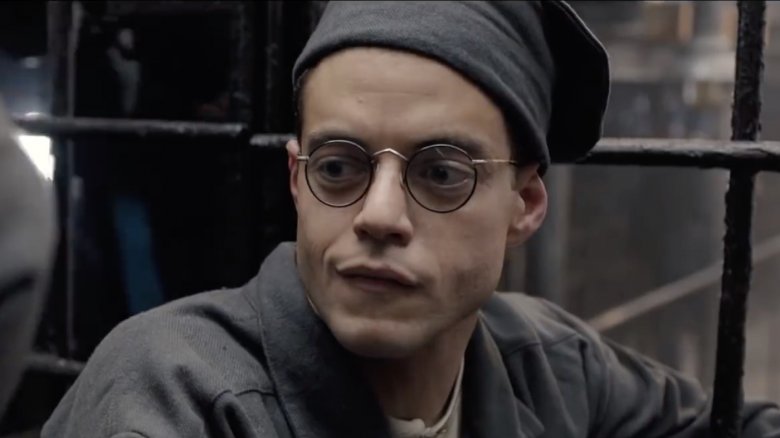 The 1973 film Papillon starred legendary Hollywood tough guy Steve McQueen as real-life early-20th century Parisian criminal-turned South American penal colony resident Henri Charriere, better known by his nickname (which is the title of the movie — it means "butterfly"). Dustin Hoffman starred as his prison BFF, counterfeiter Louis Dega. It's a brutal movie, and a classic, and in 2017, Papillon got the remake treatment. Charlie Hunnan of Sons of Anarchy starred as Papillon, while Rami Malek, in one of his major feature film roles, played the thoughtful and crafty Dega. While Charriere finds himself on the Devil's Island prison colony in South America for a murder he didn't commit, he offers Dega protection from the other, unspeakably violent inmates in exchange for Dega helping Papillon plan his escape from the seemingly impossible-to-leave island. The film earned a small theatrical release in North America, but established Malek as a movie star, not just a TV guy.
Lending his voice (2004–present)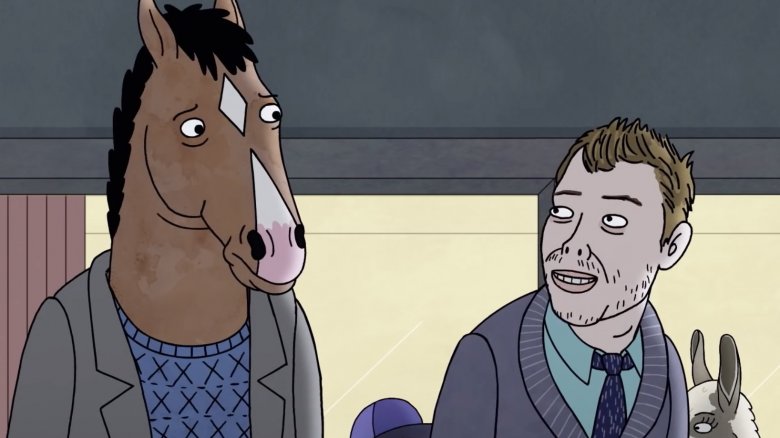 Rami Malek is a talented, versatile actor, and he can convey a lot of details about characters using only his voice. Part of what makes Mr. Robot so intriguing is Malek's in-character narration as the troubled Elliot Alderson (often presented in the second person, as in he addresses an unknown and unseen "you"). Malek has been honing his voice acting skills over his entire decade-and-a-half career. One of his first acting jobs was recording dialogue for a variety of minor characters in the classic video game Halo 2. He also had a run on Nickelodeon's beloved fantasy series The Legend of Korra as Tahno, a role he reprised in a video game adaptation of the show. Additionally, Malek's distinctive voice has popped up in other video games, such as Until Dawn, and in TV animation. Notably, Malek's BoJack Horseman character Flip McVicker, a shy and quirky filmmaker, enjoyed a major plot arc in the fourth and fifth season of the Netflix cartoon sad-com.