Why These Cobra Kai Season 3 Preview Images Have Fans Worried About Kreese's Students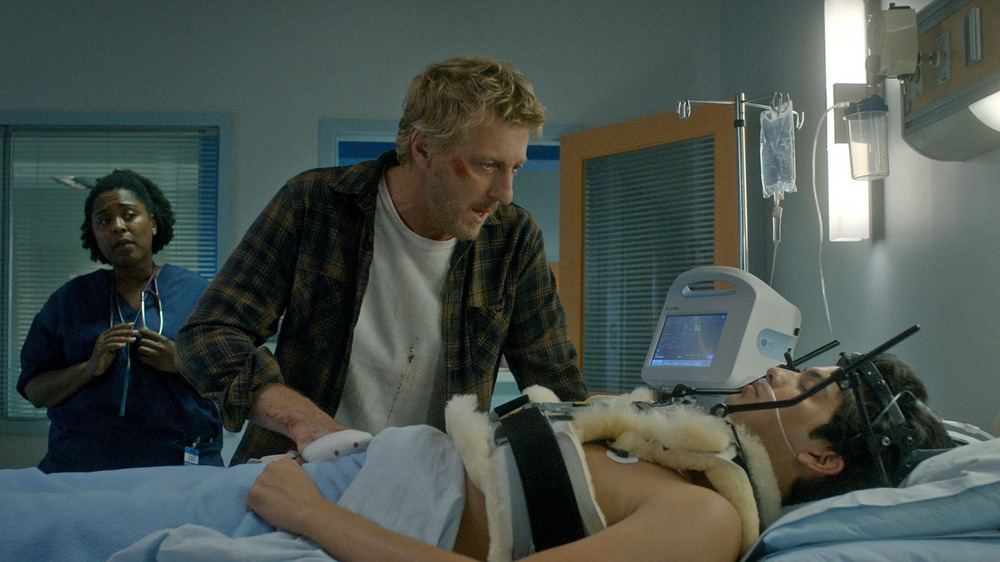 Netflix
Spoilers for Cobra Kai season 2 follow.
Season 2 of Cobra Kai ended in dire circumstances, so fans of the series can hardly be blamed if they're nervous about the fates of their favorite characters. Whether it's Miguel (Xolo Maridueña) in the hospital, Robby (Tanner Buchanan) in trouble for Miguel's hospitalization, or Daniel LaRusso (Ralph Macchio) failing his students and his family — there's a lot to be distressed about leading into season 3.
However, Cobra Kai began its story with reformed-ish bad boy Johnny Lawrence (William Zabka), and his story is what we're focusing on right now. Just as Johnny was really learning how to push the Cobra Kai dojo away from a code of "no mercy," he got the rug pulled out from under him by his former sensei John Kreese (Martin Kove). Not only has Johnny lost the faith of his students, he's been replaced by Kreese as the sensei of Cobra Kai.
Thanks to some revealing new photos from season 3, we're getting a sense of just how dangerous Kreese might be to Cobra Kai.
Kreese is teaching Cobra Kai to be... Ninja Turtles?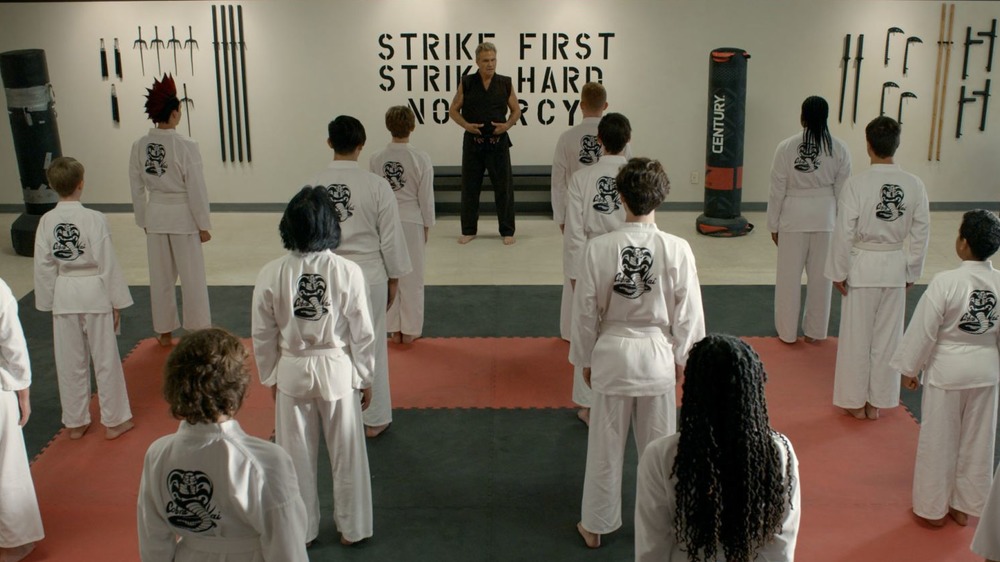 Netflix
Netflix recently released eight new pictures from Cobra Kai's upcoming third season. There's plenty to talk about, but let's look at Kreese taking back control of the dojo. In one of the images, we see Kreese at the head of the class and standing in front of his mantra, "Strike first, strike hard, no mercy." While on the one hand, the dojo looks a lot more clean and organized than it ever was with Johnny in charge, there's something else present we haven't seen in Cobra Kai dojo before — weapons.
On either side of Kreese you can see nunchakus, sai, bo staffs, katanas, and more. Basically, if Kreese was teaching his class how to be Teenage Mutant Ninja Turtles, they would be good to go. Unfortunately, since Kreese has a "no mercy" mentality, it's hard not to be a little concerned for the safety of both the Cobra Kai students and anyone who might have to fight them. Miguel nearly lost his life last season from a bad fall, and it's hard not to imagine a lot worse could happen with dangerous weapons in the mix.
There's a lot going on the remaining seven photos, including a picture of Robby in what appears to be a juvenile detention center. Meanwhile, we also see a bloody-and-beaten Johnny standing over Miguel's unconscious body in the hospital. We still have no idea what the fallout between Robby and Miguel will be, but these images suggest there won't be an easy or quick resolution.
Season 3 of Cobra Kai debuts on Netflix on January 8, 2021.