This Is Who's Really Singing The Songs In Netflix's Selena: The Series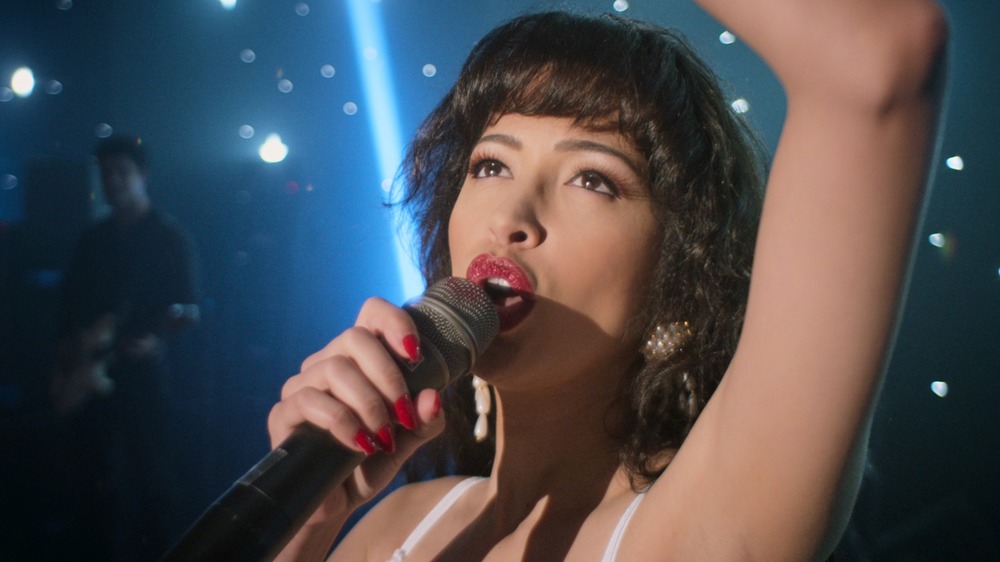 Netflix
The assassination of beloved Tejano singer Selena Quintanilla-Pérez, better known by the mononym Selena, was a watershed moment in music history. Selena was only 23 at the time she was killed by her fan club president Yolanda Saldívar, but she had already become a legend in Mexican-American communities all over Texas and the rest of the country — thanks, in no small part, to her soulful and emotive voice.
Selena's story has been told on film, TV, and stage multiple times, including the 1997 movie Selena, which helped launch the career of Jennifer Lopez, who was then an In Living Color fly girl and up-and-coming actress. Now, the life and career of the tragic icon is being explored in depth by a Netflix original series aptly named Selena: The Series.
The show, which dropped all nine of its season 1 episodes on December 4, stars Christian Serratos, who is best known for her roles on The Walking Dead and in the Twilight films. In an interview with Entertainment Weekly, Serratos explained that she felt an immense amount of pressure to honor the late singer, saying, "If I needed any motivation to do my best in this role besides how much I love her, it's because I don't want to let anyone down. I know how deeply this woman resides in the hearts of so many."
So, did Serratos' dedication to getting things right include recreating the incredible vocals that Selena was known for? In this case, Serratos left the singing up to someone else — and if you need a hint as to who, look at the title of the series.
Selena: The Series lets its subject sing for herself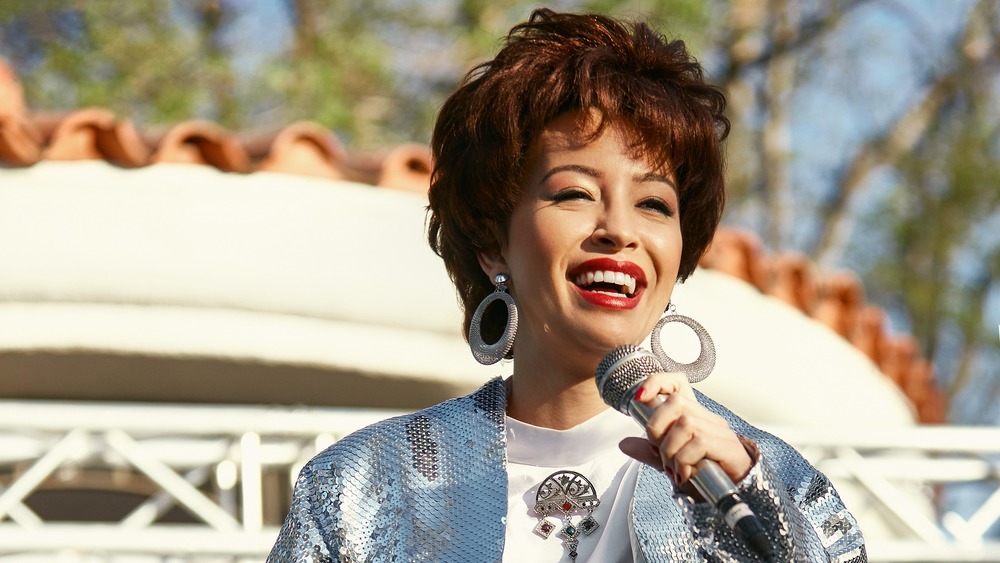 Netflix
For Selena: The Series, it looks like the creatives behind the project decided to go the "if it ain't broke, don't fix it" route when it came to the musical numbers. According to Entertainment Weekly, the show stuck to using Selena's own vocals for the performances.
That's not entirely surprising, as Selena's voice — particularly the way she performed her deeply emotional songs — was central to her stardom. In a 1995 New York Times article about her posthumously released album, Dreaming of You, Peter Watrous wrote, "Virtuosity goes out the window in the face of a great sound. Some people simply have voices an audience wants to hear. Selena... was just that sort of attraction."
1997's Selena also relied on the singer's own vocals for the performance scenes in the film. At the time she was cast, Lopez hadn't yet launched her own music career. In fact, during an interview with Entertainment Tonight that was recorded on the set of the film, the future Grammy nominee explained that she was leaving the singing to the real Selena because "I'm not a singer, I haven't performed as a singer. I'm a dancer... it's not really my voice." She even said she had a hard time remembering to keep the microphone in front of her mouth during the performance scenes, a trick she clearly picked up sometime between filming Selena and becoming an international music sensation in her own right.
There is a caveat to all of this. While Serratos didn't do her own singing in the series, the actress who plays the younger version of Selena did.
...but the actress playing young Selena did do her own singing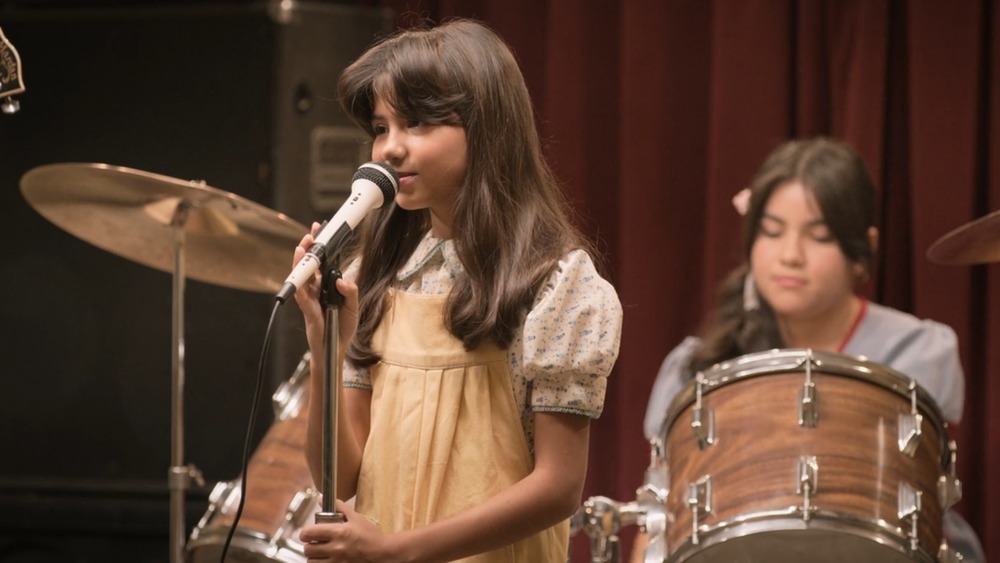 Netflix
Although she died very young, Selena was hardly an overnight sensation. Her music career began early, and by the age of ten, she was already fronting a band made up of her family members that performed gigs around Texas (via Biography). Those early days are captured in the new Netflix series and they feature a very talented young woman in the titular role.
Madison Taylor Baez was cast in the role of young Selena, and recorded her own vocals for the songs she performed on the series (via Hers Magazine). Performing as one of the most iconic musicians of all time might seem like a big responsibility for a singer who isn't even ten years old yet, but Baez rose to the challenge. Although this is her first big TV role, Baez has already received attention for her performances of "The Star-Spangled Banner" at various sporting events and even received the moniker "Anthem Girl" (via CBS Los Angeles).
As for turning her natural vocal talents into a true-to-spirit portrayal of Selena, Baez told The Mujerista that she did her homework. The young talent said, "I studied by watching videos of Selena when she was young. I studied how she sang and moved as well as how she spoke with her little Texas twang that she had."
You can see how well Baez and Serratos do at bringing the iconic singer to life in Selena: The Series, streaming now on Netflix. And you also might want to check out these biopics and musical dramas when you're done.