Movies That Will Get You In The Mood For Selena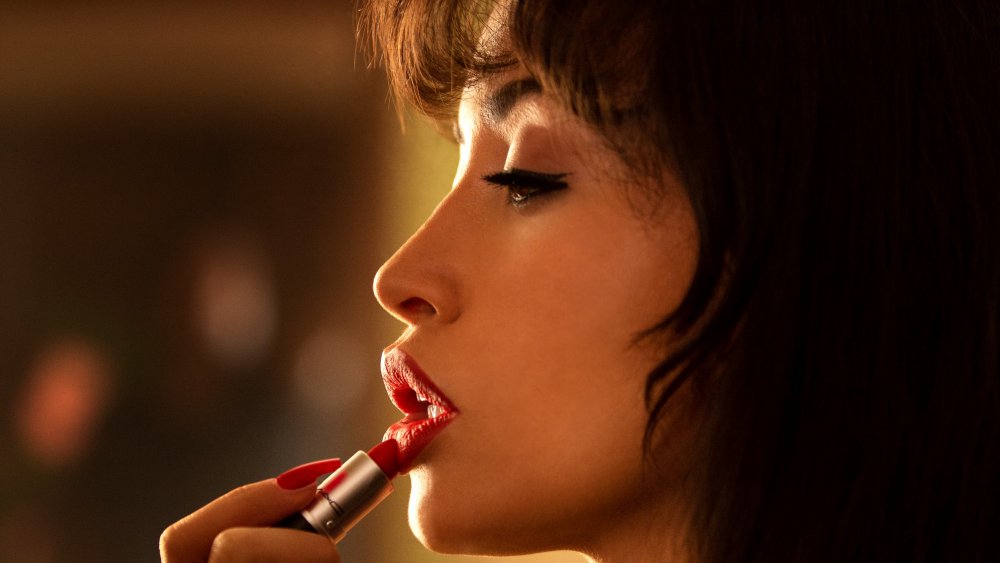 This content was paid for by Netflix and created by Looper.
The story of Selena Quintanilla-Perez, best known as simply Selena, is one of triumph, inspiration, and tragedy. Selena's musical career began when she was just ten years old, and it wasn't long before she was a bona fide superstar, becoming the most successful Latin artist of the 1990s. That particular feat is even more impressive considering her tragic end came halfway through the decade; she was gunned down by her friend and former employee at the age of 23 in 1995.
Selena's story has lived on since then, of course. In 1997, a film about her life and career starring Jennifer Lopez debuted to critical acclaim. And in 2020, a new series about the legend of Selena is set to debut starring The Walking Dead's Christian Serratos in the lead role. While Selena's story is totally unique, there are plenty of movies you can check out to get into the right frame of mind for the newest version of Selena.
Blaze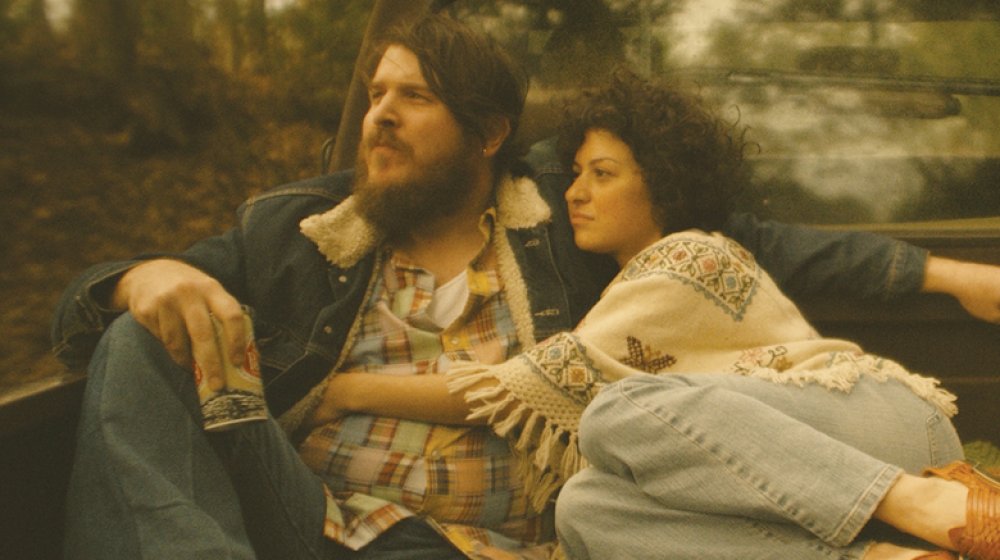 You may not know the name Blaze Foley, but this 2018 film, co-written and directed by Ethan Hawke, aims to remedy that. Starring Ben Dickey, Alia Shawkat, Sam Rockwell, and country legend Kris Kristofferson, among others, Blaze tells the story of Michael David Fuller, an Arkansas-born musician whose burgeoning career as singer-songwriter Blaze Foley was cut short after a tragic end in 1989.
Unlike Selena, whose outsize legacy in the world of Tejano music was easy to see at a glance, Foley's impact on country music is more widely felt than known. Foley's status as a cult figure within country music — whose songs have been covered by huge stars like Willie Nelson, but who might otherwise be unknown to general country music fans — makes for a fascinating yet melancholy film. Blaze paints an intimate portrait of Foley, informed by the memoir of Sybil Rosen, his one-time girlfriend and self-proclaimed muse. We get close-up and intimate snapshots of Foley's life and career, checking in on his songwriting, his performing, and the love he shared with Rosen.
The incredible chemistry between Ben Dickey and Alia Shawkat, who play Foley and Rosen, respectively, is part of what makes Blaze so memorable. But the film's music, pulled from Foley's discography, is reason enough to watch. Whether you're a longtime fan of Foley or just hearing about him for the first time, Blaze is a hidden musical biopic worth unearthing.
Frida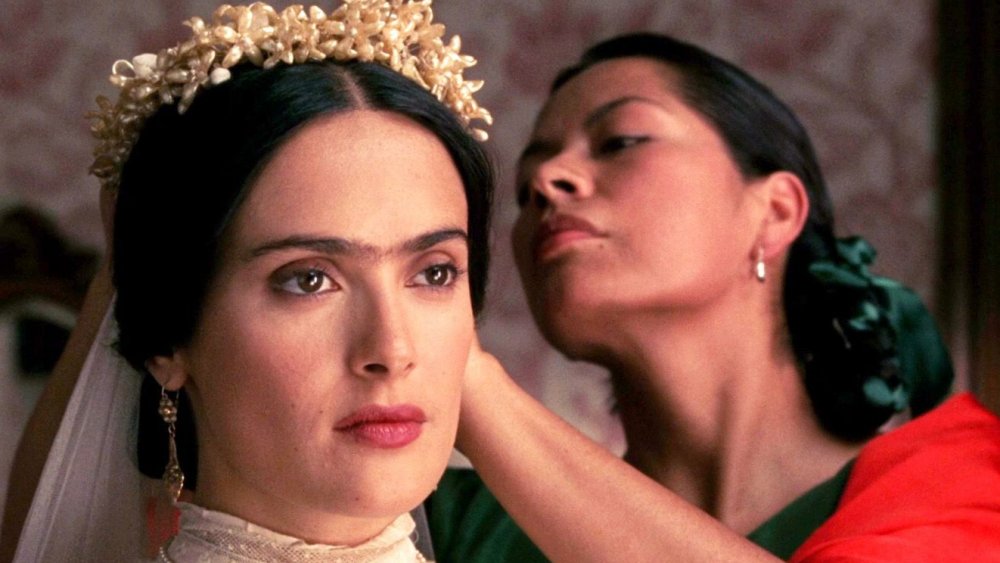 The work of surrealist artist Frida Kahlo is nearly as iconic as the artist herself. And just as Selena became one of the most well-known and successful Mexican-American musicians of her era, so too has Frida Kahlo become widely considered the one of the most well-known Mexican artists ever. Fortunately, the movie chronicling her life and career has earned a solid reputation from film critics and audiences alike.
Directed by Julie Taymor, Frida is visually striking, providing viewers with an enthralling and entertaining look into the life of an artist whose own image has become synonymous with the intersection of feminism and art. As Kahlo, Salma Hayak delivers a career-best performance, and matches Taymor's vibrant visual sensibilities with her own intensity and commitment. Joined by Alfred Molina as her artist and romantic partner Diego Rivera, Hayak embodies Kahlo in a way that's sure to stick in your mind.
Interestingly, Hayak was initially offered the role of Selena when that film was first in development. While it's fascinating to imagine a world where Hayak portrayed Selena, it's impossible not to see her as Frida Kahlo, a role she has totally made her own.
I'm No Longer Here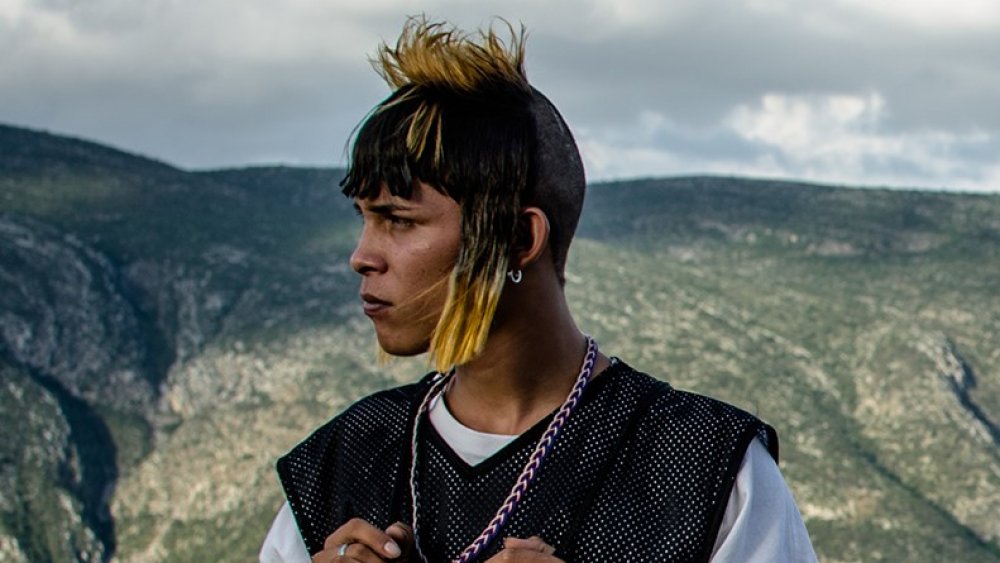 While Selena's story is that of a Mexian-American rising to fame and fortune through music, I'm No Longer Here is something like that tale's equal opposite. This Spanish-language movie tells the tale of Ulises, a music-obsessed teenager from Mexico who escapes to America after witnessing violent gang activity. But instead of finding a land of opportunity, he encounters a bitter combination of hostility and homesickness. Throughout the film, Ulises struggles to survive in New York City, despite having escaped an actual death sentence that surely awaited him back home.
I'm No Longer Here has earned rave reviews from both critics and audiences, with special attention being paid to the deeply affecting performance from its lead, Juan Daniel Garcia Treviño. Moreover, the movie's emphasis on Ulises and his friends' love of music — specifically Cumbia Rebajada, a slowed-down version of Latin America's traditional Cumbia folk music — is another high point in I'm No Longer Here. Selena may show how music can be the path to success, but I'm No Longer Here reveals that when the world has taken everything from you, sometimes music is all you have left.
Márama - Rombai The Journey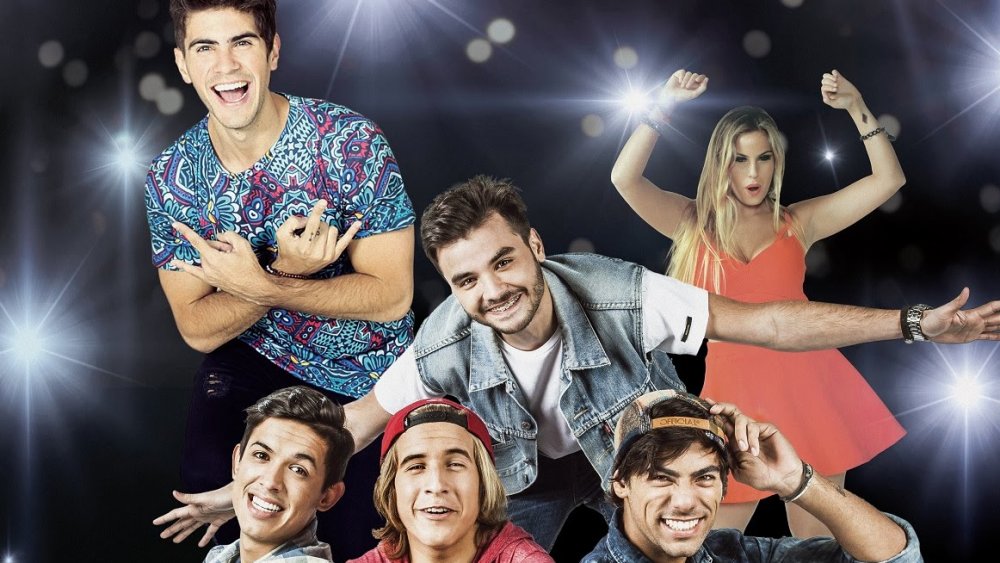 A musician doesn't have to meet a tragic end for their story to be fascinating. Take, for example, Rombai and Márama, two bands from Uruguay that quickly became the country's most popular musical acts. In 2016, a documentary about the groups (who've played and toured together) premiered, and offered an intimate glimpse into what it takes to keep two successful groups in South America going.
What viewers get in the film is a positive, exciting portrait of fame and fortune in the Cumbia music scene in Latin America. But not everything is ideal; the subjects of the film — the members of both Rombai and Márama — provide realistic glimpses into the risks they took to pursue music, the disagreements they suffered with their family members, and their fears about how short a ride this particular train to stardom might end up being. More than anything, if you're hungry for catchy tunes and a musical subculture you may not know much about, Márama – Rombai: The Journey is a great trip to take while you're still sitting on your living room couch.
El Potro: Unstoppable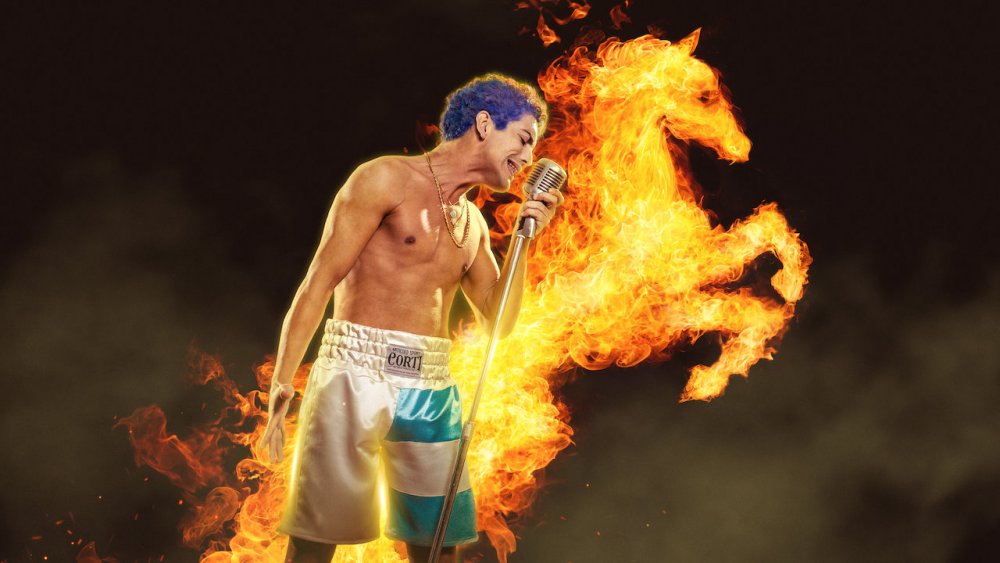 Biopics detailing the rises and falls of world-famous musicians can sometimes feel like watching a rerun; the more familiar the audience is with the subject, the harder it is for the film to offer legitimate surprises or twists. That's part of what makes El Potro: Unstoppable so appealing. Chances are pretty good most people reading this aren't terribly familiar with the Argentinian music star Rodrigo, also known as "El Potro," or "The Colt."
Born Rodrigo Alejandro Bueno, El Potro spent his whole short life in front of cameras and audiences, singing his heart out. The film based on his life follows his meteoric rise and his tumultuous fall, as well as his death at the too-young age of 27 years old. And throughout the film, the soundtrack absolutely pumps with cuarteto tunes — a style of Spanish-language music that rose to prominence El Potro's hometown of Córdoba, Argentina. If you like to dance, chances are good that watching El Potro: Unstoppable is worth it just for the music alone.