The Black Panther Reference You Missed In Netflix's Jingle Jangle
Netflix's new musical movie Jingle Jangle: A Christmas Journey has a lot going on with its complex, colorful set design that has all manner of knick-knacks and steam-punk-esque whirring toys in the background, so it's understandable if you missed the unexpected Black Panther reference hiding amongst the tchotchkes. 
As one in a long list of Christmas movies arriving on Netflix this season, Jingle Jangle: A Christmas Journey is vying to become a new classic. With a nearly all-Black cast, the film tells the magical tale of the genius toy inventor Jeronicus Jangle (Forest Whitaker), who loses hope when his work is stolen from him — only to have his cheery granddaughter Journey (Madalen Mills) bring inspiration back into his life. To round out the cast, Keegan-Michael Key makes us love him even more as the scheming villain in cahoots with a doll-come-to-life, while The Princess and the Frog's Anika Noni Rose plays Jessica, Jeronicus' estranged daughter.
All that said, Jingle Jangle: A Christmas Journey certainly is a star-studded, kaleidoscopic adventure sure to please viewers of all ages. And one sneaky reference in particular will put a smile on Marvel fans' faces especially. If you look really closely, you'll indeed find that one of the characters has apparently visited Wakanda.
Jeronicus has a Wakanda travel sticker on his suitcase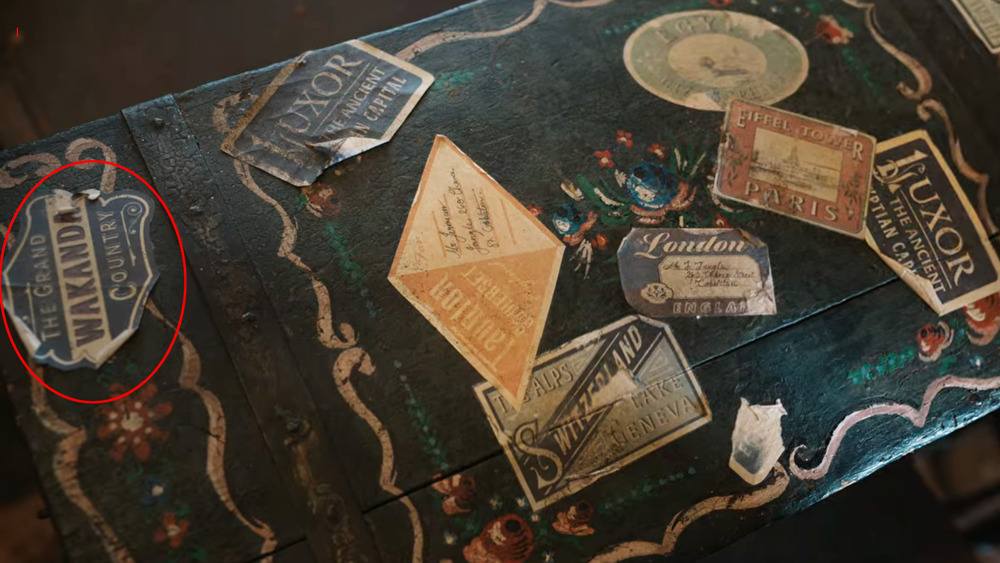 Netflix
Amongst several travel stickers for places like Switzerland and Paris, one on Jeronicus' suitcase stands out. "The Grand Wakanda Country," it reads. Wakanda, of course, isn't a real place, but rather the fictional country in the Marvel Cinematic Universe film Black Panther. 
At first glance, perhaps this is a surprising reference, but with Forest Whitaker as the lead actor of Jingle Jangle: A Christmas Journey, a reference to Black Panther isn't that out of place at all. In Black Panther, Whitaker plays Zuri, the warrior shaman and advisor to king T'Challa (the late Chadwick Boseman), who gives him the power-granting Heart Shaped Herb. When pointing out this connection, Reddit user u/RPShep joked, "If Jangles is Wakandan, that would explain a lot of that movie." User u/lasanchilada added that "Jingle Jangle is in the MCU confirmed," and that the magical toys of the film were made with Wakandan technology. Now, that may not have been what the filmmakers intended, but it's certainly a fun explanation.
While some movie Easter eggs may be overused, this is a sweet, subtle one that calls back to another film that brought a mostly Black cast to a historically white genre. What would be truly surprising is if the upcoming Black Panther 2 referenced Jingle Jangle.