The Most Memorable Female Presidents In TV And Film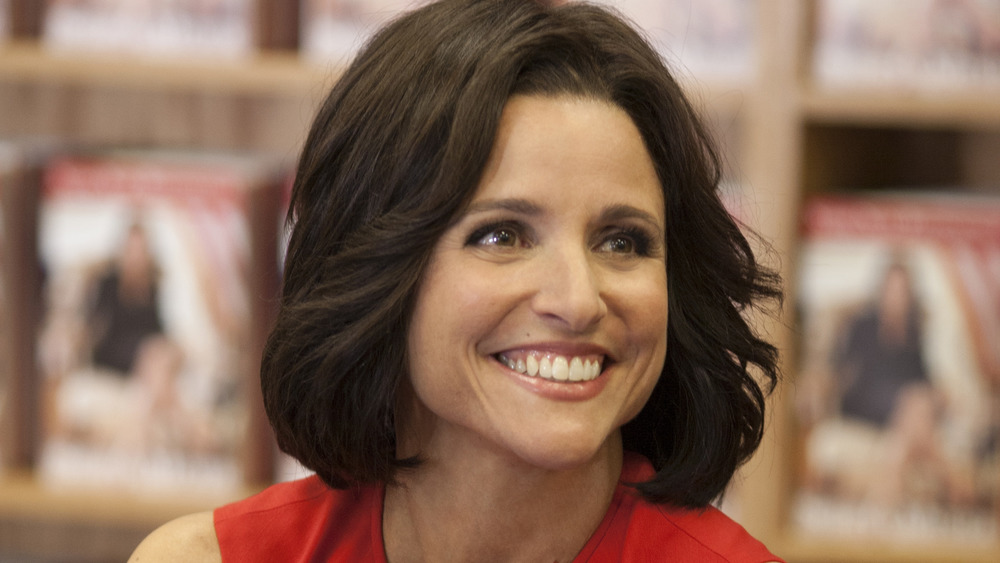 Kamala Harris has stepped into history as the nation's first female vice president. Though her success is refreshingly real, fiction has anticipated this moment for years. Generations have grown up watching comedies, dramas, and sci-fi stories that feature women serving as presidents and vice presidents.
Granted, fiction featuring female presidents and vice presidents tends to be a mixed bag. Much of it focuses on their gender, highlighting romantic or family entanglements. In 2000's The Contender, for example, Joan Allen's vice presidential appointee Laine Hansen is embroiled in a scandal involving salacious photographs. Other fictional women in these spots don't wield much power, like Glenn Close's Kathryn Bennett in 1997's Air Force One. Bennett seems to take charge after terrorists kidnap the president, played by Harrison Ford, but he still calls the shots.
Despite these flaws, these fictional leaders plant the idea that "if she can see it, she can be it." As Harris herself said in her victory speech, "I may be the first woman in this office, I will not be the last." Here are some of the most memorable female presidents onscreen, some of whom begin as VPs themselves.
Laura Roslin on Battlestar Galactica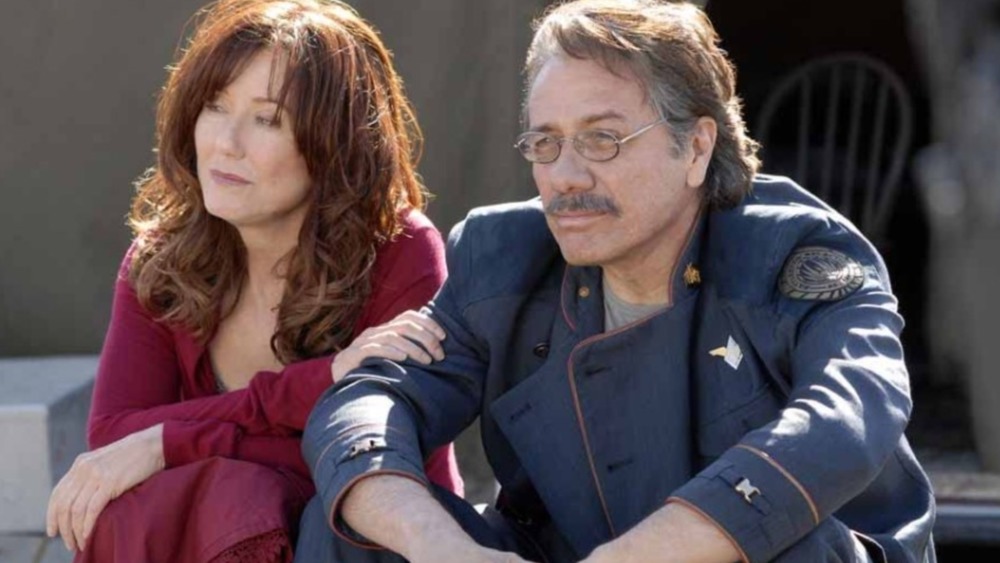 Leading the United States would be small potatoes for Laura Roslin on Battlestar Galactica: She's responsible for leading the last survivors of humanity in a war against extinction. In the premiere of this acclaimed series, Roslin (Mary McDonnell of The Closer and Major Crimes) is the secretary of education. She receives a diagnosis of breast cancer just before an appearance at the Galactica's decommissioning ceremony. Just then, the robotic Cylons attack, forcing the ship to ferry her and others to safety. Once the dust clears, Roslin learns she's next up in the presidential line of succession — a position that sets her at odds with Galactica's commander, William Adama (Edward James Olmos).
Roslin is a sympathetic leader, working to find sanctuary in the midst of war while grappling with her health issues. "She is a woman whose composure almost never ruffles, whose strength lies in her ability to dissemble expertly and act expediently when necessary," Salon wrote. She and Adama forge a friendship that becomes romantic by the time those aboard the Galactica make their new home on Earth. Roslin "[didn't have] a clear political ambition," McDonnell once said, but she navigates authority in a way that is true to herself. "Her story [is] one of a woman grappling with untapped, literally unrecognized, qualities, classically male, in order to achieve one paramount goal — the survival of the human race."
Allison Taylor on 24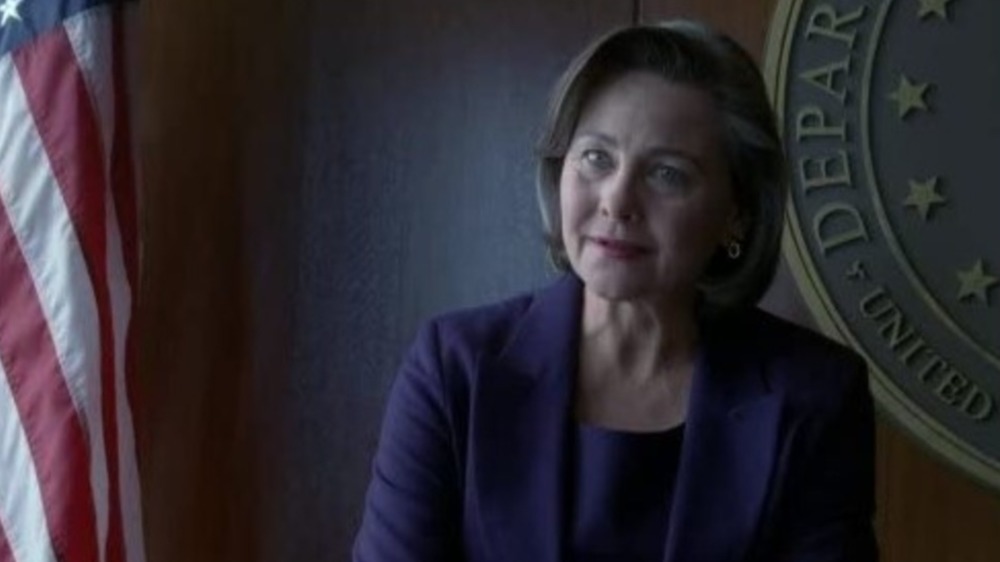 The Kiefer Sutherland-helmed thriller series 24 introduces the nation's (and the show's) first female president in its seventh season amid several crises, including the death of her son. President Allison Taylor (Cherry Jones, who went on to appear in Transparent and The Handmaid's Tale) doesn't hesitate to stand up to the Joint Chiefs of Staff, the secretary of state, a genocidal madman, an ex-counterterrorism agent, and even her own daughter, who seeks revenge for her brother's death. Faced with choosing between covering up her daughter's actions or being true to the nation, Taylor chooses the latter. Her husband divorces her, but the country (and viewers) love her, and she returns for season eight.
"I find her to be an honorable, courageous, upright kind of gal," Jones told New York Magazine, noting that she thought her character would "see eye to eye" with then-president-elect Barack Obama. She also called Taylor "a combination of Eleanor Roosevelt, Golda Meir, and John Wayne."
Jones won a Primetime Emmy for her portrayal, which 24's executive producer Howard Gordon called heroic, but intriguingly flawed: "[Her] greatest flaw is her idealism. And I think that's a fun part to play. What happens when somebody's idealism butts up against the realpolitik of the world? But she's a very human character, and I think a very strong president." 
Selina Meyer on Veep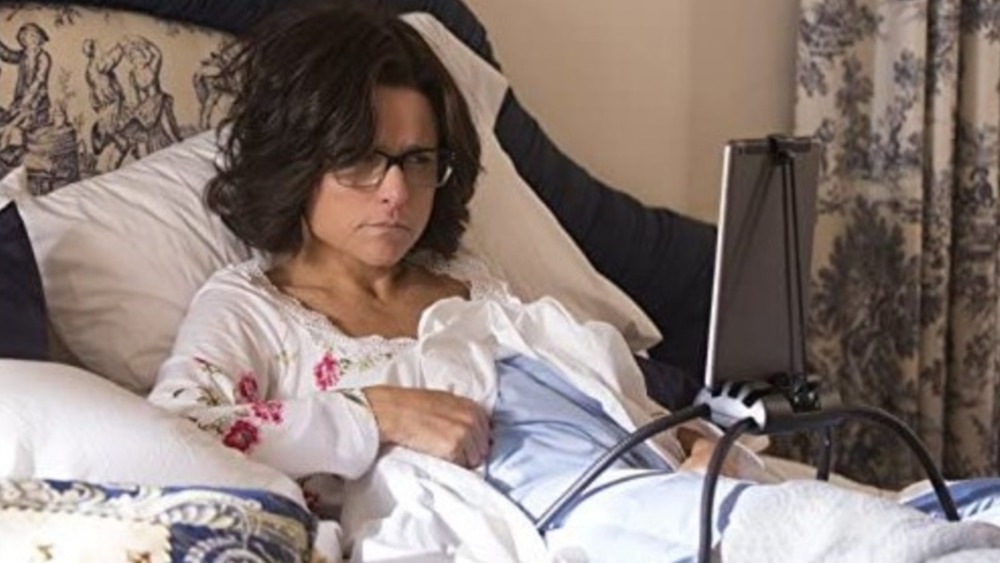 Julia Louis-Dreyfus won six Primetime Emmy awards as Selina Meyer, the titular vice president on HBO's political satire, Veep. Meyer becomes president in season four, after the president resigns. A former US Senator from Maryland, Meyer initially campaigns for president but loses her party's nomination, then joins Stuart Hughes' ticket as VP. The never-seen Hughes and Meyer have a strained relationship, which reaches comedic heights when she learns he's resigning to care for his ailing wife.
A divorced mom, Meyer has just as much ambition and pettiness as the rest of Capitol Hill. At one point, she says that her office door should be half its height, so that people can approach her while begging on their knees. But she can't celebrate her presidency fully, because of its circumstances. She also doesn't hold on to the job: In true Veep fashion, she ties in the Electoral College, ultimately losing when her VP fails to cast the tie-breaking vote in her favor.
Mackenzie Allen on Commander in Chief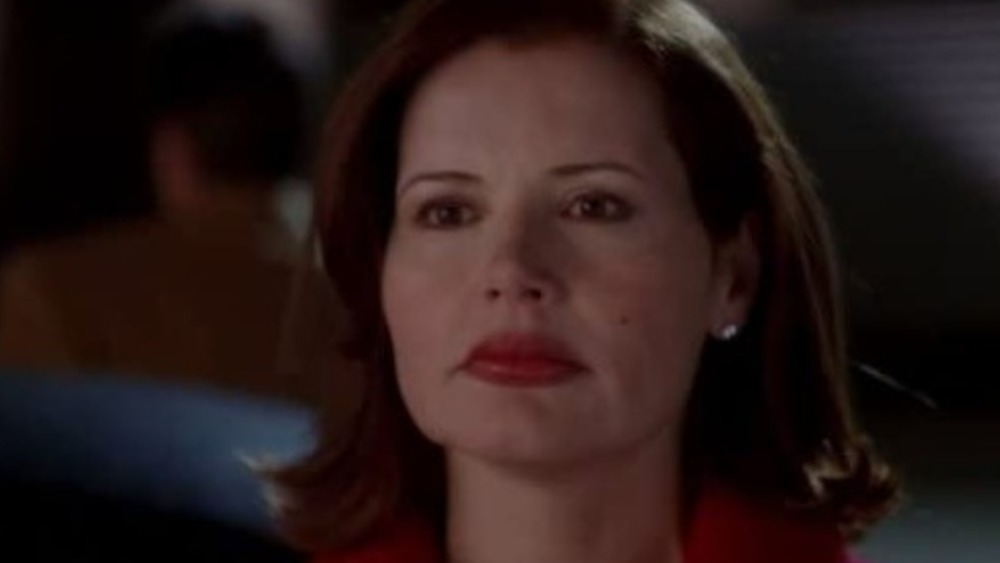 It's only fitting that Academy Award-winning actor Geena Davis, who founded the Geena Davis Institute on Gender in Media in 2004 to foster inclusion and gender balance onscreen, serves as the leader of the free world in the drama Commander in Chief. Vice president in the series premiere, Mackenzie Allen becomes the nation's first female president after the president dies following a stroke. His chief of staff initially asks her to resign so the late president's buddy, speaker of the House Nathan Templeton (Donald Sutherland), can take over. But Allen holds firm. "I'm humbled by the responsibilities that rest with me," she tells the public.
Nicknamed "Mac," Allen is an Independent, a former member of Congress from Connecticut, and a chancellor of the University of Richmond. Her husband, Rod Calloway (Kyle Secor), works in her administration during the first season. He's later content to be the "first person," although Allen's mother (Polly Bergen) serves as the White House hostess. For her first action in office, Allen negotiates to free a Nigerian woman who has been sentenced to death by stoning for having sex outside of marriage. Davis won a Golden Globe award for the role, which showcases her charisma and wit even while dealing with tense political issues. "What a town. You can't even trust the backstabbers," she says at one point.
Constance Payton on State of Affairs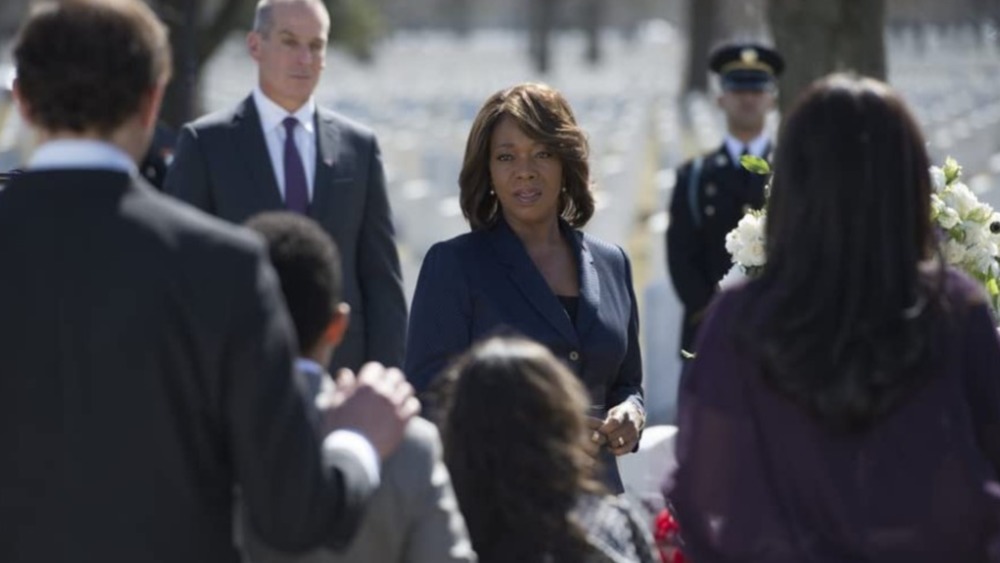 The short-lived 2014 espionage drama State of Affairs starred Katherine Heigl (Grey's Anatomy) as Charlie Tucker, a CIA analyst tasked with briefing the president daily on the nation's most vital security issues. The venerable Alfre Woodard (a four-time Primetime Emmy winner) played Constance Payton, the first Black woman elected president of the United States. 
The show sets up an intriguing backstory between Payton and Tucker. Tucker was engaged to Payton's son before he was attacked and killed in a shootout in Afghanistan, and the two women have a close friendship — even when a political rival causes Payton to question Tucker's loyalties. But "[assembling] a binder doesn't exactly make for riveting television," the Boston Herald wrote. The paper nevertheless praised Woodard, who earned an NAACP Image Award nomination for her performance, as the Commander in Chief: Woodard has "the gravitas for the role, and the show would be wise to use her more." 
Claire Underwood on House of Cards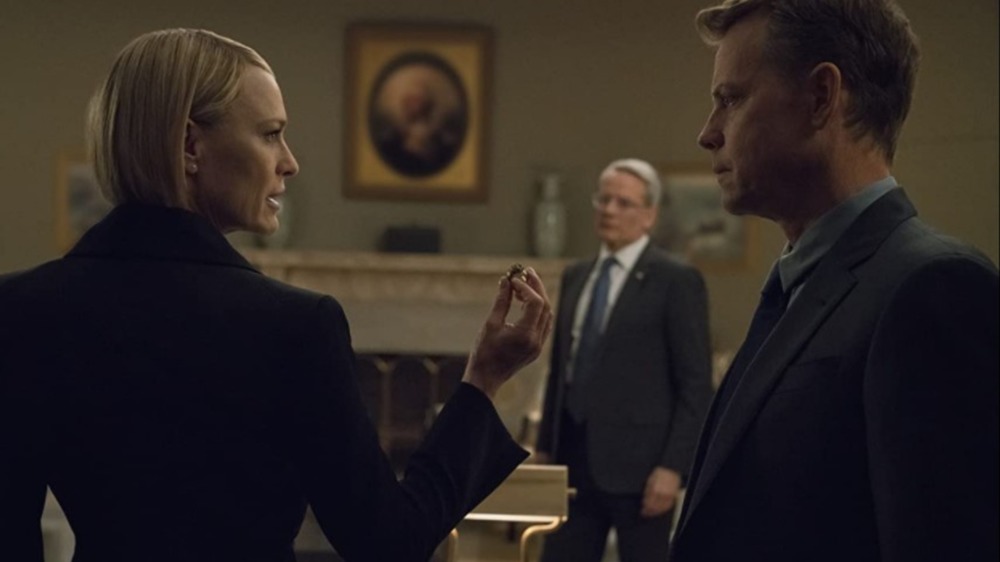 There are few depths to which House of Cards' Claire Underwood (Robin Wright of Wonder Woman) and her husband Frank Underwood won't sink in their quest for power. Claire starts out as the head of the Clean Water Initiative, but she's more of a pragmatist than an idealist, proving to be Frank's partner in crime more than anything else. 
Before the show's end, Claire serves as second lady, ambassador to the United Nations, first lady, and — after an unusual bit of plotting — vice president, when she becomes Frank's running mate. The end of season five leaves Frank in hot water and Claire as president, apparently waiting until the right moment to pardon her scheming spouse. Instead, she breaks the fourth wall as Frank often does, and tells viewers, "My turn."
Sexual misconduct allegations against Kevin Spacey caused Netflix to kill off Frank before the sixth and final season, leaving Claire alone to face a 25th Amendment challenge about her ability to serve. But with an all-female cabinet, blackmail, and murder at her disposal, she handles herself just fine.
Olivia Marsdin on Supergirl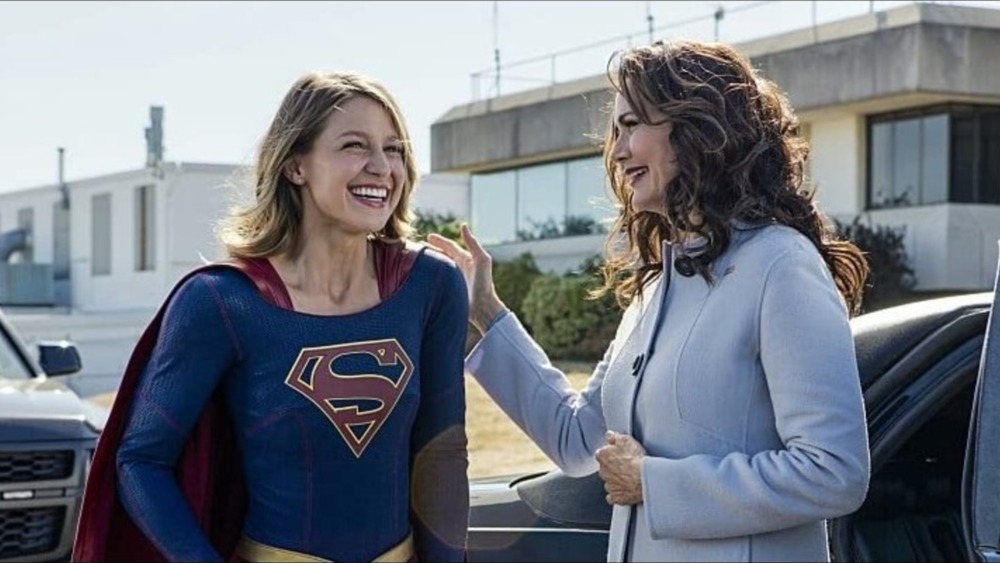 In a wonderful reference for DC fans, Lynda Carter, TV's first Wonder Woman, portrays Olivia Marsdin, the president of the United States on Supergirl. Marsdin has the intelligence, leadership, and charisma we want in a world leader. She's also a shape-shifting alien.
Marsdin knew Cat Grant (Calista Flockhart), the media mogul and employer of Supergirl's alter ego, Kara Danvers (Melissa Benoist), back in college. Once Marsdin is elected president, Grant becomes her press secretary. During her tenure, Marsdin grants a presidential pardon to J'onn J'onzz, better known as the Martian Manhunter. She also campaigns for the Alien Amnesty Act, a decree that allows aliens to come to Earth and grants them rights as US citizens. When someone tries to kill her over the amnesty issue, Supergirl flies to the rescue. Lex Luthor later exposes Marsdin as an alien, primarily so that his lackey can replace her. 
Marsdin dies during Crisis of Infinite Earths, a 2019 Arrowverse crossover event. But the creation of a new universe gives her a new timeline where she's president once again. As she puts it, "A leader who caves to fear is no leader at all." Neither is a leader who caves to interdimensional calamity.
Elizabeth McCord on Madam Secretary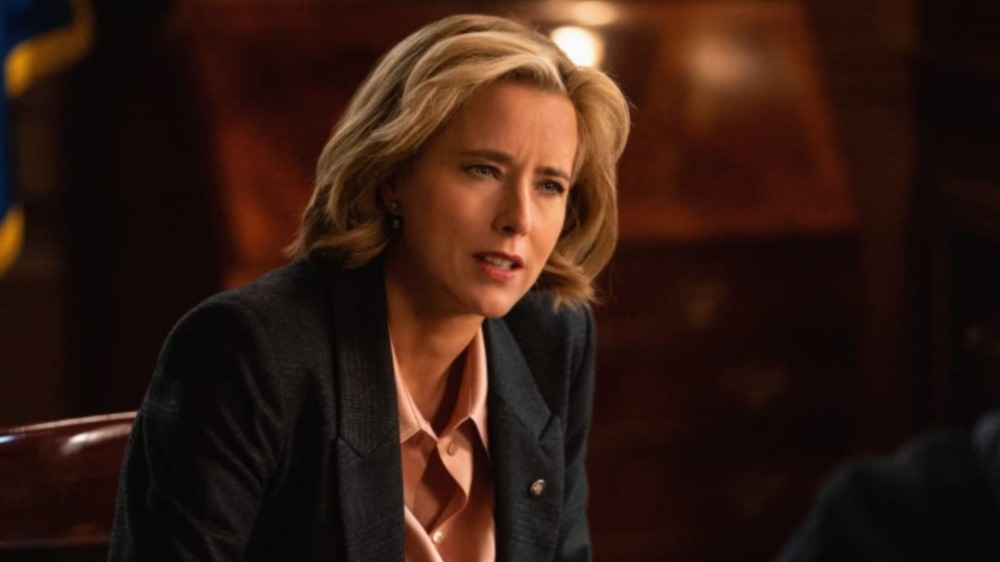 Elizabeth "Bess" McCord (Téa Leoni) has an impressive pedigree before becoming president in the 2014 TV drama Madam Secretary. It's no doubt inspired by three women who had recently served as secretary of state: Madeleine Albright, Condoleezza Rice, and Hillary Clinton. McCord had been a CIA analyst for 20 years before becoming a political science professor at the University of Virginia. After the secretary of state dies in a plane crash, President Conrad Dalton (Keith Carradine), McCord's former mentor at the CIA, taps her to replace him. During her first year in office, one of her main tasks is investigating her predecessor's death.
McCord's husband, Henry McCord (Tim Daly), is a theology professor and Marine aviator who becomes first gentleman, then head of the CIA Special Activities Division. The couple have three children, so typical family issues are on the menu as much as office politics and international diplomacy. In the sixth and final season, McCord successfully wins election as America's first female president. Her campaign is accused of collusion with Iran, but McCord testifies against her advisors' counsel and is acquitted. Her consistent honesty is a quality viewers love about her in particular: As she memorably puts it, "I'm fully prepared to live with the consequences of my actions. What I couldn't live with were the consequences of my inactions." 
Charlotte Field in Long Shot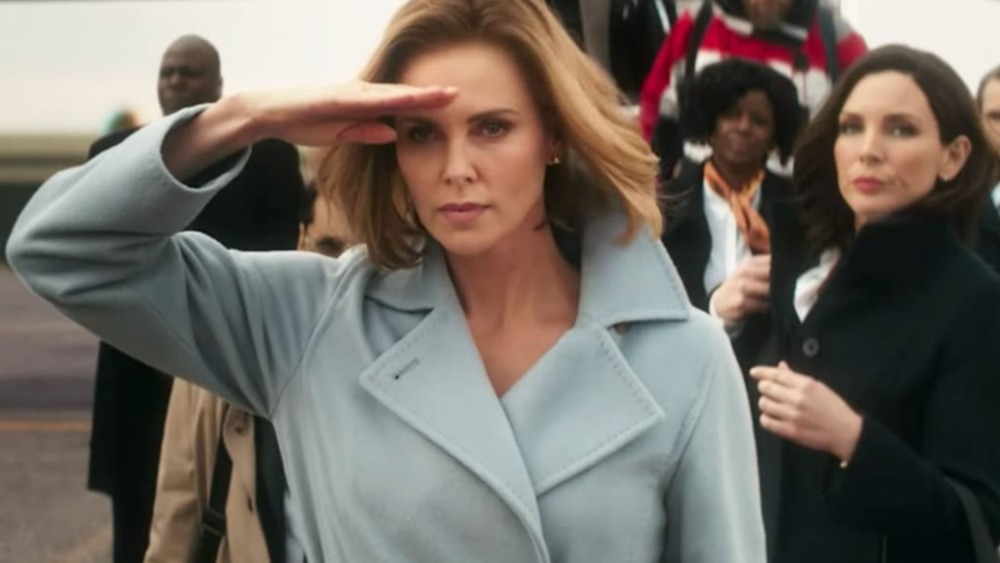 When the president (Bob Odenkirk, Better Call Saul) decides to try breaking into the film industry instead of running for another term, Secretary of State Charlotte Field (Charlize Theron, The Old Guard) convinces him to endorse her as a potential presidential candidate. Thus proceeds 2019 romantic comedy Long Shot. Campaign complications arise after Field runs into frumpy columnist Fred Flarsky (Seth Rogen) at a fundraiser. She'd been his babysitter when he was younger, and he'd had a massive crush on her, which, for some critics, teeters into "more creepy than romantic" territory. But after reading some of his writing, Field hires Flarsky as a speechwriter, and their improbable pairing works, thanks to "the odd couple chemistry of its leads."
Theron is way out of Rogen's league, but winning over a beautiful woman has been Rogen's schtick for a long time. Long Shot focuses more on Field's love life than her political chops, with her campaign warning that the public will never accept her and Flarsky as a couple. But love conquers all, and the public supports the two, who become the country's first female president and its inaugural first gentleman.
Leslie McCloud in Kisses for My President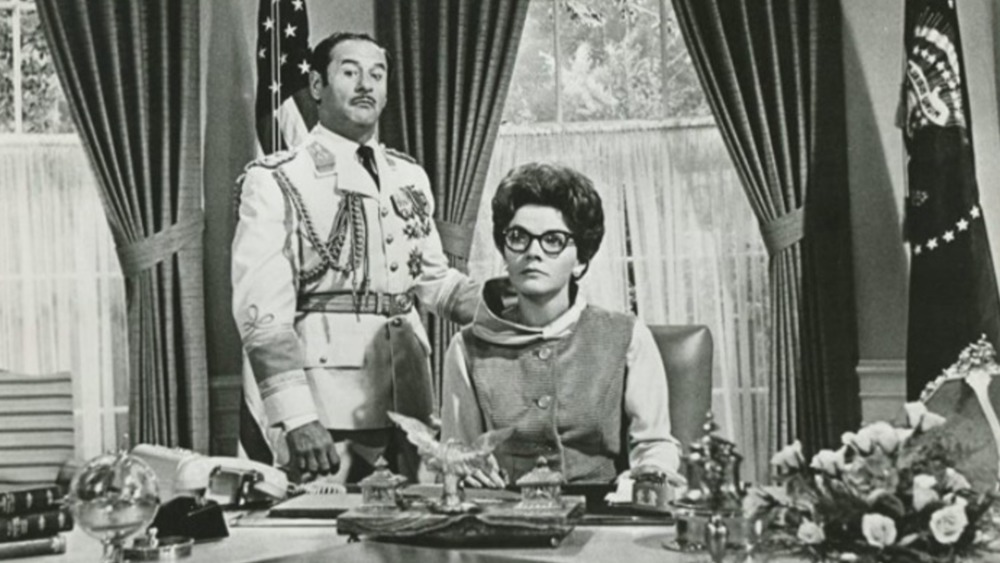 The 1964 comedy Kisses for My President imagined a woman as president before any other entry on this list — one elected by the women of America as a powerful voting bloc to boot. Polly Bergen (1962's Cape Fear) plays President Leslie McCloud, but the plot focuses more on her husband, Thad (Fred MacMurray, Double Indemnity), who doesn't seem to know what to do with himself around the White House. As if a Cold War Soviet plot weren't enough for President McCloud to deal with, she also has to handle her daughter dating an unsuitable boyfriend, her son using his Secret Service detail to menace other kids at school, and a vampy ex who wants Thad back. 
The filmmakers resolve all of this by having the president become pregnant again, so she can resign and devote herself full-time to her family. Bergen did get a bit of a last laugh, though: Decades later, she returned to the White House in the TV series Commander in Chief as Kate Allen, mom to the nation's first female president Mackenzie Allen (Geena Davis) and a helpful White House hostess.
Mellie Grant on Scandal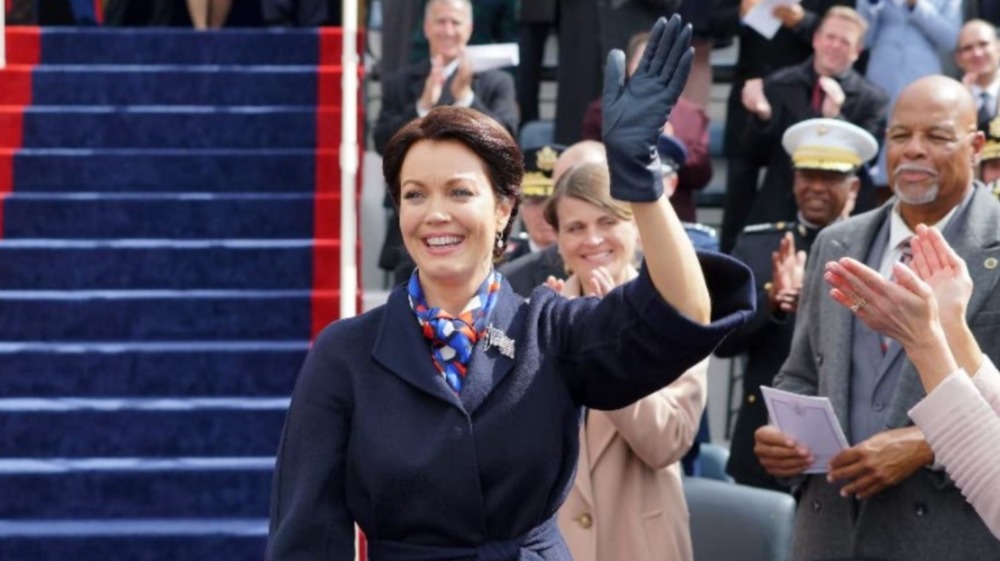 The breakneck pace of the political TV drama Scandal leads to two female presidents. The first, Sally Langston (Kate Burton, Grey's Anatomy), starts out as a competitor to President Fitzgerald Grant (Tony Goldwyn), then becomes his running mate. After Grant is shot during an assassination attempt, Langston tries to get him declared dead. Langston does manage to briefly seize power, while Olivia Pope (Kerry Washington, Little Fires Everywhere), Grant's handler and lover, counters on his behalf. Grant eventually recovers and fires Langston.
Enter the next female president, Mellie Grant (Bellamy Young, Criminal Minds), Fitzgerald Grant's ex-wife. Mellie Grant acts as first lady in early seasons, before she is successfully elected as a Virginian senator. She runs for president during season five and is defeated. However, her opponent is assassinated during his acceptance speech at the start of season six. Mellie Grant eventually becomes president by the end of the season, choosing Olivia as her chief of staff. Among the issues on her typically busy plate: A possible impeachment, gun control legislation, and a class-action lawsuit tied to a crossover with another show from producer Shonda Rhimes, How to Get Away with Murder.
Elena Cañero-Reed on Diary of a Future President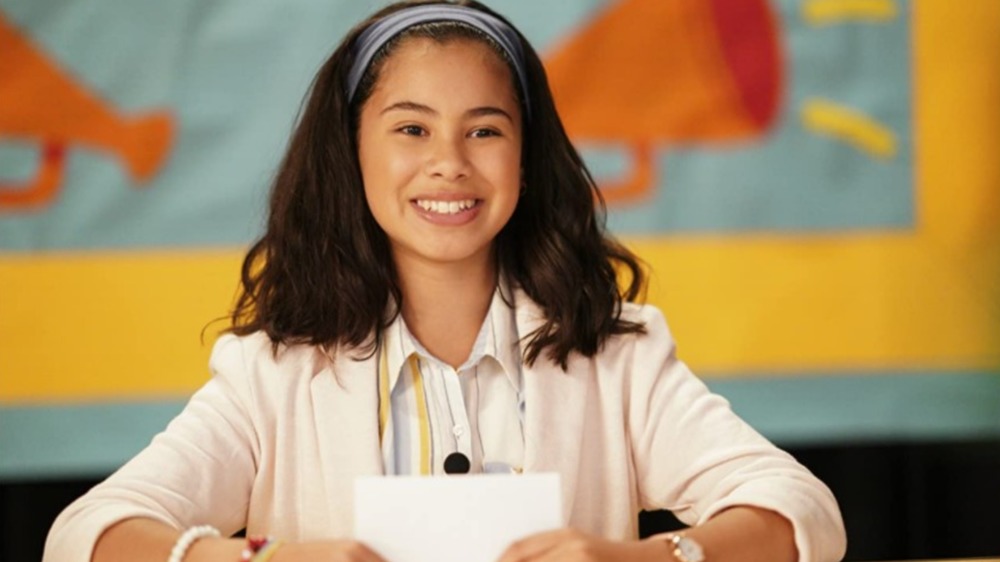 The 2020 Disney+ series Diary of a Future President is told almost entirely in flashback. After President Elena Cañero-Reed (Golden Globe winner Gina Rodriguez, Jane the Virgin) rediscovers her sixth-grade diary, she finds herself retracing the steps that ultimately landed her in the White House. 
Tess Romero (Anya) plays 12-year-old Elena, a Cuban-American girl with big ambitions, the typical stresses of academics and puberty, and a sweet family. The show boasts a whole lot of humor, charm, and sincerity, but it also "doesn't pander when it comes to weightier issues," according to one critic. As a kid, Elena faces a variety of issues that foreshadow her time in office. Familial loss, sibling tension, and school projects might not seem to have much in common with foreign policy and trade legislation, but Diary of A Future President connects it all. Overall, it's a feel-good series about a clear-eyed, compassionate, and confident young woman on her way to great things.