How Melissa Benoist Got Ripped For Supergirl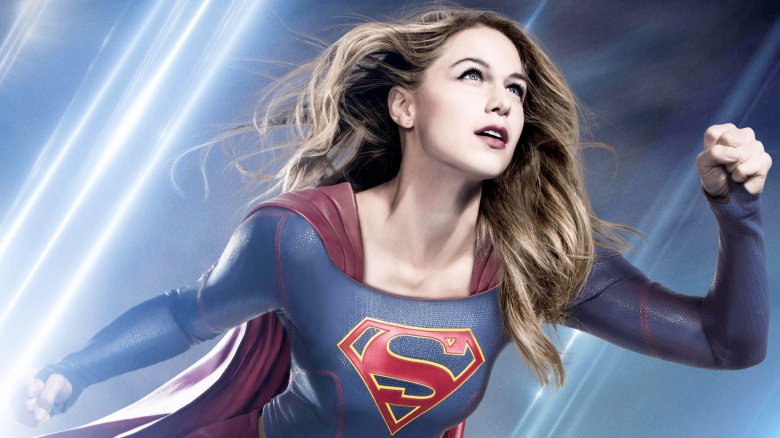 She's not a bird or a plane, and she's definitely not Superman! In 2015, Krypton refugee Kara Zor-El — aka Kara Danvers — threw aside her glasses and donned her family's S-shaped crest to follow in her cousin's footsteps and give National City its very own superhero on Supergirl. Back then, Melissa Benoist — the actress playing both Supergirl the superpowered alien and Kara the shy personal assistant — was best known to TV fans for her role as sweet newcomer Marley Rose on two seasons of Glee, and she also had a small role in Best Picture-nominated Whiplash. 
Taking the lead of a show — especially one with such a strong legacy on-screen and off — was a big step up for Benoist, both performance-wise and also physically. So how did she get ripped for the role? Well, Benoist said that landing the part meant stepping up her workouts, not just because we tend to take our superheroes with six-pack abs and toned biceps, but so that she could keep up with the action. The self-described pacifist and musical theater nerd suddenly found herself learning how to throw a punch and how to fly. So here's how Melissa Benoist toughened up to play Supergirl, at the gym, in her fight scenes, and high up on the wires.
She made it through a full-on audition process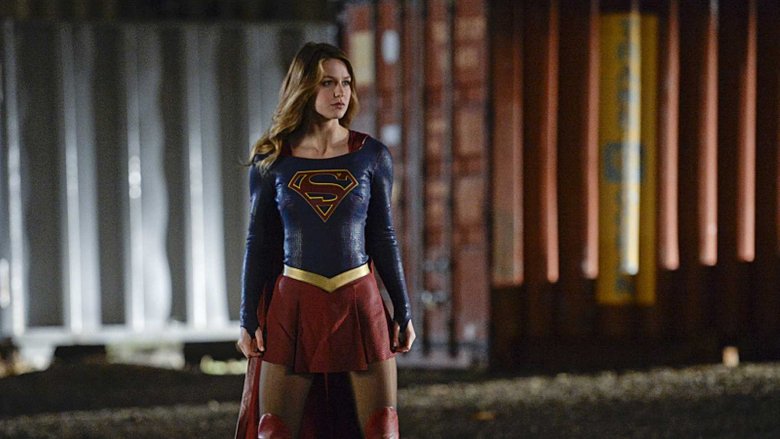 Obviously the network couldn't cast just anyone as Supergirl, which meant that Melissa Benoist had to go through a rigorous audition process before she got anywhere close to landing the role. The wait was made even more excruciating because, according to Benoist, "I believe I was the first girl they saw." That first audition was in October 2014, and it was just the start. In 2015, she told Entertainment Weekly, "It was a long, drawn-out, three-month process. I auditioned around Halloween 2014 and then didn't land the part until February 2015. I went through multiple screen-tests, multiple auditions with the producing team. There was a lot."
During that extensive audition process, Variety reported that Benoist found a champion in producer Greg Berlanti. "Greg championed me the whole time and was in my corner," Benoist remembered. "Even when I didn't think the part was mine, he was always rooting for me. That support goes a long way, especially when I'm fighting for something I want so badly. His belief in me really touched me." Berlanti echoed the sentiment, saying, "If we had not found her, I would have said, 'I don't want to make this.'"
The first episode aired almost a year after that first audition, on October 26, 2015, and since then, Benoist has seen hundreds of kids in their own versions of her costume. "Every Halloween there are quite a bit of Supergirls," she told Jimmy Kimmel, so it was worth the wait.
Melissa Benoist worked on her core strength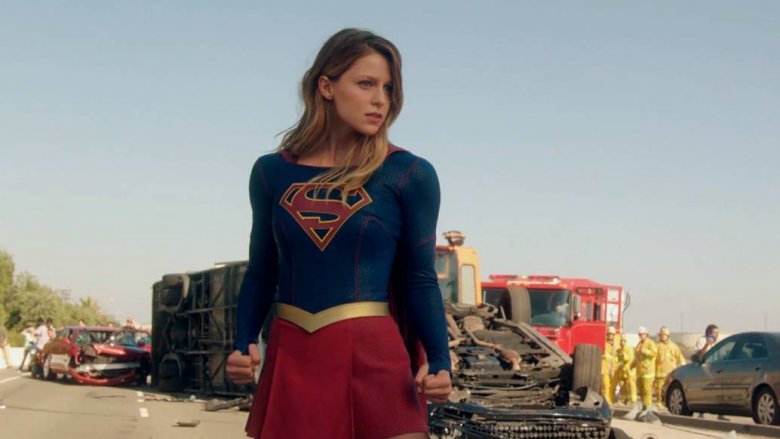 While comic book titans DC and Marvel have both made noise about introducing more diversity to their products, one thing that all superheroes have in common are incredible abs. Benoist's Supergirl is no exception. She told Entertainment Weekly that to prepare for the role, she did "some boxing, strength training, and a lot of core work." At Comic-Con, she said that her workouts included Pilates, boxing, and plyometrics. 
If you've never had cause to get into superhero shape, you might be wondering what fresh hell plyometrics are. As Healthine explains, plyometrics involve exerting your body to its maximum ability for a short period of time — for example, by jumping — to improve strength, speed, and power. They're a pretty advanced form of exercise, as Benoist found out! On CBS's This Morning, she explained, "I did quite a bit of training. We did this stuff called plyometrics, which is like jump training. And all of it was really hard — just hard things!" 
And the core work isn't just to look good. As Benoist added, the core work comes in handy when you're doing the flying stunts. "I'm up on a wire," she said, "and you have to hold your entire body weight so there's a lot of training involved." 
Work is a workout on Supergirl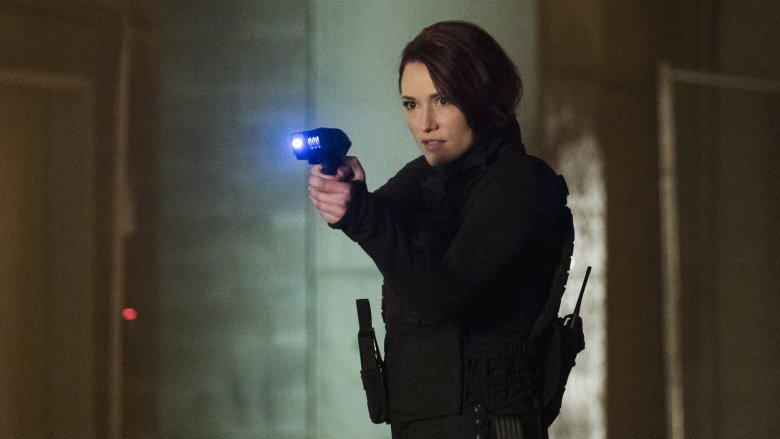 Melissa Benoist wasn't the only cast member who had to up her workout intensity to give the action sequences the effort they deserved. Chyler Leigh, who plays Kara's adoptive sister Alex, said that the actors work really hard with the stunt coordinators to get the fight scenes just right. And those action-packed days are full-on workouts in their own right. "When we do fight scenes, we're working out for six hours, just doing the same thing," she told CBS. "We are burnt for the next few days. I think that's really where I get my caloric burn count."
Even when they aren't shooting, Leigh and Benoist try to use those periods of waiting around that happen on the set of a TV show to stay in shape. "Melissa and I try to do as much as we possibly can," Leigh said. "In my trailer, I've got resistance bands and medicine balls and things like that. I try to do it in between, but we have very little downtime." The two on-screen sisters also have a shared interest in the same workout. "I love Pilates," Leigh told CBS. "It gives such a good core foundation. When I can go, it's awesome." And you thought TV sets were all craft services and hanging out in trailers.
Melissa Benoist learned to fight from the best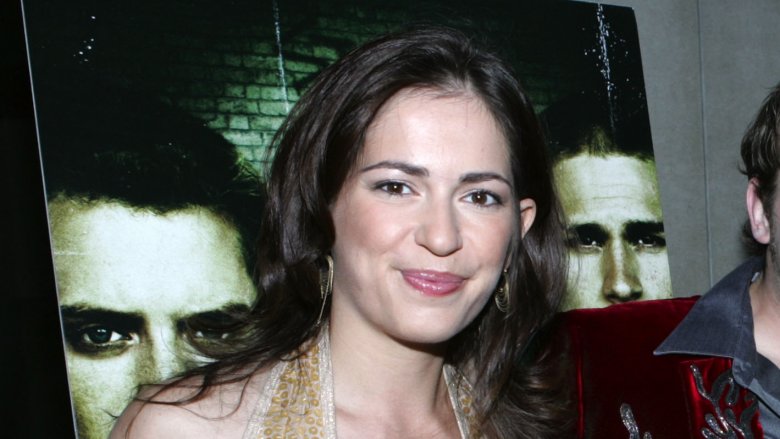 Thos Robinson/Getty Images
Another crucial element of being a superhero is being able to kick butt convincingly. This didn't come naturally to Benoist, who confessed to the Chicago Tribune, "I had never punched anyone! I maybe slapped my sisters when I was a kid, but I'm not an aggressive, violent person, and I had no idea how to throw a punch." To help her find her inner fighter, Benoist took up boxing. "I definitely had to learn technique. Like how to actually punch someone and not hurt yourself more than you're hurting the person you're punching. And so boxing was part of it," she told InStyle.
Fortunately for Benoist, she had access to excellent tutors. In addition to the stunt team, former karate and kickboxing world champion Lexi Alexander (pictured above) directed an episode in the first season. Having worked on Supergirl's fellow Arrowverse show Arrow, Alexander said she was excited to work on a story about a female superhero. "I realized that this is the first time I'm choreographing and directing a fight scene for a female lead. I did some fight directing for a woman here and there ... but for a female lead? I've never directed a female lead in an action," she told Den of Geek. 
Her directing stint was short, but Alexander said that she pushed her star "to the next level of fight choreography," and that "they've now changed [Benoist's] fight style from [Alexander's] episode onward." Benoist might still be more lover than fighter at heart, but we wouldn't challenge her.
She does (some of) her own stunts on Supergirl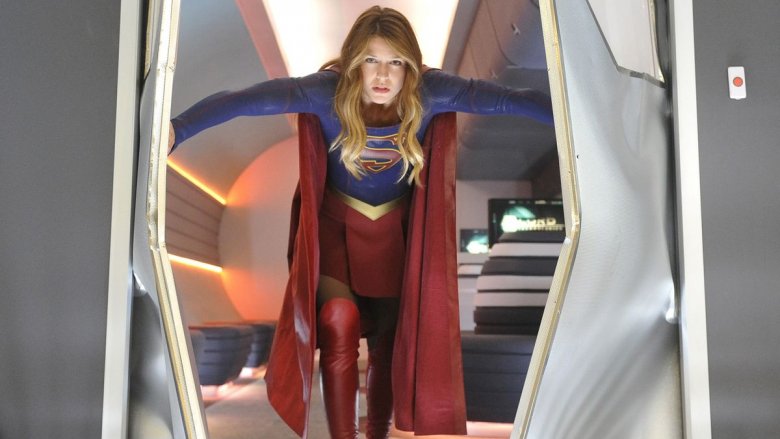 Believe it or not, it really is Benoist doing some of those hair-raising stunts on the show. The actress told Variety that she likes to get involved with the action when she can, saying, "I have been doing a lot [of stunts], and I want to keep doing them. Already I've fought a male on the show. Supergirl's fight moves are boxing. She's really heavy-handed. There's some flying that involves kicking and punching mid-flight that's kind of awesome." 
However, not everyone was thrilled with Benoist's hands-on approach to fights. Her mom, Julie, told her that she found it difficult to watch her daughter's fight scenes, especially against men. But Julie Benoist needn't have worried. Benoist knows her limits, and she's heaped praise on her stunt doubles. In 2015, she said of stunts, "I think they're so fun. There are some that I just can't — I really could get injured. ... My stunt double is amazing. She was Jen Garner's on Alias and Buffy's. She's all over the place, and she's so cool. I wish people could see what they go through. It's insane." 
Benoist's stunt double in 2015 was Shauna Duggins, whose resume includes Captain America: The Winter Soldier, the recent Star Trek movies, and 2000's Charlie's Angels (as well as many other movies and shows.) After doing 20 episodes of Supergirl, Duggins went on to work as stunt coordinator for shows including Ray Donovan, Crazy Ex-Girlfriend, and GLOW. She's a real-life superwoman.
She likes to get out of the gym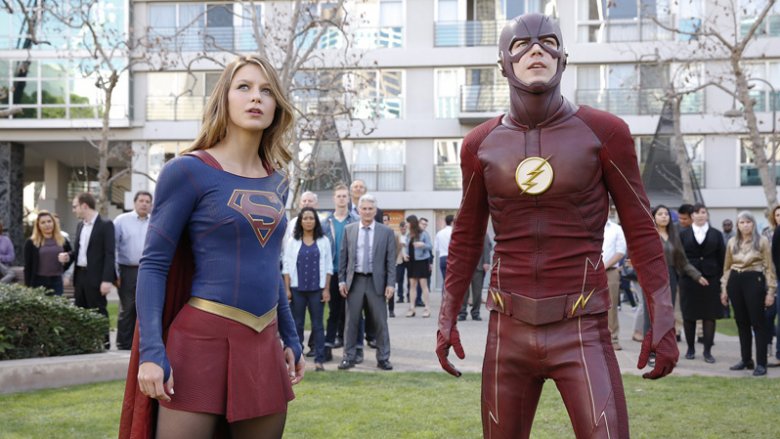 Although Benoist diligently puts in her hours in the gym, the Colorado-raised actress is happier getting her exercise in the great outdoors. Her Instagram shows photos of her hiking with her husband (and Supergirl co-star), Chris Wood, and their dogs, Farley and Drift. She also recalled being jealous when she found out what her co-star and Supergirl predecessor, Helen Slater, was doing to get in shape. 
After Benoist recounted the boxing and core work she was doing to Slater, "She gave me this look, and I was like, 'Why, what did they have you do?'" Benoist told Entertainment Weekly. "'Oh, I went horseback riding, and fencing and doing some archery, and I was swimming.' She went through this whole gamut of awesome outdoor activities that I would love to do to train." Speaking to E! Online, Benoist said of Slater's exercise regime, "She was on trampolines a lot and dancing and prancing and doing all these cool activities for training. I wish I had that much fun." 
The conflicting training schedules aren't coming between the two actresses. Benoist added to EW, "Also, she's just so kind and such a sweet, sweet woman. That's really what I've learned from her. She really is a super girl. I'm so honored that I'm following in her footsteps." She'll just have to wait for a filming break to take a hike.
Melissa Benoist has a dance background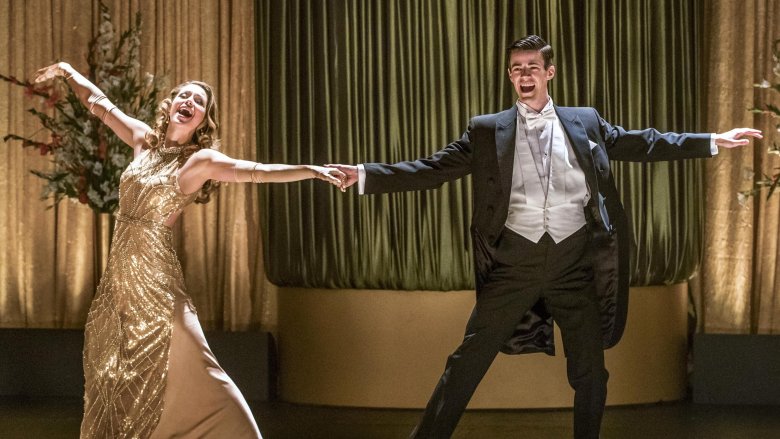 Glee was not Benoist's first experience with musical theater. She told Jimmy Kimmel that she did "tap, ballet, and jazz class at four years old" and children's theater, even performing at Disneyland. "In front of Sleeping Beauty's Castle, we sang a Stephen Sondheim medley where my solo was 'Send in the Clowns,'" she recalled. She also studied ballet, although she wasn't a perfect student. "All the years I took ballet class ... I was the one kid in class who the teacher was always like, 'Urgh, her turn-out,' and, 'She is not standing up straight,'" Benoist told Kimmel. She did better with another form of dance. In a video for Glamour, she said, "I have a secret superpower — that I can tap dance," and she demonstrated to prove her point.
That dance training comes in handy on the set of Supergirl — and not just for Benoist's part in the musical crossover episode of The Flash. Benoist said that her dance background helps her with the wire work and even the fight sequences. "With the wire work and flying, even the choreography, I grew up dancing, so that kind of came like it would if I were learning a dance routine," she told the Chicago Tribune. Plus, it keeps her and the crew entertained between takes.
She learned how to fly (well, on wires)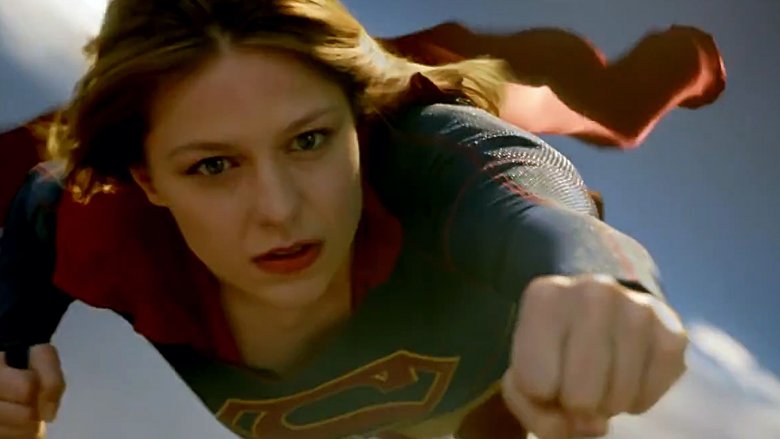 Melissa Benoist's favorite thing about her superhero role is exactly what you'd expect: the chance to fly. When Jimmy Kimmel asked about the best part of playing Supergirl, Benoist said, "I mean, I get to fly!" Upon further questioning, she acknowledged, "I mean it's hard work, I'm essentially attached to a fork in the air." She also told Variety just how hard it was and how she prepared, saying, "The wire work for training is mostly core work. It's mostly ab-centric — the whole area of the body that nobody wants to work out. You have to get strong. You have to carry your whole body weight when you're up in the air." 
However, it's worth all the working out. "The wire work is really difficult, but so fun. And when you get it right, watching the result is exhilarating," Benoist told People. "It's a really, really cool feeling to know what it felt like, the energy I had to exert to create those flying scenes. And then the way they look is really rewarding."
Benoist got some help perfecting her flying technique. When Kimmel asked how she figured out Supergirl's flying style, she said, "There's this sort of superhero physicality school that you kind of have to go to — at least we did on the DC shows — where the stunt team will teach you to walk like a superhero. ... They're awesome and they've really helped me." And that's how to look fly in spandex.
Benoist eats healthy, but she's not a dieter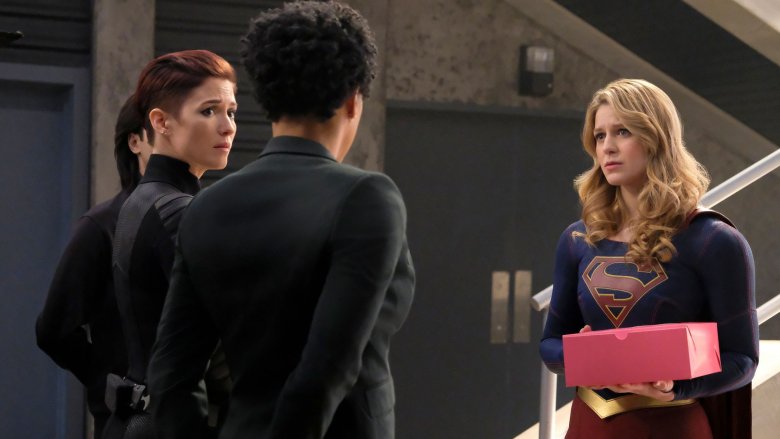 All of that working out and on-set action builds up an appetite. But as a female superhero who's expected to squeeze into a spandex suit every day and have the muscles to beat up bad guys without actually looking bulked up, Benoist can't go to town on craft services. Fortunately, she's pretty into fruits and vegetables anyway. "I love supermarkets, I love grocery shopping, I love the produce aisle, because to be super you have to be healthy," she told Glamour. "And I would probably stock up on all the fruits. I love fruit." 
However, she isn't about to totally deprive herself of comfort foods. In the same Glamour interview, she said, "If I could supersize any food it would be [an] ice cream Drumstick, vanilla caramel. They're so good." In 2016, she told the Chicago Tribune that she was excited to attend that year's Chicago Comic-Con and Entertainment Expo (aka C2E2) because she wanted to check out the city's restaurants. As she explained, "I've heard the food scene is incredible, and I'm a foodie, so I can't wait to go out and eat." 
Benoist also said that her own partiality to the occasional junk food splurge inspired the writers to add it into her character's personality. "I love junk food, I love doughnuts, and they put that in there quite a bit," she said, laughing. "There are these doughnuts all the time." This diet sounds super.
She got ripped to show women being tough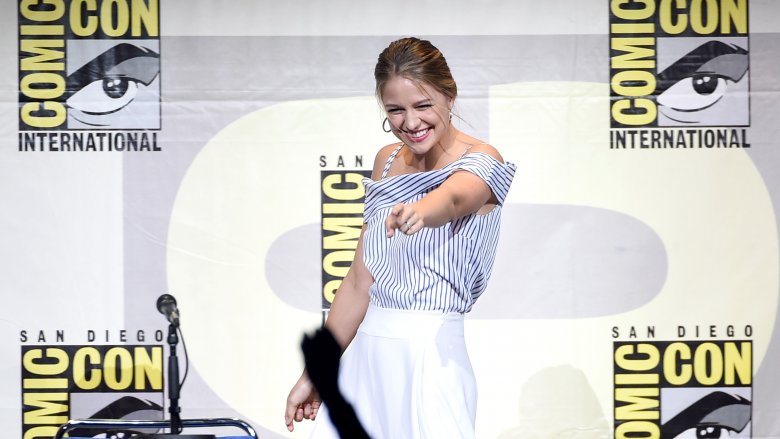 Kevin Winter/Getty Images
One reason Melissa Benoist was so invested in making sure her character could be physically impressive was because she wanted to inspire other women to feel strong and powerful. In an essay for Time, she wrote, "I think the more the show goes on, the more you see this fierceness and what women are really capable of. It puts [Supergirl] on this equal playing field. ... That's so meaningful to me to help children understand that girls can have just as much fun as their male counterparts in the superhero world. It's about confidence and hope, and Supergirl really embodies all of that." 
Even though Benoist also wrote that she grew up in "this really strong, feminine family," she told the Chicago Tribune, "I didn't really believe that I could be that character or play a superhero. It's something I never thought of myself as doing, but I just knew I had to go for it because there's so few female superheroes and just strong females that fight back and do it with grace and do it with love." She's also said that she didn't want the character to be a female version of male superheroes, saying, "What I think is cool is to try to bring kind of a femininity to her strength. ... I do like the idea of bringing in like a grace to it. And a fluidity and kind of this femininity to flying. It's fun." In other words, Melissa Benoist is out here bringing new meaning to (Super)girl power.