First Footage From Disney's Guardians Of The Galaxy: Cosmic Rewind Ride Is Incredible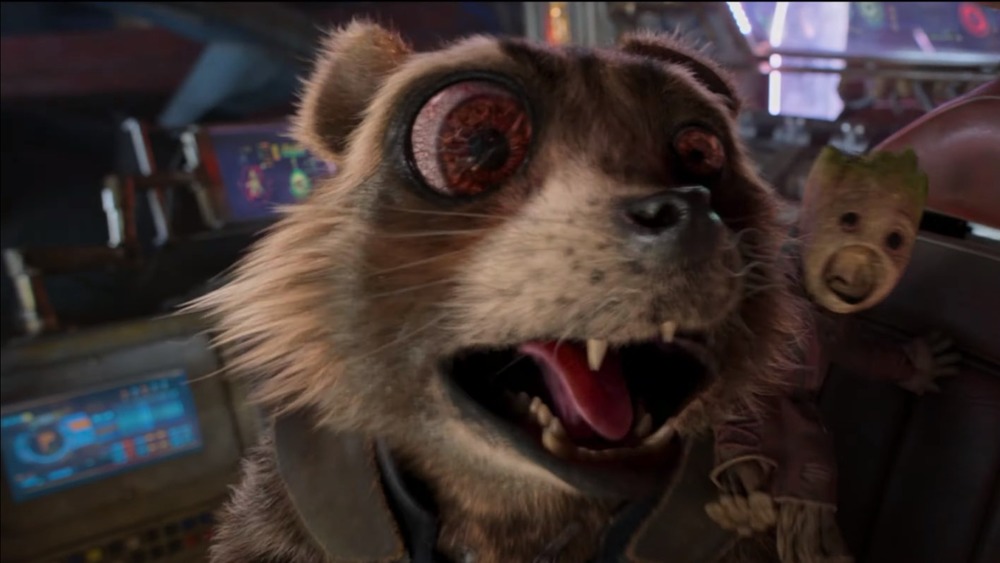 Disney/Marvel
Are you a fan of Guardians of the Galaxy? What about an enthusiastic occasional patron of the most magical place on earth? Have you longed achingly for adrenaline and low-grade motion sickness throughout quarantine? If you checked all of these boxes, then there's good news: Disney has just released a tantalizing first look at their upcoming GotG-themed attraction at EPCOT, the long-awaited Guardians of the Galaxy: Cosmic Rewind.
In a video posted by the Disney Parks YouTube channel, viewers are treated to a preliminary glimpse of Cosmic Rewind, a ride first announced in 2017 during the annual D23 conference as part of EPCOT's redesign. Two unnamed figures take on the nail-biting roles of "unfinished roller coaster passengers," spinning across up the machine's parabolic curves. While the ride is unfinished — it will eventually be completely enclosed, but currently sits out in the open — it gives fans a hint of what's to come: a "first- of-its-kind programmable roller coaster ride system, where guests can be rotated along the ride track in any direction while traveling at high speeds," according to the Disney Parks blog. 
Aside from that, details on the ride's plot are under wraps, but the spinning cars featured in the video bear some striking similarities to the Nova Corps aesthetic featured in the first Guardians of the Galaxy movie back in 2014.
Guardians of the Galaxy: Cosmic Rewind will spin you right round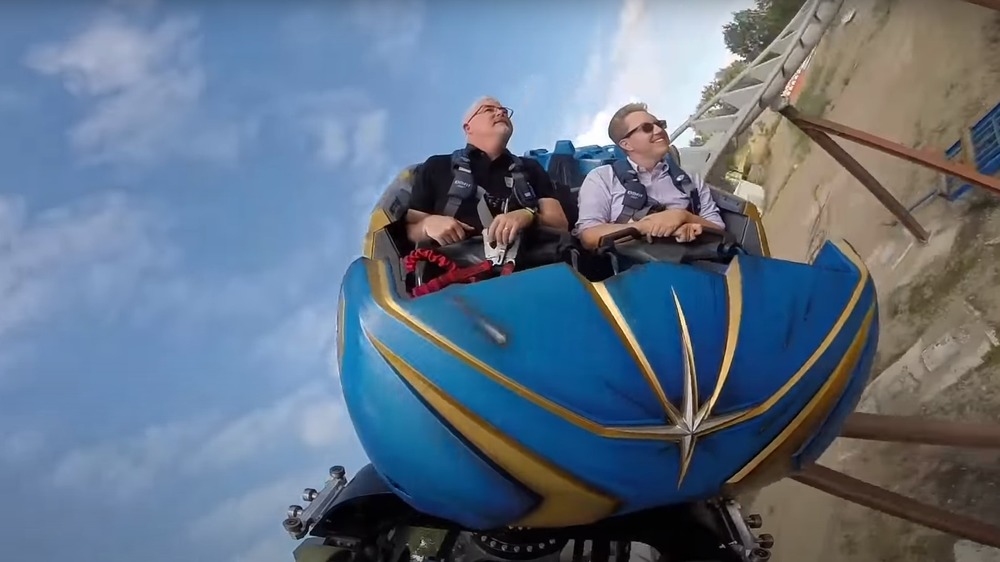 Disney Parks
Guardians of the Galaxy: Cosmic Rewind won't be the first Disney attraction based around Marvel's interstellar antiheroes. Disney's California Adventure debuted the Guardians of the Galaxy: Mission Breakout ride in May of 2017. That, however, was a redesign of an old ride, the Tower of Terror, retrofitted into a hip new MCU experience. Cosmic Rewind will be an all-new attraction, with planned onscreen appearances from the franchise's cast and the direct involvement of writer-director James Gunn.
Construction on Cosmic Rewind began in August of 2017. Utilizing the old Universe of Energy building as a starting point, the ride itself will be housed in a new complex. CNET reported in 2018 that construction work included the use of nearly a thousand truckloads of concrete for the foundation alone.
Disney's theme parks have been shifting in an MCU-heavy direction for a few years now, with still-in-development Avengers Campus attractions based on Spider-Man, Doctor Strange, and Ant-Man giving fans a lot to look forward to. There's currently no word on when Guardians of the Galaxy: Cosmic Rewind will open to the public, but construction is slated to continue until at least the second half of 2021.